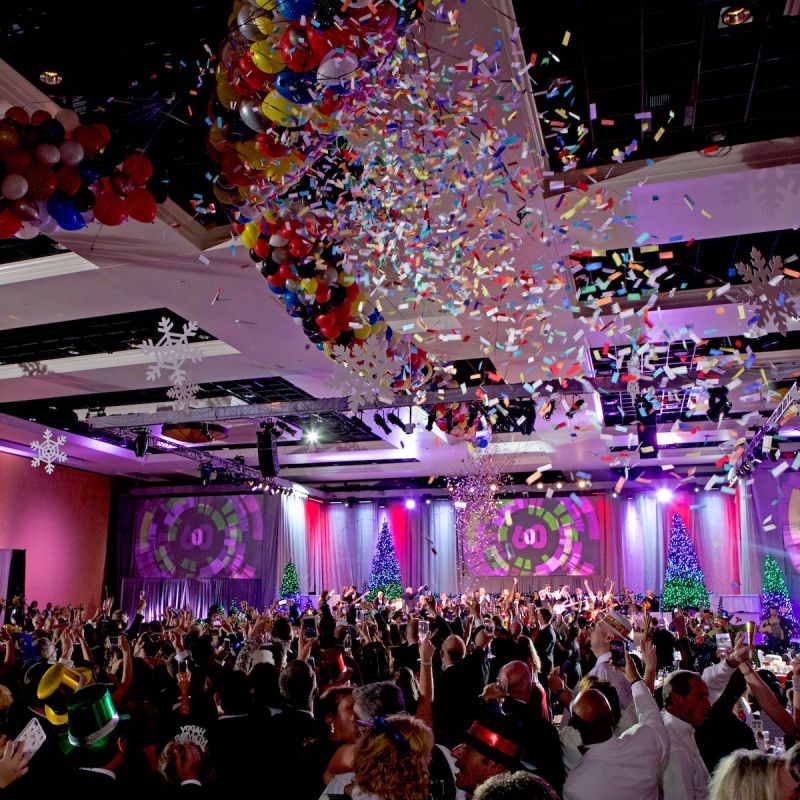 Who's ready to say goodbye to 2021 and ring in the New Year? Better yet, how about kicking off 2022 with a fantastic vacation or over-the-top celebration?
We've rounded up some nifty excursions, accommodations, and trips across the United States for every type of traveler — whether you're a spa-goer looking for a reflective nature retreat or a party person who wants to celebrate with the crowds in the Big Apple.
Here are some unique and iconic New Year's Eve packages that still have space available for your end-of-the-year getaway:
1. VIP Experience At The Pasadena Rose Parade
Road Scholar, the educational travel company for adults, presents a VIP experience in Pasadena, California, home of the legendary Rose Parade. With the 6-day/5-night Rose Parade: A Heritage to Celebrate itinerary, your lodging at a local hotel as well as 13 meals (5 breakfasts, 3 lunches, 5 dinners) are all included in the package price that starts at $1,949.
More significantly, exciting daily activities include meeting and learning from a Tournament of Roses insider and a past Rose Queen; attending Bandfest to listen to prize-winning musicians; and helping to decorate an official Rose Parade float.
On New Year's Eve, participants gather for a festive dinner and champagne toast that takes place at midnight east coast time, to ensure everyone gets a good night's rest before getting up bright and early for the 133rd Rose Parade. You'll have a great seat for viewing the magnificent, flower-filled floats that make their way along a 5.5-mile route through Pasadena prior to the annual Rose Bowl football game.
2. Classic Celebration At The Broadmoor, Colorado Springs
Historic and elegant, The Broadmoor has wowed guests with its white-glove customer service, fine dining, and country club surroundings for more than 130 years. The Colorado Springs, Colorado, hotel pulls out all the stops for a posh New Year's Eve Gala Package that includes a delectable five-course dinner; dancing to live music by The Broadmoor Pops Orchestra featuring Broadway singer Marcus Lovett, followed by the upbeat cover band Soul X; and a midnight champagne toast and celebratory balloon drop. Starting at $895, the package includes one night's luxury accommodations and two tickets to the gala.
If you go to The Broadmoor this holiday season, consider making a longer stay out of it, if only to enjoy the hotel's fantastic amenities, from the sublime spa to its onsite bowling alley. There's also a heated indoor pool to relax in, no matter what the Colorado winter weather is doing outside. You can also book exciting outdoor adventures through Broadmoor Outfitters, such as winter fly fishing, a falconry experience, or fat-tire biking in the snow.
Having overnighted at The Broadmoor several times over the past couple of decades of living in Colorado, I count it among my favorite resort properties in the state — definitely an exceptional place to celebrate a special occasion, whether that's New Year's Eve, an anniversary, or birthday.
3. Desert Retreat At Red Mountain Resort, St. George, Utah
If hiking amid red rock landscapes, taking a mindful stroll in a lava-rock labyrinth, and blissing out with multiple spa treatments is your idea of a grand way to usher in the new year, consider the Essential Retreat at Red Mountain Spa in southwest Utah. This isn't a specific New Year's Eve vacation, rather a package you can enjoy any time of the year. It includes accommodations, three meals daily, fitness classes, daily morning hikes, and use of swimming pools, bicycles, and fitness studios.
With the Essential Retreat package, you can adjust the length of your stay as long as you like (prices vary depending on the length of your stay and may include an early booking discount if you reserve by November 15). You can also upgrade to the Ultimate Essential Retreat, for between 3 and 10 nights, and get a $150 resort credit each night of your stay. That credit can be used on fee-based fitness activities, such as yoga or an e-bike tour in Snow Canyon; "personal discovery" activities like chakra balancing; or spa treatments, such as the marvelous Himalayan Salt Stone Massage.
I've stayed at Red Mountain Resort four times now and consider it a top destination spa in the United States. I particularly love the opportunity to start my day each morning on a hike with others of similar abilities (choose from guided Outdoor Walks, Explorer Hikes, or Challenge Hikes). The fitness classes are educational, unusual, and fun (cardio drumming anyone?), and the varied, veggie-filled menu for the included meals is excellent! I consider a stay at Red Mountain Spa a fabulous way to rest, relax, and restore, or jumpstart a fitness plan amid gorgeous desert surroundings.
4. River Float Trip: Big Bend National Park, Texas
With a special one-night New Year's Float Trip from Far Flung Outdoor Center, you can paddle a canoe amidst the pristine Texas wilderness, then camp on the shore to mark the new year at midnight with live music and party favors gathered around a campfire. Water levels will dictate exactly where the float trip will take place, but it will likely be in Big Bend National Park or other protected parts of the Rio Grande River just downstream of the Big Bend portion of the river. Either way, the trip is rated "easy" — so it's something you can do even if you've never paddled a canoe before!
The New Year's Eve Float Trip is $525 per person and includes transport to the river from the meeting spot in Terlingua, Texas; all meals, PFDs, tents, river equipment, waterproof bags for personal items, and all park fees. What a way to get away from the crowds and enjoy Mother Nature under a dark sky far from any light pollution. This adventure is a fantastic way to bliss out in the middle of nowhere to celebrate the advent of a new year.
5. Rooftop Party For The Big Ball Drop, New York
It's tough to get any closer to the New Year's Eve Ball Drop in New York City than at The Knickerbocker in Times Square. The high-rise luxury hotel is located kitty-corner across Broadway from the iconic New Year's event — just 150 feet away. A prime spot for viewing all of the action in the streets below. The Knickerbocker's outdoor rooftop party that's one component of some VIP New Year's Eve packages that are downright indulgent, if not pricey.
The Platinum and Gold packages include luxury overnight hotel accommodations, as well as an opulent buffet dinner with entertainment at the restaurant's Charlie Palmer restaurant. Depending on your package, after dinner, it's outside to the rooftop patio for seating with table service (Platinum) or standing room only (Gold) cocktail reception with DJ dancing, a premium open bar, and champagne toast at midnight. Concerned about the cold? There will be heaters and hand warmers to help keep you toasty! You can also forgo onsite accommodations and the buffet dinner, and just buy a ticket to the rooftop celebration. That party ticket will set you back $1,295 per person — and prices only go up from there.
If you visit New York City for New Year's Eve, you'll find Manhattan still decked out in holiday flair. The traditional Christmas tree at Rockefeller Center will still be standing, department store windows will be bright with holiday decorations, and the annual Christmas Spectacular Starring the Radio City Rockettes runs through January 2.
6. Toast On A Train: Hocking Valley, Ohio
Children are welcome on the New Year's Eve departure of Hocking Valley Scenic Railway in Nelsonville, Ohio. The train departs the Nelsonville Depot at 10:30 p.m., traveling to East Logan, where it begins the return trip. At midnight, the train will stop where a giant fireworks display takes place. Two seating areas are available on the train: the family-friendly "Pizza & Pop" section or the adults-only "Wine & Cheese" section — with food and drink served accordingly.
Other things to do in this area of southeast Ohio include taking in a show at historic Stuart's Opera House, doing some winter hiking in Wayne National Forest or any of the other area state parks, or checking out the number of local breweries.
If you're interested in booking a trip to one of these great destinations for New Year's Eve or want help planning any other getaway, consider talking to the travel experts at Dream Vacations.