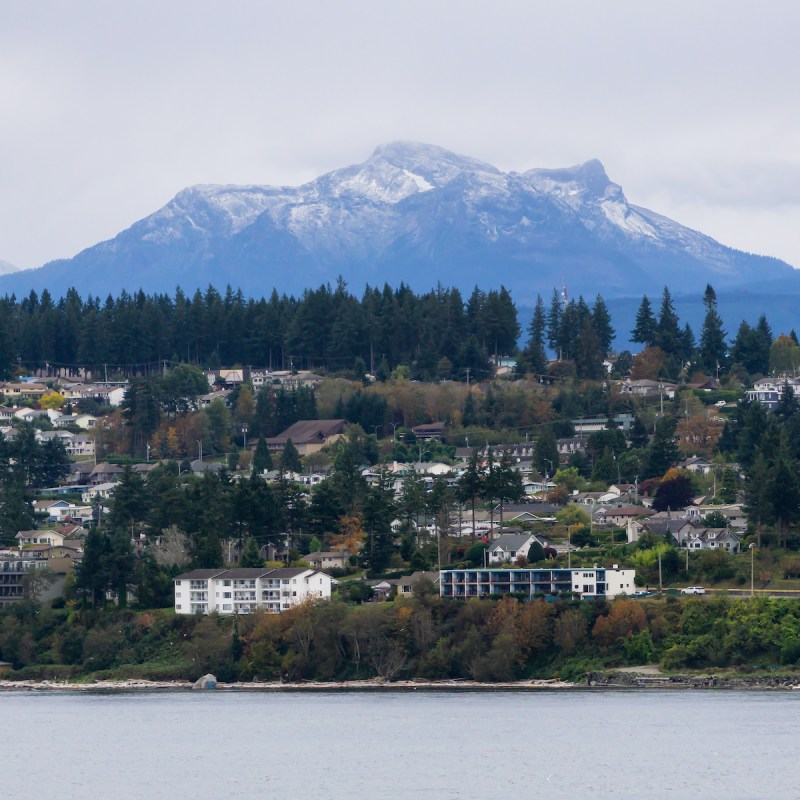 Campbell River, on the east coast of British Columbia's Vancouver Island, is an uber outdoorsy town. Smack dab in the midst of magnificent landscapes, including the Discovery Passage, ancient forest groves, and Mount Washington, Campbell River offers plenty of opportunities to play outdoors! Situated mid-island, Campbell River is easily accessible. If you are planning a road trip on Vancouver Island, you will pass right by Campbell River. So, why not plan to stop, enjoy the stop-you-in-your-tracks scent of cedar and salt air, and partake in a few memorable Canadian outdoor activities.
Getting To Campbell River, BC
By Car: Campbell River is a 3.5-hour drive north of Victoria BC. Take the Trans Canada Highway which then turns into Highway 19 all the way to Campbell River. If you prefer scenic drives that follow the shoreline, join Highway 19A around Parksville and meander up to Campbell River.
By Car And Ferry From Vancouver: Routes include North Vancouver (Horseshoe Bay) to Nanaimo (Departure Bay); South Vancouver (Tsawwassen) to South Nanaimo (Duke Point) and South Vancouver (Tsawwassen) to Swartz Bay (Victoria).
By Car And Ferry From Washington State: Routes include Port Angeles WA to Victoria BC and Anacortes WA to Sidney BC.
By Air: There are direct flights from Vancouver and Seattle to Campbell River's regional airport. A flight from Vancouver takes about 45 minutes.
Here are some great reasons to stop in and enjoy what Campbell River has to offer.
1. Go Whale Watching From Campbell River (April Through October)
I have to start with my top choice of outdoor activity! Whales trump everything else for me. My daughter and I chose the 6-hour trip with Campbell River Whale Watching tours. The 6 hours included an outdoor lunch on a public dock. There is a small bathroom on the zodiac boat.
I highly recommend this tour. In fact, the next time I might even book an 8-hour trip. We were on the lookout for orcas, both resident and transient pods, Pacific white-sided dolphins, humpback whales, sea lions, and seals. Of course, we were also scanning the treetops and skies for eagles.
The scenery in this part of Canada is spectacular. There is a sense of expansiveness zipping through the waters with the salty breeze and the sun reflected on the sparkling water. The islands take on a hue of blue.
We went up the Discovery Passage, which is part of the route that the cruise ships take to Alaska. We boated through little inlets learning about slack tides and tide differentials.
There were four other tour boats out at the same time and the guides all kept in radio contact. What a collaborative way to work so that all clients, regardless of the tour company chosen, could partake in whale sightings. The guides timed it beautifully so there were not more than two boats around the whales.
We were thrilled to have three separate humpback whale sightings and be able to identify one of the six whales as Apollo. The orcas evaded us on this day but we saw seals and watched a group of sea lions who were wildly entertaining.
At the end of the trip, our excellent guide showed us on the map where we had gone, which passageways and which islands we had seen. It's rather addictive. The open water. The search for whales. I felt like getting right back on the boat.
Pro Tips:
Grizzly bear tours are also available.
"Eagle Heaven" takes place in May and June when 300 bald eagles come to feed on the North Pacific hake. It is known as a spectacular natural wonder to observe.
2. Cross Elk Falls Suspension Bridge
Another highlight of Campbell River is the Elk Falls suspension bridge. This activity is not on water but in the air! The walk from the parking lot to the suspension bridge takes about 10 minutes along a forest trail and down a few staircases. The rushing Elk Falls are more than impressive along with the magnificent soaring trees and verdant green ferns. Are you brave enough to walk across the Elk Falls suspension bridge stretched over Elk Falls Canyon? Take your time as you cross and enjoy the breathtaking perspectives of the falls and canyon.
Pro Tip: The suspension bridge is located in Elk Falls Provincial Park And Protected Area. There are hiking and mountain biking trails and a campground.
3. Go Salmon Fishing
Campbell River is known as the "Salmon Capital of the World," and for years people have been heading here for a chance to get on the water and go salmon fishing. Rivers and ocean meet here in Campbell River, thus there is the opportunity to go fishing in freshwater or saltwater. Try your hand at fly fishing along the Campbell River for chinook, coho, chum, and pink salmon. Or, hire a fishing charter with a professional guide to take you out for a coastal fishing experience.
4. Catch A Fish At Discovery Fishing Pier In Campbell River
The Discovery Fishing Pier in Campbell River is very picturesque. It is Canada's first and longest public saltwater fishing pier. This is a popular place for fishermen of all ages. Rod holders dot the wooden railings, tables are provided for fish cleaning and benches are the perfect place to sit and wait for a bite! Gear rentals, bait, fishing licenses, and ice cream are available at the concession stand on the pier. The concession is open from May through October.
5. Mount Washington Alpine Resort
This resort for all seasons is a one-hour drive from Campbell River. Get into the mountains and enjoy the Canadian winter season. Bundle up and go skiing, snowboarding, cross-country skiing, snowshoeing, or snowmobiling. Truly you can get your winter activity fix here. In the summer months, Mount Washington Alpine Resort is a mountain biker's dream. How do you feel about ziplining with stunning views over the Comox Valley and landing on the roof of the alpine lodge? If the Eagle's Flight Zip Tour isn't for you, there are chair lift rides and plenty of hiking trails. Keep your eyes open for the Vancouver Island marmot, an endangered species that is making a comeback in this area.
6. Participate In A Kayaking Trip
Campbell River is a great jumping-off spot for a kayaking adventure among the Discovery Islands. Protected channels, secluded coves, and beaches make a kayaking trip here an unforgettable experience. A few years ago, I did an organized 3-night trip with Coast Mountain Expeditions. Paddling with guides through the west coast waters, sleeping on tiny islands, and having the food all prepared made for a true west coast experience.
Pro Tip: There are plenty of kayak outfitters in the area. Or, head on over to Quadra Island and spend a day kayaking around its coves.
7. Beach Fire Brewing And Nosh House
After one of your outdoor adventures, stop by the trendy Beach Fire Brewery with its very inviting and lively atmosphere. Amid tables for two, there are long wooden community tables perfect for larger groups and meeting other vacationers or locals. On offer are its staple brews along with some fun flavors such as Moscow Mule ale and small-batch brews like Pineapple Salsa Blonde Ale. Order a unique ale and a meal and sink into the chill Campbell River vibe.
8. Rotary Sea Walk
For an easy and enjoyable activity in Campbell River, follow the Rotary Beach Sea Walk along the shoreline. Rotary Sea Walk is a 3.4 mile long paved walkway where walking, biking and rollerblading are all enjoyed. Marvel at the views of the Discovery Passage and Quadra Island. Keep your eyes open for seals, orcas, and bald eagles.
Where To Stay In Campbell River
Painter's Lodge (Painter's Lodge Holiday and Fishing Resort) is a lovely, large lodge situated right on the Discovery Passage across from Quadra Island. We stayed here and enjoyed the magnificent views. Rent a kayak or play tennis during your stay and dine right onsite.
April Point is its lodge on Quadra Island which is accessible with a short boat shuttle from the Painter's Lodge pier. It's known for glorious views from every angle!
Built in the 1940s as a fishing lodge, Dolphins Resort has spectacular views over the Discovery Passage. Rent one of its 13 private cabins for a romantic, outdoorsy getaway! Some of the cabins have a private hot tub.
Pro Tips:
Here are two other stops for your road trip.
Not far from Campbell River, in the town of Courtenay, is the cute little ice cream shop called Blue Spruce. This is a great stop for all the ice cream lovers in the group as it has gluten-free cones and vegan ice cream. I sampled both and happily give it a two thumbs up!
A very worthwhile stop, about a 40-minute drive from Campbell River, is the historic village of Cumberland, right in the heart of the Comox Valley. Cumberland, a coal mining town from 1888 to 1966 has one of the most quaint main streets I've seen in BC. You might think you are strolling through a movie set as you pass colourful heritage homes. The street is lined with a bakery, restaurants, bike shops, a general store and lots of coffee shops. We got a great cup of java from the Cumberland Grind Espresso & Smoothie Bar and, with coffee in hand, explored the village.