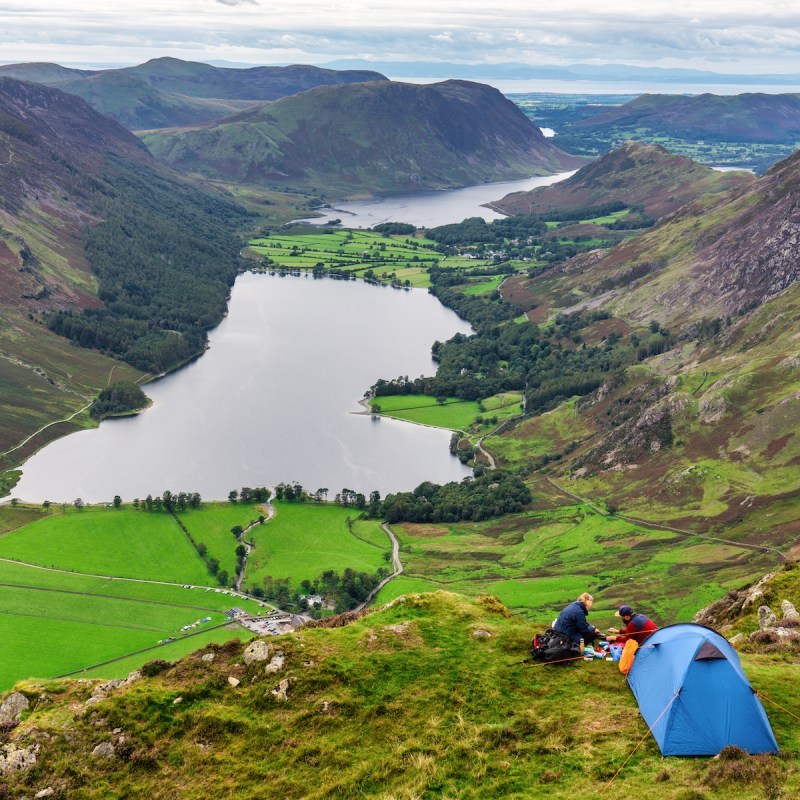 It's imperative to feel comfortable and safe while traveling.
Medjet
provides premier air medical transport, travel security, and crisis response memberships, providing peace of mind for an affordable price.
The British are very fond of outdoor life, especially during the few summer months like July and August, when they can enjoy good weather. A bit of history: The Boy Scout Movement was founded in 1908 by British cavalry officer Robert S.S. Baden-Powell. Boy Scout skills certainly come in handy when planning a camping trip. Next is the picnic. Originally from France, outdoor dining on a blanket was brought to the United Kingdom by aristocratic refugees from the French Revolution and became so popular, and even a social event, that the PicNic society was formed in the UK in 1801.
Finally, look at these statistics, reflecting how many camping trips the British took over recent years. With this history and the enthusiasm for camping and glamping, it's no wonder that the United Kingdom has a vast amount of camping sites to offer. From humble grounds, where you just pitch your tent and use your cooking skills, to rather luxurious glamping sites such as lavish yurts, we will show you where in the UK you can have the most exciting camping experiences.
1. Loch Tay Highland Lodges And Glamping
Loch Tay is a freshwater loch in the central highlands of Scotland. It's 15 miles long and one of the deepest lochs in Scotland, well known for salmon fishing. Easily reached by car from Edinburgh or Glasgow (approximately 82 miles from each destination) Loch Tay is an exciting destination for a glamping experience. That's exactly what Loch Tay Highland Lodges and Glamping provides. Surrounded by woods and mountains on the north side of the loch, the site offers a variety of accommodations, depending on the level of luxury you require and the number of your party. The smallest are wooden camping pods. I stayed at a glamping dome because I loved the all-around triangular windows that really make you feel like you are sleeping in the middle of nature without having to worry about creepy crawlies. There are those that also feature a hot tub or the Stables Bothy for a bigger party. The site features a toilet and shower block as well as a laundry and drying room. If you don't care to prepare your own meals, there is the Boathouse restaurant. Then there are the two-to-four-bedroom lodges and the cozy woodland cabins.
The loch is certainly big enough for a variety of watersport activities, available from the Taymouth Marina. Loch Tay and the lodge form part of the Largo Leisure Park.
2. Lusty Glaze Beach Camping, North Cornwall
If clamping in the Scottish Highlands isn't your thing, what about a secluded beach? Just look at the name of this secluded campsite located near Newquay in North Cornwall. Lusty Beach is a wide cove, surrounded by a cliff and only accessed by a 133-step staircase. What awaits you at the bottom are ample bell tents that sleep two and come with a wet room. You don't need to pitch anything. There is also a restaurant with a chef specializing in fresh seafood who will pack a picnic basket for you should you want to climb up the stairs and venture farther afield to other beaches. Newquay is only a 10-minute walk away if you need any supplies. The greatest attraction is to sleep just steps away from the beach and listen to the sound of the waves. The site can arrange for surfing lessons, or if you wish to meditate, for yoga classes.
3. Bryher Campsite, Isles Of Scilly
It doesn't get any closer to an exciting nature camping experience than the stay on the smallest of the Scilly Islands, Bryher. The Bryher Campsite is located between two hills and just seconds from a white, sandy beach. You have the choice of bringing your own tent and pitching where you please or renting a rather luxurious bell tent. Just 28 miles off the Cornish Coast, the site is secluded but nevertheless easy to reach. The Atlantic Ocean thunders to the west and Cromwell's castle stands to the east. Regular ferries run to Tresco, St. Mary's, St. Martin's, and the other inhabited islands if you wish to go on day trips. On this campsite, you can indeed exercise your boy scout skills. It's strictly self-catering but you are allowed to make a barbecue. Onsite are also game fields, two coin-operated washing machines and dryers, and the lovely couple Jo and Tom who run the whole operation and are always happy to lend a helping hand. No dogs allowed.
4. Campden Yurts, Cotswolds
This is the smallest but one of the most entertaining campsites on our list. Located just a 15-minute walk from the Cotswolds' prettiest town, Chipping Campden, the Campden Yurts site consists of only two luxurious yurts on a hillside. They are called Buttercup and Daisy, respectively. The yurts can accommodate up to five people. They feature a double bed, pull-out futon, wood-burning stove, rugs, and sheepskin throws. They also have a bathroom each and share a kitchen. You have to bring your own bedding unless you book that in advance. Light comes in through a central crown window in the ceiling, although there are additional lamps for the night.
Apart from being worth a trip to admire centuries of architectural styles and even a small museum, Chipping Campden is where you get your supplies or visit a tea room. The entertainment at the campsite is provided because campfires are encouraged so the occupants of the yurts socialize, and once a week they even arrange a pizza night. The ground is a field where cows and sheep once grazed, making it uneven and hence not suitable for wheelchair use. No camper vans and private tents are admitted.
5. Three Cliffs Bay Holiday Park, Wales
Simple camping or more luxurious glamping is what you find at the Three Cliffs Bay Holiday Park. Located on the Gower Peninsula, Three Cliffs Bay is one of the most photogenic parts of Wales. Imagine a sandy beach, sand dunes, and salt marshes all backed by three steep limestone cliffs. Who wouldn't want to spend a few days camping there? The best option for me was one of the tents they rent out, smack on the beach with an unparalleled sea view. There are tents with partial sea view or on even ground, too. Then there are the more luxurious bell tents and yurts, also not far from the beach. Bathroom blocks, kitchen blocks, and laundry rooms complete the picture. The whole area is dog friendly and so is the beach. The nearest town is Gower on the peninsula of the same name that not only offers shops where you can get the provisions you need, but also contains a lot of interesting sights and more beaches to visit. If you prefer, you can bring a camper van or a motorhome.
6. Black Berry Wood, East Sussex
Become a child again with the theme of this colorful campsite in East Sussex. Located in the small hamlet of Streak at the foot of the South Downs National Park, the seaside city of Brighton is only 7 miles away but seems to be another world. At the campsite which, by the way, does not allow groups, you can book your own glade in the woods with a fire pit and you can pitch your own tent. Or you can opt for one of two beautifully carved treehouses, named Higgledy and Piggledy, or a gypsy caravan or a curved cabin. Towels and bedding are provided in the treehouses which also have a bathroom and kitchen. If that isn't enough choice, you can also stay in Angus the fire engine, a red London bus, or even a helicopter. This is certainly the most entertaining and imaginative campsite of them all. In all units, no shoes are allowed, so bring slippers. No dogs either. Kids are brought in a wheelbarrow to your pitch if they don't want to walk.
7. Humble Bee Farm Glamping, Yorkshire
Here is an idea on how to spend Halloween in a different way! Why not go glamping at Humble Bee Farm in Yorkshire? It's a working farm with hens, cows, and all other farm animals, located not far from Scarborough and the North Yorkshire Moors. The farm offers all kinds of camping accommodations, from holiday cottages to wigwams, bell tents, and yurts to open spaces where you can pitch your own tent. Best of all, of course, to be closely involved with farm life, you can collect your own breakfast eggs or meet the farmyard gang. They stage events, too, like stargazing and a Halloween celebration with pumpkins just right for Halloween. And it's child and dog friendly, just make sure you don't make noise. The farm operators stress that they are not a party venue.
There are other opportunities in Europe for outdoor adventures: