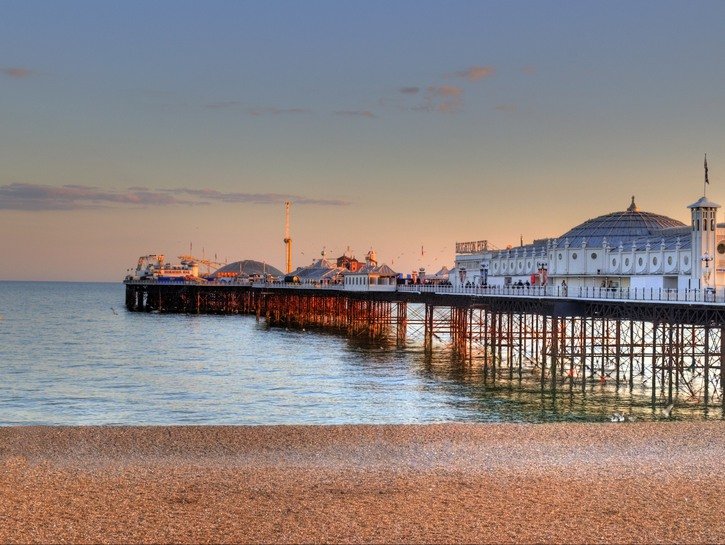 Brighton, a seaside resort enclave on England's south coast, has a lively, bohemian atmosphere. It is part of the colorful city of Brighton and Hove, described as both young and historic on the city's tourism site. The compact city is easy and fun to explore on foot. You'll find Regency architecture, a thriving arts community, a beachfront promenade, funky shopping, and eclectic attractions.
Brighton's easy accessibility by train, coach, and car makes it a great destination for either a day trip or a multi-day visit. By train, it takes just under an hour to reach Brighton from central London and only 30 minutes to get there from Gatwick airport. By car, the 50-mile drive on the A23/M23 from London takes about 90 minutes depending on traffic. Coaches serve Brighton from all three London airports and from central London. The coach ride from London Victoria takes two hours and fifteen minutes.
Brighton Beach
The waters of the English Channel lap against Brighton's beach, a wide pebbly expanse. It is those waters that brought serious tourism to Brighton in the late 1800s after Dr. Richard Russell claimed the sea waters had healing benefits. Although the cold, and sometimes rough, waters may discourage swimmers and sea bathers today, the beach with its quintessential British seaside holiday vibe still attracts tourists.
Walking along the beach or the broad promenade next to it, you'll have views of the sea on one side and the buildings of Brighton on the other. Bars and restaurants offer a variety of food and drink. Sample cockles, whelks, mussels, prawns, or jellied eels at a seaside fish shop. Other shops sell knick-knacks and offer fortune-telling services.
The Artists' Quarter by Brighton Palace Pier is home to galleries and studios. At the Brighton Fishing Quarter in the heart of Brighton's seafront, you'll find fishermen, artists, independent traders, and the Fishing Quarter Museum, which educates visitors about Brighton's history — from little fishing village to fashionable seaside resort.
Brighton Palace Pier
The smells of cotton candy and fish and chips greet you as you walk onto Brighton Palace Pier, commonly referred to simply as Brighton Pier. The entertainment pier, which officially opened in 1899, stretches 1,722 feet into the English Channel.
On the pier you'll find a variety of carnival-type rides for all ages, arcade games, side shows where you can test your skills and win a prize, concession stands, restaurants, and bars. And don't forget to enjoy a panoramic view of Brighton from the end of the pier!
British Airways i360
A new attraction along Brighton's seafront is British Airways i360, a 531-foot observation tower that opened in August 2016. A futuristic glass viewing pod with room for 175 visitors glides slowly up 450 feet offering views of Brighton and Hove and beyond. See the winding shopping lanes, Regency architecture, Brighton Palace Pier, Brighton Marina, miles of Sussex coastline, and the South Downs National Park.
During the 25-minute experience, drinks are available at the Nyetimber Sky Bar. Try an English sparkling wine, local beer from Harvey's Brewery, a Brighton gin and tonic, or a locally sourced Folkington juice.
"Flights" take off every half-hour starting at 10 a.m. The last flights of the day leave anywhere from 5:30 p.m. to 9:30 p.m. depending on the day of the week and time of the year. Check i360's website for details.
Royal Pavilion
If you take to the skies in British Airways i360, you'll enjoy striking views of the Royal Pavilion. Its exotic dome is also visible from several ground-level Brighton locations. The opulent palace looks as if belongs in a Far East locale, not in a British seaside town. Upon seeing it, you may find yourself uttering a popular local phrase…"Only in Brighton."
The Royal Pavilion was built as a seaside pleasure palace for King George IV. He started coming to Brighton in the 1780s when he was still Prince of Wales. He initially rented lodging and later built a modest villa that became known as the Marina Pavilion. The Prince was known for his decadent lifestyle and love of architecture and fine arts. In 1815, after he had become Prince Regent, he commissioned a transformation of his villa into an oriental palace. The Pavilion later served as a civic building and was used as a hospital during World War II. Extensive renovation work began after the War.
Today, Pavilion visitors can tour rooms restored to their original grandeur and walk through the gardens. The rooms are decorated with period furniture and fine art, including original pieces on loan from the Queen.
The Pavilion is open daily. Times vary by season, so check the Pavillion's website for details. Audio guides provide interesting facts and background information and are available for a small fee.
Regency Architecture
Walk through the residential streets of Hove just west of Brighton's city center to see the best of the area's Regency-style buildings and squares. Brunswick Square, Brunswick Terrace, Adelaide Crescent, and Regency Square are prime streets for your architecture stroll. The Regency Town House in Brunswick Square is a historic terrace house currently being developed as a heritage center and museum.
To see other historic architecture, visit Preston Manor. Although the history of Preston Manor dates to the 17th century, it is currently staged in Edwardian fashion. Rooms in the house tell the story of the Stanfords — an upper-class family who owned the house — and captures the intricacies of life in the early 20th century. Preston House is open from April through September daily except Mondays.
Blue Plaques
As you explore Brighton and Hove, look for the more than 130 blue plaques placed throughout the city. These markers commemorate a link between the location and a famous person or event. Read the information to learn snippets about Brighton and Hove's history.
Eclectic Shopping
Shopping and browsing in Brighton is an experience in itself, with stores offering a diverse collection of homeware, art, jewelry, and fashion ranging from luxury to vintage and retro chic. Whatever you're looking for, you'll be charmed by Brighton's picturesque and quirky pedestrian-friendly shopping areas.
The West Pier arches, built in Victorian times, contain unique stores selling designer gifts, children's clothing, photographic prints, and books. At night, the arches are illuminated with custom lighting using blues, whites, and sea greens to represent waves.
The twisting alleyways of The Lanes Brighton, located in the city's historic area, contain independent shops and boutiques selling antiques, contemporary and designer fashion, and jewelry. There are restaurants and sidewalk cafés where you can stop and soak up the atmosphere. Be on the lookout for entertaining street performers as you wander through the lanes.
Finally, the Brighton North Laine area boasts the largest selection of independent retailers on the South Coast. Building exteriors sport colorful murals and graffiti art. Inside, shops contain a mix of exotic, funky, kitsch, and retro fashion plus locally made jewelry and artwork. You'll even find vegetarian shoes.
Graffiti
Brighton is full of street art and graffiti artwork that's as colorful, vibrant, and quirky as the city itself. The North Laines area is a hub for street art, but works can be found dotted throughout the entire city. The Prince Albert pub on Trafalgar Street was once the site of a Banksy work "Kissing Coppers." The original was sold, but the wall of the pub contains a replica. The rest of the two-story wall around the replica is covered with bold portraits of dead rock stars.
Visit Brighton's tourism site also features a roundup of the area's Top 10 Graffiti Artworks, but keep your eyes open as you wander through the city. You'll find many other pieces of thought-provoking graffiti as well.
Live Music
Brighton has an active and diverse music scene. The Brighton Centre, the area's largest entertainment venue, draws big names in rock and pop. You'll find both classical and contemporary music at the Brighton Dome concert hall. Komedia in North Laine is another prime live entertainment venue.
Of course, the opportunity to hear live music extends well beyond these venues. You can find live music acts almost every night of the week in pubs and churches and on the street. Check the What's On section of Visit Brighton and the Brighton and Hove City Council's live music page.
Photo Credit: Mitotico / Shutterstock, Dmitry Naumov / Shutterstock