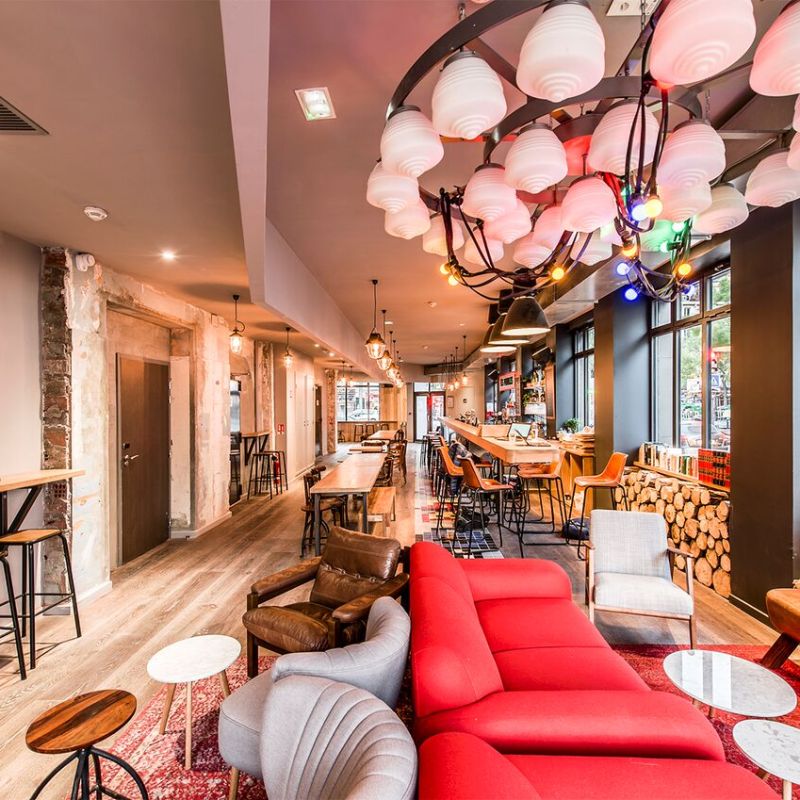 Staying at hostels nowadays is a whole different experience than in the 1970s when we were backpacking and the book Europe on $10 a Day was our bible. Hostels have grown up and not only cater to youth but also to more mature travelers who are looking for inexpensive accommodations but still desire some affordable luxuries. There's a new range of hostels that are closer in feel to a boutique hotel and some have similar amenities. Here's our list of the top hostels in Paris.
1. Generator
Generator is a hip and fun hostel in an off the beaten path area that's still central to most of the big tourist attractions in Paris. It's located near Canal St. Martin, an area noted for its large array of inexpensive cafes, bars, and restaurants.
Generator offers a wide range of private and shared rooms. Shared room rates start at $23 a night with 10 beds/5 bunk beds, which includes a private bathroom, pillows, sheets, and blankets, reading lamps, power sockets, clothes closet, seating area, and a USB port to charge electronics. Towels can be added for a nominal fee. Rooms are modern, clean, and well lit. There are also eight, six, and four-bed, shared rooms for a slightly higher rate, and female-only dorms are also available. Private rooms start at $77 a night for a deluxe twin with two twin beds, and at the other end of the spectrum, the Deluxe King Room has a king-size bed and a private terrace for $115 a night. Amenities in the private room include a private bathroom, towels and bed linens, chair and desk, power sockets, reading lamps, and toiletries.
The public rooms at Generator are where the real fun happens. Café Fabien is a combination café and canteen overlooking a tranquil garden on the main level serving a menu of French favorites. Khayama Rooftop on the 9th floor is a tented rooftop café and bar with fabulous views overlooking Montmartre. Sip a cocktail while watching the sunset on Sacre Coeur Church on the crest of Paris. For a more intimate experience, head downstairs to the Underground Club for drinks. Large screen televisions, a ping pong table, and a library are a few of the other extras at Generator
2. Mije Paris
Probably the best-located hostel in Paris, MIJE is a collection of three hostels in historic 17th-century buildings, in the Marais district. Mije Marais is the largest of the collection, which is behind a set of huge doors leading to a charming courtyard with cobblestones, a well, and white iron chairs and tables.
The collection of 400 rooms in the three locations is a few steps away from each other. The dorm rooms have 4-10 beds and are either exclusively men or women and they include linens and bedding, showers, and optional towel rental. Rooms have high ceilings and big windows that let in lots of daylight. Single and double private rooms are also available with private bathrooms. Continental breakfast is free and served daily in their handsome dining room from 7 a.m.–10 a.m.
Mije also offers a cafeteria, vending machines with snacks, sweets, and drinks, library, a screening room showing films and board games in the facility. It also provides free WiFi, maps and brochures, and baggage storage free of charge.
The Marais is a destination itself with great history and architecture (it has some of the oldest buildings in Paris from the 1300s), many museums including the Carnavalet (museum about the history of Paris) and Pompidou, delicious food shops, and unique clothing and accessory boutiques.
The ideal location is 10 minutes from Notre-Dame and Saint Chappelle, 5 minutes to the stunning Place des Vosges Square and Ile Saint Louis, and 20 minutes to the Louvre.
3. Le Regent Montmartre And Le Village Montmartre
Another beloved and popular neighborhood of Paris, Montmartre, has two terrific hostels, which are owned by HipHop Hostels, a boutique chain with 20 locations throughout Paris.
Le Regent Montmartre has Parisian style decorated private rooms with shared baths or dorm rooms that accommodate three, four, six, and 10 people, and female-only dormitories if required. Rooms on the second and fifth floors have small terraces, and the rooms on the fifth and sixth floors have magnificent views of Montmartre and the Sacre Coeur Church. Rates start at $21 a night.
Free breakfast is served every morning and there's a communal, fully equipped kitchen if you want to prepare your own meals. There's happy hour in the early evening and you can sample locally brewed beers. Other services include washing machines, safe deposit boxes, free luggage storage, and unlimited WiFi.
Located near the Anvers metro station, the location is close to rue des Martyrs, one of the great food shop streets of Paris, nightclubs, concert venues, reasonably priced cafes, and restaurants, and the St. Pierre fabric market.
4. Le Village Montmartre
Oozing with warmth from the exposed wood beams and rich wood floors, Le Village Montmartre is a homey, welcoming oasis with modern and spacious rooms. Room categories include mixed dorms with three to six beds, 12 beds, and women's dorms with four beds, all with shared baths. Private rooms accommodate one to four guests and have private bathrooms. What sets Le Village Montmartre from other hostels is air conditioning in every room, which is rare in a hostel.
Amenities and facilities include an outdoor terrace and seating area, communal kitchen where you can prepare your own food, free breakfast, elevator, free Wi-Fi and luggage storing service, evening events, snack bar, card, and board games, library, and guitar playing.
Le Village Montmartre is close to the best of Montmartre including the Sacre Coeur church, the artists and cafes around Place du Tertre, the Montmartre Museum, the famous windmills, Montmartre Cemetery, and the 19th-century cabaret Au Lapin Agile.
5. Les Piaules
Started by three young Parisian travelers, Les Piaules is the most luxurious hostel in Paris. The owners did extensive research by staying at other top hostels for 500 nights and then designing a unique bunk bed, Le Plumard, that fits all their guests' needs. The bed includes a blackout curtain, a plug, reading lamp, and a small secure locker. There are also private rooms and the option of one on the top floor which has romantic rooftop views of Paris.
Rates start at $28 a night for an eight-person shared room with a bathroom just outside the room and other room options include six-bed and four-bed dorms with shared bathroom along with a female-only 6-bed dorm at slightly higher prices. Other room amenities include free Wi-Fi and air conditioning.
Les Piaules serves high-quality food and drinks at its rooftop restaurant and bar that commands fantastic views of the city. Dishes and drinks include burrata cheese with truffles, fresh pizzas, smoked meats, homemade lemonade, and craft beers at reasonable prices.
There are two locations for Les Piaules in friendly, safe, and bohemian areas Belleville and Nation, which are close to the metro and other public transportation.
6. The People Hostel
A small chain of French hostels with locations in Tours, Lille, the French Alps, Marseille, Strasbourg, and Paris, The People Hostel is a warm and friendly environment for travelers looking for great accommodations at reasonable rates, starting at $25 a night.
Rooms are cheerfully decorated with contemporary furniture, wall posters and photos, and print throw pillows. The shared rooms have custom built, state-of-the-art bunk beds with features such as a reading light, mini, private locker, electrical outlets, and USB plugs, and opaque curtains. Private rooms have either two twin beds or one double bed and there's a family room, ideal for traveling with children and grandchildren, which has a double bed and a bunk bed.
Pro Tip: The Premium Private Room has a television and free towels.
There's a rooftop casual café and the bar serves cocktails and local beers. If you choose to bring in your own food, there's a kitchen facility with a microwave, refrigerator, two ovens, and kitchen utensils.
The People Hostel provides luggage storage free of charge in case you arrive before check in.
Pro Tips
If you are traveling with a budget-minded family or group, you can book one of the larger shared rooms, some with a bathroom in the room, at most of the hostels on this list.
Almost all the hostels on this list charge a fee for towels.
Remember that the exchange rates vary and the current listed prices are on average and will also change with seasonal rates.
Check out these other accommodations in Paris and what it's like in the city these days: