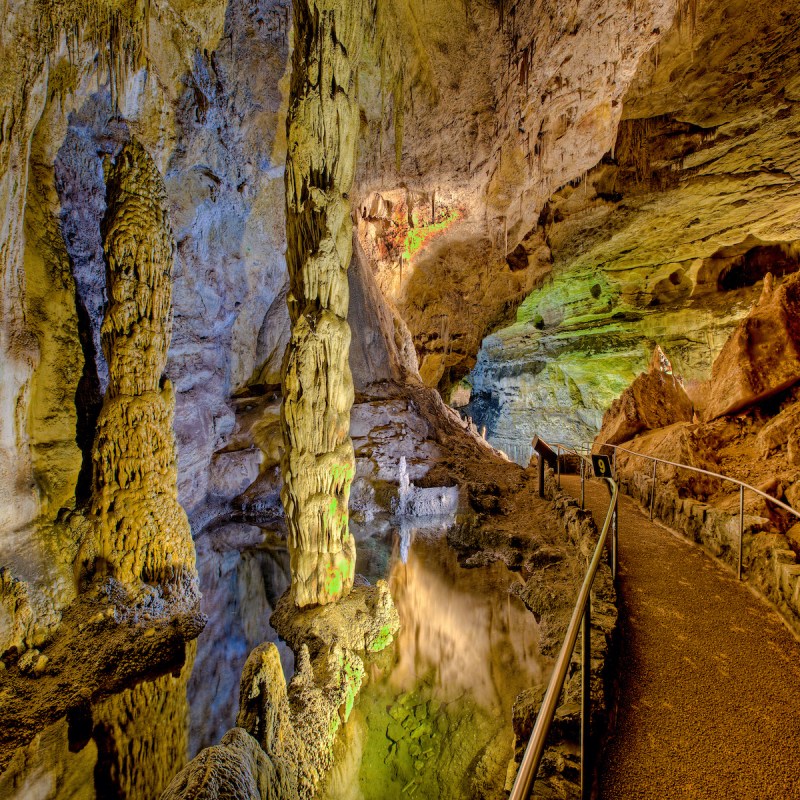 Carlsbad Caverns National Park, located in the Guadalupe Mountains of southeastern New Mexico, is known for its namesake, Carlsbad Cavern. It's simply named "Big Room" is the largest single cave chamber — by volume — in North America.
Because it's located in the Chihuahuan Desert, the park also offers a study in contrast. Inside Carlsbad Cavern, the temperature is a steady 56 degrees year-round. Above ground, however, visitors find rocky canyons, flowering cacti, and desert wildlife.
Carlsbad Caverns is 145 miles northeast of El Paso, Texas, and about 300 miles from Albuquerque, New Mexico, so a visit does require some advance planning. To help make that task easier, the National Park Service has released its "Top-10 Tips for Visiting Carlsbad Caverns National Park," written by the rangers who work there.
So let's get right to it. Here are the rangers' top tips for planning a trip to Carlsbad Caverns National Park.
1. Make Reservations
Due to the ongoing COVID-19 pandemic, all visitors must make reservations for timed entry into Carlsbad Caverns, rangers explain. Reservations cannot be made at the park.
Also, reservations only reserve entry times, so visitors need to purchase entrance tickets as well.
You can make reservations here or over the phone by calling (877) 444-6777.
You can learn about entrance fees and park passes, such as the America the Beautiful pass, here.
2. No Eating And Drinking In The Cavern
"Eating and drinking anything, except plain, unflavored water, is not allowed in Carlsbad Cavern," rangers explain. "This prevents attracting wildlife into the cavern. It also prevents littering as well as potential cave contamination."
Visitors may eat and drink in the underground snack bar or outside the cavern.
3. Explore On Your Own
Rangers suggest exploring Carlsbad Cavern on your own by following two trails. The first is the Big Room Trail, which takes about 90 minutes to walk. The extremely steep Natural Entrance Trail takes about an hour to walk.
Pro-Tip: There is a shortcut on the Big Room Trail which shortens the hike to 45 minutes.
"Depending on whether you decide to hike up or down, you gain or lose about 750 feet — equivalent to walking up or down a 75-story building — on the Natural Entrance Trail," rangers explain. "This trail is not recommended for visitors with heart or respiratory conditions."
You can learn more about both trails here.
4. Big Room Accessibility
One mile of the Big Room Trail is accessible to wheelchairs.
"Please note the trail is wet from dripping water and can be slippery, bumpy, uneven, and difficult to navigate," rangers explain. "It isn't Americans with Disabilities Act-approved and should only be attempted with assistance."
You can find the park's accessibility guide here.
5. Experience Walnut Canyon Desert Drive
Rangers encourage visitors to "discover the Chihuahuan Desert along the unpaved Walnut Canyon Desert Drive," where they can "explore the stories of ancient life, people of the past, and desert survival," according to rangers.
The nine-mile-long drive takes about an hour. You can learn more about Walnut Canyon Desert Drive here.
Pro-Tip: The gravel road is not recommended for vehicles with low clearance. It is closed to RVs, buses, and trailers.
6. Take Pictures
"Don't forget your camera! Take photos in the cavern to record your adventure," encourage the rangers. "Flash photography is allowed in the cave — just be courteous to other visitors."
7. Enjoy A Less-Visited Area
"Rattlesnake Springs, part of Carlsbad Caverns, is a lush oasis in the desert," rangers explain. "This riparian ecosystem features a natural spring and a large grove of cottonwood trees. It's an ideal place for bird watching and picnicking."
You can learn more about Rattlesnake Springs here and find a map of the area here.
8. Watch Bats Emerge From Carlsbad Cavern
"In the summer, you can watch about 400,000 Brazilian free-tail bats emerge from Carlsbad Cavern around sunset," the rangers write. "The best bat flights normally occur in August through September, when baby bats — born in early summer — join the flight."
9. Take A Hike
"Be sure to hike the short Chihuahuan Desert Nature Trail so you can learn about the unique plants found in the park and see two natural entrances to Carlsbad Cavern," suggest the rangers.
The trail, which is 0.7 miles long, is mostly paved. The hike takes about 30 minutes.
Pro-Tip: The upper section of the trail is wheelchair accessible and leads to a viewpoint with a shaded shelter.
You can learn more about the Chihuahuan Desert Nature Trail here.
10. Eat And Shop
Rangers encourage all visitors to stop at the park's restaurant, gift shop, and non-profit bookstore in the visitor center. The restaurant, located in the visitor center, has food options and drinks. The non-profit bookstore has educational merchandise "that helps tell the story of the park," they explain.
While you're thinking about the park, be sure to read our coverage on Carlsbad Caverns and the Guadalupe Mountains.