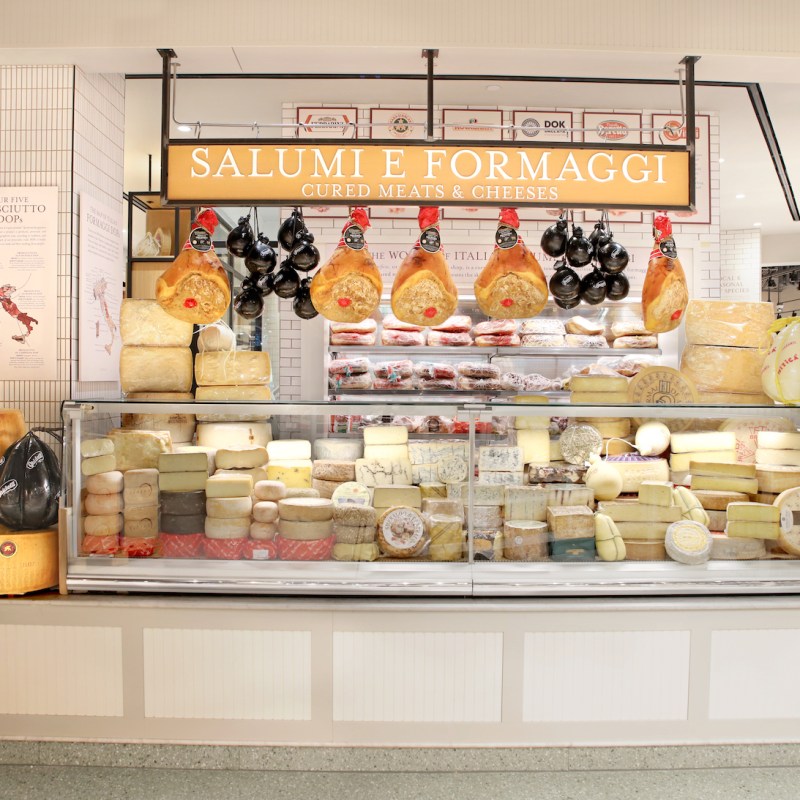 Imagine a store with over 500 kinds of cheeses and cured meats, 1,200 Italian wines, and over 100 kinds of olive oil. Welcome to Eataly, where you will find over 10,000 products imported from Italy, along with local products.
Eataly is part supermarket, part restaurant, part department store. In addition, there are classes and other events throughout the store. It's an experience!
Founder Oscar Farinetti, wanted to create a place to share real food grown locally, without chemicals. In 2007, the first store opened in Turin, Italy. Today there are 40 stores around the world; eight are in North America, and more are on the way.
I have been to Eataly in Bologna, Los Angeles, and Dallas… Each store is slightly different in layout and the number of restaurants. All are a full sensory experience!
Clearly, Farinetti hit on a winning formula — but what makes Eataly so successful? Farinetti explains: "Eataly's success is linked to our philosophy because people can eat, shop, and learn all about high-quality food — three activities that don't coexist anywhere else. Moreover, our informal style of communication shows how direct and approachable we are, just the way people like."
Farinetti is from Turin, the birthplace of the slow food movement. He wanted to create a place that would not only feed people but also educate them about food and culture… the Italian way of life.
Before opening in 2007, Farinetti spent five years traveling to every region in Italy, meeting with small farmers and forming relationships. All of the products in the store are the result of nurturing these relationships. Everything is of the highest quality and most products are biodynamic, organic, and chemical-free. Indeed, these partnerships are part of what sets Eataly apart.
Eataly is a complete market where you can buy your meat, cheese, produce, butter, yogurt, fresh fish, and meat. All of the prepared items are made in-house, with the same ingredients available for purchase in the store. There's even a selection of gift items and home goods like the perennial Moka.
You'll also find unusual or hard-to-find items like Romanesco cauliflower, fresh anchovies, anchovy juice (not available anywhere else), truffles, guanciale, over two dozen shapes of pasta, porcini mushrooms, and Venchi chocolates.
A walk through Eataly is an education in Italian food. For instance, olive oil is not a one size fits all product. I learned there are oils for many different purposes: for cooking, dipping, or dressing a salad. Depending on the region, the flavor will be different too, just like wine.
Eataly is not only educational, it's fun! At the pasta bar, there is a mirror above so you can easily watch the pastaio stretching and shaping the dough. Aside from the dry pasta, all pasta is made in the store with imported ingredients. You can also watch as the mozzarella is made into bocconcini, the little egg-shaped balls.
Customer service is a big part of the Eataly culture. If it's your first time in the store, ask for help at the customer service desk. You can even book a tour of the store. I found this helpful, though I had been in several stores in various locations prior to my tour. Now I feel much more confident about shopping there though I still often ask for help.
While it's fun to shop at Eataly, you really should try one of the restaurants which will vary depending on which store you are in. All of the stores in North America will have a La Pizza and La Pasta restaurant where you can taste authentic pasta and Neapolitan pizza. The ovens for the pizza are imported from Naples. Most of the pizzaioli are Italian, and all are trained according to the strictest standards of traditional Neapolitan pizza.
I've put together a list of foods that I think a first-time visitor to Eataly really must try. At least it is a starting point. I'm sure you will find many other things that you simply can't live without.
1. Traditional Balsamic Vinegar
Traditional balsamic vinegar comes from the region of Emilia Romagna. There are two kinds, traditional balsamic vinegar DOP, and balsamic vinegar of Modena IGP. DOP and IGP are Italian designations of authenticity and quality. DOP is the finest, and of course, the most expensive. It is aged a minimum of 12 years. Balsamic vinegar of Modena is aged from 60 days to 3 years.
You will see other products that seem the same but they may be glazes used for cooking. If you're not sure you can check the labels as they will be clearly marked. Drizzle balsamic vinegar on some Parmigiano Reggiano cheese. Yum. It actually pairs well with many foods.
2. Fabbri Amarena Cherries
The blue and white container is so pretty you'll want to buy these just to keep the container. However, you will love the cherries! Sweet and tart in thick syrup, pair them with gelato, on top of breakfast pancakes or waffles, or garnish your favorite cocktail.
3. Pane Carasau Crispbread
This is a crispy, paper-thin bread that is great with soft cheeses and balsamic vinegar. I first had this bread in a Sardinian restaurant in Dallas. I'm all about the crunch, so I love this bread.
4. Pecorino Toscano PDO
Pecorino Toscano (PDO stands for protected designation of origin) comes in two varieties: fresh and aged. The fresh style is a soft cheese with a minimum aging period of 20 days. It is a white or light yellow cheese with a delicate aroma. The taste is clean and slightly sweet. Aged Pecorino is semi-hard with a minimum aging period of 120 days but could age up to 1 year. It is more complex than the fresh style due to aging. Try this with the traditional balsamic vinegar.
5. Grana Padano DOP
This cheese has a rich history and is produced according to very strict regulations. Made from unpasteurized milk, the cows are fed a very specific diet and are raised in specific areas of the regions of Emilia Romagna, Piedmont, Lombardy, Trentino, or Veneto. It is the most popular cheese in Italy and is best eaten on its own — or perhaps with some honey and nuts or grated over a salad or some pasta. The DOP Riserva is aged 20 months.
6. Spaghetti Al Pomodoro
You can't go shopping at Eataly and not get all of the makings for a fantastic pasta dish! Spaghetti al Pomodoro is their most popular dish served in-house and you can buy all of the same ingredients they use and make it at home. Pomodoro means tomato in Italian, so it's simply spaghetti with tomato sauce. For this, you'll use one of their pasta di gragnano. It's a dry pasta finished with a rough texture so that it absorbs and holds the sauce better. The other ingredients are olive oil, tomatoes of course, and sea salt. Buonissimo!
7. Prepared Foods
In the prepared food section you absolutely must try the arancini. They are divine. Arancini are small balls of rice, stuffed, usually with a savory filling, coated with bread crumbs, and fried. It doesn't sound healthy but it's actually very light and not oily. I first had these in Rome. It was a long time ago but I have never forgotten the first bite.
No meal is complete without dessert. Did I mention that all the desserts at Eataly are made on location? Cannoli, tiramisu, ricotta with berries — the list of sugary delights is long. There's also a gelato bar. Top it all off with an espresso or American coffee.
One of the joys of traveling is eating new foods unique to the destination. How many times have you eaten a dish while on holiday, then wished to replicate it at home? If you're like me, almost every trip is like this. If you need an Italian fix, now you know where to get one.
I honestly did not expect to like Eataly. I felt it was too much show and not enough tradition… but I've grown to enjoy the experience, and admire the dedication to bringing in only the best quality foods. Eataly truly does offer something no one else can. Hopefully, with so many locations to choose from, there's an Eataly in your future. Go for the show, but stay for the food. It's Italian!
Food and drink specialties are always on the minds of travelers and top restaurants get their attention: