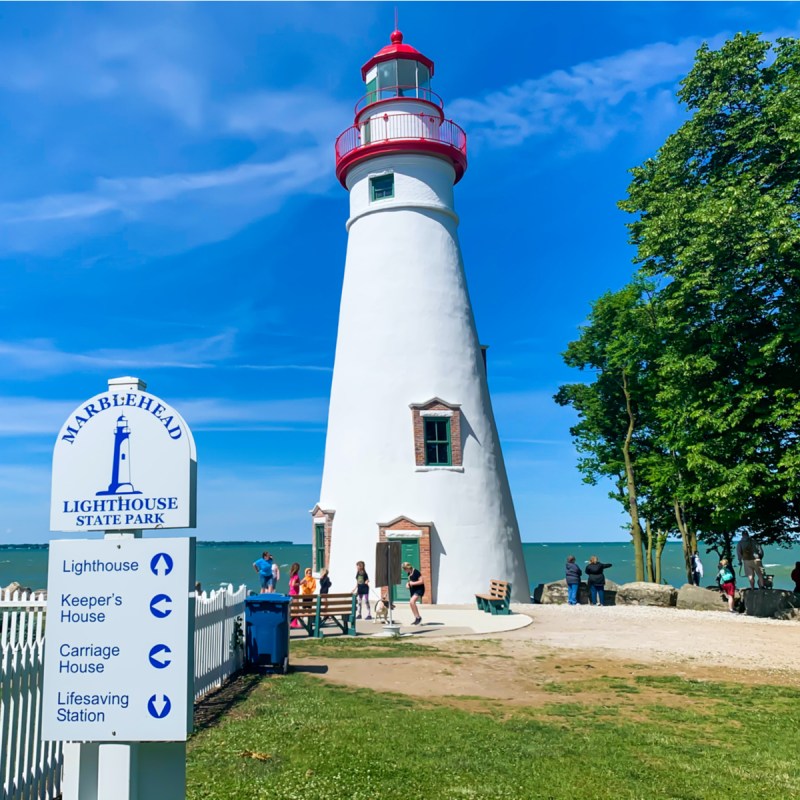 Lake Erie, one of the five Great Lakes, is known for unpredictable weather and dangerous waves, which leads up to why there was such a great need for her gorgeous lighthouses at the turn of the century. You can drive along this beautiful body of water via the roads running along Lake Erie and spend the day sightseeing from east to west. When I take the lighthouse tour, I plan for a full day and make sure I am ready to apply the brakes for all the planned and unplanned stops along the route.
1. Ashtabula Harbor Lighthouse
At the breakwaters of Ashtabula Harbor, you'll find this 100-year-old lighthouse that is preserved by the Ashtabula Lighthouse Restoration and Preservation Society. Initially built in 1836 on a wooden crib, this lighthouse began its work to protect the harbor. However, in 1916 the lighthouse was doubled in size and situated permanently onto a concrete crib, and this is where you find her today. One of the most interesting facts about this lighthouse is that in 1973, it was the last remaining lighthouse on Lake Erie that the Coast Guard still manned.
On your visit, you can enjoy views from the outside of this lighthouse, but there are no tours offered at this time.
Pro Tip: As you start your tour in the lakeside town of Ashtabula, grab a light lunch at Bascule Bridge Grille and enjoying the views of the Bascule bridge.
2. Old Fairport Harbor Lighthouse And Fairport Harbor West Lighthouse
When I came upon this lighthouse on a road trip, it caused me to pause a moment. It was situated in the middle of town and not directly on the water. As I did some quick research, I found out that this was an old lighthouse that had been replaced and is now a museum where you can take tours.
The Fairport Harbor Lighthouse and Marine Museum is open on Wednesdays, Saturdays, Sundays, and all legal holidays from Memorial Day weekend thru mid-September. Public Hours are 1 p.m. to 4 p.m.
If you want to see the current lighthouse, the Fairport Harbor West Breakwater Light is located on the coast. It has been renovated recently, and there is talk about it becoming a vacation rental.
Pro Tip: Diagonally across the street from the museum is the Fairport Harbor Creamery, where you can enjoy some delicious ice cream as you take a walking tour between the lighthouses.
3. Lorain Lighthouse
Known as the "Jewel of Port," this iconic lighthouse has stood the test of time and is undoubtedly one of the most picturesque lighthouses along the Lake Erie coast. It is hard to imagine, but if it had not been for some local preservationists, this beautiful lighthouse would have been demolished in the 1960s.
Today, you can tour the lighthouse during the summer months. You will need to make reservations, and the lighthouse is only accessible by boat. One other great way to enjoy this lighthouse is via a sunset dinner cruise they offer. I was not able to do this but will go back sometime soon to enjoy it!
Pro Tip: This lighthouse is not handicap accessible, and they recommend that you wear sturdy shoes when taking the tour.
4. Vermilion Lighthouse
While this is not the original structure, the replica of the first lighthouse is not to be missed when exploring the shores of the lake. Vermilion has been without a working lighthouse for 63 years; a local named Ted Wakefield spearheaded the fundraising to get a lighthouse back in town. In 1991, the 25,000-pound base of the replica lighthouse, measuring 15 feet in diameter, was placed, and rebuilding began.
The Vermilion Lighthouse is not open for tours.
Pro Tip/Historical Fact: Vermilion was once known as the "city of sea captains" and was a popular drop-off point for illegal liquor from Canada during the days of Prohibition. Before you leave town, enjoy a glass of wine at Chez Francois made from a local vineyard.
5. Port Clinton Lighthouse
Mostly forgotten for sixty years, this lighthouse stood along the Portage River on private property. In 2010, the owner decided to explore how to give the lighthouse to Port Clinton, and her journey back to the shores of Lake Erie began. With overwhelming support, the community came together to help get it restored and back where she belonged.
As you stop and enjoy this lighthouse, take some time to explore the park, see the Lightkeeper sculpture, and enjoy one of Lake Erie's stunning sunsets.
You can take tours of the Port Clinton Lighthouse on Saturdays for a small fee, and tours are offered on Saturdays from noon to 5 p.m. from Memorial Day to Labor Day.
Pro Tip: Stay in Port Clinton for a few days to explore the area for fishing in the Walleye Capital of the World with Blue Sky Charters and see the Port Clinton Lighthouse on your way out for the day.
6. Marblehead Lighthouse State Park
One of Ohio's smallest state parks, Marblehead Lighthouse State Park, offers lighthouse lovers and history buffs a place to come and explore and learn about one of Ohio's most beloved and beautiful lighthouses. Not only is it stunning to look at, but you will also be surprised to know it is one of the oldest continuously operating lighthouses on the Great Lakes.
This lighthouse has been a beacon of safety for many years, and now it is a beacon of welcome to visitors when they arrive at the shores of Lake Erie. With a stately beauty that draws photographers year after year, this newly renovated lighthouse, a replica of a lifesaving station, and a gift shop are open to visitors from Memorial Day to Labor Day from noon to 4 p.m. every day.

Plan a picnic and spend the afternoon at this one-of-a-kind state park.
Pro Tip: There are 77 steps on a winding staircase to the top to the observation area around the lighthouse, where you can enjoy spectacular views of Lake Erie and the surrounding islands in the distance. Bring binoculars because, on a good day, you can see the shores of Cleveland.
7. South Bass Island Lighthouse
A unique way to see this lighthouse is by taking a Miller Ferry over to South Bass Island, where this lighthouse is situated on the island's southwest tip. Rent a golf cart when you get off the boat and begin your tour around South Bass Island toward the lighthouse. Don't worry about getting lost; the island is small, and golf cart rental places have maps available.
The South Bass Island Lighthouse was completed in 1897 and was in operation until 1962. You can now tour the Lighthouse Tower and learn about its history; climb its stairs up 60 feet to take in the stunning views of Put-in-Bay and Lake Erie from the top. Groups are limited to five, and the fee is $5.00 per person. The climb has numerous stairs and can be somewhat challenging. Be prepared and plan on wearing sturdy shoes.
The lighthouse grounds are open to the public from dawn to dusk free of charge.
8. Toledo Harbor Lighthouse
Located 5 miles north of Maumee Bay State Park, the Toledo Harbor Lighthouse is standing in Lake Erie, with what some say is a gingerbread-style look about her. You did read that correctly; it is in the lake at the entrance of the shipping channel.
You can visit this lighthouse during the Annual Toledo Lighthouse Festival, where you can take a boat ride to see the lighthouse. If you can't make it for the festival, you can rent a boat or charter to take an evening cruise out to see it and enjoy the sunset.
Pro Tip: Stay at Maumee Bay State Park Lodge while touring the lighthouses along Lake Erie. This is my go-to place to stay. It offers some of the best views of the fantastic sunsets.
A few things to know before you go:
Wear sturdy shoes
Bring binoculars
Take water for hydration
Call ahead for hours because small lighthouse societies usually run them
Pack snacks or a picnic to enjoy
Lighthouses offer stunning views of the surrounding areas and allow you the opportunity to learn about their history. Each lighthouse along the shores of Lake Erie has its own individual flair and unique design. While you might not be able to explore the interior of each one, you can experience the grounds and surrounding green spaces. For the ones you can enjoy from the top, the views are usually breathtaking, a little windy, and worth the climb.