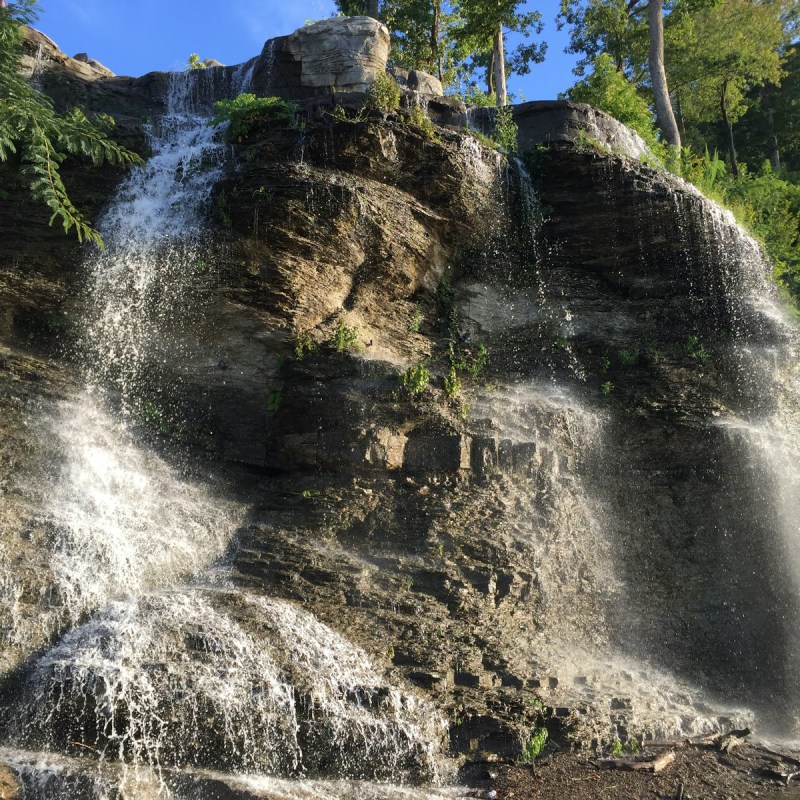 As I sat atop the rotating restaurant 360 Grille at the Marriott Shoals hotel in Florence, Alabama, I gazed down at the 360-degree view of the Muscle Shoals region in this northern Alabama landscape. Below me, the shoals sparkled in the waning sunlight.
Nestled within Northwest Alabama on the banks of the Tennessee River, Florence is one of four cities that are collectively known as the Shoals, which technically is a shallow area of the river where once-plentiful mussels lured people for an easy harvest.
But in this small corner of the South, the Shoals refer to the towns of Florence, Muscle Shoals, Tuscumbia, and Sheffield, which blend into each other nearly as seamlessly as the Tennessee River's lazy current.
Like most of the Tennessee River Valley, the Shoals are dominated by the river, which carved out soaring bluffs in the green mountains. Musicians and film stars flocked to the area for that famous "Muscle Shoals sound," created by the Swampers, the nickname given to the  Muscle Shoals Rhythm Section, which acted as a house band at the FAME and Muscle Shoals Sound Studio. During the 1960s and 1970s, these musicians were involved in more than 500 recordings with big names that used the area sound studios and were highly sought after for their unique "Muscle Shoals sound."
Fashion designers are also putting their style on the map here, and history is as deep as the bedrock beneath.
Florence, Alabama, is one of the unique communities in the Shoals and an easy place to call home base for the weekend. Everything in the Shoals area is within driving distance, but the personality of Florence is what really makes the city a destination.
I was invited and hosted in this part of northern Alabama to explore Nashville's Big Back Yard, a new tourism push that invites travelers to discover the 12 unique towns along the Natchez Trace Parkway from Muscle Shoals to Leipers Fork, Tennessee. My introduction to this road trip was in Florence, and it was an impressive start.
Helen Keller was born here, and somewhere under Main Street, outlaw Mountain Tom Clark's body is buried. Clark terrorized local citizens after the Civil War and confessed to at least 19 murders. He was hanged in 1872. The University of North Alabama in Florence boasts of the only city-dwelling lions (Leo III and Una, mascots), and Frank Lloyd Wright built one of his most gorgeous creations here.
From outdoor excursions into the spectacular Tennessee River Valley woods to exploring architecture and history, here is how to spend a perfect weekend in charming Florence, Alabama.
Things To Do In Florence
Explore History And Architecture
Even architectural amateurs like me can be amazed when visiting The Rosenbaum House in Florence, the only Frank Lloyd Wright-designed structure in Alabama. The Stanley and Mildred Rosenbaum house was built in 1939 for the two newlyweds as one of only 26 Usonian houses in the United States.
Tours of this impressively restored home turned public museum are held Tuesdays through Sundays, and no reservations are needed.
After exploring the Rosenbaum House, make your way to nearby Tuscumbia to learn about the miracle of Helen Keller and her "miracle worker" teacher Ann Sullivan at the Helen Keller Birthplace Museum and Ivy Green.
Helen was born at the Ivy Green estate as a healthy child in 1880, but was stricken with a severe illness at 19 months old, leaving her blind and deaf. She grew into a wild, uncontrollable thing until the family hired a partially blind teacher named Ann Sullivan to help teach their child.
In a famous "miracle," Miss Sullivan used water from the pump at Ivy Green to pour over one of Helen's hands while she tapped out letters in sign language in Helen's other hand. She did this over and over until Helen realized the taps were letters. By that night on that fateful day, Helen had learned 30 new words, which opened up her world. She later went on to graduate college and become a world-renowned author, speaker, and advocate for the deaf and blind.
Ivy Green is open to the public Mondays through Saturdays as a permanent shrine and earned a spot on the National Register of Historic Places.
One of the most unique attractions to visit near Florence is Tom's Wall, located 150 yards east of milepost 338 on the Natchez Trace Parkway. Tom's Wall is the longest unmortared wall in North America, and it started more than 30 years ago as a way for Tom Hendrix to honor his great-great-grandmother, Te-lah-nay.
Te-lah-nay was forced from her homeland in Alabama by the "singing river," and forced to march along the Trail of Tears to Oklahoma. According to Tom's son Trace, Te-lah-nay walked back alone to Alabama as a teenager, and her path was neither straight nor easy.
Tom Hendrix decided to build a wall of stones as a memorial to her, and over 30 years later, it is now the largest memorial to a Native American woman. Tom's Wall is open to the public every day from 8 a.m. to 4 p.m.
Enjoy The Outdoors
From ruby-throated hummingbirds to soaring bald eagles and graceful sandhill cranes, Florence's outdoor spaces are a birder's paradise. More than 397 species of birds can be spotted along the North Alabama Birding Trail. This trail has nine stops that weave through oak and hickory groves, tupelo swamps, and fields vibrant with color and wildflowers.
The Shoal Creek Preserve in Florence allows outdoor adventurers to explore the 300 acres of natural terrain, burbling little creeks, and waterfalls with two easy to moderate trails totaling 4.3 miles.
If that's not enough hiking for you, try out the 11 miles of hiking trails at the Cane Creek Canyon Nature Preserve, situated on 700 acres in the Little Mountains region. The 8.2-mile heavily trafficked loop trail is the most popular, but be aware that summer may not be the best or most comfortable time of year to tackle this moderate, unpaved path. It gets awfully hot in Alabama during the summer.
Pro Tip: If hiking the forests wears you out, or if you're looking for a more relaxing way to enjoy the stunning scenery, take a guided lake tour with Wheeler Lake Scenic Cruises. The cruises explore the bluffs and coves at Joe Wheeler State Park, and you can even end an 8-hour cruise with a fancy dinner at the Marriott Shoals Hotel. Don't worry, they also offer a 4-hour cruise too.
Explore The Quirky Side Of Florence
Lions in Florence, Alabama? You bet your mane there are! The George H. Carroll Lion Habitat at the University of North Alabama is famous for its resident lion mascots, Leo and Una.
Sadly, the female lion Una passed away in 2020 after an illness, but Leo III is still posing in all his glory.
If outlaw lore intrigues you, explore the legend of outlaw Tom Clark. He met his end in Florence after (supposedly) bragging that "no one ever run over Tom Clark. After the townspeople lynched the murderous outlaw, Mayor Neander H. Rice ordered the bodies buried "in one of the old fields near our town." But a local myth says that one of the men burying the outlaw remembered that boastful statement and got the idea to bury Clark underneath East Tennessee Street so everyone would "run over" Tom Clark.
Whether that legend is true or not, it's a fun idea to walk East Tennessee Street on a self-guided walking tour of Florence.
Deep in the heart of Florence is the Indian Mound and Museum. The mound rises 43 feet high and is known to contain the largest trove of ancient tools, pottery, jewelry, and pipes in Alabama. The mound and the well-curated museum tracing Native American history in the Florence region is open from 10 a.m. to 4 p.m. on Tuesdays through Saturdays.
Restaurants In Florence
We've already established the Big Bad Breakfast is the place to fill up for the day, but Florence and the surrounding area are home to Southern cuisine like the fancy haute dinners at 360 Grille. A local favorite is the Claunch Cafe in Tuscumbia. Situated in Spring Park (home to a large manmade waterfall), Claunch Cafe serves up made-from-scratch, homecooked meals. Get the pecan chicken salad plate! You won't regret it.
Other notable restaurants in the area include the River Bottom Grille in the Florence Harbor Marina. Odette is a neighborhood eatery in historic downtown Florence serving elevated American fare with Southern and international influences. The Shoals Shack is to die for with its Sweet Tea Brined Chicken!
For a taste of local craft beers, check out Singin' River Brewing, famous for its regional-favorite IPAcalypse Now, an India Pale Ale (IPA), and creative brews like Blackberry Cherry Seltzer and habanero pale ale.
Hotels In Florence
As you enter Florence, you'll find no shortage of unique places to stay during your perfect weekend. Besides the Marriott Shoals Hotel And Spa with its full-service spa and sparkling pools, Florence is home to the boutique hotel The Stricklin. This renovated boutique space in the historic Stricklin Building was originally constructed in 1946 as a three-story, 23,373 square foot commercial space. In 2017, it was converted to the hotel, while the first floor is home to the infamous Big Bad Breakfast,
Trust me when I say this breakfast/brunch place lives up to its name with pancakes as big as hubcaps and the prettiest avocado toast I've ever eaten.
In addition to the vintage airplanes and Americana feel of Big Bad Breakfast, The Stricklin also has four vintage-style bowling lanes, live music, karaoke, and a full restaurant and bar in the basement at The Boiler Room.
Another unique place to call home for the weekend is the GunRunner Boutique Hotel downtown, with 10 suites clustered around a central common area with a fully-stocked bar.
Now it's your turn to decide how to spend a perfect weekend in Florence, Alabama.
Related Reading: