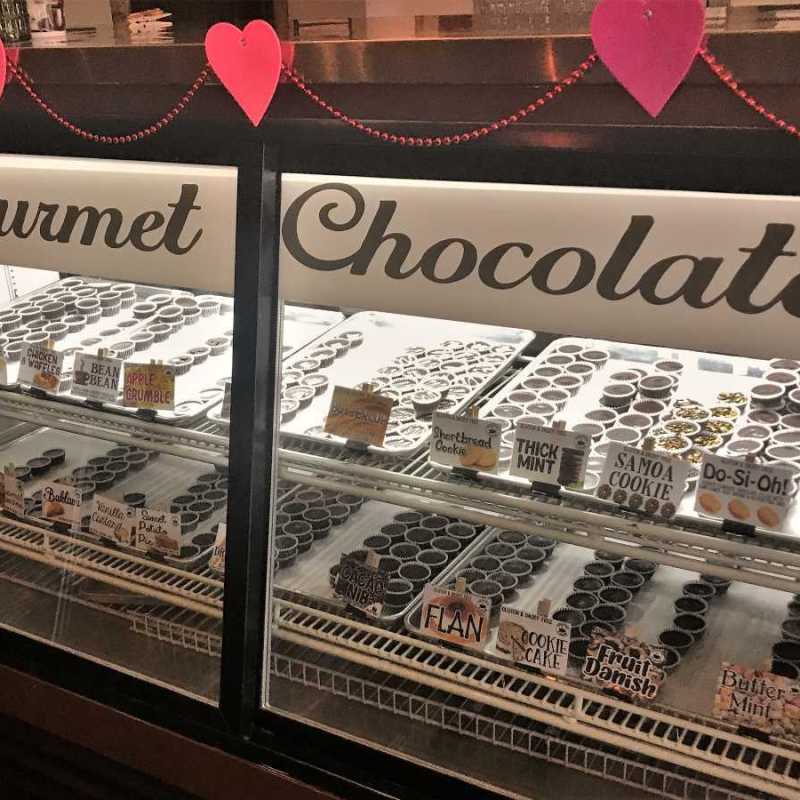 Michigan is one of the nation's top producers of sugar beets, so it makes sense that chocolate products like fudge are popular there. Chocolate is a multisensory experience. In addition to the variation in taste from bittersweet to semisweet and milk chocolate, I love the snapping sound of well-tempered chocolate. The aroma of melted chocolate pulls you into some shops, while the sight of demonstrations in others through large glass windows will capture your attention. Many of Michigan's chocolate shops have stood the test of time; some have been making chocolate for more than 100 years.
Here's my list of nine must-visit Michigan chocolate shops, in no particular order.
1. Oh Mi Organics, St. Johns
Oh Mi Organics uses four simple ingredients to make their chocolate: fair-trade cocoa, organic coconut oil, local raw honey, and Michigan maple syrup. Without the honey, their chocolates make the perfect vegan options. You can call ahead and place your order for vegan chocolate.
Those with tree nut and peanut allergies will feel comfortable here, since you won't find nuts of any kind at Oh Mi Organics. If you avoid gluten or dairy, there are choices for you, too.
Two of their fun flavors are Neapolitan and rose. The Neapolitan chocolate changes flavors as you eat it. As it rests in your mouth, you'll taste strawberry, then chocolate, and finally vanilla. The sequence repeats until the chocolate melts. The rose flavor smells and tastes like their original chocolate, but 60 seconds after you eat it, breathe in slowly through your nose, and you'll smell roses.
Pro Tip: Oh Mi Organics doesn't have a business phone or Wi-Fi. You can contact them through their website.
2. Fabiano's Candies, Lansing
Fabiano's Candies has been using the same family techniques and recipes for nearly 100 years. They create each piece by hand, starting with their original recipes. They use domestic chocolate to make more than 250 kinds of candy using more than 30,000 pounds of chocolate each year.
Fabiano's has a labor-intensive candymaking process. The chocolatiers roast nuts in coconut oil and lightly salt them, creating clusters. After curing, they blend the base coat and cover the nuts with the tempered chocolate. Finally, they package each piece by hand.
They offer traditional favorites like turtles, toffees, cherries, and caramels, all covered in chocolate. But they are still inventing new products, even after all these years.
Pro Tip: Even if you aren't planning on visiting Lansing anytime soon, you can still enjoy Fabiano's Candies by ordering online or joining their Candy of the Month Club.
3. Kilwins, Petoskey
Kilwins, located in the quaint northwest Michigan town of Petoskey, still makes candy the same way Don Kilwin did in 1947. Each piece is handmade by team members who take pride in producing quality chocolate.
When we walked through the door, the first thing we noticed was the aroma of chocolate transforming into fudge. Kilwins Chocolate Kitchen offers a multisensory experience that involves more than chocolate. The scent of freshly made waffle cones convinced us to order some ice cream cones for our afternoon snack. Hearing the paddle in the copper pot made us anticipate peanut brittle. We watched through the window as workers created a variety of offerings. Be sure to taste-test some of their treats.
4. Frankenmuth Fudge Kitchen, Frankenmuth
Since 1967, Frankenmuth Fudge Kitchen has made every batch by hand in copper kettles and on thick marble slabs. You can watch them as they prepare their confections daily. They produce more than 100 tons of fudge every year! One of my favorite chocolate items here is the Black Forest Fudge — creamy, rich chocolate with amaretto flavoring, walnuts, and dried Traverse City cherries. If you aren't sure which variety to buy, they offer free samples.
You can win fudge in their Fudge Trivia Contest, an all-day event held during the busy summer season.
Pro Tip: Never refrigerate fudge; it dries out quickly. Instead, keep it for two weeks on the counter or freeze it for up to a year.
5. Gilbert Chocolates, Jackson
In 1893, John O. Gilbert began his confectionery factory and bakery in Findlay, Ohio. He moved from Findlay to the larger city of Jackson, Michigan, so that his business, Gilbert Chocolates, would continue to grow. Today, they have two stores: one in downtown Jackson and another in Jackson Crossing Plaza.
They offer everything from truffles to a variety of nuts enrobed in chocolate. I especially enjoyed their chocolate-covered caramels, which have soft, non-sticky centers. They also sell a variety of sugar-free chocolates for those with dietary restrictions.
Pro Tip: Gilbert Chocolates gives tours of their downtown Jackson store on Tuesdays at 10 a.m. Sign up for a time online before visiting.
6. Original Murdick's Fudge, Mackinac Island
The tempting smell of chocolate wafts through the air on Mackinac Island's Main Street, where you can watch candymakers creating their confections through large glass windows. The island's candymakers didn't invent fudge, but they claim to have perfected it. The area is now home to seven businesses selling fudge in more than a dozen shops. Every year, visitors take home more than 10,000 pounds of this chocolate confection.
Murdick's Fudge is the island's original candy store; it opened in 1887. They offer fudge in a variety of flavors; my favorite is the chocolate cherry fudge made with Michigan-grown cherries. They also have a cherry version without chocolate.
Pro Tip: Getting to Mackinac Island requires a plane or ferry ride. Cars aren't permitted on the island, so you may find yourself doing a lot of walking. Horse-drawn carriages serve as taxis, and you can rent a bike.
7. Donckers, Marquette
Located in Marquette, the largest city on Michigan's Upper Peninsula, Donckers has been hand-making candy since 1896. Their family-owned business makes chocolate using recipes passed down through the generations. The shop still has the original marble countertops, wooden floors, and booths, which all add to the charm. Though they are known for their caramel candies — like sea salt caramels, sea salt caramel Oreos, bear paws, and turtles — they also sell other chocolates. I enjoy the barks studded with Michigan fruit, like the Blueberry Crunch Bark and the Cran-Cherry Pecan Bark. Then, of course, they have chocolate-covered Michigan cherries.
Pro Tip: When you stop by Donckers, plan to have lunch at their restaurant.
8. Joann's Fudge, Mackinac Island And Mackinaw City
Joann's Fudge, known for its smooth, creamy texture, doesn't contain preservatives or powdered ingredients. Joann's is a third-generation family business that's been making fudge since 1969; they still use the traditional hand-paddling method to create the tasty confection. If you're not a chocolate fan, they also sell vanilla, maple, and peanut butter flavors that are equally delicious. If you love chocolate, they offer several varieties of double dark fudge.
Pro Tip: If you can't get to their shop in Mackinaw City or their shop on Mackinac Island, you can order their fudge online.
9. Sanders, Rochester
Sanders began making hot fudge and caramel toppings for ice cream more than 100 years ago. Their toppings contain no artificial ingredients or high-fructose corn syrup. In addition to their small-batch craft chocolate, Sanders is famous for their bumpy cakes, which have been featured on the Food Network's Best Baker in America. The original was a devil's food buttercream cake, but they also offer vanilla cream, carrot, and caramel cakes.
Pro Tip: Give a jar of Sanders hot fudge ice cream topping as a hostess gift rather than a bottle of wine.