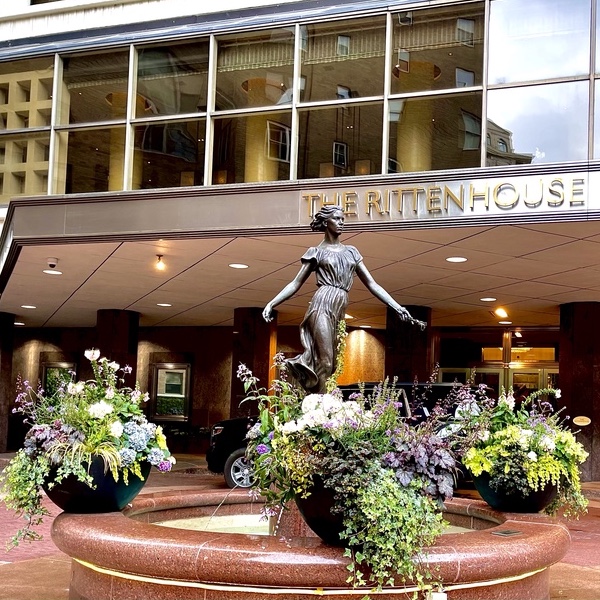 Rittenhouse Square is one of the five original squares planned by Philadelphia founder William Penn. He wanted to create a "Greene Country Towne." He envisioned Philadelphia with plots of individual properties lined with orchards and trees centered around public squares, and he modeled this new settlement around the large parks in London. Penn felt small squares would help stop the spread of disease and fire he remembered experiencing as a child. He pitched it to settlers in the late 1600s, hoping to recruit them to leave Europe and populate Pennsylvania. Centuries later, his five squares: Logan, Franklin, Washington, Centre, and lastly, Rittenhouse, the center of one of the most beautiful neighborhoods in the city, remain.
Rittenhouse Square was named after David Rittenhouse, an astronomer and clockmaker. It's a family-friendly park surrounded by exclusive high-rise apartment buildings, world-class restaurants, and high-end boutiques. It's located in the heart of Center City at 18th and Walnut Street. The beloved park and neighborhood are worth exploring for an afternoon or an overnight. Besides dining and shopping, you'll discover art galleries, pubs, and wine bars within a short walking distance from the park, which should be your first stop. Here are some of the best things to do in Rittenhouse Square and where to enjoy an excellent meal afterward.
Things To Do In Rittenhouse Square
1. Walk In The Park
Rittenhouse Square is one of the largest parks in Philadelphia, and it's gorgeous. The main walkways run diagonally at the corners and meet at a central oval. There's a large bed filled with flowers as well as flower-filled urns and statues throughout the square. The lampposts are ornate and lend an Old World flair. There are five famous statues inside, including the Lion Crushing a Serpent by the French Romantic sculptor Antoine-Louis Barye. The original work, created in 1832, is an allegory of the French Revolution. This bronze cast symbolizes the power of good (the lion) conquering evil (the serpent) and dates to about 1890.
Next, there's a reflecting pool with Paul Manship's Duck Girl, circa 1911, depicting a girl holding a duck under her left arm. At the southwest end of the park is the two-foot-tall bronze Billy billygoat by Albert Laessle. It's a children's favorite, and steps away is Cornelia Van A. Chapin's granite sculpture of a giant frog.
Finally, the most meaningful statue in the square, the Evelyn Taylor Price Memorial Sundial, honors Evelyn Taylor Price, the President of the Rittenhouse Square Flower Association and Improvement Association. Created by Philadelphia native Beatrice Fenton, the sculpture appears to be two children holding up a sunflower, but in actuality. it's a sundial. It honors Evelyn Taylor Price's love of flowers. People lay out blankets to sunbathe or picnic, read, and enjoy the lush grass and beautiful flowers and trees in this historic square.
2. See The Church Of The Holy Trinity
Since 1859, this "low church," one that follows simple liturgies, was conceived by the professional men and prosperous merchants who wished to have a new Episcopal parish for worship by the square. These men chose architect John Notman's design in the Norman or neo-Romanesque style and built it in sandstone. The history of The Church of the Holy Trinity shows it has stood with its neighbors and welcomed everyone to worship since. Various benefactors added vaulted ceilings, Victorian stenciling, beautiful stained glass, and a 25-bell carillon cast in Belgium. It's worth a stop inside to see the beauty of this historic church and to admire the building that has stood the test of time watching over Rittenhouse Square.
3. Tour The Rosenbach Museum, Library, And Garden
The Rosenbach has "a collection of nearly 400,000 books, manuscripts, fine and decorative art objects including some of the best-known literary and historical objects in the world."
Booksellers Phillip and Abraham Rosenbach lived in the townhouse, now the museum. They became so famous they could purchase collections and rare books, often beating out their competition. Abraham Rosenbach was able to secure the original Lewis Carroll manuscript, Alice's Adventures Underground, given to Alice Liddell in 1863 and published as Alice's Adventures in Wonderland. Alice Liddell Hargreaves sold the manuscript, given to her by Carroll and illustrated in his own hand. She needed the money to support her estate after her husband's death. Rosenbach's offer beat out the British Museum's, and he sold it to a collector in1928. Once the collector passed away, Rosenbach purchased it again and donated it to the British Museum in 1948. He did this to honor the people of Britain and their service in World War II in the fight against Hitler.
When you visit, docents will take you into the world of these fascinating men who collected literary treasures (many on display) and art. For the first time in years, the gardens behind the townhouse are open for tours planted with flowers that connect with the literary masterpieces inside. Access is included with your entrance ticket.
4. Shop Until You Drop
On 18th and Walnut Street is the flagship store for Anthropologie, a funky women's clothing and home furnishings boutique, with gifts, candles, beauty and wellness products, accessories, and shoes. It's five floors of shopping nirvana in a stunning mansion.
For men's and women's clothing, shop Boyds Philadelphia for the ultimate in designer fashion. The boutique shops in the neighborhood are along Walnut Street, Chestnut Street, and in a mall setting, the Shops at Liberty Place. I enjoy going in and out of the boutiques as I wander the streets. There are many different kinds, from shoes to athletic stores to beauty shops; you could spend all day shopping or shop and have a coffee or a treat along the way.
5. Visit The Cheese Cave At Di Bruno Bros.
If you are a foodie, stop at Di Bruno Bros. This is a specialty market where you can find ingredients and fresh food from vegetables to cured meats, bread, and pastries, plus the famed cheese cave. The cave is a back counter where delicious cheeses from around the world are sold. The store takes cheese seriously and collaborates with wine, beer, and cider purveyors to pair and offer unique collaborations with cheeses. You can sample anything and ask the monger to suggest what cheeses match with various meats and accompanying spreads or crackers to make the best charcuterie boards imaginable. Since 1939, Di Bruno Bros. has offered quality meats and ingredients, until one day in 1976, when they realized the big chains could ruin their humble grocery store. That's when a trip to Europe changed everything. They became a specialty cheese shop, and the rest is history. This is the place to shop for cheese, and you can find groceries here, too.
6. Walk Or Ride To Philadelphia's Magic Garden
Take a long walk or, if you prefer, hail a cab to check out Philadelphia's Magic Gardens a mile away from Rittenhouse Square. Artist Isiah Zagar is an award-winning mosaic mural artist. His work graces walls around Philadelphia and the world. He started working on the vacant lots near his studio at 1020 South Street, decorating them with his beautiful mosaic designs. The landlord sold the lots and wanted Zagar's work torn down. Instead, the community rushed to support the artist. Today it's a non-profit environment and museum that spans a half-block and outdoor and indoor gallery. You will be amazed by murals that include tiles, mirrors, found objects, and other non-traditional materials. Purchase tickets online for regular admission. On weekends, you can purchase a guided tour to learn more about the artist and his incredible work.
Rittenhouse Square Restaurants
There are several fantastic restaurants, wine bars, and pubs all around Rittenhouse Square. So be sure to make reservations and pick a table outside to enjoy views of the park on a beautiful day.
Tria Café Rittenhouse
Tria Café features wine from smaller producers, cheese plates, and beer. The bites are fantastic, and there are barista-style coffees to pair with the flourless chocolate torte. Stay for a bite or lunch.
Parc Brasserie
Parc is an all-day brasserie on the square. Order a croissant and a café au lait or lunch, brunch, or dinner. Classics served are salad niçoise, escargot, steak frites, and éclairs. Ask for a table outside.
Rouge
Rouge is the perfect perch for Sunday brunch or drinks and nibbles. It's right on the square, so the view is wonderful outside or inside the classic space. The bistro offers burgers, salads, steak, and oysters on the half-shell. It's eclectic and elegant.
The Dandelion
The Dandelion is a British Pub. They serve rare cask ales, afternoon tea, fish and chips, a fantastic burger, shepherd's pie, and family-style roasts on Sundays. It's a gorgeous space inside, so stop in for a drink and pub food.
Pro Tips
If you want to stay, The Rittenhouse Hotel is lovely. Monk's Café is a beer drinkers paradise. The Philadelphia Art Alliance, an art museum across the street from the square, will reopen in mid-August. And, for more foodie inspiration, read up on Eating Around The World In Philadelphia: 7 Must-Try Dishes.
Editor's Note: Jeanine's source for the information presented in the first paragraph of this article can be found here.