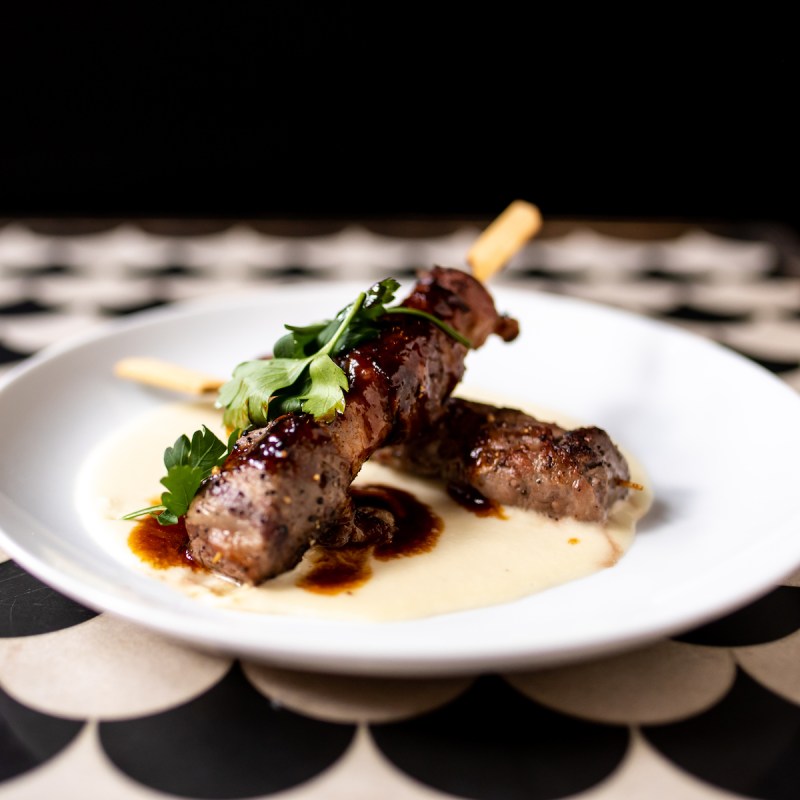 Philadelphia is a city that's a melting pot of cultures with cuisines from around the world. From Pennsylvania's early beginnings, the colony formed as a welcome place led by founder and Quaker William Penn. When Penn received his charter, he advertised it in many languages, and settlers came in droves. Swedes, Finns, Germans, and the Dutch came first. In the 1800s, it was the Slavs, Poles, Italians, Jews, Russians, and Greeks. It's fitting that Philadelphia is a Greek word meaning "Brotherly Love."
Philadelphia has a leg up on other foodie cities because the rents are cheap. Chefs and bakers are opening up shops in diverse neighborhoods. Food trucks offer cuisines from around the globe and are found everywhere. Food halls, especially Reading Terminal Market, have counters where you can enjoy flavors from Pennsylvania or travel around the world without leaving the building. You can taste it all, from Philly favorites like pretzels to a full meal. Here are seven must-try dishes when you visit Philadelphia. Of course, your food journey is entirely up to you.
1. Alfajores Or Dulce De Leche Sandwich Cookies
When Jezabel Careaga opened Jezabel's Cafe by way of Palpalá, located in the northwestern Argentine province of Jujuy, she achieved her dream. She wanted to showcase the flavors of Argentina and honor the memory of her grandmother Julia. In 2019 the bakery moved into a bigger space. That allowed Jezabel to host gatherings and special events, like her Argentinian pop-up dinners, where she cooks and showcases her own handmade furniture designs. Delicious offerings like savory empañadas, vigilantes with membrillo (a fluffy pastry with egg custard spread with a mixture of pear and apple jam), and alfajor cookies are served daily. These traditional sandwich cookies are made with two delicate, melt-in-your-mouth discs that are covered by a filling of dulce de leche caramel and rolled in coconut flakes. Historically they come from the Middle East, referred to as "alajú," the Arabic word for filled, Spaniards acquired them from the Moors and brought them to South America, where they are beloved.
2. Samosas
They hope to serve the community at Mina's World Cafe, which is an inclusive place to sip coffee and sample vegan and non-vegan food, including samosas. The portable Indian street snack is a dough pocket that's stuffed with a potato and pea combination. But it can be filled with anything. Co-founder and owner Sonam Parikh reflected that every culture has some form of portable street food, referencing Puerto Rican pastelillos. Like samosas, they're pocket-sized food that is accessible and cheap so that anyone can have a meal. Sonam worked on a version for her vegan diners and asked her "Aunties," as she calls her Indian elders, to try her tofu and pea creation. Their reaction was positive because the tofu is spiced like meat or vegetable samosas and it's absolutely delicious.
Fun Fact: The origins of the samosa were handed down from the Middle Eastern chefs who migrated to India and from merchants who traveled to sell their goods. They've been written about since the ninth century in poems with both royalty and the common man relishing them.
3. Korean Tacos
Tacos are so loved they rank third as favorite American foods after pizza and steak. There are great taco places all around Philadelphia, like Rosy's Taco Bar in Rittenhouse Square. The portions are enormous, the prices are reasonable, the drinks are delicious, and every element is house-made included the corn tortillas. I chose the Coreanos on the Especiales menu, which is a fusion taco: Korean-style short ribs glazed with guajillo chile paste, then topped with kimchi, radish slivers, and chipotle mayo on corn tortillas. It's not an authentic Mexican flavor profile. Still, as with many cuisines, this street food has morphed into something bigger than itself.
Fun Fact: The origins of the taco in the United States were first seen written about in a newspaper in 1905. Mexican migrants came to work on the railroads and brought the taco with them. Women selling the street fare came up to San Antonio from Mexico. They made money by selling tacos at festivals. While it's unknown where the name taco came from, it's believed that silver miners made a wrapping around gun powder to blast the rocks in the mine. That wrap was called a taco.
4. Xiao Long Bao Or Chinese Steamed Soup Dumplings
If you haven't tried traditional soup dumplings, go to Philadelphia's Dim Sum Garden. Chef Shizhou Da is a fifth-generation descendant of the chef who created the first Xiao Long Bao in China. Chef Shizhou came to the United States in 2003 with the recipe, and in 2013 she and her daughter Sally opened Dim Sum Garden. Shanghai-style dim sum are steamed dumplings served hot in a steamer basket. And there's a specific way to eat them. When they arrive, let them cool for a bit. Pick up the dumpling with chopsticks and put it onto a Chinese soup spoon. Poke a hole into the middle to release steam and let some of the soup run into the spoon. Sip the soup and gently bite into the dumpling. If you just bite into the piping hot dumpling, you'll scald your tongue. The flavor of the broth and the fillings are delicious!
Fun Fact: The dumplings were created over 150 years ago in Nanxiang, a suburb of Shanghai. The chef made a dish to surprise and delight his restaurant guests by adding gelatin that would melt when steamed around the pork mince. The dish was a huge hit. The filling is traditionally pork but can be vegetable or chicken as well.
5. Neapolitan Pizza
Pizza is pizza, right? You take dough, sauce, and cheese and bake it. But not if you're Davide Lubrano, a third-generation pizzaiolo from Naples who trained at the Roman Pizza Academy. His partner, Vinny Gallagher, a natural-leaven dough specialist, won the 2019 Caputo Cup. Pizzata Pizzeria's focus is on the dough and quality ingredients on top. Each pie is finished with parmesan, basil, and extra virgin olive oil. With a substantial Italian population in Philadelphia and a long history of immigration since the 18th century, there are many pizza places in town.
Neapolitan pizza has a long history too, and this type is authentic and delicious. In the 18th century, peasants in Naples only topped their flatbread with tomatoes. In 1889, King Umberto I and Queen Margherita of Savoy visited Naples. Baker Raffaele Esposito topped their tomato pie with mozzarella and basil to mirror the Italian flag, and pizza Margherita became a Neapolitan classic.
6. Pintxos Or Small Bites
There's an area called the Basque Region located on the northern coast of Spain along its border with France. It's like a small country with fantastic food and culture. Pintxos are traditional in the Basque region. They are small plates of food eaten with a glass of wine. The word means skewer, and many pintxos are on skewers and are meant to be eaten in one bite standing at a bar. This is similar to tapas; these are small bites or snacks.
Tinto in Philadelphia is a wine bar and restaurant concept from Chef Jose Garces that allows you to try a bit of everything instead of eating one large meal. The food is authentic, and the plates are shareable. Here, you can enjoy pintxos made with traditional meats, cheeses, and seafood, plus plates of paellas that pair well with hard-to-find bottles of wine. It's a fun way to try different items on the menu like the Corderos or lamb loin brochette with eggplant, bacon, and sherry jus.
Fun Fact: The invention of pintxos dates back to the 1930s in San Sebástian, Spain.
7. Gyros
A gyro is a Greek pita sandwich of meat topped with tzatziki, Greek yogurt mixed with cucumber and garlic, and topped with tomato and onion. The lamb or beef is grilled on a vertical spit of stacked meat slices heavily seasoned with salt, pepper, herbs, and spices and similar to shawarma. Gyro, pronounced yee-roh, means "turn." The meat spins on the spit and is sliced off in thin slices, piled high on fresh pita, and topped with the tzatziki, tomatoes, and onions.
In Philly, try a gyro at the Olympia Gyro stand, which has been operating in Reading Terminal Market since 1984. Owner Athens Voulgaridis's parents were born in Drama, Greece, and immigrated here to realize the American dream.
Fun Fact: The history of the gyro dates to 1922 with Greek and Armenian refugees from Turkey. When they settled they started to sell gyros. After World War II, the sandwich became popular and migrated everywhere.
Pro Tips
Philadelphia food trucks are a terrific way to taste cuisines from around the world. Many can be found in Love Park.
Just passing through? Read up on Where To Get The Best Cheesesteak At The Philadelphia Airport. Or, if you have more time in Philly, consider these 13 Foods To Try In Philadelphia Besides Cheesesteak.