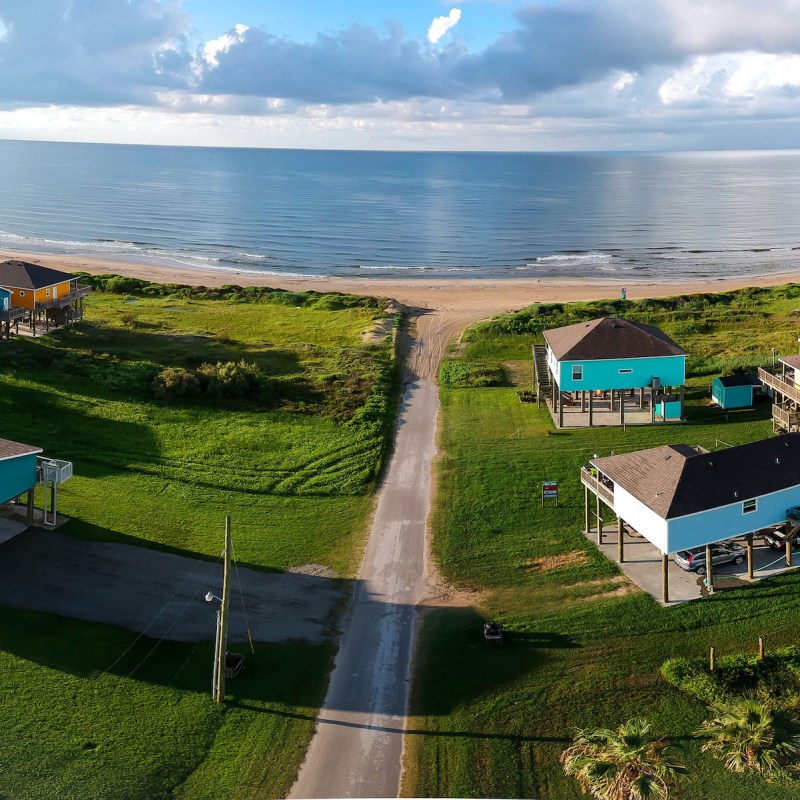 Across the country, purchase rates of second homes and vacation rental homes continue to soar. Owning a beach house is a dream for many, but when it comes to actually finding one, the process can seem a little overwhelming.
In order to help prospective buyers, Vacasa recently published its 2021 study on the best places to buy a beach house. By studying both home sales data and vacation rental performance data, the rental management company was able to rank its top 10 locations for a beautiful beach house in the United States.
10. Bolivar Peninsula, Texas
When thinking about beaches in the U.S., most people's first image is not of Texas. However, this 27-mile stretch of land in the upper Texas Gulf Coast is about as beautiful as it gets. The area is made up of the self-described "laid back communities" of Crystal Beach, Gilchrist, High Island, and Port Bolivar. The area is unique in that it has no big chain stores, instead operating on local, family-owned businesses. Swimming, fishing, golfing, barbecuing, dining out — everything you'd want from a beach house is always right around the corner.
Bolivar Peninsula homes have a median home sale price of $299,354 and an average cap rate of 5.6 percent.
9. South Kohala, Hawaii
South Kohala is known as one of Hawaii's most sought-after destinations. It sits on the Big Island in the middle of Hawaii's ranching scene, meaning the landscape is filled with green, rolling hills, and locals are treated to a weekly farmers' market. South Kohala is made up of Puako, Waikoloa Village, and Waimea, as well as unincorporated Kawaihae and Kawaihae Harbor. With some of the best dining in Hawaii and a sun that shines 350 days a year, South Kohala makes a dream destination for a beach house.
South Kohala homes have a median home sale price of $639,908 and an average cap rate of 5.6 percent.
8. Wailea, Hawaii
Located in South Maui, Wailea is most known for its five gorgeous, crescent-shaped beaches and its incredible golf courses. Wailea Beach was once named America's Best Beach, and Polo Beach offers incredible snorkeling opportunities. World-class restaurants and shops line the streets, and the Ahihi-Kinau Natural Area Reserve and La Perouse Bay are only miles away. With an abundance of opportunities for golfing, hiking, swimming, snorkeling, and watching a sunset on the beach, it's hard to compete with the beauty of Wailea.
Wailea homes have a median home sale price of $885,086 and an average cap rate of 5.6 percent.
7. Isle of Palms, South Carolina
Located just 18 miles from Charleston, Isle of Palms boasts a six-mile stretch of serene, white sandy beaches. Local boating opportunities are unmatched, as the shore fills with kayaks, canoes, sailboats, fishing boats, and even luxury harbor cruises. This coastal town always features intermingling tourists and residents, all taking in the golf, tennis, biking, beach volleyball, beachcombing, and live music. The area's claim to fame, however, is its local population of turtles, who nest along the beaches.
Isle of Palms homes have a median home sale price of $708,920 and an average cap rate of 5.8 percent.
6. Kauai South, Hawaii
Add a third Hawaii location to the list. With the nearby beaches — Allerton and McBryde Gardens, Sprouting Horn, and Old Koloa Town — no one will ever be bored in Kauai South. The area has the expected charms of a Hawaiian coastal town, such as beautiful beaches and incredible sunsets as well as features entirely unique to the area. Old Koloa Town, a downtown area with stores, ice cream shops, and historical centers, is hundreds of years old. Meanwhile, the Sprouting Horn, a mini blowhole, is one of the most visited attractions on Kauai. This area combines unbelievable coastal beauty with a quaint, small-town charm.
Isle of Palms homes have a median home sale price of $593,554 and an average cap rate of 6.2 percent.
5. Corolla, North Carolina
The other Carolina shows up in the fifth spot, thanks to Corolla, a town bordering both the Atlantic Ocean and the Currituck Sound. Corolla has sandy beaches, luxury shopping centers, and fine dining. However, the town's most unique pastime comes from its surrounding wildlife: wild horses. Personal treks and guided tours to see the wild Colonial Spanish Mustangs are one of the town's most popular activities. Dine out for a world-class pizza, try out the water sport of your choice, or shop at a local bookstore — Corolla has it all.
Corolla homes have a median home sale price of $560,599 and an average cap rate of 6.9 percent.
4. New Buffalo, Michigan
Located just 70 miles from downtown Chicago, New Buffalo is a charming Lake Michigan beach town. With a lake so expansive, it's easy for beachgoers to forget they aren't walking along an actual ocean. Known as the "Gateway to Michigan," New Buffalo sets a high bar for the rest of the state. The town features beautiful beaches, gorgeous parks, and landmark restaurants. An acclaimed wine region, the area is home to beautiful rolling vineyards and nearby tasting rooms. The charming town has something for everyone.
New Buffalo homes have a median home sale price of $319,306 and an average cap rate of 7.1 percent.
3. Dauphin Island, Alabama
Dauphin Island, known as the "sunset capital of Alabama," sits south of Mobile Bay, accessible by its three-mile-long high-rise bridge. Surrounded by Gulf Coast waters, the area is overflowing with beautiful white sandy beaches. Dauphin Island Public Beach and Marina are popular destinations for taking in some Alabama sunshine, while Historic Fort Gaines, Dauphin Island Sea Lab, and the Audubon Bird Sanctuary offer educational and entertaining pastimes. The island has boat rentals, deep sea fishing, and outdoor sightseeing cruises, perfect for local adventurers and vacationers alike.
Dauphin Island homes have a median home sale price of $289,623 and an average cap rate of 7.8 percent.
2. Ocean Shores, Washington
The Pacific Northwest offers a beach experience unique from anything else on this list. The appeal of an Ocean Shores property is less about a desire for constant sunshine and much more about incredible property value, proximity to metro hubs, and unbeatable coastline views. The area offers just about every beach activity imaginable — biking, bird watching, fishing, golfing, horseback riding, and even kite flying. The streets are lined with casual eateries, luxury fine dining, and unbeatable ice cream shops. The area is near both Seattle and Portland, but feels fully detached from high-speed, metro lives.
Ocean Shores homes have a median home sale price of $250,255 and an average cap rate of 7.8 percent.
1. Cape Hatteras, North Carolina
Claiming the list's top spot is Cape Hatteras, North Carolina, located on a bend on Hatteras Island. Cape Hatteras National Seashore, with more than 70 miles of gorgeous beach, is a dream Outer Banks beach house experience. Surrounded by both the Pamlico Sound and the Atlantic Ocean, the area is almost entirely made up of beaches and coastline. Known for the Cape Hatteras Lighthouse — the tallest brick lighthouse in the country — and fishing opportunities, the area has the perfect mix of tourists and residents, as well as beautiful shores, great dining, and endless activities.
Cape Hatteras homes have a median home sale price of $379,248 and an average cap rate of 8.6 percent.