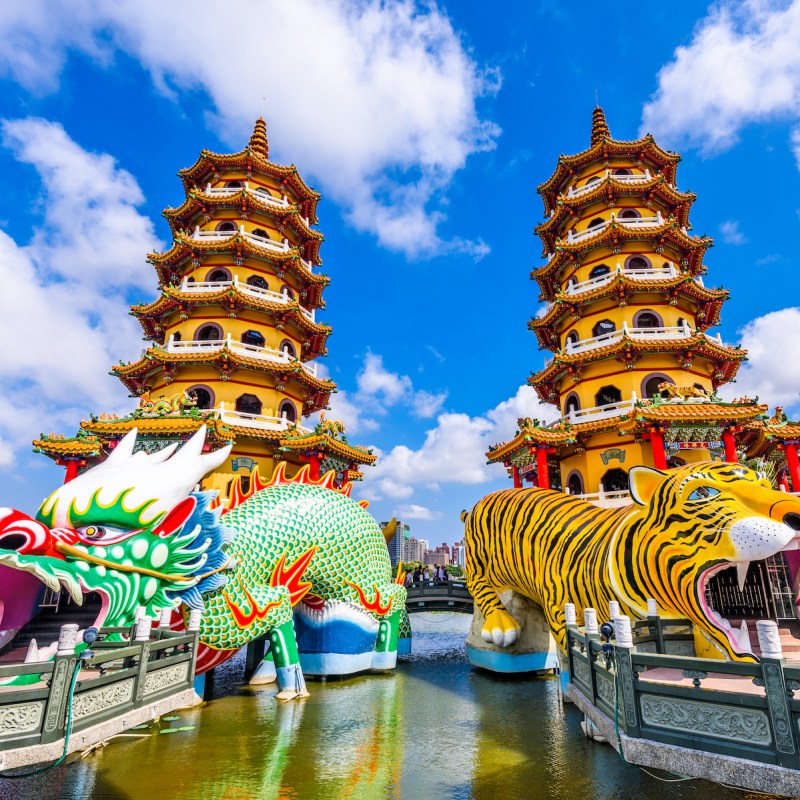 Considering all that Taiwan has to offer — from world-renowned cuisine to spirited night markets to a fascinating hot springs culture — it seems that the little island nation would be on travel bucket lists around the world.
From my experience, though, that is not the case. When I was planning my trip to Taiwan a few years back, I often encountered questions about my destination, with friends sometimes confusing Taiwan with Thailand.
After I spent time walking the lively streets of Taipei, relaxing in soothing hot springs in the north, and sampling every variety of seafood imaginable, I came to the conclusion that Taiwan is vastly underappreciated.
On the plus side, that can lead to an air of authenticity that you typically don't get in more-visited destinations. My travel companions and I sometimes went days without seeing another English-speaking tourist, which led to a feeling of cultural immersion.
During that time, I found so many things to love about Taiwan, and here are nine of the best.
1. No Visas For Short-Term Stays
Officially known as the Republic of China, Taiwan is located 100 miles off the southeastern coast of China (the People's Republic of China) and shares a number of characteristics with its giant neighbor. Among them is the use of the Mandarin language.
Luckily, these similarities do not extend to China's visa requirement for many international visitors. When I visited Taiwan, I needed only my United States passport. Taiwan's website for consular affairs states that nationals from the U.S., Canada, Australia, and most European countries are eligible for visa exemption for stays of up to 90 days.
That means that many visitors to Taiwan can sample wonderful foods and customs that have been influenced by China without the expense or hassle of a visa.
2. The Streets Of Taipei
The capital city of Taipei is a sprawling metropolis of about 2.6 million people, and its streets can seem clogged with speeding cars and scooters. But on a walking tour of the city, you'll see Buddhist temples dating back to dynastic times right alongside narrow alleys lined with street-food booths offering thick-cut noodles and fluffy dumplings.
Taiwan's tourism website refers to its capital city as a "cultural kaleidoscope" that takes visitors from chaotic night markets to neon street life to the one-time tallest building in the world.
Among the not-to-be-missed stops on a tour of Taipei are the Shilin Night Market, the Yangmingshan National Park, the Taipei 101 skyscraper, the Lungshan Temple, and the National Chiang Kai-Shek Memorial Hall.
Pro Tip: Along with visiting the tourist sites, I also recommend wandering the streets and checking out the local shopping scene at the ubiquitous 7-Eleven stores, which are amazingly well stocked with quality snacks and convenience items, as well as the many modern electronics stores and trendy clothing shops.
3. The Historic Town Of Jiufen
As a lover of mountainside mining towns, I couldn't wait to visit Jiufen, a historic seaside town located about an hour northeast of Taipei.
The charming town did not disappoint. Known for its "Old Street" that winds amidst the town's steep cliffs, Jiufen features a dazzling assortment of food booths peddling everything from grilled snails to ice cream sandwiches to traditional teas.
Although Jiufen's history dates back centuries, it earned a place on the world map in the 1890s when gold was discovered there. Soon, the mining outpost had grown from a handful of residents to 4,000 families, and it became known as a "little Shanghai."
While the town's fortunes faded with the decline of mining activities after World War II, it was rejuvenated in recent decades as a filming location for popular movies, such as 1989's A City of Sadness. Today, Jiufen attracts thousands of tourists who flock to the Old Street, wandering the winding alleyways that are adorned with colorful lanterns.
Although Jiufen is known mostly as a foodie destination, the town is also a great place to shop for souvenirs like quality teas, bamboo cooking utensils, adorable coin purses, and quirky Hello Kitty trinkets.
Pro Tip: Jiufen can be reached by train and bus from Taipei. Instructions are available here.
4. The Hot Spring Culture
Ranked among the world's top 15 hot spring areas, Taiwan has a number of the natural springs concentrated in the northern region. For a fun and relaxing taste of Taiwan's hot spring culture, head to the Jiaoxi Township, located about an hour northeast of Taipei.
The rejuvenating and therapeutic properties of the water in the Jiaoxi region have been recognized since ancient times, and today, there are many resorts and hotels that offer hot spring experiences. The naturally hot water is said to contain beneficial minerals like potassium chloride, sodium sulfide, and potassium hydrogen carbonate.
Pro Tip: For a stellar hot spring/cuisine experience, check out Taiori, a little bed and breakfast that features in-room soaking tubs that can be filled with hot spring water. A stay also comes with multicourse meals in the evening and morning. Staying at Taiori is a bit of a splurge, but the combination of food, relaxation, and hot spring atmosphere definitely makes it worth the cost.
5. Taipei 101
At 1,667 feet high, the Taipei 101 skyscraper was the tallest building in the world from 2004 until 2010, when it was surpassed by the Burj Khalifa building in Dubai. Today, Taipei 101 is the 10th tallest building in the world.
The needle-like skyscraper, featuring a postmodernist architectural design, can be seen towering on the Taipei skyline from all over the city. It is also a cool spot to visit — either for the commanding view of the city from the observation floor, or for a fancy shopping or dining experience at the Taipei 101 Mall.
6. The Stunning Beaches And Islands
Owing to its location surrounded by the East China Sea, the Philippine Sea, the South China Sea, and the Luzon Strait, the island of Taiwan is not lacking in the beach department.
From the black-sand Honeymoon Bay in the northeast to the popular white-sand Dawan in the south, Taiwan's beaches are varied and plentiful.
For a beach choice about an hour and 15 minutes from Taipei, locals head to the popular Baishawan Beach (Baisha Bay), which translates to "White Sand Bay." The area is a hot spot for summer water fun and bayside tours.
Taiwan is also known for its lovely offshore tropical islets, administered by counties such as Penghu, Kinmen, and Lienchiang, where blue skies and white-sand beaches await.
7. The Night Markets
If you're in the market for a trendy purse, some deep-fried squid, or a bit of stinky tofu, chances are you will find something you like at the Taipei night markets.
Taiwan's night markets are famous for their varied goods, including clothing, accessories, and home goods, not to mention the huge number of tasty and unique snacks. Depending on the market, you'll find oyster omelets, spring rolls, braised pork rice, hot stuffed dumplings, sliced noodles, and squid thick soup.
According to the Taiwan tourism website, the country's enormous variety of snacks is unique in the world, and it illustrates the important place that the food culture has in the lives of the Taiwanese people.
Night markets are available all over Taiwan, but Taipei is especially famous for them and offers at least a dozen throughout the city. Among the best known are the Shilin Night Market, which specializes in stir-fried cuttlefish, fried buns, and shaved ice, and the Raohe Street Tourist Night Market, which specializes in oyster vermicelli, spare ribs stewed in herbal soup, and pepper meat buns.
8. The International Cuisine Scene
From noodles and dumplings to sushi and fried squid, Taiwan has the Asian cuisine scene covered.
Taiwan prides itself on its variety of cuisine styles, which have been influenced by many different countries over the years. Along with its large array of Chinese foods, other cuisines such as Indian and Thai are also popular and excellent.
For dishes that are quintessentially Taiwanese, try the popular beef and noodle soup, considered an essential comfort food throughout the country, or the soup dumplings (xiao long bao).
Pro Tip: The popular franchise Din Tai Fung, famous for its soup dumplings, originated in Taiwan, and the original location can be found on Xinyi Road in Taipei.
9. The Fresh And Varied Seafood
With its easy access to the sea, it stands to reason that Taiwan would have a strong seafood game. As a lover of seafood, I was amazed by the endless choices and fresh presentation available everywhere in Taiwan.
Visitors looking for an entertaining experience and an astonishing assortment of fresh seafood, sushi, and authentic condiments should be sure to check out the Addiction Aquatic Development in Taipei.
Pro Tips: It's hard to go wrong with dining choices in Taiwan. Almost everywhere we ate, we were served delicious, flavorful food. But for a list of suggestions, Taiwan's tourism website recommends using the Michelin Guide.
For tips on how to prepare for a trip to Taiwan, check out my article How Taiwan Stole My Heart.