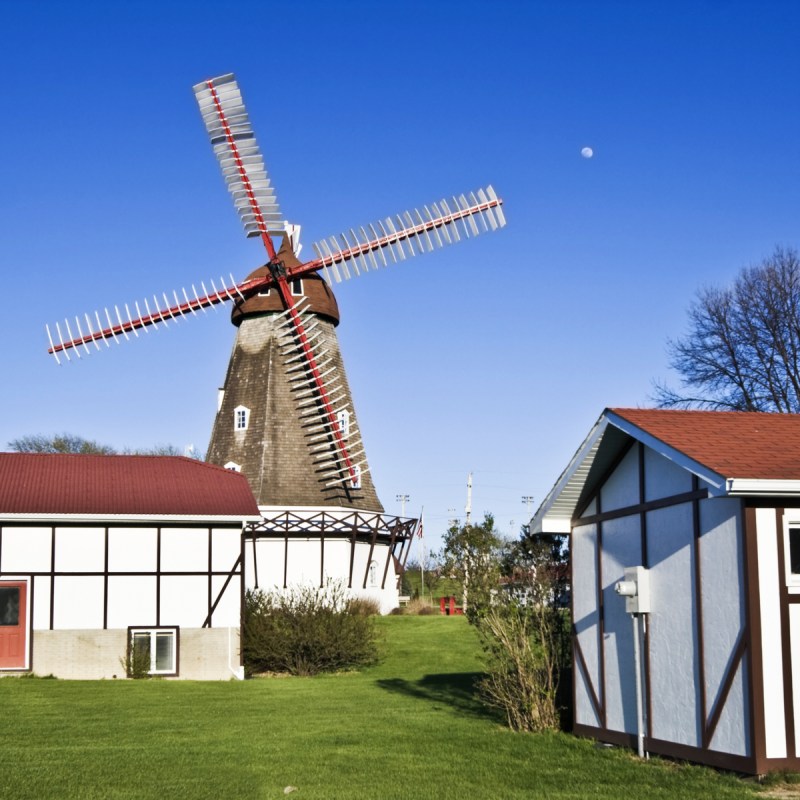 Iowa is my home state, and you can experience European charm without needing a passport. Several towns offer a European feel through their festivals, shops, and parades. If you have wanted to travel overseas and aren't sure if you would enjoy the long trip, come and experience these Iowa towns. They all have something that they are very proud of: their heritage. The people of these Iowa towns with European charm will roll out the red carpet when you roll into town. The saying "Iowa nice" applies to each of these towns and their residents. Embrace the food, culture, and people for an epic experience that is affordable and in the middle of America. 
1. Elk Horn
Elk Horn is where the Danish community comes to life, as more than half of the town of 650-plus claims to be of Danish descent. The charm of the town will sweep you into Danish life as soon as you drive into town. Elk Horn is a short drive off of I-80 in Southwest Iowa. Once you hop off of I-80, you will come to the Danish Windmill Museum within a matter of minutes. The Danish Windmill also houses one of Iowa's welcome centers. You will find all types of Danish memorabilia, as well as sweet treats, including kringle from The Kringle Man. This delicious, butter-layered Danish kringle is guaranteed to wake up your taste buds. If you arrive after the Danish Windmill has closed for the day, take the time to stroll the grounds. Several buildings surrounding the Danish Windmill offer insight into the life of a Dane.
The Museum of Danish America is accessible to people with disabilities and located on 30 acres in Elk Horn. It is a national center that recognizes the life of the Danish-American community. This attraction showcases how life has evolved with technology in the Danish households in the Elk Horn area. The Genealogy Center is located on Main Street and is one of the best places to learn about your Danish ancestry. The staff in the genealogy center went above and beyond when I stopped in for a visit. Plan to visit both of these museums and walk along Main Street for an opportunity to feel like a Dane for the day. This charming town will lure you in as you drive into town. Spend half a day or a full day to experience all that Elk Horn has to offer.
2. Pella
Pella, Iowa, is often referred to as America's Dutch Treasure. The Dutch heritage museums, stunning flower gardens (including thousands of tulips), boutique shopping, and incredible bakeries make this an affordable Dutch getaway in the United States. The Pella Historical Society Museums and Vermeer Windmill are highlights of Pella. The Vermeer Windmill is the tallest working grain windmill in the United States. The 21 buildings that make up the Historical Village include a blacksmith shop, wooden shoemaker shop, church, bakery, puppet theater, and the childhood home of Wyatt Earp. 
When you spend time in Pella, you will see the Klokkenspel. This carillon clock goes off on odd hours and can be heard throughout the downtown area. The murals, flowers, and fountains in this area are relaxing and will take you to the land of the Dutch. Molengracht Plaza features a working drawbridge that is surrounded by stunning Dutch-inspired architecture. Enjoy Dutch pastries from Jaarsma Bakery and Vander Ploeg Bakery. A fan favorite are the famous Dutch Letters. Plan to eat one while in Pella, and take a box of them home with you to enjoy later. Each May, the town comes to life with the annual tulip festival. The festival includes dancing, a parade, and tulips galore.
3. Decorah
Decorah, Iowa, is located in Northeast Iowa and offers experiences that showcase Norway. Nordic Fest is an annual festival that celebrates the Scandinavian countries, with a focus on Norway. Each year, thousands of people flood the town to experience Nordic Fest on the last weekend in July. Festivities include living traditions of the Scandinavian culture at the Vesterheim Museum and an incredible arts and crafts complex. With more than 30 artisans featuring their work, you will find it easy to take a little bit of Norway back home with you. The Grand Parade is a fan favorite that many return year after year to experience.
Plan to visit the Vesterheim Museum while you are in Decorah. This museum showcases the lives of Scandinavian-heritage people, and the art displays are out of this world. I am of Norwegian heritage, and I have always appreciated rosemaling. The rosemaling that is on display in the Vesterheim is alone worth a visit to the museum. Stroll the grounds and view the construction of the simple buildings that are on site. You will quickly see that Norwegians were simple people and made use of everything that they owned. The one thing that I think that everyone needs to do when they visit Decorah is to enjoy some lefse. This delicious Norwegian treat will find you wanting more. 
4. Amana Colonies
You can experience Germany when you visit the Amana Colonies, between Cedar Rapids and the Iowa City area. For more than 90 years, this German culture was rooted in Germany and has continued to grow in the United States. When you visit the seven colonies, you will see how this communal area thrived and how it came to be. The people in these colonies are proud of their heritage and continue to work hard to share their stories with all of the visitors to this area of Iowa.
A highlight for many visiting the Amana Colonies is a visit to Middle Amana, the only surviving intact communal kitchen is in this colony. Imagine dining with others at a different time and what mealtime was like. It's not every day that you will spend time in a communal kitchen, as our kitchens today are much different. Another popular stop where you can see craftsmen at work is AJ's Copper Garden. Metal has been used in art creations for many years and continues to be a part of the Amana culture. When visiting the Amana Colonies, a highlight for me is to enjoy a meal at the world-famous Ox Yoke Inn. Experience a German meal, including schnitzel cutlets, Amana brats, and rhubarb custard.
5. Cedar Rapids
Cedar Rapids, Iowa, is home to thousands of Bohemian, Moravian, and Slovak immigrants. Many descendants have lived in Cedar Rapids and the surrounding area since the turn of the century. Today, visitors can experience Czech history through a museum and an area of town devoted to this culture: the National Czech & Slovak Museum & Library. Step into the 1800s Sleger Immigrant Home at the museum. Five generations of the Sleger family lived here from the 1890s through 1984. This family emigrated to Cedar Rapids from Bohemia to make a life in the United States. See the effects that war had on this culture and how these people overcame some of their trials. Wheelchairs are available for use at the museum on a first-come, first-serve basis at no cost. The parking garage offers free parking, and the museum is accessible to people with disabilities. 
The Czech Village/New Bohemia District is an area that prides itself on how it has carried on the legacy of the Czech community. There is a mix of small businesses, arts, culture, entertainment, and restaurants in this Main Street area. Several events occur all year long, including Food Truck Tuesday and an opportunity to take an art class or two. Spend a day exploring the Czech area of Cedar Rapids for an opportunity to travel without needing a passport. 
Pro Tips
Each of these communities is proud of their heritage and where they come from. They also pride themselves on annual events where people have returned year after year. Each year, the events seem more significant and more prominent, as more people tell others about them. You may also find yourself immersed in the culture, including the language. 
The people within each of these towns are more than willing to share their love of their community with you. If you want to know where the locals are eating, ask a local. The residents of each of these charming European towns in Iowa are full of pride and will show you a great time. 
The best tip that I can offer is to visit throughout the year. The seasons change, and the events change with the calendar. What are you waiting for? Plan your visit to one or all of these charming European towns in Iowa.
Further Reading: