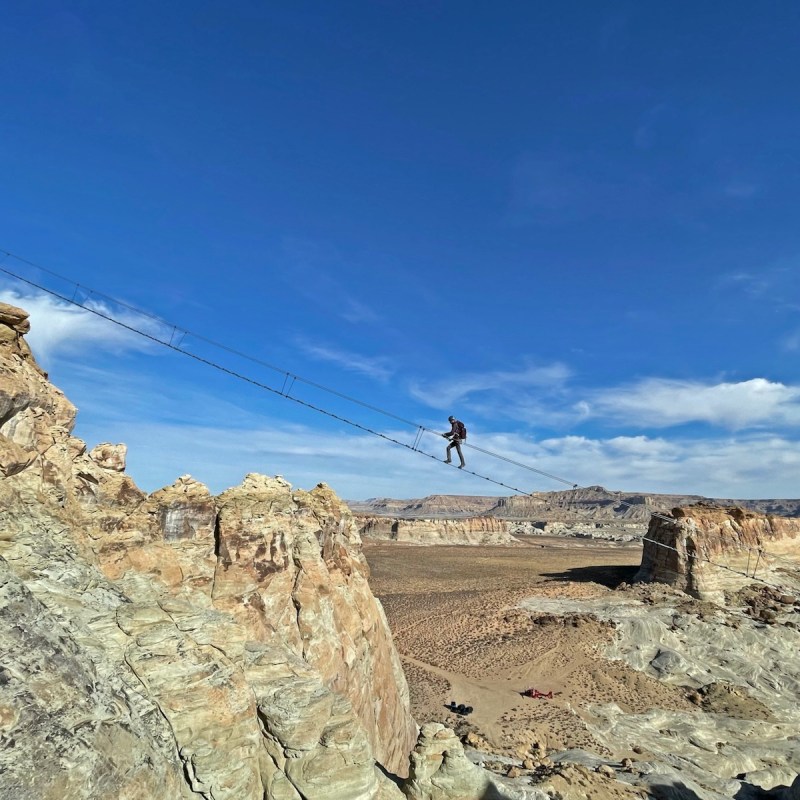 If you're looking for what some people may call the thrill of a lifetime and you don't mind heights, a luxury resort in Utah has just what you need.
Reaching a height of 400 feet, the Cave Peak Stairway — essentially a hanging ladder-like bridge — uses 120 steps to span a distance of 200 feet. That length makes it the longest bridge of its kind in North America, a Bloomberg article reports.
A Beautiful Location
A company called Aman owns 32 resorts, hotels, and private residences in 20 countries. One of the luxury resorts is Amangiri.
Sitting on 600 acres of the Colorado Plateau in southern Utah, Amangiri is about 100 miles from Zion National Park, just under 150 miles from Bryce Canyon National Park, and 60 miles from Lake Powell. 
There are two parts of the resort: The Suites of Amangiri hotel and the tented Pavilions of Camp Sarika retreat, which was inspired by safari lodges in Africa. Both offer stunning views of the desert's canyons, mesas, ridges, and gorges.
A Thrill-Seeker's Dream
Amangiri has a set of via ferrata — Italian for "iron path" — courses of varying distances. These types of courses are "protected mountain climbing routes consisting of anchored cables, rungs, steps, bridges, and ladders, which [allow] lesser or even inexperienced climbers to face otherwise dangerous — but incredibly scenic — routes," a Fodor's article explains.
As if the thought of crossing the aerial stairway isn't daunting enough, think about this: Cave Peak Stairway is only accessible after climbing to its starting point. Indeed, to even reach Cave Peak Stairway, guests must first complete a three-hour via ferrata circuit that crosses a series of red rock canyons.
Cave Peak Stairway
Crossing what basically is a hanging ladder made of metal slats connected by wires some 400 feet above the desert is — without a doubt — not for the faint of heart. The question then, is "Why do it?"
The answer is simple: "Intense exposure and mesmerizing vistas of the property and beyond," the resort explains.
"Guests are invited to take to the stairs after completing the via ferrata, and will be rewarded with an incredible panorama from the top," Amangiri explains. "With an unmatched vertical route of ascent, a spectacular position, and a summit visible from the resort, it is destined to be an iconic and exhilarating adventure."
A Relaxing Resort
Let's face it: After a long day of climbing via ferrata routes at heights of up to 400 feet, you're going to want a chance to relax and unwind. Fortunately, Amangiri is a luxury resort, so it has exactly what you need.
Its 25,000 square-foot spa "reflects the healing traditions of the Navajo, with treatments drawing on the four elements of earth, wind, fire, and water," the resort notes.
Here's the great part: Every two-night stay includes one 30-minute "crystal sound bath." What's more, that stay also includes one 60-minute massage per person per night.
At this point, it should be mentioned that the resort is mostly sold out through June. After that, nightly rates for one room with two adults at Amangiri start at $3,500.
Can't get enough bird's-eye views? Consider how to experience the world's highest cliff camping here.