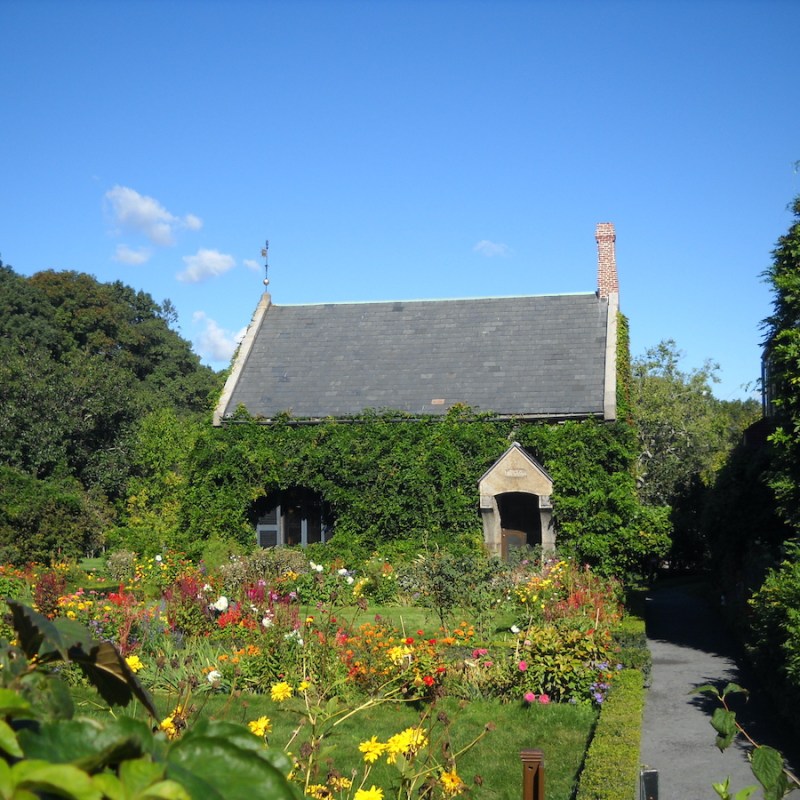 Boston, Massachusetts, offers so many amazing historical experiences, and one you will not want to miss is a tour of Adams National Historical Park. John Adams was the second president of the U.S., a scholar and farmer, a world traveler, and father of another president. He lived a full life crammed with stellar achievements. Using his talents as a writer, he helped author the Declaration of Independence. For a season of his life, he met with royalty and diplomats in Europe. And he collected memorabilia from his travels that you can see on display in his house.
The John Adams "experience" is run by the National Park Service in Braintree and Quincy, just outside Boston. This tour of three homes makes a fascinating day trip when you visit this area of the U.S. Whether you appreciate architecture, art, literature, U.S. history, or gardens, you will enjoy your day. Here are tips on visiting plus a look at some of the inspiring highlights of Adams National Historical Park.
What's So Interesting About John Adams?
Before spending a good part of a day touring his houses, it's helpful to learn about or review just why John Adams is notable. Born in 1735, Adams grew up in Braintree, Massachusetts. His father encouraged him to read and study, instilling a lifelong habit of learning in his young son. After studying at Harvard, John Adams decided to pursue law. He courted and married future first lady Abigail Adams, who also excelled in her studies. She would prove to be a partner who would give intelligent advice as well as support to her husband throughout their marriage.
John Adams soon garnered a reputation as a competent lawyer. Known for his fairness, he gained fame when he defended British officers on trial for murder during the Boston Massacre. But he was also an outspoken critic of Great Britain. Elected as a delegate to the First Continental Congress, he helped Thomas Jefferson draft the Declaration of Independence.
During and after the Revolutionary War, Adams served as a diplomat in France and England. He returned to the U.S. and helped establish the fledgling country in his role as vice president under President George Washington. The first peaceful transfer of power in the U.S. took place eight years later when Adams was elected president.
Adams returned to Peace Field after his presidency, and there he lived out his days happy at his home and farm until his death in 1826.
Begin Your Adventure At The Visitor Center
To begin your day exploring the homes of John Adams, head to the Visitor Center in Quincy, Massachusetts. The National Park Service runs tours of the homes, with a trolley ride between them included in your ticket. Days and hours vary. Check the website before you plan to go. Winter hours are more limited than other seasons.
Once you park at the Visitor Center, you don't have to worry about structuring your visit. Go inside, get your ticket, and from there on, follow directions to board a trolley. At the end of your tour, a trolley will return you to the center. Allow at least 3 hours, and longer if you want to wander through the gardens and grounds of the larger home.
First, view the orientation film, Enduring Legacy: Four Generations of the Adams Family. And browse the bookstore either before or after your tour — or both!
At the designated time, hop aboard the trolley, and off you go.
Pro Tip: The restrooms at the Visitor Center are the last you will see in a while.
Make The First Stop At The John Adams Birthplace Home
You arrive first at the home where John Adams was born. This is the oldest presidential birthplace in the U.S. The small home, built in 1861, is a classic style of New England home referred to as a saltbox house. The name comes from the resemblance to boxes with slanted lids used to store salt in colonial kitchens.
A park service employee will tell you about this house and also talk about John Adams and his son, John Quincy Adams, who would follow in his father's footsteps to become the sixth president of the U.S.
Continue To The Home Where John Adams Raised His Family
Walk across the lawn just 75 feet to a larger saltbox home. This is where John Adams lived as an adult. And it was the birthplace of John Quincy Adams. From here, John Adams worked as an attorney from his office. And in this house, he and two colleagues wrote the Massachusetts Constitution, which is still in effect.
The two Adams houses sit at their original locations. As you tour them, stop to imagine that behind the small house farmland spread out for 200 acres. The family of John Adams grew corn, wheat, oats, and barley. And horses, sheep, hogs, and poultry lived here. The original well is still on the grounds.
Step Back In Time At The Historic Old House At Peace Field
Board the trolley for a short ride to Peace Field. This stately home is the gem of the tour. Adams moved his family here in 1788, and he lived here until his death. The house, built in 1731, remained in the family until 1927. Peace Field highlights all Adams's interests, including art, gardens, architecture, and books.
An hour-long guided tour by a park ranger takes you through the house. You'll enjoy a running narrative about the generations of the family and the treasures you're seeing.
Discover Art Collections Of Many Kinds
Peace Field is far more than a lovely architectural and historical dwelling. It is filled with collections of many kinds of art gathered by John and Abigail Adams and four generations of Adams after them. The collections of artifacts are worth viewing for their beauty and also because they represent events, travels, and experiences of the family. Furniture, dishes, and other items are European as well as American. Notice the Dutch chairs, French secretary, and Louis XV settee. Furniture made in America includes an American Queen Anne Highboy and a Federal-style mahogany banquet table. And remember to take in the paintings. Artists John Trumbull and Mather Brown are represented here.
When you tour the home, you are looking at the original artifacts amassed by the Adams family. The National Park Service takes pride in presenting authentic, original collections and furnishings. The only exceptions are small bits of upholstery and wallpaper.
Marvel At The Books In The Stone Library
The Stone Library is a separate building next to the house. More than 12,000 books, documents, and manuscripts that belonged to the Adams family live here. John Adams commissioned the building of this library in his will, noting to his son Charles that it should be fireproof. And he noted that Abigail Adams should have "the use of any of the books in the library at her descretions."
Stand in this library, built in 1873, and you will be astounded at the extent of the written word gathered in this one august place.
Walk In The Gardens
Leave time, if possible, to stroll through the formal gardens after your tour of the buildings. The 18th-century gardens bloom with thousands of annuals and perennials. There's also a historic orchard.
John Adams's son Henry wrote about this garden, noting in a letter to a friend that while writing History of the United States, he worked on the book "as though it were serious, five hours a day; and when my hand and head get tired, I step out in the rose-beds and watch my favorite roses."
The National Park tour of the three Adams homes in Massachusetts allows you to see where John Adams was born, where he built his career as a lawyer as his young family grew, and where four generations of the family lived. Peace Field gives you a sense of the world view of John Adams as he collected his favorite items from his travels. And you will be reminded of all the touchpoints of John Adams with the history of the U.S., from helping to write the Declaration of Independence to serving as the second president of a new nation.
You can almost feel how torn Adams was between serving his country and living in his idyllic Peace Field. You will likely end your day curious to learn more about this family who contributed so much to the formation of a nation struggling to learn how to promote life, liberty, and the pursuit of happiness.
Pro Tips
To learn more about the life of John Adams, either before or after your visit, read the biography John Adams by David McCullough, which won a Pulitzer Prize, and watch the excellent seven-episode John Adams HBO series based on the book. For more in-and-around-Boston inspiration, consider 11 Important Tips For Experiencing Boston's Freedom Trail and Boston's Historical Gems: 8 Fantastic Spots To Check Out.