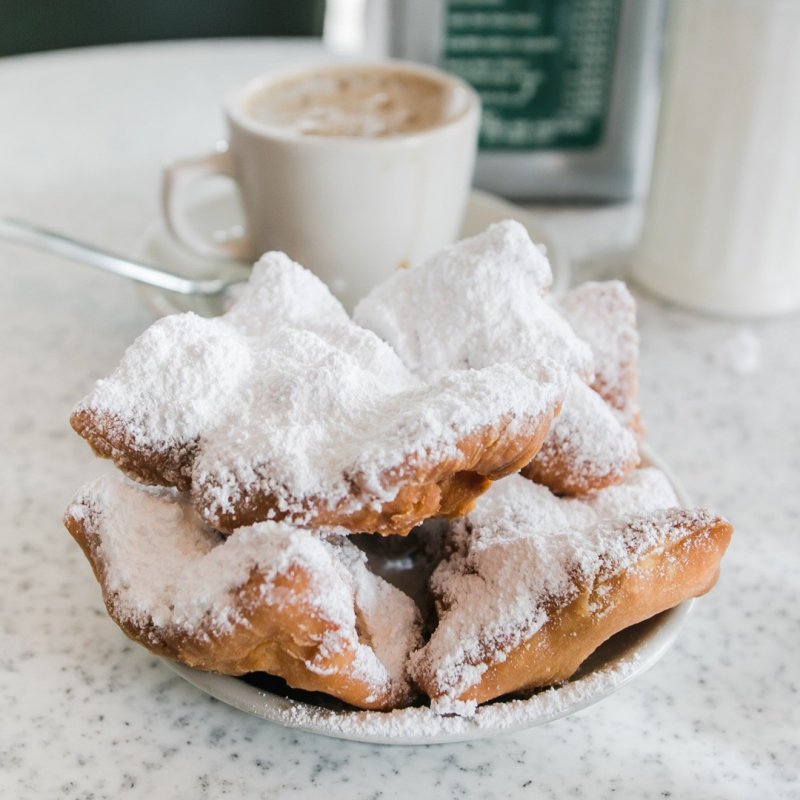 Beignets are the delicious French doughnuts beloved in the Big Easy. These light, puffy pieces of deep-fried dough are a traditional dessert in the city that takes overindulgence to another level.
Here are a few of the top spots to score these sweet treats while you're in New Orleans.
Loretta's Authentic Pralines
Locals have long loved Loretta's for its super-sweet, gooey pralines — traditional confections made from caramelized sugar, butter, and pecans. Now this sweet spot also fries up fluffy beignets — both plain and praline — at its cafe in Marigny, upriver from the Quarter. You can also find them for sale at the Loretta's stall in the French Market. They are delicious, decadent, and downright unforgettable.
Cafe Beignet
There are several Cafe Beignet locations in and around the French Quarter, and you can't go wrong with its take on the French dessert staple. Served in groups of three, and with plenty of powdered sugar, they are airy and light, with a slight crunch to the crust. Cafe Beignet locations also serve a full breakfast menu, as well as traditional dishes including gumbo and jambalaya. This is a great place to get your fill of great Louisiana cooking — starting with dessert!
Luca Eats
For an over-the-top twist on the traditional beignet, head to Luca Eats in Uptown, just north of Tulane University. This cozy little cafe is a relative newcomer to the New Orleans dining scene, but it's made a big splash with the locals, thanks to its Oreo beignets. The fudgy, ridiculous richness of everyone's favorite childhood cookie covered in beignet dough and deep-fried is a gut-busting end to a meal — or a fabulous snack on its own. You'll definitely need the beverage of your choice to wash these wonders down!
New Orleans Coffee & Beignet Company
Located on Saint Charles Avenue in Uptown, the New Orleans Coffee & Beignet Company keeps its menu simple and no-fuss: pillowy beignets, coffee drinks (hot, iced, and frozen), and a few other baked goods. These beignets are a bit smaller than the ones you'll find at other places, but they're the perfect size for dunking in your cafe au lait or hot chocolate. This spot is a favorite with locals, since it's located in a residential area, and it makes a great snack stop if you're exploring the Garden District.
Cafe Du Monde
We saved the most iconic beignet stand for last. Just across from Jackson Square, in the heart of the tourist zone, is Cafe du Monde, with its green-and-white-striped awnings and huge crowds. Since 1862, this place has served up beignets and coffee near the French Market 24 hours a day, every day except Christmas. You'll see people here at all hours: Often, late, boozy nights end at Cafe Du Monde as the early birds show up to read their morning papers.
Word to the wise: Do not wait in line. If you see an empty table, grab it. You might have to wipe it down yourself, but you'll be one step closer to a piping hot "order" (as the locals affectionately call a plate of beignets). Also, take note: Cafe du Monde only takes cash, so you'll want to have a few bucks in your pocket before braving the crowds.
Savory Beignets
Yes, there are savory beignets, and they're just as delicious as their sweet counterparts. They're served as appetizers in most of the city's best-known restaurants. Some will incorporate fresh Gulf seafood, including shrimp, crawfish, or crab. Other popular fillings include cheese, corn, peppers, or boudin, spicy Cajun sausage. Served with a piquant sauce of aioli or mayo on the side, these beignets will ensure your meal is off to a terrific start!
A Few Tips
No matter where you go in New Orleans to get your sweet beignets, you'll want to make sure you are not wearing black. Trust us: The powdered sugar you sprinkle onto your dessert will get everywhere, including on you! Of course, it's not enough of a hassle to keep from indulging, but it's something to be aware of before you dig in.
Don't forget to grab a cafe au lait to go along with your order. It's the perfect pairing — the rich chicory note in the coffee cuts the sweetness of the sugary beignets.
Last but not least, note that many of the eateries mentioned above sell their own beignet mixes. These make great gifts for your favorite home cook!
Headed to New Orleans? Check out these eight little-known attractions and these 12 totally free things to do in the city. If you want to hear some great jazz music while you're there, be sure to stop by some of these venues.