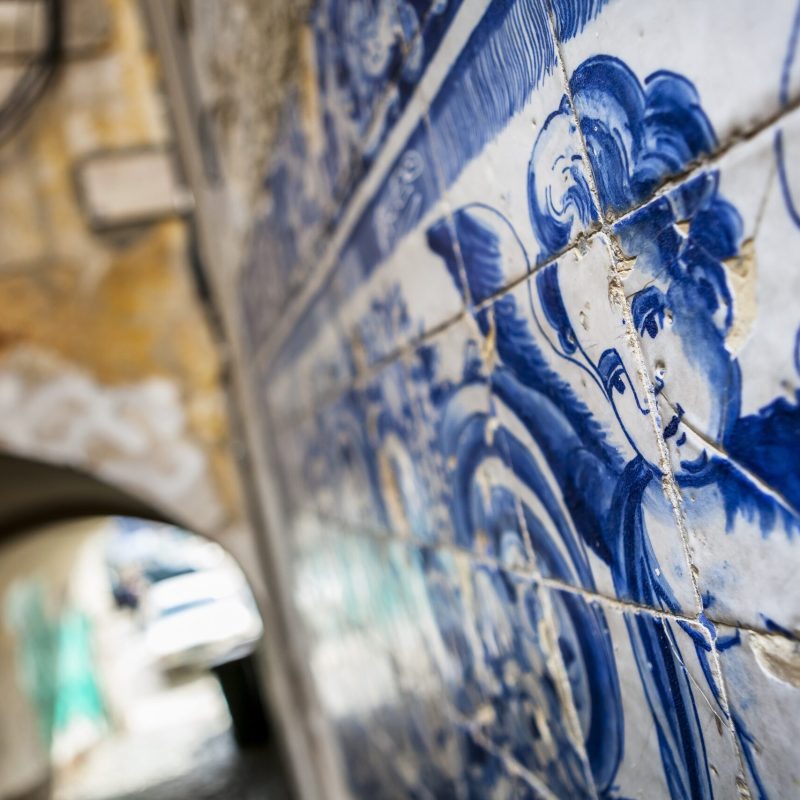 The Portuguese are a creative and artistic people. Just look at the stunning monuments and castles all over the country that have withstood centuries as well as the examples of modern architecture like Lisbon's 10.7-mile-long Vasco da Gama Bridge, the longest bridge in Europe.
Here we explore smaller but no less impressive works of art and craft in Portugal. Some of them have a long tradition, like cork, ceramics, and glass; others, like fashion, are developing. If you travel to Portugal, you will no doubt be enchanted with the beauty and craftsmanship of these different products and want to acquire some as a reminder of your trip when you are back home. Although you can buy products of varying quality in practically every souvenir shop in the country, it's always best to look for them where the best artisans produce them. That motto is the inspiration behind this article.
We'll show you the studios and ateliers, explain the process, and take you to a brand new fashion museum which will open in November. In addition, we'll introduce you to the regions where all this craftsmanship comes from.
Cork
Cork is made in a lengthy process from the bark of Quercus Suber, the evergreen oak tree. The largest forests grow in the Alentejo region. Portugal is the world's largest producer of cork, therefore it's an important industry and source of income for Portugal. Whilst you may primarily associate cork with wine bottle stoppers, you won't believe what else can be made from cork. You will hardly buy a bottle stopper as a souvenir, but what about belts, wallets, handbags, sandals, carved figures, and other decorative objects?
The center of it all is in the lovely town of Evora, close to Alentejo. Start with visiting the municipal market and then make your way through the narrow roads of town where you will find one shop after another with a dazzling array of cork products. One is called Alforge. You are bound to find a nice little something to adorn yourself or decorate your home.
Azulejo Tiles
The distinctive blue and white tiles of Portugal are practically a trademark. The most stunning examples are found in Porto. Make your way to the Sao Bento railway station, which is covered inside and out with thousands of these hand-painted works of art. There are actually three places in Porto where you can get inspiration, see how tiles are made, and even try your hand yourself: Banco de Materiais (where builders can exchange or borrow tiles), Bramica, and Azul Cobalto. Tiles are inexpensive souvenirs but if you buy more than a few you better have them shipped since they are breakable.
Editor's Note: For more on appreciating the azulejo tile work at Sao Bento, consider Inka's advice for visiting the nine most spectacular train stations in Europe.
Glass
Sadly, glassblowing is a dying art in Portugal. All the more reason for you to make your way to Marinha Grande to visit the last glassblowers who make glass in the traditional way and to buy one or the other of their beautiful products. The glassblowing gave Marinha Grande the nickname Crystal City. It's located in the center of Portugal, in the middle of the dense Leiria pine forest and not far from the famous Nazare beach. Visit the Lusitano studio, where every piece is made by a master, using recycled glass. There is also a glass museum in an ochre-colored neoclassical building where you can learn all about the tradition of glassmaking in the region.
Filigree
The art of making fine jewelry from thin, intricately woven gold and silver threads has a long tradition in Portugal. In fact, it goes back as far as the early Middle Ages, and today, Portugal is the European center of high-quality filigree jewelry.
The heart of the production is in the Braga region. This is no accident because the gold mines of Gondomar are nearby and the River Duoro facilitated transport. To see (and buy) the best of angel hair gold, make your way to the small village of Travassos. To learn everything about the history and the making of filigree, visit the private Gold Museum, Museu do Ouro. Note that visits are by appointment only.
If you are dazzled and want to buy a piece, head for the premises of Eleuterio, the most famous brand of filigree jewelry. Traditional and more modern designs are on offer — something for every taste.
Lace And Embroidery
When in Portugal, why not take a short side trip to the beautiful island of Madeira? Apart from everything else, this is where you will find the finest lace and embroidery and can actually see how it all is made. The bobbing lace was originally made by nuns and their pupils. Today, stroll through the streets of Funchal and look for Bordal Bordados do Madeira. During a guided tour, you can see how the lace is made and admire the more than 40, 000 designs. Embroidery and lace are also made by many local ladies, and with luck, you'll see one of them sitting outside and working their fine needles and threats.
Ceramics And Pottery
It's not only the blue and white tiles that are so desirable as Portuguese souvenirs. There is also a huge selection of plates, vases, and figurines. My favorite place for these beauties is Monchique. Located in the mountains between the Algarve and Alentejo, Monchique has a lot to offer: thermal springs, woods, an eye-catching landscape, distinctive skirt chimneys, and many craft shops and ateliers where you can actually watch the artisans at work, transforming lumps of clay into delicate plates, vases, and much more.
The one main street of Monchique — being close to Alentejo — also features several small shops that sell cork products. Celebrate your purchases with a shot of Medronho, the local and quite potent Schnaps.
Fashion
Although Portugal has always had a reputation for textiles and ready-to-wear fashion, it's only since the 1980s that Lisbon's young fashion designers have gained international recognition. That's due to fashion schools and events like the Lisbon Fashion Week. This year it will take place from April 15 to 18.
Designers used to have their studios and ateliers in the Bairro Alto but have now moved to the Chiado and Principe Real districts. To mention just two names: Fatima Lopes is considered the boldest, having made a splash when modeling her own diamond-covered swimsuit in Paris, and Luis Onofre, whose shoes are popular with Paris Hilton. Keep up with the latest trends, browsing in one of these 25 fashionable shops in Lisbon.
Even if the prices are beyond your budget, you can look and enjoy if you like fashion. And, they are for fashion-conscious men, too.
Pro Tip: For the latest fashion experience, you'll have to make your way to Porto, or rather to Vila Nova de Gaia where the brand new Porto Fashion and Fabric Museum will open on November 29 in old port wine cellars. You'll see everything about the history of fashion in Portugal, the fabrics used, their treatment, and much more.
Sweets And Cakes
If you have a sweet tooth, you'll be spoiled for choice in Portugal as the Portuguese love their sweets. The best known, no doubt, is the Pasteis de Nata, little, round cakes filled with an egg-creme mixture and baked until they are brown on top.
Again, it's Lisbon where you'll find the best in a bakery that has been making them since 1837. Head for Belem and be prepared to stand in line outside the Pasteis de Belem bakery. They are that much in demand! The art deco shop, decorated with the blue and white tiles, alone is worth a visit.