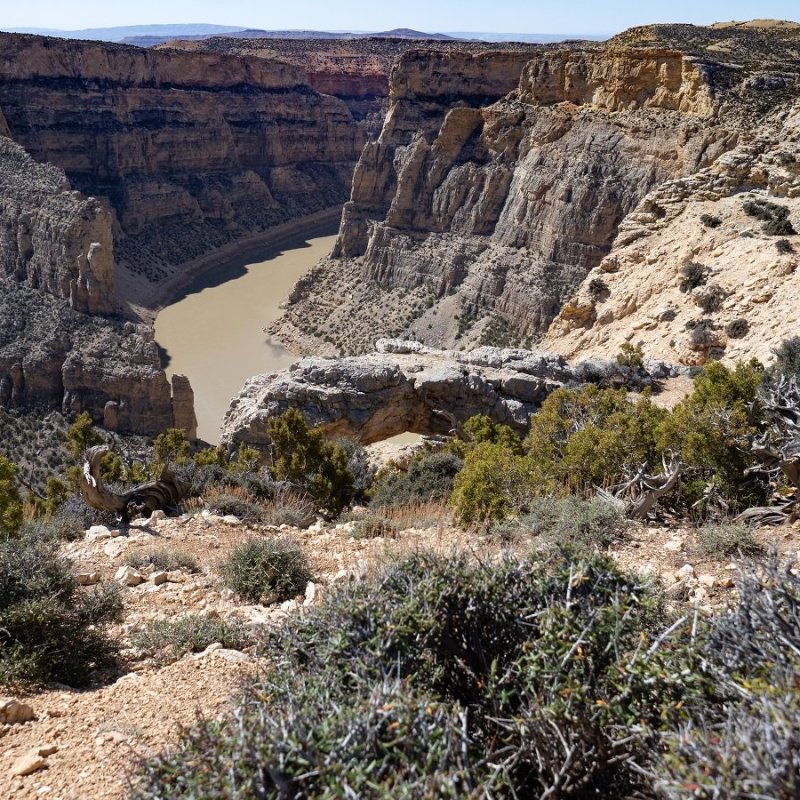 Within the Yellowstone ecosystem, Bighorn Canyon National Recreation Area offers visitors 188 square miles of pristine wilderness. It is overshadowed by its famous neighbor, Yellowstone National Park, about 110 miles to the west. For visitors to Bighorn Canyon, that is a good thing. Visitors to Yellowstone numbered 3.8 million in 2020. In contrast, Bighorn Canyon National Recreation Area averages just 250,000 visitors each year. This means you'll have some trails all to yourself. You'll be able to watch wild horses graze without jockeying for an unobstructed view. You'll be able to photograph the canyon and not the crowds.
Bighorn Canyon National Recreation Area straddles the border between Montana and Wyoming, with an entrance in each state. Here's the tricky part: You cannot drive in one entrance and out the other. No roads connect the two entrances within the park. To travel between Fort Smith, Montana, near the park's northern entrance, and Lovell, Wyoming, near the park's southern entrance will take 4 hours and many miles on two-lane roads.
If your visit to Bighorn Canyon National Recreation Area is geared toward fishing or boating, enter via the northern entrance on Route 12 from Fort Smith. The Bighorn River is teeming with rainbow and brown trout. If you're interested in fishing in the 71-mile-long Bighorn Lake that formed after the Yellowtail Dam was placed on the Bighorn River, be prepared to catch walleye, perch, catfish, and trout.
The Yellowtail Dam Visitor Center, open from Memorial Day to Labor Day, offers amazing views of the dam that stands 525 feet high. The dam was named for Robert Yellowtail, a chairman of the Crow Tribe and superintendent of the Crow Reservation.
For those who want to see wildlife and explore old homesteads, tipi rings, and spectacular canyon views, enter from the south, near Lovell, Wyoming. With that in mind, read on for how to spend a perfect day at Bighorn Canyon National Recreation Area:
Begin At The Cal S. Taggart Bighorn Canyon Visitor Center
Located on Highway 14A on the east side of Lovell, the visitor center's displays introduce you to the geology, history, flora, and fauna you'll see in Bighorn Canyon. They have short documentaries they play by request, a well-stocked bookstore, and enthusiastic and helpful rangers. Outside, a short, accessible path introduces you to the different plants native to the area.
Before you leave Lovell, stock up on food, water, and gas. There are no restaurants, grocery stores, gas stations, or vending machines in the park, except for the seasonally open (May to September) snack bar at Horseshoe Bend Marina.
Pro Tip: Allow 30 minutes to an hour for your visit. The building is ADA compliant.
Stay Hello To The Welcome Herd
Once you leave the visitor center, you'll continue on Highway 14A, turning north onto Highway 37 to reach the park's southern entrance. Park rangers named the herd of wild horses that tend to remain near the gate (except during the heat of the day) the Welcome Herd. Spring brings foals that are a delight to watch. Mostly the herd is unphased by visitors who keep their distance and remain quiet.
Throughout the park, you'll see solo stallions grazing. Without a harem, these bachelors remain by themselves.
Pro Tip: Tours to track and observe the Pryor Mountain wild horses leave from Lovell, Wyoming. The Pryor Wild Tour and Mustang Center office is adjacent to the Bighorn Canyon Visitor Center.
Watch For Wildlife
As the name would imply, Bighorn Canyon has bighorn sheep that seem to defy gravity as they skirt along the canyon walls. Like the wild horses, they tend to move to higher elevations and away from visitor areas during the hottest times in the summer. Be on the lookout for deer, coyotes, and black bears. Although cougars and bobcats inhabit the area, they are very elusive. If you spot one, buy a lottery ticket before your luck runs out.
Birdwatchers are likely to see golden eagles, red-winged blackbirds, meadowlarks (Montana's state bird), great horned owls, and bluebirds.
Unlike Yellowstone National Park where a traffic jam will indicate someone has spotted wildlife, with few people in Bighorn Canyon, you may be the only one watching a wild animal you spot. I had the pleasure of watching a bear sow and her two cubs on a quiet spring day. It was just the four of us. No one else even drove by.
Pro Tip: Ask rangers about any trails closed due to bear activity. If you hike, make some noise and carry bear spray. Also, read up on our tips for safely viewing wildlife in national parks here.
Get A View Of The Canyon
Bighorn Canyon runs between 1,000 and 2,500-feet deep. The canyon walls show off bands that formed over 2.5 billion years. When earth's tectonic plates shifted, the Bighorn and Pryor Mountains formed. For the last five million years, the Bighorn River has flowed between these two mountain ranges, carving the canyon through these ancient bands of rock.
The colors, just like those you see in Palo Duro Canyon or the Grand Canyon, are a product of the mineral content. The red stripes you see most prominently at Horseshoe Bend marina signal iron. Upper gray layers in the canyon date from the days of dinosaurs, and their fossils have been found in the park as well as in Wyoming and Eastern Montana, in this band of sediment.
For a view from the canyon rim, visit Devil's Canyon Overlook. An arch to the south of the parking lot entrance is probably the most photographed in the park. A short but steep and rocky path will give you a view of the canyon through the arch.
Hike To Sullivan's Knob
A mile north of Devil's Canyon turnoff, the looped Sullivan's Knob Trail offers breathtaking views of the canyon on a moderate 0.8-mile hike with about 150 feet in elevation gain. Remnants of the Bad Pass Trail, used by Native Americans as long as 10,000 years ago, parallel the current trail. You may spot rock cairns marking the ancient trail.
Pro Tip: Although it is a short hike, the elevation is 4,300 feet high. Bring water and pace yourself if you are unaccustomed to higher altitudes.
See Tipi Rings
Two Eagles Interpretive Trail gives visitors a sense of the ancient peoples who roamed this land. The easy 0.25-mile wheelchair-accessible looped trail has placards (or an audio version for download) detailing life in Two Eagles camp over the past 1,200 years. The Crow and Shoshone camped and hunted buffalo here. More than 140 stone or tipi rings are still here today.
Pro Tip: Dogs on leashes are welcome on the park's trails.
Explore Old Homesteads
European settlers built homesteads in the area beginning in the 1880s. Log cabins and barns remain from several historic ranches. The Ewing-Snell Ranch is just off the main road (Highway 37) and was an active ranch for about 100 years. Discarded farm implements still sit in the pastures.
Lockhart Ranch is named for Caroline Lockhart — writer, editor, and rancher (starting at age 56). The out-and-back trail is 2.6 miles long with very little traffic. You can explore the well-preserved buildings inside and out.
A 1.2-mile easy trail leads to Hillsboro and an abandoned guest ranch. Its owner, Dr. Barry, came to the area looking for gold but after the mining venture failed, he built Cedarvale Guest Ranch.
Get A View From The Water
While fisherman and boaters often head to the north section of Bighorn Canyon, the southern part has its share of opportunities for boaters, kayakers, and fisherman, too. Two marinas, Barry's Landing and Horseshoe Bend Marina, serve the southern part of the 71-mile-long lake.
Horseshoe Bend Marina provides scenic boat excursions during the summer and is the only place to buy a meal in Bighorn Canyon Recreation Area. They also rent paddle boats.
For the unique perspective of looking up the towering canyon walls and maybe seeing a sure-footed bighorn sheep, put a kayak in the water and explore on your own or join a ranger-led half-day tour.
Pro Tip For Those Who Fish: Bighorn Lake is in both Montana and Wyoming. If you plan on fishing in the southern portion of the recreation area out of Horseshoe Bend, you'll need a Wyoming fishing license. For fishing between Yellowtail Dam and Barry's Landing, you'll need a Montana fishing license.
If you're interested in a ranger-led kayak tour in Bighorn Lake, keep an eye on the recreation area's Facebook page or call the visitor center to make a reservation. Kayak trips are only offered from June to August and fill up fast. For trips departing from the south call (307) 548-5406.