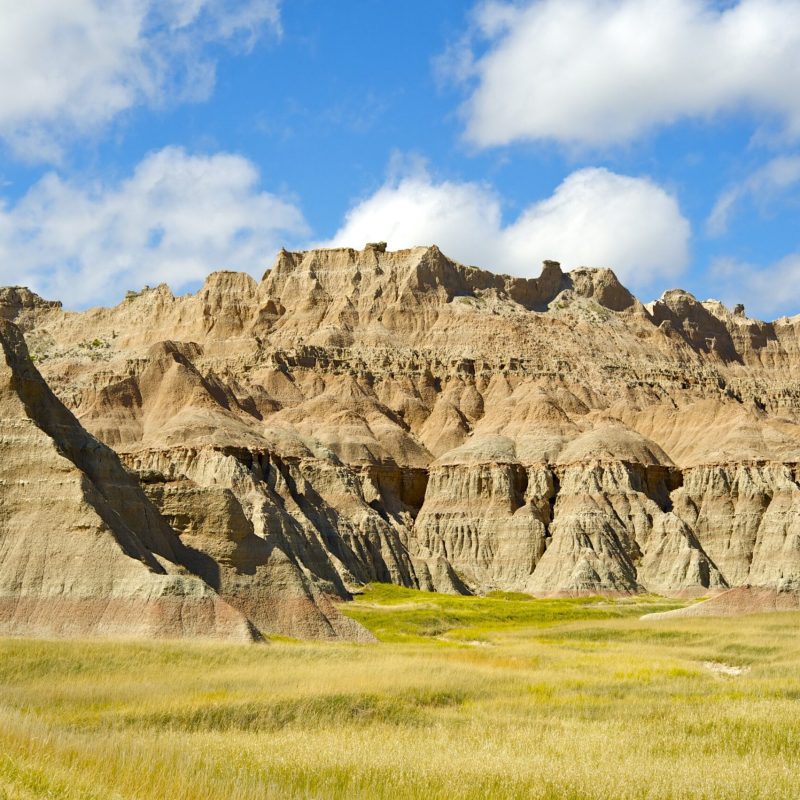 Everyone loves a good road trip. A memorable road trip awaits you when you hit the road in the Dakotas. A national park road trip in the Dakotas is sure to provide hours of fun and time to explore. Each time I have traveled through North and South Dakota, I have found something different to experience. Summer is the ideal time to visit as weather issues are minimal. The other three seasons offer fun with memorable experiences, including snow-covered roadways and hiking trails in the winter. Fall brings colorful autumn foliage, and spring brings fresh bursts of color throughout the national parks. Here are some of the things that you will want to include in your national park road trip through the Dakotas.
As you travel through South Dakota on I-90, you will come to one of the most famous road trip stops of all time, Wall Drug. This roadside attraction has been known as the home of free ice water for years on end. From a cheap cup of coffee to free ice water, Wall Drug has remained a family favorite of many over time. Stroll through the backyard and view the memorabilia from the past 80+ years. Dine in one of the restaurants and indulge in a buffalo burger before or after you shop. Souvenirs, high-end jewelry, and cowboy boots are some of the items that you can find in the numerous shops on your visit. For a memorable visit, plan to spend a minimum of two hours exploring in and around Wall Drug.
Badlands National Park
Badlands National Park is south of Wall Drug and is home to one of America's most beautiful rock formations in the lower 48. You will want to drive the Badlands Loop Road for wildlife sightings and stunning views of the towering rock formations. There are hiking trails within the national park for hikers of all abilities, novice to experienced. While hiking, be on the lookout for rattlesnakes, as it's not uncommon to find one along the trail. You can spend a full day in this national park and if you enjoy camping, why not spend two full days? With two national park campgrounds in the park and privately owned campgrounds nearby, this is a great way to experience Badlands National Park.
Chapel In The Hills
Architectural enthusiasts will appreciate the Chapel in the Hills, located near Rapid City. This Chapel is a replica of the 800-year-old Borgund Stavkirke in Laerdal, Norway. Visitors are greeted at the "Stabbur," which is an authentic grass-roofed storehouse constructed in Norway and assembled on site. The storehouse serves as the visitor center and gift shop. There is also a log cabin museum and a prayer walk on the grounds of the Chapel in the Hills. The grounds are a place for reflection and an opportunity to celebrate Norwegian heritage.
Wall Drug, South Dakota
I had visited as a child and did not understand the importance of it at the time. Then, I returned to this heritage site as an adult. I have strong Norwegian roots, and all those years later, I was able to comprehend how powerfully moving this site can be. Visit in the summer, as this is a seasonal attraction.
Custer State Park
Custer State Park is a state park in South Dakota that deserves to be recognized as a national park. It may be titled a state park, but it has all of the amenities and more than national parks offer. The winding road and tunnels make for an unforgettable road trip. The wide-open spaces throughout Custer State Park offer views of bison roaming the prairie. Have your camera ready for a fun photo with a donkey. If your car windows are rolled down, a donkey may stick its head in your car window to say hello. The fee you pay to enter this state park is worth every penny and is good for several days. You can easily spend an entire week visiting Custer State Park and the surrounding area in the Black Hills.
Mount Rushmore
If you have never been to Mount Rushmore, place it high on your to-visit list. There are no fees to visit Mount Rushmore, but there is a parking fee. Shopping, hiking trails, restaurants, and a history lesson on the national memorial can all be experienced while visiting Mount Rushmore. This national memorial can be viewed through a couple of tunnels on the popular Needles Highway. If you are driving through Custer State Park on the Needles Highway, pay attention as you drive through the tunnels. You will have an epic view of this national memorial at some point in your drive. Plan on spending a minimum of two hours at Mount Rushmore. This is one attraction that you can spend a few hours or a full day at, depending on how much of it you want to experience.
Wind Cave National Park
Wind Cave National Park offers guided tours through the cave. You will want to dress appropriately, as the cave is cool and damp. Wear a jacket or long sleeves. Tours are 1 to 1.5 hours long and there are stairs to climb. If you have any problems walking, you will not be a candidate for this tour. There is also some stooping and bending along this cave tour. Wear a good pair of walking shoes and do not wear sandals. Cave tours can be fun and enjoyable when you dress for caving. There is a small fee to tour, and I've always found this cave to be an enjoyable adventure.
Enchanted Highway
The Enchanted Highway is located at exit 72 off of I-94 in southwestern North Dakota. This beautiful drive is home to the world's largest scrap metal sculptures. The 32-mile drive runs from I-94 to the town of Regent. Some of the scrap metal sculptures include pheasants, geese, and grasshoppers. I've enjoyed driving this route during the day, but sunset is my favorite time of day to visit. The North Dakota prairie is quiet along this highway, which makes it a beautiful place to spend an evening. Summer is my favorite time of year to make this drive, as the grasslands are lush and green. You will want to plan a minimum of two hours to enjoy the sculptures and beauty of the Enchanted Highway.
Medora
Medora, North Dakota, is a charming little mountain town that is home to fewer than 130 residents. During the summertime, the town is bustling with thousands of people each day. The Medora Musical is a tradition that everyone should experience during their lifetime. This summertime favorite is the longest-running outdoor musical in the country. Visit the North Dakota Cowboy Hall of Fame and learn how the cowboys and cowgirls helped bring Medora into the spotlight over the years.
Sip on a drink from the deck of the Little Missouri Saloon and enjoy the view of the main drag in town. Enjoy blueberry meatball pizza with a glass of wine at Medora Uncork'd. Once you visit, you will find yourself planning your next visit. Ask me how I know? It's happened to me, over and over. Medora is the perfect town in the Dakotas to disconnect and embrace nature.
Theodore Roosevelt National Park
Theodore Roosevelt National Park has two separate units. The south unit is in Medora and the north unit sits outside of Watford City. Each unit has rock formations and natural features that make it unique. Bison are spotted in both units, both alongside the road and on the hiking trails. The 28-mile loop in the north unit is an out-and-back drive. Plan a minimum of two hours to make this drive through the north unit.
The south unit offers 36 miles to explore and has a picnic area that is great for picnicking as well as bison viewing. You can easily find yourself in the midst of a herd of bison while driving or hiking through the south unit. Allow yourself plenty of time to explore, as the bison can add hours to your travel time by foot or car. The wild horses are some of my favorite animals to view while visiting the south unit. I have seen them in many areas of the park and could watch them for hours. You should plan on spending a minimum of three hours in the south unit.
Dakotas Road Trip Pro Tips
Your Dakotas road trip will be one of your favorite road trips of all time. People are always surprised at how much fun they could have while exploring these two Midwestern states. The landscape will change before your eyes as you travel across North and South Dakota. The prairie, grasslands, national parks, state parks, lakes, caves, and national monuments will provide hours of experiences and memories.
Make the time to visit the visitor centers that you come across along your road trip. Each of them offers helpful information about the area that you are visiting. The staff members are often volunteers who are passionate about sharing travel tips about the area they are representing. Don't be afraid to ask questions, as these volunteers are typically eager to answer them. You can easily spend two full weeks exploring North and South Dakota and still leave many things untouched.
Editor's Note: For more information, consider Why You Must Visit The Dakotas' National Parks In An RV.