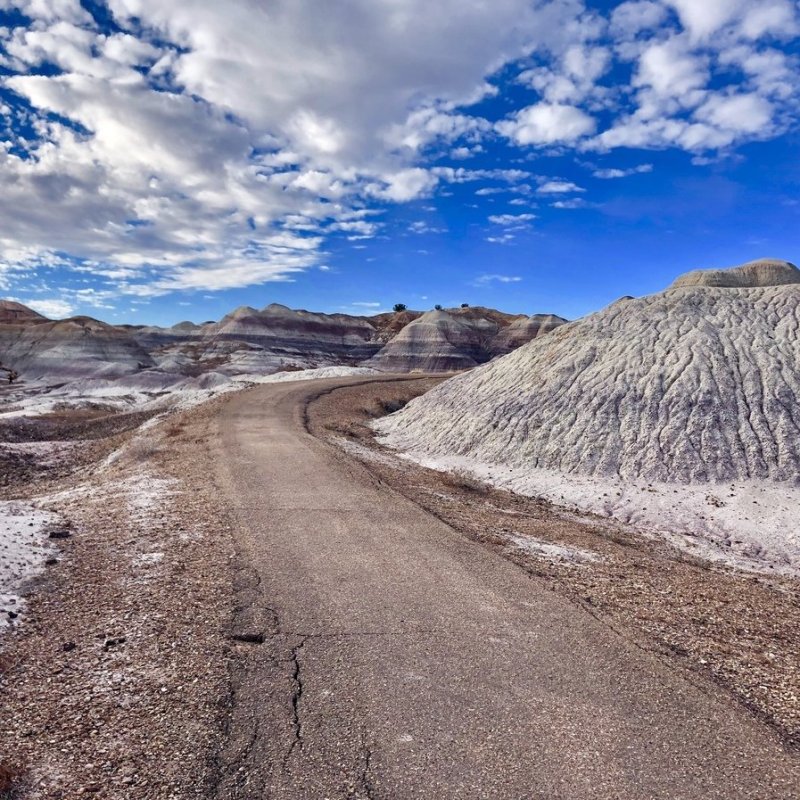 From plunging canyon walls to towering saguaro cacti to barren badlands, Arizona's national parks cover a lot of territory. Still, because they are within easily drivable range from one another, the Grand Canyon, Saguaro, and Petrified Forest national parks make for the perfect Arizona road-trip adventure.
If you were to drive the triangular route between all three parks without stopping, it would take 10 to 12 hours. As with any good road trip, though, you will want to stop along the way. To take in the three parks, as well as several notable stops in between, a 7-to-10-day trip is optimal.
Because the Grand Canyon's South Rim is the most iconic of the three, I am starting the itinerary from the northern-Arizona park. But you could just as easily start in any of the three and proceed from there. Also note that there are a number of ways to do the route. The triangular route is the longest and includes a spectacular variety of Arizona terrain.
Getting There
There are several ways of getting to Arizona by air. Although Phoenix Sky Harbor International Airport is the choice of most travelers, there are also other options that would get you closer to a national park.
Tucson International Airport (near Saguaro National Park) features eight airlines flying nonstop to 19 destination airports, while Flagstaff Airport (near Grand Canyon National Park) offers flights on American and United airlines. All three communities have plenty of rental options for cars and RVs.
Of course, there is also the option of driving to Arizona's national parks — either from your home or as a part of a larger, nationwide road trip. The location of Arizona's national parks near major interstate highways (I-40 and I-10) makes a road trip especially convenient.
Here are eight of the best stops along the way.
1. Grand Canyon National Park South Rim
While Grand Canyon National Park surveys show that many visitors do little more than a drive-through and quick photo-op stop, a longer stay has so much to offer. I love the chance to wander the village's historic lodges and scenic trails and take in the Native American culture on display. For inspiration on other things to do, see Why You Should Stay On The Grand Canyon's South Rim.
For fit hikers, one of the highlights of a Canyon visit is to do a day hike below the rim along either the Bright Angel Trail or the South Kaibab Trail. If you have time for just one, I recommend taking the South Kaibab to either Ooh Aah Point or Cedar Ridge. The views are splendid, and the hikes range between two to three miles round trip. Despite the short distances, remember that all hikes into the Grand Canyon are rated as strenuous and should not be attempted in the summer heat. For more on hiking in the canyon, see my article, 10 Tips For Hiking The Grand Canyon.
Other highlights at the South Rim include walks or bike rides along the easy Rim Trail (described in this PDF), a lunch or an overnight stay at the historic railroad hotel El Tovar, and a drive along the South Rim Scenic Drive, one of The 7 Most Amazing Scenic Drives In Arizona.
How Long To Stay: To have enough time to savor this natural wonder of the world, plan to spend two to three days in the Grand Canyon.
2. Flagstaff
For the most scenic route from the Grand Canyon to Saguaro National Park, head southeast on Highway 64 toward Cameron and then south on Highway 89 to the pine-scented mountain town of Flagstaff. For ideas on things to do along the way, check out my article Flagstaff To Page: A Road Trip Full Of Arizona Treasures. (Note that access to the east entrance to the South Rim has been limited during the COVID-19 pandemic, and it's advisable to check the status of the Desert View entrance before heading out. Another option is to head south on Highway 64 toward Williams and head east on Interstate 40 toward Flagstaff.)
Historic downtown Flagstaff is the ideal place to stop for a lunch break. For a fun atmosphere, a great location, and plenty of outdoor seating, check out the Lumberyard Brewing Co.
How Long To Stay: Although Flagstaff is worthy of a longer stop, it also makes a good place for a short lunch and fuel-up break before getting onto Highway 89A south toward Sedona through the lovely Oak Creek Canyon.
Note: Flagstaff lies at the intersection of Interstates 17 and 40, and if time is an issue, you could opt to head east on I-40 for 115 miles to Petrified Forest National Park at this point and then double back to get onto I-17 toward Sedona and Saguaro National Park. See below for another longer option.
3. Sedona
Along with being spectacularly scenic, Highway 89A also takes you to the wonders of Sedona's Red Rock Country. A couple of notable stops in Oak Creek Canyon are the West Fork Trail that winds through soaring canyons and includes numerous creek crossings, and Slide Rock State Park, where kids and adventurous adults can slide down a slick rock funnel through cool creek water. (Note that traffic can be very heavy during peak tourism times.)
Once in Sedona, you will have an array of views and trails to choose from. (For some of the best, check out 11 Must-See Spots in Sedona.) Along with its endless sightseeing opportunities, Sedona makes a wonderful spot to have lunch or dinner. One option is the bustling scene in Uptown Sedona, or you could head to the Tlaquepaque Arts and Shopping Village and wander the pretty courtyard before having lunch or dinner at the Oak Creek Brewery or the Secret Garden.
How Long To Stay: Depending on your time constraints, it is definitely worth spending a day or two exploring Sedona. You could also head about 20 miles southwest to the charming Verde River town of Cottonwood, where accommodations tend to be a bit more affordable than in Sedona.
4. Phoenix
You will pass through Phoenix on the drive between the Grand Canyon and Saguaro, so if you have the time and the desire to take in some big-city desert ambiance, now would be the time to do it.
Phoenix is the fifth-largest city in the U.S., and its metro area offers seemingly infinite dining and entertainment choices. For unique places to dine or drink, see 8 Unique Phoenix Restaurants To Try, or 10 Unique Bars In Phoenix.
Phoenix is also known for its great urban hiking in the rugged mountain ranges that bisect the city. One of the best is the hike to the Camelback Mountain summit. For inspiration on other things to do and where to stay, see How To Spend A Day In Scottsdale, AZ.
How Long To Stay: You could easily spend weeks exploring the Valley of the Sun, but if your goal is to see the national parks in a week or so, it is best to stay for just a day or two.
5. Saguaro National Park
The saguaro cactus is known as an icon of the American West, and the multi-armed giants are sprinkled throughout southern Arizona. The best place to see a forest of the distinctive cacti is at Saguaro National Park near Tucson.
The park includes the Red Hills Tucson Mountain District, also known as Saguaro West, along with the Rincon Mountain District, known as Saguaro East. The western section is the most popular and is the place where you'll see the most saguaros.
One of the highlights of Saguaro West is driving the popular Bajada Loop Drive, a six-mile scenic route that includes a section of unpaved road through gorgeous desert terrain. Although slightly rough in places, the road is considered suitable for low-clearance vehicles.
A number of hikes are available, from the easy one-mile Freeman Homestead Trail in Saguaro East to the spectacular 3.4-to-8-mile Sendero Esperanza Trail in Saguaro West. For more ideas on what to do in the national park, see Exploring Saguaro National Park: What To Know Before You Go.
How Long To Stay: Devoting one day to each of the two national park districts would provide enough time to drive the scenic routes, stop at the numerous overlooks, and sample a hike or two.
6. Tucson
With its location right in the center of the two districts of Saguaro National Park, Tucson is the perfect base for exploring the park. Luckily, Arizona's second-largest city features a unique desert vibe, complete with a mountain/cactus landscape, a world-renowned trail system, and a stellar Mexican cuisine scene.
Tucson was recently named a UNESCO Creative City of Gastronomy, making it a serious foodie destination. For inspiration on the unique restaurant scene, check out Eating Local In Tucson: 7 Best Foods And Drinks To Experience.
How Long To Stay: Spending two nights in Tucson would allow time to explore Saguaro National Park by day and take in some of the city's dining and entertainment highlights by night.
7. White Mountains
If your goal is to include all three of the Arizona national parks in your road-trip itinerary, there are a number of options for adding on the northeast-Arizona Petrified Forest National Park.
If you opt to continue the triangular route from Tucson, get ready for a long but scenic drive. One option involves heading northeast through the historic little town of Globe, and then through the stunning Salt River Canyon (Highway 60), and on to the White Mountains of Arizona.
With elevations ranging from the 6,000-to-11,000-foot range, the White Mountains are considered an Arizona sky island. For things to do there in milder weather, check out my story 11 Fantastic Things To Experience In Arizona's White Mountains In The Fall.
How Long To Stay: A night's stay in Globe or Pinetop-Lakeside would offer a nice break in the drive and give you a chance to check out the region's pretty vistas and dining options.
Note: If you would rather avoid the remote and twisting roads to the White Mountains, another option for visiting Petrified Forest involves adjusting your route from the Grand Canyon to continue east on I-40 from Flagstaff for about 115 miles to Petrified Forest and then doubling back on I-40 to head south on Interstate 17 toward Phoenix. See above for a shorter option.
8. Petrified Forest National Park
With the Grand Canyon and Saguaro National Parks as competition, Petrified Forest National Park is sometimes overlooked by visitors to Arizona. But the surreal terrain that is reminiscent of a moonscape along with its mysterious fossilized wood definitely makes Petrified Forest worth a visit.
A highlight of the park is the 28-mile scenic drive that will take you from one end of the park to the other. The highest concentration of petrified wood is found in the southern end, while the Painted Desert is on the northern end.
The park also has a number of hiking trails, including the easy but stunning one-mile Blue Mesa Loop that traverses badland hills of bluish bentonite clay and petrified wood. For more ideas on what to do in the park, see How To Spend A Day At Arizona's Petrified Forest National Park.
How Long To Stay: Petrified Forest is relatively compact and can be explored in a day. Accommodations are available in the nearby towns of Winslow and Flagstaff.
Pro Tips
Because of the vast elevation differences throughout Arizona, the climate varies considerably between the north and south. Summers tend to be hot all over Arizona, with Phoenix and Tucson regularly topping 110 degrees, and the northern locales getting into the 80s and 90s. The best seasons to take in all elevations are spring and fall, with April and October being optimal all over the state.