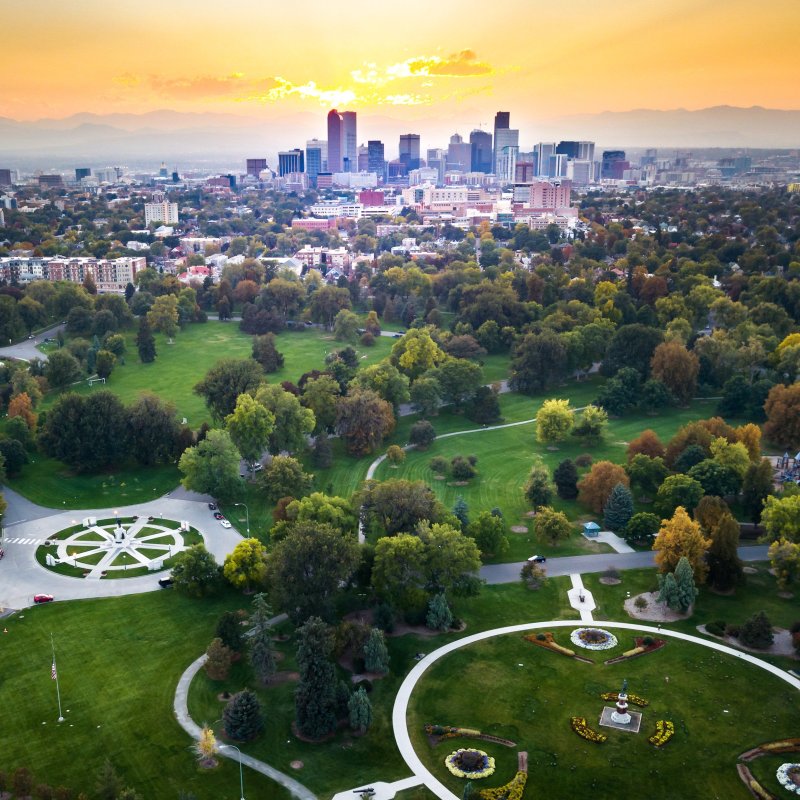 At the base of the Rocky Mountains, Denver is a fast-paced, rapidly-growing city with a plethora of places to experience its vibrancy and rich history. You could easily spend a week in the Mile High City and still not hit it all. But, if you only have a few days, it's these special attractions and experiences that will give you a true Western feel and a unique look into Denver's past.
1. Banjo Billy's Bus Tours
Welcome to a Denver history tour with a Wild West twist. Banjo Billy's Bus Tour is the most unique way to see Denver (and even Boulder if you venture up that way). The adventure starts with your seat choice. You can choose from a saddle or a couch, or even kick back and relax in a recliner.
The history tour takes you by prominent landmarks and delves into the city's roots. Banjo Billy's ghost tour is perhaps the most popular, though, and it sells out quite often. It takes you to the most haunted places in the city and will have you questioning if spirits still live there today. Another favorite is the brewery tour, which will allow you to experience Denver's nationally-known craft beer scene with a trip to three local breweries and even some beer tasting! Aside from the group tours, Banjo Billy's offers private tours, too.
Banjo Billy's runs several tours daily (except Mondays) in the summer with prices ranging from $20 to $30, and the company does offer senior discounts. There are fewer tours in the winter. Your best bet is to book online early to make sure you get a spot!
2. The Buckhorn Exchange
The Buckhorn Exchange claims to have the city's first liquor license and has been serving up unique dishes for more than a century. Businessmen, Native American chiefs, and five U.S. Presidents have eaten here — as is evidenced by the restaurant's walls. Perhaps the most unique feature of this establishment is its massive taxidermy collection, which includes buffalo, sheep, and a two-headed calf.
The menu is like a walk back in time. It hasn't changed much from its roots in the 1800s. For the adventurous, try the alligator, elk, or Rocky Mountain oysters. But, don't worry! There's also more traditional fare like steaks, duck, and lamb. The Buckhorn Exchange is located just a few minutes south of downtown Denver and has a light rail stop (10th and Osage) right across the street for easy access.
3. Twist And Shout Records
Vinyl is king at this iconic record store in Denver's Washington Park neighborhood. A husband-and-wife duo started the store in the late '60s and turned it into the 11,000-square-foot space that it is today. You'll find some of the rarest records here, including out-of-print items, plus CDs, DVDs, and LPs.
The vintage posters and pop culture memorabilia make this store a true music mecca. Catching a live performance at Twist and Shout is an exciting treat, too. You might just see a future star!
According to its website, icons like Elvis Costello and Patti Smith have performed here. Twist and Shout also looks to buy items, so if you're holding on to a piece of music history, it might be worth getting an appraisal. Twist and Shout is centrally located near Denver's many music venues, so it's a great stop before a show.
4. Forney Museum Of Transportation
Amelia Earhart's famous yellow bug, an Indian motorcycle collection, even cable cars — transportation methods of all kinds are on display at the Forney Museum of Transportation. From cars and trains to airplanes and even sleighs and bicycles, you'll be hard-pressed to find another collection like it.
Located in northeast Denver, the museum started as a private collection that ballooned to include more than 600 pieces. It frequently offers new exhibits as well as events, including car building workshops and a fall festival. Admission is $12 and there is a senior discount.
5. Biker Jim's Gourmet Dogs
A hot dog joint may not be at the top of the list for visitors, but this Denver gem is so unique, it deserves a stop. Located in downtown Denver, Biker Jim's Gourmet Dogs serves up delicious dogs for adventurous eaters. There are rattlesnake dogs, reindeer dogs, jackalope dogs, and even wild boar dogs (just to name a few). The toppings are equally unique.
Have your dog the "classic" way with cream cheese and caramelized onions (caramelized in soda, by the way) or kick it up a notch with cactus, wasabi, or caramelized apples. There is even a vegan dog if those meats don't appeal to you!
You can find Biker Jim's Gourmet Dogs right near Coors Field and inside the baseball stadium. There are also carts around town — most notably across from the clocktower on Denver's 16th Street Mall.
Hidden behind glass doors, behind bookshelves, and beyond pie shops lie some of Denver's best kept secrets. These are Denver's hidden bars — the ones that go unnoticed by the masses but promise one-of-a-kind experiences.
Williams And Graham
Perhaps the most popular is Williams and Graham in the Highlands neighborhood just east of downtown Denver. From the outside, Williams and Graham looks like a bookstore, but behind the revolving bookshelf, you'll find a dimly-lit bar that serves small plates and hand-crafted cocktails. It opens daily at 5 p.m.
Green Russell Speakeasy
Larimer Square — located in the heart of downtown — draws visitors for the beautiful lights strung over the road, its stylish boutique stores, and trendy restaurants with outdoor seating. But behind an unassuming pie shop, you'll find the Green Russell Speakeasy. This gem doesn't even allow cell phone use (except inside the vintage phone booth). And it's truly a cocktail adventure — just answer a few questions from the bartender and he will serve up a drink that's sure to surprise you. The Green Russell opens every day at 5 p.m.
Saint Ellie
Blink and you'll miss the door to Saint Ellie in Denver's Riverfront neighborhood. It's accessible via an understated glass door set in a brick wall. On the other side are stairs leading down to a cozy space beneath popular restaurant Colt and Gray. This bar has a more laid-back vibe with good food and excellent cocktails. Note that Saint Ellie is closed Sundays and Mondays.
7. Activities At Red Rocks
A few minutes west of Denver is the geological wonder of Red Rocks. While the outdoor amphitheater isn't a hidden gem itself, it's the lesser-known activities on site that make this place a rare treat. Red Rocks hosts diverse activities — think yoga, barre, and even ski conditioning — all year round. One of the best events happens during the summer. Film on the Rocks is your chance to watch movies under the stars. A local band will kick things off, with the movie starting at dusk. They show films ranging from new releases to '80s classics. Go to the website for ticket price info and be sure to book early — some of these events fill up quickly!
For more of a relaxed time, soak up the scenery while eating at the Ship Rock Grille. Located inside the visitor center, it serves up wings, burgers, and even elk sausage. Making a reservation is a great idea because the restaurant closes early on concert days.
An added bonus is the Colorado Music Hall of Fame, also located inside the Red Rock's Visitor Center.
If you venture out to Red Rocks, expect to walk a lot of stairs (ADA and accessibility information is available here). Odds are, your thighs will be burning, but the experience is well worth it! Admission to Red Rocks is free, but check the website to see if any of the events you want to participate in cost money.
8. Four Mile Historic Park
This is a taste of the country within the city. Four Mile Historic Park is home to Denver's oldest building: the Four Mile House. The house was built in the 1800s along the Cherry Creek River and offered services to travelers following the Cherokee Trail. Today, it sits among 12 acres of land near Denver's city center. It's a great place to relax, take a stroll, or have a picnic, all while learning about Colorado's history. Every fourth Sunday, the Four Mile Historic Park comes to life with storytelling, crafts, and demonstrations. And you can even take some of Colorado home with you with a stop at the General Store, which sells exclusive handmade items. Proceeds go back to the preservation and support of Four Mile Historic Park.
Admission is $5 and $4 for seniors. If you time your visit right, the park hosts free days on the second Friday of each month. Admission means access to the grounds — which includes all the historical buildings, plus an opportunities to pan for gold and enjoy a guided tour of the house.
Once you've enjoyed the city's hidden gems, be sure to enjoy at least one of these day trips from Denver.