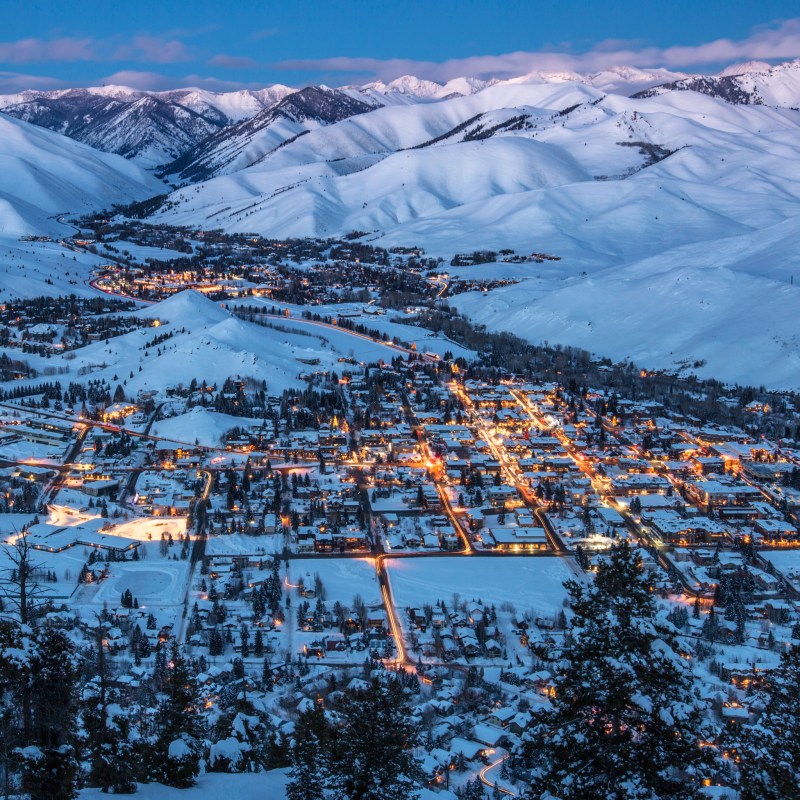 Sun Valley, known for its spectacular ski resorts, has so much more to offer than downhill. If your ambition is to be one with nature and experience the active Wild West backcountry life, then a visit to Sun Valley needs to be on your travel agenda. In addition to skiing, backcountry fun is what put Sun Valley on the map. Here are some excellent things to do, even if you're not in the mood for the slopes.
Hiking Trails Bring Nature Front And Center
Sun Valley has hiking trails that will suit anyone's physical fitness and abilities. There are short, easy hikes and long, difficult alpine treks. The 4.4-mile trail hike up Proctor Mountain has a gentle slope and intermediate rating. For the more adventurous hiker, try the 4.3-mile Adams Gulch trail. Rated as difficult, this trek will get your heart pumping. Your reward: a panoramic view of awe-inspiring Idaho backcountry.
The Hiking Project lists many of the Sun Valley and nearby Ketchum hikes. The site notes length and difficulty rating along with maps and hiker reviews. It's the best place to get an overview of the trail terrain and seasonal hiking access.
Paragliding For A Bird's-Eye View
If you have ever wanted to fly like a bird, paragliding is the next best thing. The Fly Sun Valley team will have you soaring off Bald Mountain at the top of the Sun Valley Resort like a free bird. When you leap, you will be paragliding with a tandem-certified instructor who will capture your every moment on a state-of-the-art GoPro camera. The video will be an adventure highlight to share with your friends and family, and the view of Sun Valley below while gliding with eagles high above will be a memory that lasts for a lifetime.
Casting For Fish
The tug is the drug. It's the mantra of anglers worldwide. At Silver Creek Outfitters, you will find all your fishing needs. Their guided fly fishing expeditions are lead by certified and master casting instructors. Your visit will include some of the most beautiful fishing spots on the planet.
If you prefer to grab your rod and venture out solo, check out Sun Valley Life real estate agent Jed Lyttle's five favorite fishing spots. You won't go wrong with Jed's first-hand recommendations. And if you find yourself yearning for a cabin on the river, you can get Jed's opinion on that, too.
Picture yourself casting a line in crystal clear water surrounded by nature's woodland beauty. Catch brown, rainbow, and steelhead trout for dinner or, if you prefer, catch and release. Either way, it will be a day of cool babbling water, sweet clean air, and peaceful surroundings.
Riding High
Summiting the continental divide astride a magnificent horse — now that is a picture-perfect moment. Elkhorn Stables offers riding tours for everyone from beginners to advanced riders. Experience the thrill of riding wooded trails and vast, open meadows as your wrangler guide-led journey takes you through the Salmon-Challis National Forest and beyond.
Join an authentic cowboy backcountry adventure in Challis, about two hours north of Sun Valley. White Cloud Outfitters offers single- and multi-day riding expeditions through the White Cloud Wilderness. Set up camp and enjoy a wrangler-prepared dinner around the campfire under a wide-open, starlit canopy. Fishing, spotting wild horses, photographing nature, and hiking await you on these bucket-list trips. Many of these adventures are seasonal and weather dependent.
Garden Walks
Sawtooth Botanical Garden in Ketchum boasts eight distinct garden spaces. And the highlight of the garden is showcasing the area's native alpine plants.
The garden offers wildflower walks throughout the spring and summer months. If you are interested in natural alpine and meadow plant habitats, this five-acre botanical haven is worth the stop. It is open sunrise to sunset, year-round.
On- And Off-Trail Snowmobiling
The exhilarating rush of zipping along a snow-covered trail surrounded by woodland scenery will remind you why you are on vacation. At Smiley Creek Lodge, you can experience on- and off-trail rides during full- or half-day guided snowmobiling adventures. Single or double ride rentals are available for your snowmobiling experience. Your snowcovered ride through the Sawtooth Basin might even be the highlight of your trip.
Sports Target Shooting
Wide-open spaces give you ample room to learn or practice your marksmanship skills. Get Your Shoot On Idaho offers private firearms lessons customized to your ability. For beginners, it is a great way to learn basic use and marksmanship safety. For the experienced shooter, hone your skills with some expert tips and tricks.
Birding
Silver Creek Preserve is just under an hour from Sun Valley. The preserve is free and open year-round. Note, however, that the visitors center is only open May through October.
Grab your camera and binoculars for a hike around the preserve. Alternatively, the visitors center observation deck is the perfect place for a sighting or two without having to trek into the woods.
For the avid birding enthusiast, the Idaho Birding Trail consists of 175 different sites across the state that encompass 2,000 miles of trails. Their interactive map will help you embrace and make the most of your birding dreams.
Follow Ernest Hemingway
Ernest Hemingway loved Sun Valley. At the Sun Valley Lodge — in Suite 206 — Hemingway finished For Whom The Bell Tolls. He was an avid outdoorsman and spent many years visiting and finally settling in the Sun Valley and Ketchum area. Get a better understanding of his life experiences with a stay in the Sun Valley Lodge Celebrity Suite, which is decorated as a tribute to his life in Idaho.
The Guide to Ernest Heminghway's Sun Valley Legacy provides visitors with everything they need to know about his life in the valley, including the history of the Silver Creek Preserve, a conservation area his family dedicated to his love of the outdoors. You can also plan a visit to his grave at the Ketchum Cemetery.
Zen Spa Treatments
Skiing or no skiing, taking care of yourself is a wonderful gift. There are several spa options offered at The Spa at Sun Valley. They will wrap you in holistic potions that are in tune with nature and your natural spirit.
Try the Healing Vibrations Massage, during which Himalayan singing bowls are placed around you, relaxing you to a state of serenity. Alternatively, you can opt for an Infrared Heat Therapy treatment that uses heat sources to release toxins trapped in the body.
With the goal of bringing you to greater awareness of your spiritual side, options like the Restoring Zen Ritual, Calming Euphoria Ritual, and Antara CBD Ritual will bring on the zen.
The spa also offers an extensive menu of massages including traditional and popular options.
Camp In A Yurt
This is certainly something you can humble-brag about. How many of your friends have camped in a yurt? Head on over to Ketchum and stay at one of the four Galena Lodge yurts. They are available year-round and have front-door access to snowshoeing, hiking, and mountain biking trails. Unplug, unwind, and commune with nature while creating unique memories.
The yurts sleep between four and eight guests, making them interesting accommodations for the whole gang. For better or worse, they do not have electricity, and you will share a communal outhouse. Think internet-free glamping in Idaho.
Wilderness Lodging
Staying at the Sun Valley Resort situates you right in the middle of the action. They offer everything from rustic cabins to hotel suites and luxurious condos. Whether you are on a romantic holiday for two or spending time with your multi-generational gang, there is a choice that will work for you.
Eating In Sun Valley
There are a multitude of options for dining in Sun Valley, and from luxurious fine dining to brewpubs, you will surely find a great spot. If you want to experience two of Hemingway's favorite stops, try the Trail Creek Cabin or The Christy.
Trail Creek Cabin
With views of Bald Mountain, Trail Creek Cabin is Sun Valley's answer to dining in the Wild West, serving up locally sourced delights such as Idaho steelhead, buffalo tenderloin, duck confit, and chorizo pot pie. Add a fine California wine, and you have yummy upscale rustic cuisine.
Michel's Christiania Restaurant And Olympic Bar
Offering sumptuous French cuisine, the iconic Michel's Christiania Restaurant and Olympic Bar, or "The Christy" to locals, has been serving up Sun Valley fine dining experiences for over 60 years. You won't go wrong with the Filet de Truite Meuniere (local ruby trout with lemon) or Filet au Poivre Vert et Morilles, filet mignon with morel cream sauce. You will want to dine here every time you visit.
The Kneadery
Vacation and a great breakfast are a mandatory combination. The Kneadery offers everything you are looking for in a locally sourced, sumptuous breakfast joint. The daily breakfast specials will knock your socks off with their fresh, cooked-just-for-you goodness. Be sure to consider the Cowboy Bennie if you are fueling up for a day of activity; the steak with avocado and fresh hollandaise will keep you going until lunch.
Sun Valley Pro Tip
Although Sun Valley boasts 205 days of sunshine a year, it can get chilly in the mountains. Pack protective outerwear year-round.
Want to go further north? Read up on eight reasons to visit Idaho's Redfish Lake.