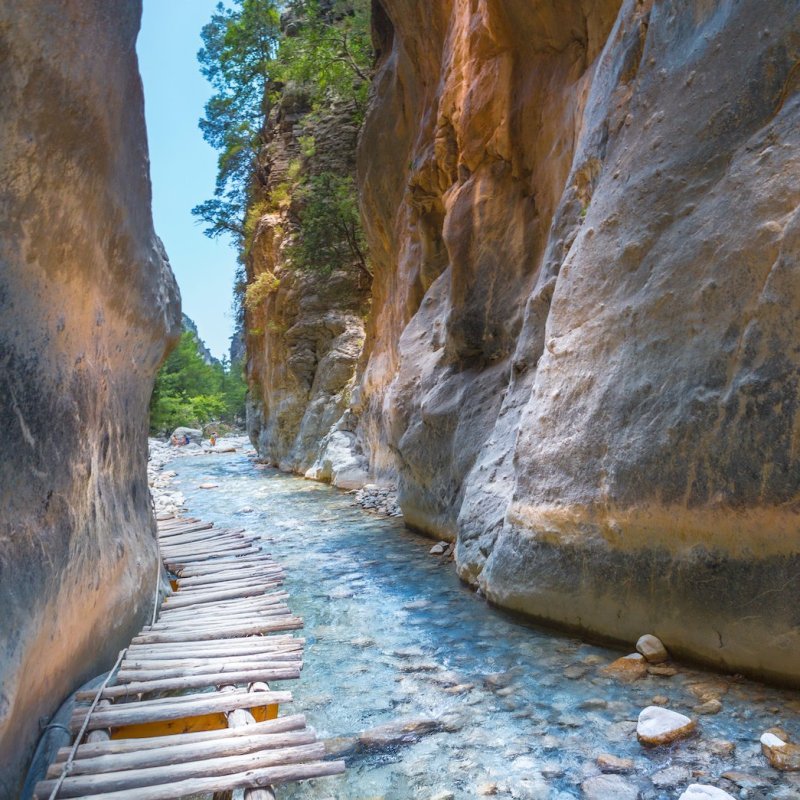 As Greek islands go, Crete is the largest, located far south near the Libyan sea. Its location means it has good year-round temperatures averaging from 52 degrees Fahrenheit in the winter months to 79 degrees in the summer, sometimes much hotter, reaching over 100 degrees.
This means there's no bad time to visit.
Because of its varied geography with mountains inland, a selection of popular sandy beaches, and much quieter hideaways, Crete has a wide variety of day trips to suit all tastes. Some of the best have been curated here for you.
1. Hiking In Samaria Gorge
Nestled within the White Mountains National Park lies the most famous and longest trekking gorge in Europe, the 10-mile Samaria Gorge.
It starts from Xyloskalo in the south of the island — meaning "wooden staircase" as there is a wooden staircase that descends into the gorge.
The trek itself goes through beautiful scenery all the way to the small seaside town of Agia Roumeli on the coast of the Libyan Sea.
Along the way, you'll be rewarded with many different species of flora and fauna and wild Cretan goats.
Pro Tips
It's open from May 1 to October 31 from 7 a.m. to 4 p.m. There are no facilities in the Gorge. Although there are occasional spots to sit and rest, there's very little shade, so take water to drink (there are standpipes to refill your bottle), light food, sunhat and lotion, and sturdy walking shoes.
July and August can reach very high temperatures, sometimes over 100 degrees, so hike it early morning or in the spring or fall. A reasonable level of fitness is advised, and take your time; the trek can last upwards of 7 hours. Rangers are available throughout the route to help if anyone should get into any trouble, such as a sprained ankle or fall.
Regular local bus services run from the Cretan port town of 7 Best Experiences In The Chania Region of Crete to the entrance at Xyloskalo and also from the exit at Agia Roumeli. Or your hotel can arrange local transport.
2. Elafonisi Day Trip
Just over 50 miles southwest of the harbor of Chania lies Elafonisi, a small islet with aqua waters and coral creating a pink effect. When the sea is calm, you can walk from the beach out to the islet — connected by a small reef. It's said to be one of the most beautiful beaches in the country. Left untouched for many years, its beauty caught the eye of locals who semi-developed it into what you'll see now.
Pro Tips
It's quite flat, but anyone with mobility issues should bring a stick to help them walk over the sand. As an organized beach with sunbeds, umbrellas, and a canteen, high summer is very busy with families, so it's best to visit late spring/early summer or early fall when the weather is still warm, but children have returned to school.
You can drive, but as the road is single track a lot of the way once off the national road, it's not for the faint-hearted, especially when meeting a bus. Therefore, public transport from Chania or an organized tour is best.
3. Trip To Elounda, Plaka, And Spinalonga Island
Popular for its luxurious hotels and one of the most expensive places to stay on Crete, Elounda — located 42 miles from the island's capital Heraklion — is built on the edge of picturesque Korfos Bay with sweeping views across the lagoon.
Next to Elounda lies the small fishing village of Plaka. Less commercialized than Elounda with smaller family-run hotels and tavernas, you can take pleasure in watching simple everyday Cretan life, such as fishers mending their nets, and enjoy the less crowded pebbly beaches.
From both Elounda and Plaka, you can reach the unusual island of Spinalonga.
Its checkered past includes a Venetian Fortress and place to imprison rebels of the Greek state, yet its fame lies in its use as a leper colony in the early 20th century, up to as late as 1957. It was one of the least active ones in Europe.
Inhabitants would be sent there to live out the rest of their lives. They entered through a tunnel into the heart of the small island where there were houses and a small church.
They were well tended to, yet nowadays, the island has fallen into ruin but makes for a fascinating trip for a few hours. You'll see some of the houses partially standing, some even with net curtains still hanging in the windows, adding to the atmospheric environment.
Pro Tips
Boats leave from Elounda and Plaka and the trip across is about 20 minutes. Spend time walking around — take plenty of water and some food if you wish. There's not much shade on the island, so be sure to cover up and wear comfortable shoes for the rough tracks.
Your local hotel can arrange a trip for you, or make your way using good local transport to Elounda or Plaka.
Spring and fall are better times to visit since it's a hugely popular tourist destination. It has been used in pop culture several times, more recently as the main feature of Victoria Hislop's award-winning novel The Island.
4. Knossos Archaeological Tour
Knossos is Crete's largest Bronze Age archaeological site and reputed to be Europe's oldest city. It's the cradle of Minoan civilization — the ceremonial and political center of that time about 20 minutes south of Heraklion.
It's a huge place spanning some 20 to 22,000 square meters and consists of ceremonial Halls and Palaces.
It's popular in Greek Mythology as the mythological creature, the Minotaur — body of a man, head of a bull — was kept in the Labyrinth, maze, of Knossos. The Minotaur was the son of King Minos, ruler of Crete at that time. Legend has it that Prince Theseus from Athens sailed to Crete to kill the Minotaur. You can read more about that journey and how it relates to the Temple of Poseidon along the Athens Riviera in "The Acropolis Vs. Temple of Poseidon in Greece; 7 Key Differences."
Pro Tips
As with many archaeological sites in Greece, there's not much natural shade, so it's best to visit in the morning and always take plenty of water, sun lotion, and a hat. Wear comfortable shoes and if you want to have a full understanding of the Complex, book a tour with Visit Knossos, who can provide excellent historical insight.
5. Walking Tour Of Chania
As the "7 Best Experiences In The Chania Region of Crete" shows us, there's a lot to do in this southwest part of Crete. Chania is also a town and harbor just waiting to be explored by rambling through the narrow cobbled streets.
Visit places such as the Maritime Museum of Crete on the quayside with nautical relics and commemorates significant moments in Greece's naval history.
Behind the quayside is the Jewish Quarter with the Etz Hayyim synagogue still intact after World War II, open on various days during the week.
The Old Venetian Harbor is famous for its lighthouse and has many tavernas and coffee shops to relax in and soak up the view.
Pro Tips
As Chania is popular, it gets very busy from mid-June to August, so book your trip in spring and fall when there are fewer people, children are still at school, and you can fully appreciate all the town has to offer.
6. Balos Lagoon
Half an hour west of Chania lies one of the most photographed beaches in Greece — Balos Lagoon.
It's not hard to see the pull factor of this unique spot with its white sands and turquoise waters.
The wider area is a protected marine park allowing monk seals and turtles to breed, so for lovers of more than just a beach experience, it's a truly beautiful spot to respect and appreciate nature.
Pro Tips
You can reach it either by a private boat trip from the small harbor of Kissamos or by driving along the well-maintained National Highway from Chania, then down a gravel road. The best time to visit is spring, but if you want to actually swim, fall to October is a good time, as the sea will still be warm enough to swim, but the crowds will be less — excellent for your camera lens.
7. Diktaean Cave
Forty-three miles west of Crete's capital — Heraklion — lies the peaceful and fertile agricultural region known as the Lassithi Plateau. It's here you'll find the Diktaean Cave — the Cave of Zeus — above the small mountainous village of Psychro.
It makes for an alternative trip to see the supposed residence of this great Greek God. You can expect to find many carefully laid chambers and pathways within. Stalactites and stalagmites cling to the roof and floor of all chambers.
Throughout its eclectic history, it's been used as a place of worship as far back as 2000 BC. In 2800 BC, it was used as a place of residence and for burials.
Over the years, many archaeological finds have been unearthed, dating back to the Neolithic, Minoan, and Archaic times, to name a few.
Pro Tips
There are a few tavernas in Psychro village so you can enjoy a meal after your visit. There's plenty of parking available in the village, too. From the parking area, take the left path to the cave as it's flatter and less slippery. Along the route, the views are spectacular across the plateau. Be sure to soak up the atmosphere.
Related Reading: