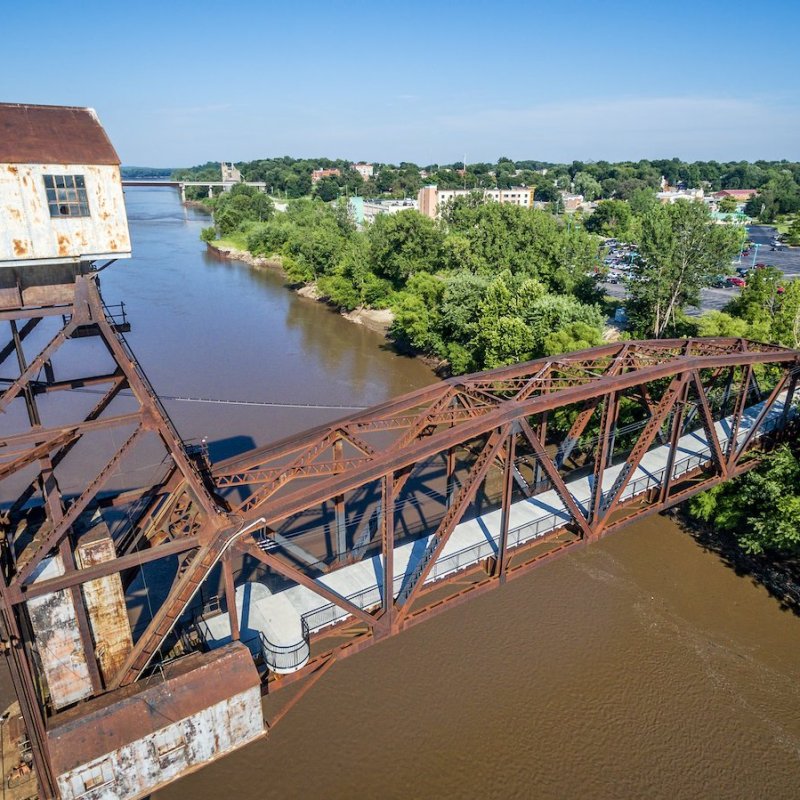 There's no question about it — the state of Missouri is blessed with more than its fair share of quaint, historic river towns. These tranquil, charming spots are the perfect places to put on the brakes, slow down, and enjoy a slower pace for the day, or even the weekend.
Boonville, Missouri is a perfect example of such a place. Situated on the banks of the Missouri River, and located between St. Louis and Kansas City, Boonville is chock-full of charm, history, and even outdoor adventure. Here are eight fantastic things to experience during your visit!
1. Get Your Bearings
Your first stop in Boonville should absolutely be the town's terrific visitors center. The River, Rails and Trails museum truly brings Boonville's history to life. There are exhibits about Lewis and Clark, and you'll learn how their exploration stopped through, and ultimately shaped settlements in the area. Discover how Boonville actually had a founding mother, Hannah Cole, and if you're visiting with the grandkids, take time to check out the replica fort — they'll love it! You'll also see how transportation and commerce helped put Boonville on the map — via the river and, of course, railroads and trains.
This is a great place to help plan your visit, whether you're headed out on the trail (more on that in a moment) or staying in town. Start here to make the most of your Boonville adventure!
2. Make Time For Your Steps (And History!)
For your next step in Boonville — literally — grab the self-guided walking tour brochure from the visitors center, and get going! The town boasts more than 400 sites and structures on the National Register of Historic Places, and the walking tour put together by the town's tourism bureau lists stops for nearly two dozen of the best historic buildings and homes in Boonville.
Check with the visitors center for a copy of the guide. During the tour, you'll stroll by grand mansions, the 1830s era Hain House, the historic Thespian Hall, which still hosts special events and performances, and even the old county jail and hanging barn. The pride in historic preservation is evident in Boonville, and it's easy to see it on full display as you walk through the town.
3. Sip And Sample Wines
Wine-lovers rejoice — the mid-Missouri region, which includes Boonville, also features a couple of terrific wineries. Les Bourgeois, located just a dozen miles east of town, is a fan favorite. Its rolling bluffs, located right along the Missouri River, make for a dramatic backdrop for sipping your favorite vintage. There's also a tasting room and an on-site bistro, in case you need a bite to eat. Bushwhacker Bend Winery, about 20 miles north of Boonville, is also right on the river and boasts equally gorgeous views. Picnic baskets are welcome here, and there are also assorted cheeses and small bites on offer to complement the wines.
Pro Tips
A couple of things to keep in mind if you're going to be visiting the wineries around Boonville (and we think you should!). First: Make sure you stay hydrated and that you keep snacking. No one wants to over-imbibe and ruin the weekend! Plus, ride-shares and cabs aren't as plentiful or as available as they are in a larger city.
Also, Missouri wines tend to be toward the sweeter side, as many are made in the German tradition in a nod to the settlers who brought their winemaking traditions here. The soil also favors grapes that make sweet or semi-dry wines. Take advantage of your tasting to make sure you're finding a style that's perfect for your palate.
4. Get Up Close To Clydesdales
Just outside of Boonville, a 300-acre parcel of land is home to some of the most well-known and famous four-legged creatures in the world. Warm Springs Ranch is home to the Budweiser Clydesdales. It's here where most of the brewer's mighty draft horses live, and rest assured, there's plenty of draft beer on offer, too!
About 100 horses live at the gorgeous, green ranch, which also serves as a breeding center for these majestic creatures. It's a joy to see the Clydesdale babies frolic in the facility's fields, and easy to imagine them one day pulling the iconic Budweiser carriage at any number of special events around the country. After a walking tour of the facility, you'll likely be ready for a free beer sample; there are also VIP experiences available (which need to be booked in advance) that will help you get even more up close and personal with the iconic Clydesdales. Learn more about visiting the Clydesdales at Warm Springs Ranch here.
5. Press Your Luck
Feeling lucky? Boonville's got your gaming covered, too! The town's Isle of Capri Casino and hotel offers visitors a variety of table and card games, slots, and even video poker. There are two casual restaurants on site so you can grab a quick bite or snack, and the casino's hotel offers a wide range of accommodations, including large suites. This is a fun place to spend a couple of hours in the evening, and you never know — you could come away a big winner!
6. Motorcar Museum
Classic car fans will delight in Boonville's newest museum. You'll truly be transported back in time at the Mitchell Antique Motorcar Museum, located right in town. Here, you'll find one of the largest and most extensive collections of antique Mitchell motorcars and wagons in the world. Curated and managed by a direct descendant of the Mitchell Family, you'll learn all about the company's rich history, and that of its vehicles, which included wagons from the late 19th century, bicycles and motorcycles, and later, cars that were manufactured through the 1920s. Special tours can be made by appointment and arranged through the visitors center. You can usually be accommodated on the same day!
7. Explore The Katy Trail
Missouri's Katy Trail is one of the state's best-loved natural destinations, and, being a former railroad hub, Boonville is blessed to be located right alongside the trail! The trail, which stretches 237 miles across the state, was built on the corridor of the former Missouri-Kansas-Texas (MKT) Railroad, better known as the Katy. The entire trail is a state park and is well-known for its flat-as-a-pancake, crushed limestone surface. It is a dream for bicyclists and hikers who take in stunning views while racking up their miles. It's the longest continuous rail-trail in the country.
Each year, Boonville hosts thousands of bicyclists making the entire trek across the state. The town's trailhead is a restored train depot, designed in Santa Fe Mission style. While the Katy is open all year round, things are most busy and bustling from April until October. Boonville makes a great place to start a Katy Trail long-haul adventure, as there are terrific small towns with plenty of spots to stay and play, in both directions — east or west. Whether you're looking for a century ride or a short excursion, consider working in some time on the Katy during your Boonville visit. You can read more about other iconic stops along the trail here.
8. Shop The Depot District
Boonville's Depot District, radiating out from Main Street, is full of charming shops and boutiques, with plenty of places to get your retail therapy fix in! Of special note: The Boonville Store and Cafe serves up yummy comfort food, including burgers, ice cream, and other desserts, in a historic setting. And bonus: It also stocks locally-made handicrafts and gifts. Talk about a one-stop shop!
Pro Tip: It's not technically downtown, but if you're craving a sweet treat to take home, there's another spot worth stopping into: the Russell Stover store. It's the perfect place to build a custom box of chocolates or fudge made in-house. Their hot fudge sundaes are also worth saving room for!
To Make It An Overnight
Boonville makes a great overnight or even weekend trip! There are several bed and breakfasts in town that would make for a memorable stay. We especially love Hotel Frederick, a historic hotel built in 1905. Since then, it's been used as a restaurant, a bus depot, and a retirement home, but was recently renovated and reopened as a boutique hotel. The Frederick offers amenities including luxe but cozy rooms, a restaurant and bar, and even bike rentals, if you want to head out on the Katy!
Related Articles: