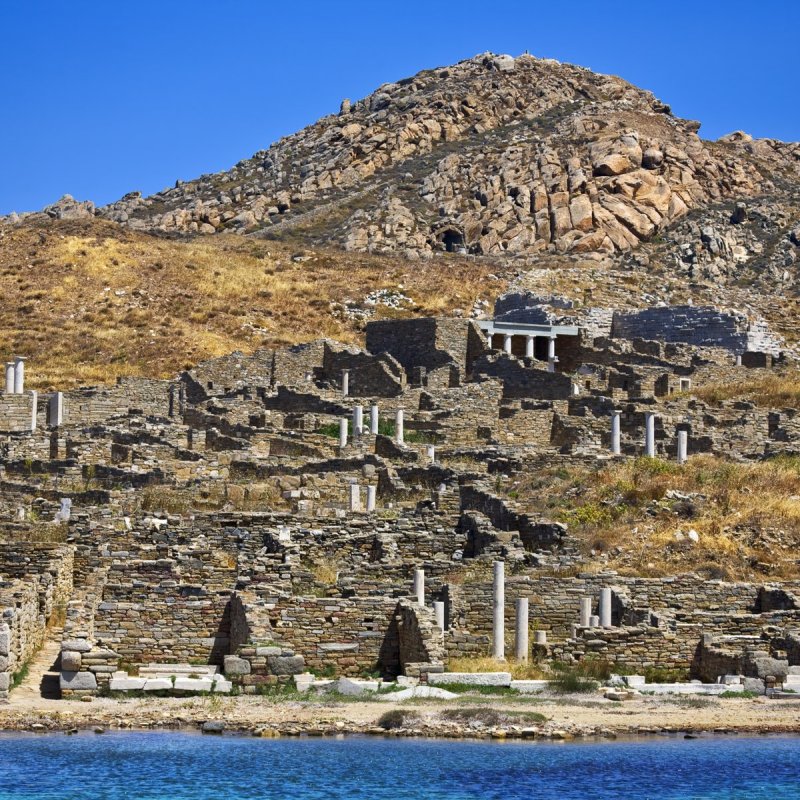 Although Mykonos itself is a popular Greek island destination, treat it as your starting point, and there are some real hidden gems to experience. From traditional countryside villages, organic farms, and vineyards to a Greek mythological island, if you're looking for an alternative day trip away from the hedonistic crowd, here is a curated list of some of the best trips to take.
1. Trip To Delos
For lovers of Greek history, antiquity and nature, Delos is a perfect day trip from Mykonos. Alongside the Acropolis and Delphi, it is one of the most important sites in Greece, a UNESCO world heritage site. Situated 10 miles from the coast of Mykonos, the island is uninhabited and is an archeological site 1.3 square miles in size.
It's reputed to be the birthplace of Apollo and Artemis, children of the mortal Leto. In Greek mythology, Zeus impregnated Leto and Zeus's goddess wife was so jealous she banished Leto from Earth. Poseidon, God of the Sea, took pity on Leto and struck his trident, creating a land formation and safe haven for her to give birth.
Nowadays you'll see ancient excavations as proof of an ancient Greek civilization, alongside a small archaeological museum.
It's not possible to stay on Delos, so take a boat trip from Mykonos — located about 50 minutes away. There's no shade, so take water and a small packed lunch, a sunhat — maybe even a UV umbrella — and comfortable walking sandals for the barren landscape. Spring and fall are the best times to visit as summer temperatures can reach over 90 Fahrenheit. The museum does have a small cafeteria, but it's expensive.
2. Boat Tour To Rinia Island
Rinia is a small island next to Delos. Inhabited over 7,000 years ago, now you'll only find goats and the occasional guard in small box-like houses who shuttle between Delos to look after both sites. Camping is forbidden.
You'll find ancient Greek temples in their natural environment, left as they were built thousands of years ago, plus a couple of small Greek churches standing out against the landscape.
Visitors love swimming from the gorgeous beaches around the coastline, so visit in late spring, early summer, or early fall. Due to the untouched nature of the island, you'll find no facilities. Bring plenty of sun cream, a hat, and a beach umbrella.
Pro Tip: The best way to visit both Delos and Rinia is a boat trip. Incorporate both islands in one day on a yacht from Mykonos using Hermes Mykonos Boat Trips.
3. Little Venice
On the edge of Mykonos Town lies a small area named after a famous Italian city: Little Venice. You can mosey the day away relaxing in the several cafes and restaurants that adorn the waterside, admiring the colorful ramshackle houses that look like they're spilling into the sea, watching Myconian daily life, and, at the end of the day, enjoying the sunset. You're also in a great position to photograph the famous Myconian Windmills on the headland.
The great thing about Little Venice is that shade can be found in one of the many cafes, and the Greek way of life is to relax, hence you won't feel pressured to keep ordering more coffee — Greeks consider it the height of rudeness to rush their patrons. It does get very busy in the height of summer, so avoid July and August.
Editor's Note: For more, read up on why Little Venice in Mykonos is one of the most charming places on earth.
4. Armenistis Lighthouse
At the northern tip of Mykonos is the picturesque Armenistis Lighthouse. Built in 1891, although not open to the public, a visit to this part of the island rewards you with dramatic views across to the neighboring island of Tinos. Still in use today, it can be seen guiding all ships' passage at night.
No public transport comes here, so rent a car or inquire at your hotel as local providers can arrange a trip. The lighthouse is completely exposed to the elements, meaning no shade surrounds this beautiful spot. Pack plenty of water, a sunhat, and sun lotion.
February, August, and early September are windy months in Mykonos due to the Meltemi — strong winds from the north, northeast, or northwest reaching speeds of up to 62 miles per hour. It can help to bring down the summer temperatures; however, it's best to bring a light sweater or jacket to make your sunset experience enjoyable.
Pro Tip: If you're planning a day trip to the lighthouse, allow for a good three to four hours to travel, walk around, and soak up the atmosphere.
5. Mykonos Vioma Organic Farm
For something a little different, a unique organic farm-to-table experience is what's called for to appreciate traditional Myconian gastronomy and a cultured way of island life.
The Mykonos Vioma Organic Farm is 5 miles from Mykonos Town on the outskirts of the inland village of Ano Mera.
This multi-generational family farm offers the visitor a chance to experience a place where classical music is piped out across the fields to encourage a positive work environment and healthy growth of plants, to see their vineyards and where the harvesting of the grapes takes place for the wine, to interact with farm animals such as donkeys and sheep, and to eat simple, fresh, organic Greek cuisine. You'll come away feeling like you've been embraced as an extended member of the family, such is their hospitality.
There's also the chance to rent bicycles and go on a cycle tour of undiscovered Mykonos — away from the main busy thoroughfares.
Open between May and September, visiting is really only possible during the high season, but it's a get-away-from-the-crowds experience and a chance to sample the real Mykonos.
6. Ano Mera
Ano Mera is a small inland rural village approximately 5 miles from Mykonos Town. The second biggest village on the island, after the capital, it's blessedly quiet with locals taking their time going about their day, drinking coffee in the platia, or square. The main attraction here is the Monastery of Panagia Tourliani, built in 1542, and the Patroness of the Island, celebrated yearly with a festival on August 15.
A day trip to Ano Mera makes a great alternative to the hustle of the main tourist attractions and is the perfect opportunity to witness a slice of local life.
If you wish to go inside the church, both men and women should wear long trousers, or women a long skirt, and cover your arms. As you'd imagine, respect must be shown, so whilst there are no official rules, shorts, t-shirts, and tank tops are unacceptable.
You don't need to be religious to appreciate the architecture of the place, and the icons that adorn the walls are breathtaking.
Pro Tip: A half a day here is enough. Public buses run from the Old Port in Mykonos Town almost every half hour, depending on the season. Bus times change constantly, so always check with the local KTEL website, or ask at the bus station, which is very central in Mykonos Town. The journey time is just under half an hour.
7. Agio Sostis Beach
Mykonos is world-famous for its beautiful stretches of sandy beaches and turquoise waters. As a popular tourist destination, many of these beaches become exceedingly crowded, especially popular Kalafati and Kalo Livadi, both on the south coast. There are quieter places to relax in the summer months, though — and Agio Sostis on the remoter northern shores of the island is one such place.
It's a small, sandy, uncommercial beach reached by taxi or car — no public transport comes out this way. Don't let that put you off, though; the trip out here is well worth it. The added touch is the tiny Greek church of the same name located just above the beach. Its whitewashed exterior, domed roof, and blue door all add to the atmosphere, confirming that Agio Sostis beach and church is a special place indeed.
Although remote, the jewel in the crown is the delicious al fresco Kiki's Taverna, just above the beach in front of the church. It serves a huge selection of freshly prepared salads daily, plus meat cooked on the grill outside on their patio. Kiki's is very popular with the locals, so if you get to the beach early, just pop your head around the door to see if anyone can hold a table for you.
For those interested in sea kayaking, Mykonos Kayak can arrange trips for all experience levels from Agios Sostis and arrange pick-ups from hotels, plus provide lunch.
Despite being less busy, Agios Sostis is picking up in popularity as it becomes more known, so if you do come in August, come early or later in the afternoon. It's less busy in May and June, a perfect time, actually, as the Meltemiwind won't have kicked in yet. But be aware as a general rule of thumb, sea temperatures are two months behind land temperatures, so the water will feel like March and April respectively. This could affect whether you decide to go swimming — but Agios Sostis certainly shouldn't be missed because of this.
As you've seen, despite Mykonos being one of the most visited Greek islands, it's possible to get away from it all and experience a unique culture and hidden gems. Also compare Mykonos vs. Santorini: 6 Key Differences to help you with your Greek island vacation planning.