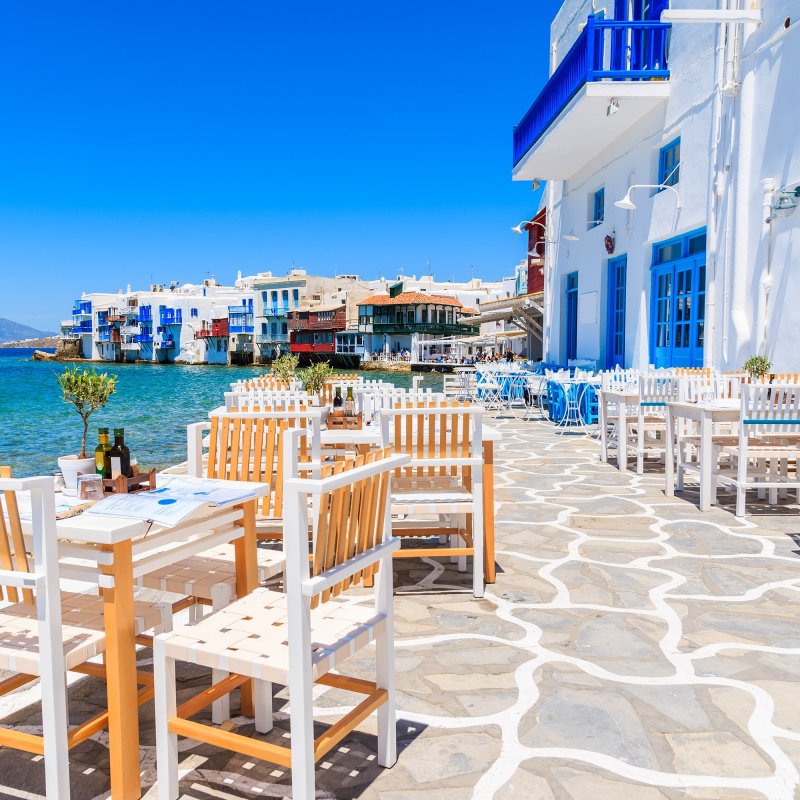 We certainly wouldn't discourage travelers from visiting Venice proper — as we've discussed elsewhere, it's a magical, historical city. With that said, few places on the planet are more charming than the winding streets of Little Venice in Mykonos, Greece.
Whether you're considering a few days in Mykonos or you're simply curious about the city's Venetian heritage, here are a few reasons why we're in love with Little Venice.
1. It Was Directly Inspired By The Real Thing
Beginning in the 13th century, Mykonos was an important part of Venetian trade routes. That ultimately changed in the 18th century, when the Ottoman Empire took control of the island, but by that point, Venetian culture had established a clear influence on the city.
Wealthy merchants constructed Venice-inspired buildings, paying tribute to the Italian city with sweeping arches and colorful facades. Since Little Venice sits right on the waterfront, mimicking Venice wasn't too difficult — and the architectural choices were a savvy investment for building owners hoping to attract tourist dollars.
2. The Area Is Being Revitalized
Mykonos experienced significant damage during both World Wars, and while archaeologists took an interest in the island in the late 19th century, tourists took much longer to catch on.
Starting in the 1950s, restoration efforts brought new interest to Mykonos. Many of the buildings in Little Venice were renovated or reconstructed, and gradually, word of mouth brought more travelers to the seaside district.
3. It's Filled With Seaside Bars And Restaurants
Over the centuries, sailors built their homes on the Mykonos shoreline, and many of those homes are now commercial establishments. Little Venice is now more frequented by tourists than sailors, but visitors don't need to look far to see echoes of the island's trade-hub roots.
For instance, Kastro's, a restaurant and bar near the coast, is located in a building constructed in the 18th century and affords wonderful views of the island's famous windmills (more on those in a moment). Walk the narrow streets of Little Venice, and you'll find plenty of other bars, restaurants, and cafes in enchanting historic buildings.
4. The Venetian Windmills Make For A Great Photo Opportunity
Throughout Little Venice, visitors can catch glimpses of the famous Mykonos windmills, built in the early 16th century by the island's Venetian rulers. Originally used to produce wheat and barley, the mills became an iconic part of the Mykonos skyline.
They're no longer in use, but they're important historical landmarks (one of them even houses an agricultural museum), and they certainly add to Little Venice's charm.
5. The Town Comes Alive At Night
Mykonos is known for its nightlife, and for good reason: Bars stay open until the sun peeks over the horizon, and travelers from all over the world spend their nights exploring the city's winding pathways.
In the daytime, the streets clear out, and travelers can explore the gorgeous cobbled roads on foot. The area is designed for walking, not driving, so adventurous vacationers will feel quite at home.
6. It's Easy To Access Other Greek Islands
Within Greece, air travel can be prohibitively expensive. That's actually good news: Ferries run from Athens and Crete to Mykonos, and once you're on the island, you'll have easy access to the other Cyclades islands, including Tinos, Milos, Santorini, Naxos, and Paros.
Savvy tourists can plan romantic expeditions from Mykonos to other delightful Greek destinations. Granted, there's nothing wrong with spending days exploring Mykonos, but sailing from Little Venice to the quaint villages of Santorini certainly makes for an incredible experience.
7. The Sunset Is Spectacular
While Mykonos has no shortage of interesting tourist attractions, its sunset is arguably its most famous. Each day, the sun dips below the horizon of the Aegean Sea, delighting travelers with a serene light show.
Little Venice offers some of the best views of the sunset. Take in a meal at one of the aforementioned seaside restaurants and marvel at this wonderful natural display.
Mykonos has become one of Greece's most attractive destinations, and Little Venice certainly deserves credit for its role in the island's growth. Walking the narrow streets, travelers often feel as though they've stepped back to a simpler time — albeit a time with plenty of world-class restaurants and other modern amenities. Whether you're drawn to Mykonos for the historic windmills, perfect ocean views, or famous Greek hospitality, you'll certainly want to spend some time in this charming district.