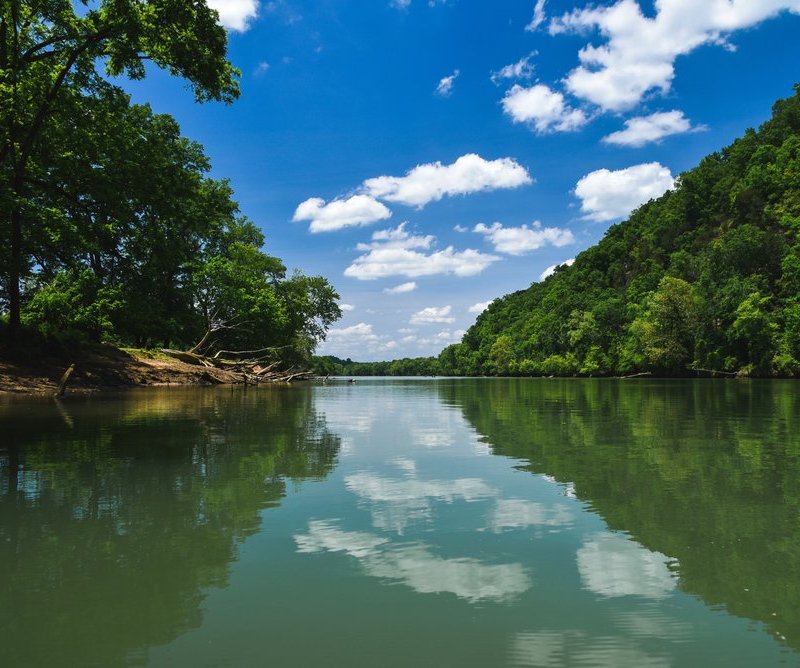 If you aren't from North Carolina or Tennessee, chances are you've never heard of the French Broad River. If that's the case, you're missing out on something special.
The French Broad River is known for two distinguishing features. First, the river is older than the mountains it passes through. Secondly, the waterway is 228 miles long, with some stretches ideal for tubing and relaxed canoeing while others are suited for whitewater rafting.
An Interesting Name
The French Broad River begins as a small stream in the mountains of North Carolina, near the town of Rosman. It then flows 200 miles to Knoxville, Tennessee, where it helps form the Tennessee River. More than 4,000 miles of streams and rivers feed into the French Broad River along the way, according to RiverLink, a conservation and restoration organization.
The Cherokee names for the French Broad River vary, but the most common was Tah-kee-os-tee, meaning ''racing waters,'' RiverLink notes. At first, the English called the river Broad River because that's the way it was written on a 1766 map of Indian Nations. However, the word French was later added to distinguish it from another river called the Broad River, and because the territory into which the river drained was occupied by the French, according to the website for the Blue Ridge National Heritage Area.
Things To Do On The River
The French Broad River makes its way through several national forests, but it also winds through towns, including Asheville, North Carolina. While the river is flat, and ideal for tubing and canoeing, as it passes through Asheville, it picks up speed later, making it ideal for whitewater rafting, Romantic Asheville explains. There are ample opportunities for whitewater rafting just north of Hot Springs, North Carolina
Since the French Broad River passes through forests in North Carolina and eastern Tennessee, there is naturally plenty of wildlife to see. Birders will be able to see great blue herons, Canada geese, and even bald eagles. Those interested in mammals can expect to see river otters, beavers, deer, and bears. Fish that are commonly caught in the river include catfish, smallmouth bass, and muskie.
Just How Old Is The River?
The French Broad River is often called the third oldest river in the world. However, that is difficult to prove, Hartwell Carson, French Broad Riverkeeper with MountainTrue, an Asheville-based environmental advocacy organization, says in a Citizen Times interview.
"No one knows that the French Broad is the third oldest in the world," Carson says. "It is one of the oldest, and scientists know this by dating the rocks, but no one knows for sure if it is the third oldest."
What is known though, is that the French Broad River is older than the mountains in North Carolina and Tennessee. That makes it approximately 300 million years old, Oldest.org explains.
Related Articles: