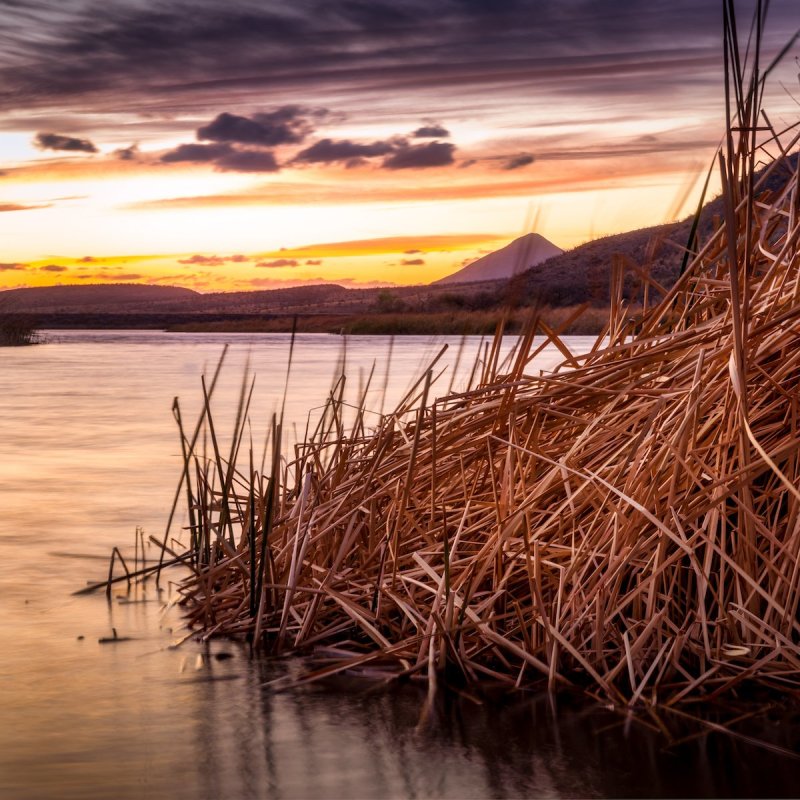 Equal parts outdoor hotspot and artsy Western outpost, Patagonia, Arizona, packs an improbable number of fun attractions into its community of fewer than 900 people.
Located about 18 miles north of the U.S.-Mexico border, charming Patagonia is among the communities known as Sky Islands (Sonoita, Elgin, and Patagonia) for their relatively high elevation and adjacent mountain ranges.
While stories vary on how the nearby Patagonia Mountains got their name, one theory is that miners who had spent time in Chile and Argentina named the area after the famous mountains of South America. The story certainly seemed plausible to me after taking in the golden slopes and grasslands bordered by mountain peaks.
From Tucson, Patagonia can be reached either by heading south on Interstate 19, or by traveling east on Interstate 10, and then turning south onto the Sonoita-Patagonia Scenic Road, Highway 83.
A visit to Patagonia could be a day trip from Tucson, but a better idea is to spend several days exploring the Sky Island region and taking in Arizona Wine Country along the way.
Things To Do In Patagonia
Patagonia is often described as quirky, and the town more than lives up to the description with its brightly colored storefronts, unusual shops, and Western vibe.
Whether your passion is watching migratory birds, desert hiking, or browsing for souvenirs, Patagonia has an activity for you. Here are seven of the best.
1. Stroll Through Colorful Downtown
Small and compact, Patagonia's downtown is a perfect spot to get out and wander. Park in one of the plentiful vertical spaces along the main street and head toward the boardwalk that runs along a row of multi-colored storefronts.
The streets are full of fun shops offering a range of artworks, trinkets, and souvenirs. Global Arts Gallery features an array of jewelry, clothing, and home decor, while the Patagonia Trading Post has an assortment of local art.
Pro Tip: Along the way, be sure to take in the cute Butterfly Garden in the town park that runs alongside the main street.
2. Walk Through Patagonia Railroad History
Also in the downtown area is the historic 1900s-era Patagonia Train Depot (now the Town Hall) that once served the New Mexico and Arizona Railroad. Built in the 1880s, the rail line connected nearby Nogales to the main Southern Pacific line to the northeast.
The rail line later served Patagonia's prosperous mines, which produced lead, copper, and zinc. A historic sign on the depot building notes that Guaymas, Sonora, Mexico is 255 miles away, while San Francisco is 1,035 miles away.
Pro Tip: On the depot grounds is a sign that directs walkers to the Patagonia Train Track Trail, an easy 2-mile non-motorized trail that follows the old Southern Pacific rail bed from the old depot to the town limits.
3. Explore The Patagonia Museum
Housed in the longest continuous-use elementary school in the state, the Patagonia Museum features a mix of school, mining, and business history.
The setting of the 1914-era school-turned-museum high on a hill overlooking Patagonia adds considerably to its appeal.
4. Hike The Southern Terminus Of The Arizona Trail
The Arizona Trail cuts an 800-mile path across Arizona, south to north, from Mexico to Utah. Patagonia is the nearest town to the southern end of the trail, and the town bills itself as the southern terminus.
Visitors to Patagonia can easily get to a portion of the trail by driving along McKeown Street/Harshaw Road for about 3 miles and watching for an Arizona Trail parking lot. A sign at Patagonia Town Hall notes that the trail begins climbing immediately and offers lovely long views within a short distance.
Getting to the actual southern terminus on the Mexican border takes a bit more work. The Arizona Trail website gives directions to Montezuma Pass, located about 1.8 miles from the border. Through-hikers and cyclists on the trail often use Patagonia as a stopping-off and supply point.
5. Visit The Hummingbirds
The Tucson Audubon's Paton Center for Hummingbirds is an international attraction in Patagonia, offering an up-close look at the area's remarkable hummingbird flocks (fittingly known as charms).
Although the center is temporarily closed because of the COVID-19 pandemic, its website notes that the center is cautiously opening some programs and properties with restrictions.
Pro Tip: Hummingbird visits are at their highest numbers during spring (March to May) and fall (August to October).
6. Go Birding At Patagonia-Sonoita Creek Preserve
Known as a world-class birding destination, Patagonia has been included in Fifty Places to Go Birding Before You Die: Birding Experts Share the World's Greatest Destinations, a book that is available on a number of websites, including Amazon.com.
The region garnered the distinction for several reasons, including the variety of bird species, the accessibility of prime birdwatching sites, and the area's geological and ecological diversity and beauty.
The best months for birding are known to be March through September, when migrant hummingbirds, warblers, vireos, flycatchers, orioles, and tanagers pass through the area. Fall brings migrant songbirds, raptors, and shorebirds, while winter brings ducks, sparrows, finches, and longspurs.
The Patagonia-Sonoita Creek Preserve is known to be a prime bird-watching spot. More than 300 bird species migrate, nest, and live in the riparian habitat along Sonoita Creek. (Note that the preserve is temporarily closed, but the Sonoita Creek State Natural Area is open.)
7. Swim, Fish, Or Picnic At Patagonia Lake
Located in the rolling hills of southeastern Arizona, scenic Patagonia Lake State Park serves as a recreation center for everything from fishing to swimming to boating.
Featuring a sandy beach, a beautifully arched bridge, and blue waters framed by rugged desert hills, Patagonia Lake is popular virtually year-round. Winter temperatures range in the mid-to-high 60-degree Fahrenheit range, and spring and fall highs are in the 70s and 80s. Summer highs tend to be in the 90-degree range.
A lakeside market offers boat rentals and supplies, and fishermen are known to catch crappie, bass, bluegill, catfish, and trout. In addition, the park is popular for water skiing, camping, fishing, and hiking.
Best Restaurants In Patagonia
Despite its small size, Patagonia offers a nice variety of dining options, including coffee shops, diners, and saloons. Here are several of the best.
1. Gathering Grounds
Located prominently along Patagonia's main street, McKeown Avenue, the Gathering Grounds Espresso Bar, Deli and Ice Cream is the town meeting place for everything from morning coffee to lunches to ice cream breaks. For breakfast, try the sourdough sandwich featuring pan-fried eggs topped with bacon and melted cheddar cheese, and for lunch, the standouts include wraps like the cranberry turkey wrap and the grilled sandwiches like the grilled veggie melt — all served with a side of peanut slaw or pesto pasta. If the weather is fine, ask to sit outside on the sidewalk patio, where you'll have a front-row seat to Patagonia's street scene.
2. Velvet Elvis Pizza Company
Gourmet pizza selections are available just down the street at the Velvet Elvis Pizza Company. The distinctive adobe building houses an Italian restaurant that offers creative pizzas like the Southwest diva with cilantro pesto, red sauce, sun-dried tomato, green onion, pepperoncini, green olives, feta, and mozzarella, or the Popeye with red sauce, spinach, tomatoes, basil, red onions, feta, and mozzarella. Velvet Elvis also offers a range of salads, including an antipasto plate with prosciutto, artichoke hearts, roasted peppers, olives, basil pesto, Manchego cheese, and creamy herbed cheese.
3. Wild Horse Restaurant and Saloon
For a classic menu of burgers, fried chicken, and breakfast choices, head to the Wild Horse Restaurant and Saloon in the Stage Stop Inn. For breakfast, the Wild Horse offers Southwestern favorites like huevos rancheros and biscuits and gravy, while for lunch, the menu has nearly 10 burger choices and a number of chicken and wrap choices.
Best Places To Stay In Patagonia
Delightful lakeside settings, historic buildings, and creekside ranch locations are among the location choices for accommodations in Patagonia. Here are several unique options.
1. Camp At Patagonia Lake State Park
Patagonia Lake State Park offers 105 developed campsites, each with a picnic table, a fire ring/grill, parking for two vehicles, and a shade ramada. It also offers seven cabins with beautiful views of the lake. Both camping options fill up quickly, so reservations are suggested.
2. Duquesne House Inn And Gardens
The Duquesne House Inn and Gardens bed and breakfast boasts accommodations in a historic house that was built in 1898 on Patagonia's original main street. The inn is known for capturing "the spirit of old and new Patagonia." It features colorful rooms, gardens, private patios, hummingbirds, Mexican folk art, and family-style breakfasts on Fridays, Saturdays, Sundays, and Mondays.
3. Spirit Tree Bed And Breakfast
Located on 52 private acres along one of southern Arizona's high-desert creeks in the heart of the Coronado National Forest, the Spirit Tree Bed and Breakfast is about three miles from the town of Patagonia and about a half-mile from the Arizona Trail. The bed and breakfast features guest rooms and casitas in keeping with the historic buildings that served as the headquarters for the Rocking Chair Ranch more than 90 years ago.
Pro Tip
For gorgeous mountain views, historic towns, and classic desert terrain, consider a 145-mile road trip loop that starts and ends in Tucson, and takes in Patagonia, Nogales, and Green Valley. For tips on what to do in Nogales, see The Best Things to Do In Historic Nogales, Arizona, and for what to do in Green Valley, check out 7 Reasons Snowbirds Love Adorable Green Valley, Arizona.