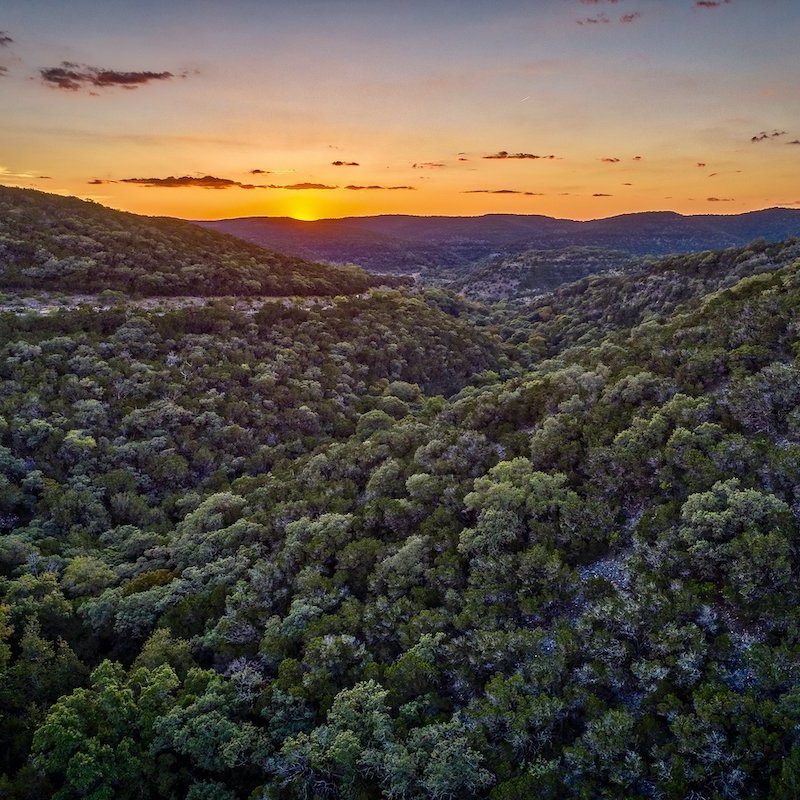 Unlike parts of Texas that are flat and opaque, Texas Hill Country is flush with color — green grass, multi-colored wildflowers that are so vivid and dense you want to squint, red rocks, barns and buildings with peeling paint — and topography such as lakes and streams, rolling hills, caves, and vineyards. And don't forget the wildlife. So much of the area is photo-worthy, so grab your camera and take the back roads to discover Texas Hill Country.
While visiting Fredericksburg on a press trip, I was invited to take a driving photography tour of Texas Hill Country. We drove to scenic destinations such as Enchanted Rock and Sauer-Beckmann Living History Farm but also took the back roads to discover prickly pear cactus growing in clusters by the side of the road, sheep grazing near a stream, and plenty of colorful wildflowers at Wildseed Farms, but also in ditches and blanketed lawns. Go in the spring for a spectacular show of bluebonnet, Mexican hat, poppy, Indian blanket, and so much more.
Here, in no particular order, are seven of the most scenic places in Texas Hill Country.
1. Enchanted Rock, Fredericksburg
You'll find rock formations, scenery, wildlife, and the massive pink granite dome that is Enchanted Rock to photograph at Enchanted Rock State Natural Area. Depending on your skill level, choose from several trails at the park for a hike.
Search for wildflowers with an early morning hike at Enchanted Rock. Spot wildflowers on the Loop Trail, a 6.3-mile, mostly flat trail that follows the perimeter of the park. For an easy hike, the Interpretive Loop is a short trail where you can see special plants and animals that live near the base of Little Rock. Or for a strenuous hike, take the Summit Trail to the top of Enchanted Rock for great views.
Pro Tip: Consider lighting when planning your tour. Dawn and dusk offer the best hours for rich colors.
2. Sauer-Beckmann Living History Farm, Stonewall
At the Sauer-Beckmann Living History Farm, park rangers in period clothing perform daily chores such as preserving meat, baking bread, churning butter, and more. You see farm animals — if you visit in the spring there may be baby sheep, pigs, or cows around that time of year too — plus barns, the original home, a smokehouse, a tankhouse, and various tools used to make soap, cook, and tend the animals. You may even see the blacksmith in the blacksmith shop. These busy workers are eager to talk about the farm and answer questions about what it was like in the late 1800s.
There are many photo opportunities, whether it's the livestock, the buildings and tools, or an action shot of one of the rangers performing daily chores. Tours are free but they do accept donations.
While you're nearby, visit the Lyndon B. Johnson National Historical Park to tour the LBJ Ranch and visit the Texas White House.
Pro Tip: With moving animals, take lots of photos. I will take dozens of photos of a moving animal and later find at least one or two gems that capture the scene.
3. Wildseed Farms, Fredericksburg
Head to Wildseed Farms to see over 200 acres of wildflowers. Fields of poppies and bluebonnets meet the street (22 acres worth). Once inside Wildseed Farms, walk the half-mile of trails in the display gardens. The path is lined with benches to take a break and sit with wildflowers, butterflies, and hummingbirds all around. The trail is wheelchair accessible.
It's also a great spot to grab lunch and some delicious peach ice cream. It's an enormous garden center where you can purchase plants or seeds from their immense stock of wildflower seeds, or find the perfect planter, container, or gardening supplies to take home with you.
Pro Tip: Use negative space when you can. A solo flower growing in the crack of a rock is a powerful image. If it's a busy background, fill the entire frame with a single flower or soften the background with a blur setting.
4. Gorman Falls, Bend
Bring fishing gear and camping supplies if you'd like to spend some time at Colorado Bend State Park. There's plenty to photograph and you may want to spend extra time to see it all. This wilderness area of Colorado Bend has caves to explore, Gorman Falls, 35 miles of hiking and biking trails, Spicewood Springs for swimming, and the river for kayaking and fishing.
For camping, depending on how rugged you'd like to get, choose from drive-up campsites or walk- or hike-in sites.
You can tour the caves on your own or go with an experienced guide. To view and photograph the 70-foot spring-fed waterfall, it's a 3-mile round trip hike with rocky terrain.
If you plan to explore numerous Texas parks, consider purchasing a Texas Parks Pass that allows you unlimited free entry to 89 state parks for you and your guests. A Senior Partial is available for Texas residents over age 65. With this pass, guests pay 50 percent off the entry fee. A Senior Full pass is for anyone born before September 1, 1930, and allows you to enter any Texas state park for free. One additional person may assist you at 50 percent of the entry fee.
5. Wine Road 290, Fredericksburg
Texas Hill Country is notorious for its winemaking. Stop at numerous downtown wineries, then take Wine Road 290 to visit many of the wineries and vineyards.
Some, such as Pedernales Cellars, provide views from the tasting room that overlook the Hill Country where you can spot wildflowers or just gaze at the vineyards while sipping your favorite vintage. The vineyard sits on 145 acres with spectacular views of the Pedernales River Valley. Pedernales Cellars has provided sustainably-produced Texas grapes since 1995 to create Texas-grown Spanish- and Rhone-style wines.
The sunshine is brilliant and perfect for taking photos on the patio at Narrow Path Winery. Because what's more Instagram-worthy than a glass of wine shot outdoors in the sunshine? This family-owned and operated vineyard winery has been in business since the early 2000s.
You'll find unique photo opportunities at Grape Creek Vineyards on their gorgeous estate. Walk outdoors and take photos of the interesting combinations of art and nature blending terrace fountains with the scenic view, the vineyards, and the landscaped patios. Visit the Tuscan-inspired tasting rooms, enjoy a wine tasting, or take a guided tour with barrel samples from their selection of 90+ point wines. There's a restaurant on site where you can relax after a long day of shooting photos.
Pro Tip: Bring a tripod to keep the camera steady when shooting at long distances.
6. Cascade Caverns, Boerne
Go underground for amazing photos at Cascade Caverns. Beneath Texas Hill Country waits corridors of natural beauty to discover on a one-hour tour. During summer months you can book a more in-depth 3- to 4- hour group spelunking tour of the lower cave system. Keep in mind that participants must be physically fit, non-claustrophobic, and able to swim.
Also on site are a gift and rock shop, nature trails, and RV and camping options.
Pro Tip: For taking photos in the caverns, use a flash or bring an off-camera flash. A headlamp will come in handy for helping you see while you're setting up your camera.
7. Gillespie County Country Schools
When German immigrants arrived in Gillespie County, they brought with them a love of education — leading to the first school being built in the center of Main Street in 1847. The original Rheingold School is the oldest of the rural schools in Gillespie County.
Pro Tip: For photo opps, take the self-guided trail to discover the historic Gillespie County Country Schools. The 120-mile trail visits 17 schools dating from 1847 to 1936. Thirteen of the historic schools are listed in the National Register of Historic Places.
If planning a visit to Texas Hill Country, check out the best things to see and do in Fredericksburg and all our Texas Hill Country tips here.