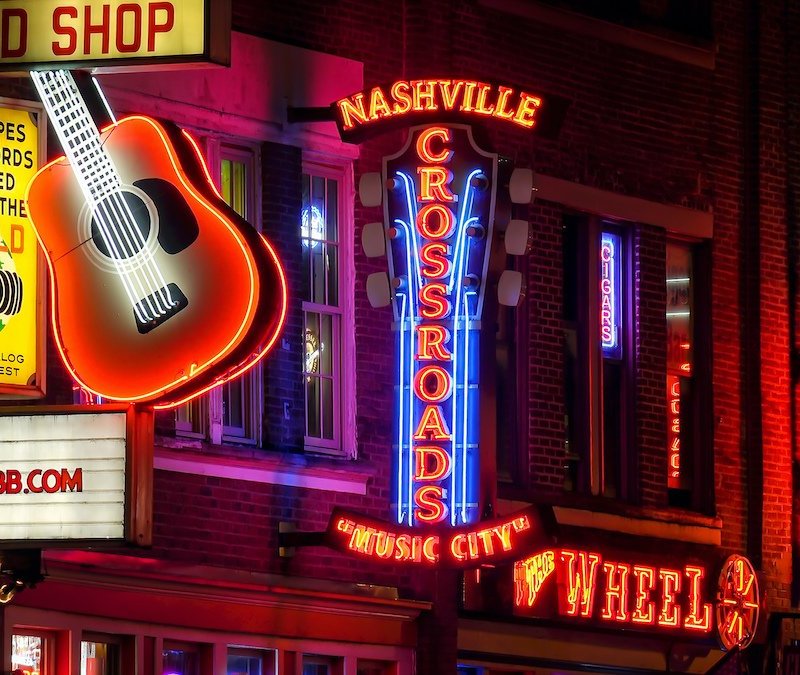 Nashville's food scene is expanding rapidly. Award-winning chefs are opening up spots all over the city, making it an appealing destination for foodies around the country. But, to truly get a glimpse into Nashville's history, you'll need to visit some of its iconic restaurants. These spots have hosted legends and started food crazes, all while preserving their rich history. Here is a list of the seven most iconic restaurants in Nashville.
1. Prince's Hot Chicken Shack
A list of iconic Nashville restaurants has to start with Nashville hot chicken. This spicy bird is a staple in Tennessee and, as legend would have it, originated in Nashville as a form of revenge. The story is told that in the 1930s, a man named Thornton Prince III was not being faithful to his wife. One night she got fed up with his womanizing, so she cooked him fried chicken for breakfast but added a lot of spicy peppers. Turns out, he LOVED it, and spent the next several years perfecting the hot chicken recipe to serve in the family restaurant, Prince's Hot Chicken Shack.
Several decades later, Prince's Hot Chicken is still the place to experience this Tennessee staple. Whether you choose to dine in at the original location or walk up to its food truck, eight sauces await your palette, ranging from plain to XXX hot! Round out the meal with traditional sides like baked beans and coleslaw. The Nashville hot chicken trend is slowly making its way to becoming mainstream, with national chains now offering their own variations. But, for the true taste, head to where it all began.
Pro Tip: Plan your visit wisely. The restaurant is closed on Sundays and the food truck is closed on Mondays.
2. Hattie B's
If Prince's is the king of Nashville hot chicken, then Hattie B's is the queen of just fried chicken. The tiny restaurant sits just on the fringe of the bustling Broadway entertainment area and usually has a line extending down the street. There is no ordering ahead here and no reservations. You just wait in line until it's your turn, order, then hope to find a place to eat.
White meat, dark meat, legs, wings, thighs, and more — Hattie B's serves it all up with the heat level of your choice. Note the hottest one is affectionately called "shut the cluck up!" Choose to enjoy your chicken as a platter with a selection of sides, such as coleslaw, black-eyed peas, or baked beans, or go all out and get the dirty bird fries. These are crinkle-cut fries topped with pimento mac and cheese, dark meat chicken tenders, special sauce, and pickles.
Pro Tip: The Old Town Trolley Tour is an excellent way to see and learn about Nashville, and it has a stop near Hattie B's. Since the trolley tour is a hop-on, hop-off experience, you can get off at this stop, have lunch, then hop back on when you're done.
3. Loveless Cafe
A hard-to-miss neon sign welcomes you to this otherwise unassuming restaurant off Highway 100, just south of Nashville. Husband and wife Lon and Annie Loveless started the Loveless Cafe in the early 1950s as a motel/restaurant combination. Weary travelers would eat delicious homemade biscuits and fried chicken before getting some rest.
Today, the Loveless Cafe is still true to its southern, homemade roots. Just walking into the restaurant and you feel at home. Tourists and locals come here for the biscuits, but stay for the mouthwatering dishes like pimento cheeseburgers and pork that's smoked on site. Take it from me, don't miss the hashbrown casserole; it's a must-try!
Pro Tip: Loveless Cafe sits at one of the entrances to the Natchez Trace Parkway — a scenic road that stretches from Nashville to Natchez, Mississippi. Fuel up before a day of sightseeing.
4. Pancake Pantry
Drive by this corner restaurant in the hip Hillsboro neighborhood and you will likely see a line wrapped around the building, even when it's raining. And it's worth the wait. Pancake Pantry started as a family-owned restaurant in the 1960s passed on through generations for years before being recently taken over by a family friend. Every morning at Pancake Pantry, you will see regulars and new diners sure to come back craving more.
The secret to serving the best pancakes is the long-time family batter recipe. The batter is made fresh daily, as is the syrup. Creativity comes to life for breakfast with concoctions like Santa Fe pancakes (pancakes filled with bacon, cheese, and green chilis), Caribbean pancakes (topped with bananas, pecans, coconut, and a cherry), and Chocolate Sin (pancakes filled with chocolate ganache topped with raspberry compote and powdered sugar). Non-pancake lovers can nosh on build-your-own omelettes, or my personal favorite, the Grill Cook's Medley. It's a plate of hash browns topped with grilled ham, onions, tomatoes, peppers, and eggs.
Pro Tip: Pancake Pantry does not take reservations, nor do you put your name on a list. You stand in a line, and when you get to the front, you are seated. But, the wait isn't too bad — there is free fresh coffee outside and oftentimes a street musician looking for a few tips.
5. Tootsies Orchid Lounge
Broadway in downtown Nashville is lined with honky-tonks for several city blocks, and Tootsies Orchid Lounge sits among them. Though not as flashy as some of the other bars along the sometimes rowdy street, Tootsies is a Nashville legend. Originally called "Mom's," Tootsie Bess bought it in 1960 and renamed it after a worker painted the exterior purple.
Visiting Tootsies is like visiting with country music legends. Plenty of singers and songwriters have played here throughout the decades on one of its three stages. One rumor claims Willie Nelson got his first songwriting gig after playing at Tootsies. The food here is bar food: pretzel bites, french fries, and the like. But, once you take a look at "Tootsies Wall of Fame" and hear the live music, you won't care.
Pro Tip: If you aren't into crowds, skip going here on a Friday or Saturday night when Broadway gets extra rowdy. Opt for a weekday lunch instead. You'll get the same atmosphere and live music without all the people.
6. Puckett's Restaurant And Grocery
Puckett's Restaurant and Grocery is where you go eat traditional southern food while listening to live music. Puckett's started in the 1950s as a small grocery store in the quaint town of Leiper's Fork (about 30 minutes south of Nashville). Since then, it's expanded to six restaurants across the state and has become a well-known music venue known to host a famous artist or two. Be sure to check the restaurant's event page for upcoming music; there's live music just about every night of the week.
The menu at Puckett's will give you that quintessential southern feel from breakfast to dinner. Whiskey-glazed cinnamon rolls, build your own biscuits, and fried chicken and pancakes will fill you up at breakfast. Dinner boasts a true southern staple — the meat and three — where you pick one meat and three side dishes. Puckett's smokes its own meat, even the meatloaf! Oh — and it still sells groceries, so go ahead and stock up if you need to.
7. Bobbie's Dairy Dip
After you are done visiting all of these restaurants, it's time for dessert! Head on over to Bobbie's Dairy Dip for some true old-fashioned ice cream. It opened in 1951 and not much has changed since then. Today, this West Nashville joint still looks like a '50s diner and ice cream shop. There is no indoor seating and no drive-thru; only a walk-up window and a few outdoor tables.
The burgers, hot dogs, and fries all get rave reviews, but the milkshakes are the real treat here. You can get the standard chocolate or vanilla shake or amp it up a bit by adding bacon, coffee, or candy. Other scrumptious desserts include hot fudge sundaes, banana splits, and hand-dipped cones with rotating flavors. Bobbie's Dairy Dip is popular, so prepare for a wait, but it's worth it!
Pro Tip: Bobbie's Dairy Dip will close for a few weeks in the winter, so be sure to call and double-check the hours if that's when you plan to visit.
Related Articles: