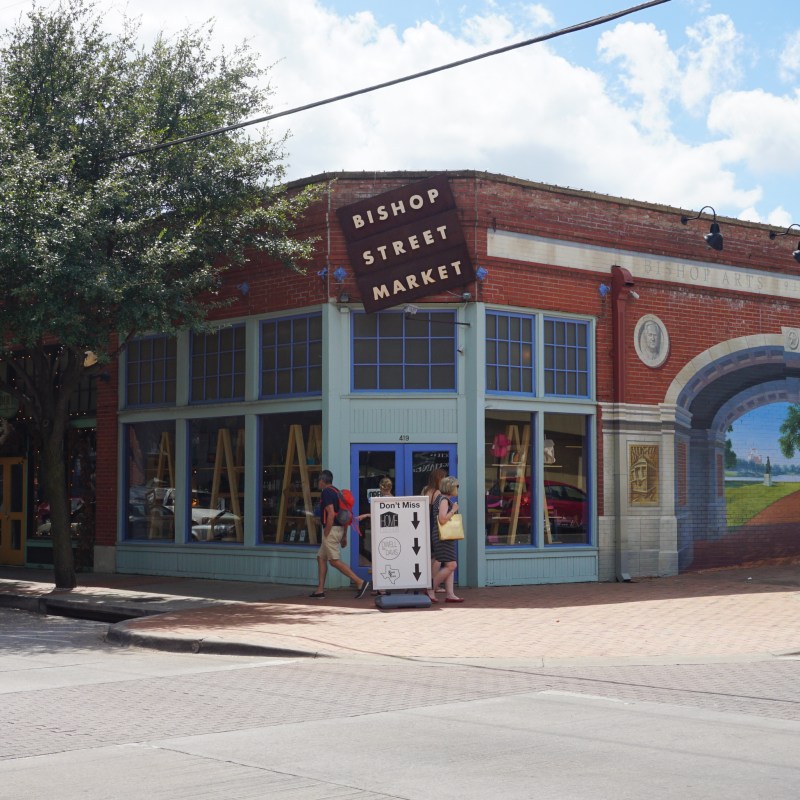 A perfect day in Dallas could be spent wandering the streets of the Bishop Arts District, known for its unique collection of independently owned shops, bars, and cafes. Colorful doorways and inviting outdoor seating will make you feel as if you're on a holiday in Europe. Perhaps this is no coincidence — the historic buildings in Bishop Arts were developed by a Hungarian immigrant named Martin Weiss.
1. The Best Way To See Bishop Arts Is To Walk
You'll find signs, murals, and memorials that depict the history of the neighborhood everywhere. The boundaries are changing as the neighborhood is growing at a rapid pace; the approximate boundaries are Zang and Tyler and Davis and 9th Street.
Above Eno's Pizzeria on the west side of Bishop Street, you'll see the name Kramer, and a date, 1922. Oscar Kramer was a German immigrant who bought and sold the land for development, some of it to Martin Weiss. Walk to the corner of Bishop and 7th Street. On the side of the Bishop Street Market is a mural dedicated to some of the founders of Oak Cliff. Let me clarify, Bishop Arts is part of Oak Cliff which is a neighborhood in Dallas.
Here, I've curated a selection of businesses that are local favorites and housed in the buildings of the historic district, plus some newer experiences that blend seamlessly with the creative neighborhood aesthetic.
2. Bishop Street Market
Bishop Street Market is one of the oldest businesses in the Arts District. It's the go-to place for a unique gift and sells everything from jewelry to small leather goods and home accent pieces. If you need something for the person who already has everything–there's a good chance you will find it here.
Fun fact: The Bishop Street Market was once a soda shop where notorious depression-era outlaws Bonnie and Clyde hung out. Stories tell of the police organizing frequent raids on the establishment in an attempt to surprise the duo. Somehow, the Barrow gang always knew in advance and would escape out the back door.
3. Rare Heart Vintage
For ladies and gents of a certain age, this shop will take you back in time in a really good way. Rare Heart Vintage rocks a '70s vibe. The day I was there, Led Zeppelin played and incense burned. Embroidered peasant tops and old denim hung on well-organized racks. They also sell graphic tees, boots, Victorian lace, and men's clothing. The store opens to an old barbershop where the haircuts are decidedly 21st century.
4. Magic Hour
Just as the name suggests, Magic Hour is filled with beautiful light and unique merchandise made by artists from the United States and Latin America. The owner focuses on limited edition pieces by female artists. Glassware, pottery, art, and baskets are all prettily displayed. Since the owners focus on handmade and one-of-a-kind items, there's a good chance to find something that no one else will have.
5. HOUSSon Bishop
HOUSSon Bishop sells fun furniture and home decor with affordable designs manufactured in Fort Worth, just 30 miles away. The same factory also makes furniture for well-known brands like Restoration Hardware. The branding here is all about affordable and stylish one-of-a-kind items. If you like it, you should buy it because once it's gone you won't see it there again. If I were in the market for new furniture, you'd definitely find me shopping with them.
6. Marcel Market
Marcel Market offers a little European flair in the newly established section of Bishop Arts. A concept store focusing on French food treats, women's clothing, and a large selection of French skincare, much of it organic, there's nothing else like it in the city.
I'm a sucker for skincare products and couldn't resist the biodynamic cream for dry skin. I secretly hope that it will give me that certain je ne sais quoi. If you need a gift for a Francophile, this would be a good place to search for it.
7. Wild Detectives
Wild Detectives remains one of my favorite places in Oak Cliff. Located on 8th Street in a cute '40s frame house, Wild Detectives is a bookstore that also serves as a cafe and bar featuring casual food, coffee, and wine with a Spanish flair — think cafe con leche, sangria, and pan e tomate. There's seating indoors and picnic tables in the back. They occasionally host readings and other events. Wild Detectives has happy hour specials on beer and wine Monday through Friday, from 4 to 6 p.m.
8. Reveler's Hall
Reveler's Hall is a live music venue open seven days a week. Small bites, flatbreads, and charcuterie plates are served from the onsite kitchen. This is a fun spot with a New Orleans feel to it, especially when all the doors are open. There's plenty of seating inside and they have recently expanded the outdoor seating as well. If the weather is nice you can enjoy the sounds floating across Bishop Street while you window shop.
Bishop Arts Is A Top Destination For Foodies, Too
9. Eno's Pizzeria
As the name says, Eno's is a pizzeria, and it's an old standby in the neighborhood. Eno's was one of the original places to open in the new Arts District. Casual and friendly, the food is good and the service is reliable. There's also upstairs seating if you have a large group.
10. El Jordan
El Jordan is the place to go for tacos, huevos rancheros, chilaquiles, and all things Tex-Mex. This is a local favorite, and if you go you'll notice that the owners and staff know most every customer by name. El Jordan has been open in this historic building on Bishop longer than anyone else, and before the hipsters came. Take note: El Jordan is only open for breakfast and lunch.
11. The Salty Donut
You no longer have to go all the way to Miami for one of these decadent creations; The Salty Donut has opened in Oak Cliff. Check out some of these flavors: guava and cheese, tres leches, vanilla bean with brown butter glaze and Maldon sea salt. Yum. These donuts are a meal unto themselves. The Salty Donut also serves specialty coffees and donut holes by the half dozen, though not in so many delectable flavors. There is seating both inside and outside with a nice patio offering covered and some shaded seating.
12. Hunky's
Hunky's is located in a space that was formerly an old-school diner. Known for their hamburgers and soda fountain ice cream treats, they also serve hot dogs, sandwiches, and healthy salads and sides. The ambiance is kitschy diner vibe.
13. Parker Barrow's
Parker Barrow's is a deli and bar serving local beer on tap. The interior still has the tin ceiling and black and white tile floors. The owners are a bit obsessed with Bonnie and Clyde. You'll find photos of the infamous duo throughout the restaurant. Be sure to check out the rather gruesome photos by the bathrooms.
14. Veracruz
Veracruz is not your typical Tex-Mex restaurant. First of all, the restaurant has been here at least 20 years and has expanded a couple of times. That tells you a lot. Veracruz specializes in seafood and recipes from the state of Veracruz, which is on a port in the Gulf of Mexico. The flavors are a cultural hodgepodge of Mexican, Aztec, and the local Veracruz influence. I always get the chicken mole though, because, well, a good mole is irresistible. I also like the camarones al mojo de ajo. Their margaritas and sangria are killer, too. Book a reservation or go early to get a table. Most tables are open for walk-in seating.
For more Dallas inspiration, consider