A country like no other, Iceland is the sort of unique travel destination that cannot be missed or substituted for with an excursion to any other locale. At the risk of overusing a word that ought only be used sparingly, Iceland has a unique geology, culture, and history all its own. For these reasons, it is a must-see place in every sense.
The northern lights shine down all over the island, illuminating untold thousands of incredible natural and manmade sights. These include Promethean volcanoes, vast fjords, otherworldly geysers, and unique museums. Iceland is at once small and vast, a relatively diminutive country but one in which space seems to expand endlessly and where each horizon feels a planet unto itself.
The country's natural beauty, luxuriant springs, and delightfully oddball attractions (I'm looking at you, Penis Museum) are generally accessible all year round (though the roads are very well maintained, winter storms can still create delays). But visitors drawn in by the aurora borealis, that eternal and elemental expression of the magic of the north, ought plan their trips more carefully.
The shorter the days, the higher the chance the auroras will perform their captivating dance of light and color. The best time to see the northern lights is between September and April. Most visitors will prefer the front and tail ends of that time period given the island's harsh winter weather. In terms of location, the atmospheric phenomenon shows itself across the entire island, but light pollution makes the northern lights less common a sight in Reykjavik and the island's other population centers.
Finally, it's important to remember that Iceland is a country of exquisite emptiness dotted with tiny hamlets and villages. Though there are great eateries in the capital, the country is generally short on fancy services (spas being the exception), and what there is to be found is quite expensive.
To help you achieve your dreams of seeing the northern lights and all else Iceland has to offer, here is a list of eight Vrbo rentals in Iceland. Geographically dispersed across the country, each promises a unique adventure.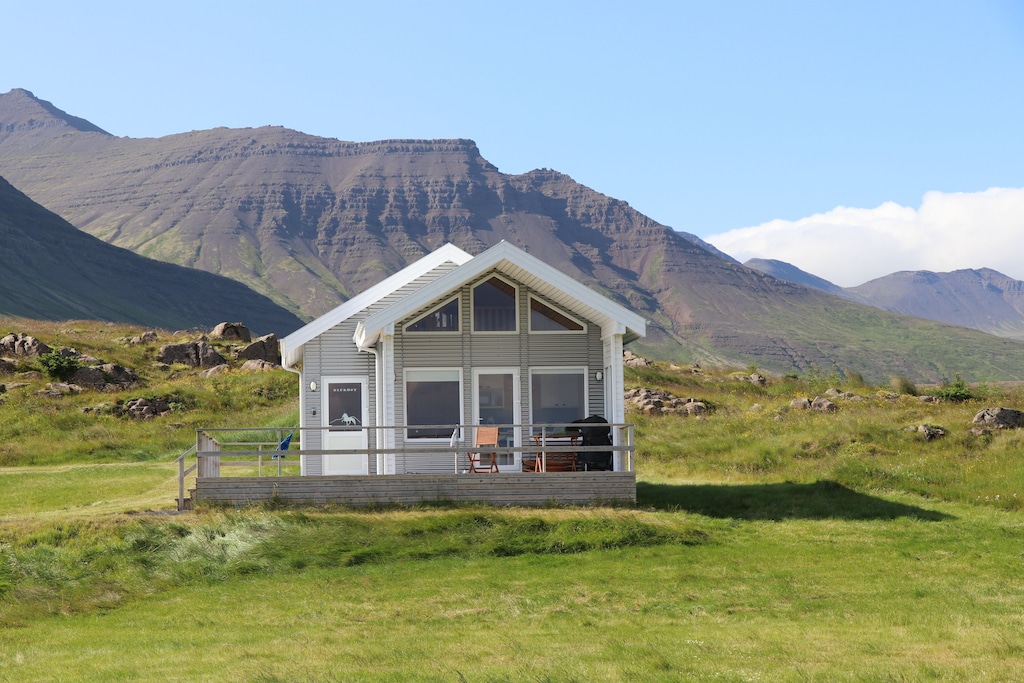 Guests at this picturesque cottage are well positioned to see the marvels of Iceland. There are a myriad of majestic sites to be seen on the Snaefellsnes Peninsula, the northern lights being just one of many. As the drone footage captured by the owners attest, this Vrbo rental in Iceland is located in a remarkable location.
The cottage, and a few others like it, are an extra revenue stream for the proprietors of a successful horse farm. Equestrians are welcome to take a ride, just as anglers are encouraged to try their luck and test their skill in the river running through the farm. Enjoy a modern accommodation and easy access to the peninsula's volcanoes, geothermal pools, and glaciers. The interior is clean and has all the amenities demanded of modern life.
Dreaming of Borgarnes – your dream vacation awaits you
Top guest reviews
Well set up and comfortable place for the 3 of us. Nice views. They even had a Bluetooth speaker which was a nice touch.
The cottage, with large picture windows is in a perfect location for watching the Northern Lights. We lucked out and we're able to see them. The outside doors are well insulated but could be a challenge to open, close and lock.
Spent 2 nights here during our visit from the United States. Location is quiet and peaceful with beautiful horses outside your front door. The kitchen is well-appointed with dishwasher, microwave, stove/oven, fridge and honestly everything else you need. My 8 year-old son loved the loft sleeping area and flying his kite in the small yard adjacent to the cottage. Location is a good entry point for the peninsula and we explored the area during an afternoon drive. It was easy to get to from Reykjavík and to continue our trip to the Golden Circle area.The scenery was stunning and I found myself gazing out of every window in the morning. Would definitely recommend for any type of traveler, but especially families seeking a comfortable, home-like stay. Hope to come back again!
Well stocked, immaculate and views for days! The cottages overlook so much and are well spaced so you're not on top of your neighbors. This was our starting point upon arrival in to Iceland for an 8 day trip. I would highly recommend staying here as it was an easy drive from KEF airport. Stopping at the Bonus grocery store was easy and along the way (about 30 min out from the cottages). There's everything you could need in terms of pots, pans and utensils to prepare a hearty meal in the kitchen. We did not have the luxury of a Northern Lights viewing while staying due to cloud cover, but it certainly had no impact on our stay!
The HORSES!!!! Made my trip. I booked here because of them. They roam around a very large property, so you won't always see them. When I did, it was a dream! The cottage itself was so cozy with full kitchen & other convenient accommodations. Everything was so clean & new. Almost like I was the first to stay there. Friends had the cottage next door. It was a lot of fun in a fairly remote location. Nice restaurant 15 minutes down the road. Otherwise, bring groceries & use the kitchen. I made friends with the owner's dog, he was the sweetest & escorted me around the property! I would love to stay here again.
Read Less ∧
Read More ∨
Far enough away from the light pollution of the capital but near enough to visit Reykjavik's attractions, this villa on the shoreline is a great place to see the northern lights. The guest area is fully furnished, complete with a full kitchen, bedroom, and living space. The property is in a rural area near the ocean, giving visitors access to a private beach and a vivid picture of the Icelandic countryside.
Birdwatching can be done from the yard and a popular whale watching spot is just 20 minutes away. The famous Blue Lagoon natural spa is a little bit nearer. Other nearby attractions are the Geldingadalir volcano and of course downtown Reykjavik itself.
Dreaming of Dewey Beach – your dream vacation awaits you
Top guest reviews
The property is in a great location – near beach and town. Would stay again.
This rental property hit all of our needs, including spacious, comfortable, clean and in great location. The owner is lovely and focused on insuring a great experience. We enjoyed our week and hope to come back next year!
We love this property and Yvette!
We loved how central this townhome was to all the fun things to do in Dewey Beach! And steps away from the beach made it so convenient!
Everything was great. Our family may not be able to rent in future only due to light sleepers in bedrooms below living space
Read Less ∧
Read More ∨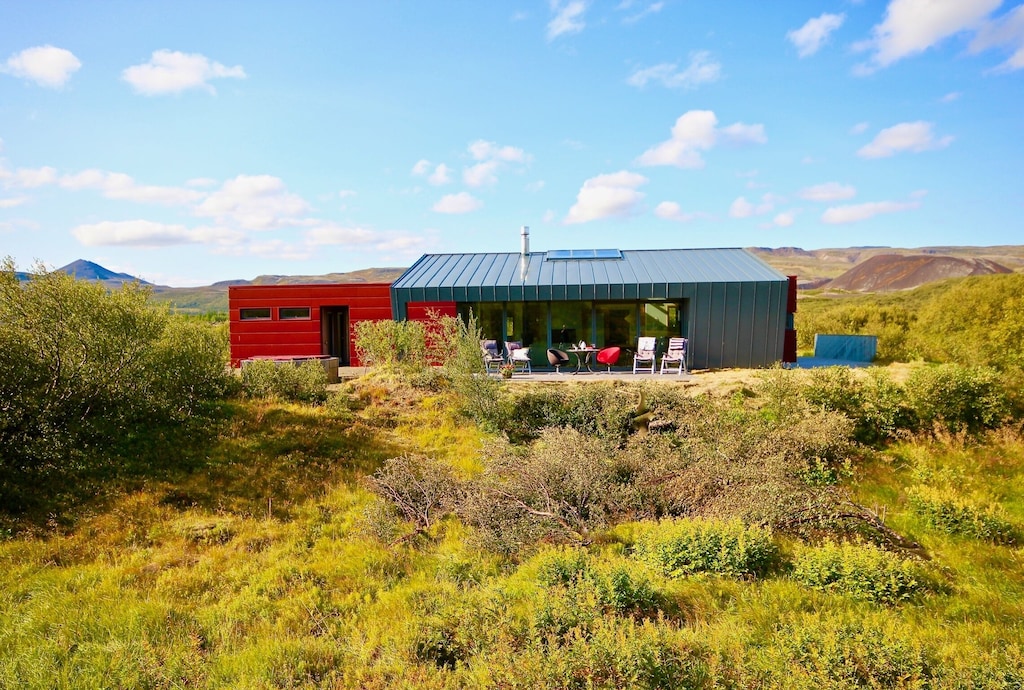 Smartly designed, spacious, and perfectly situated for a thorough exploration of southwestern Iceland, this enviable modern home is your gateway to a fantastic journey to one of the world's most mesmerizing places. It is the perfect base for visitors looking to discover all the northern charms of "The Golden Circle," a triangular itinerary consisting of Thingvellir National Park, an explosive geothermal area, and a bombastic waterfall system.
Be enraptured by all these and more, then return to a warm and comfortable space with an unparalleled sense of satisfaction. The four-bedroom property is divided between two buildings. It has a full kitchen and an outdoor area with a grill and hot tub.
Dreaming of Bifröst – your dream vacation awaits you
Top guest reviews
The house was perfect for our family of 6 adults and a 4 year old. The location, the view, the house, and the hot tub were all wonderful. The house was well equipped with everything we needed for relaxing after spending all day exploring the area.What a great way for John and I to celebrate our 50th wedding anniversary with our kids and grandson,
This is a lovely property for those who want to slow down and also have access to a great kitchen for cooking.
Beautiful, beautiful, beautiful home—sunny, well-designed, comfortable, and everything we needed for a wonderful stay was there. We loved all the windows, and never needed to make a fire, because it was so toasty. The kitchen was well-appointed and made it easy to make good meals. We traveled up to the Snæfellsnes peninsula and the Museum of Sorcery, and down as far as Fludir, Geysir, the Secret Lagoon, and Reykjavik. The home is in a quiet area, and we saw dozens of waterfalls, including Glanni, which is very nearby. A memorable stay!
The photos don't do this place justice. It was a home away from home. The house was immaculate, the property management were wonderful to communicate with. The view is incredible. Thank you for the care and comfort you place in your home so that we can truly enjoy all aspects of our vacation.
Beautiful home that is very comfortable. Had fun watching Northern Lights from hot tub. Layout of home is perfect for a vacation with family. Well appointed kitchen. Great communication from host. They take great care of the home. I highly recommend staying here. No hesitation at all.
Read Less ∧
Read More ∨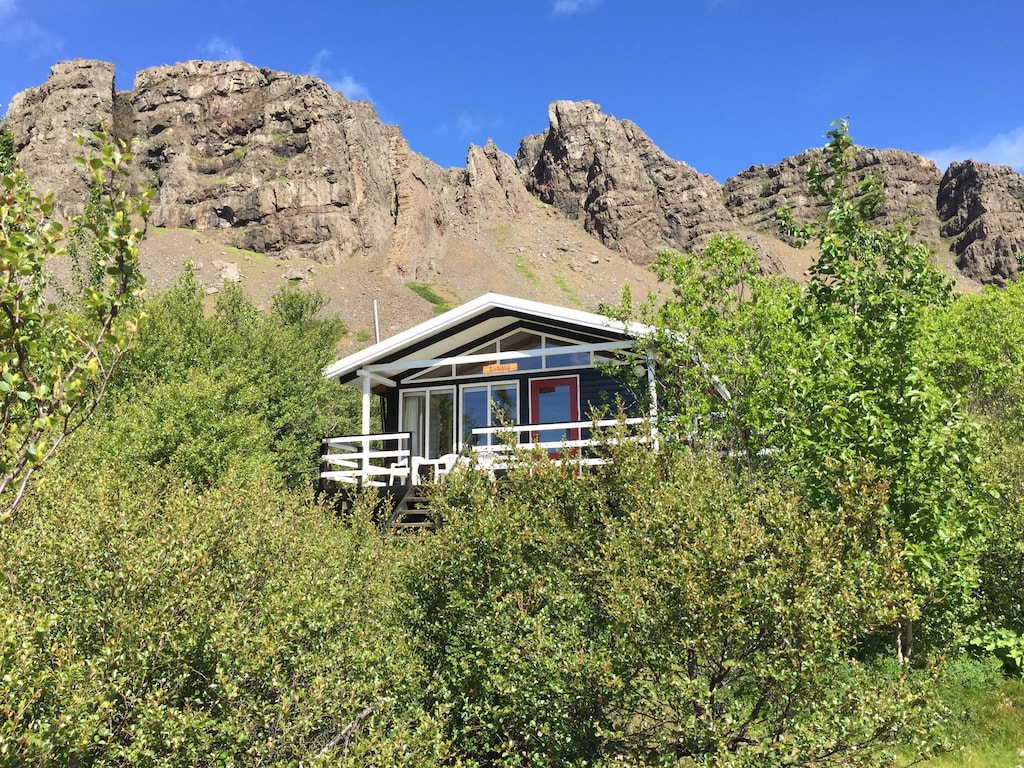 Iceland is full of mind-bending geological formations, but this doesn't mean every home has beautiful rock features in the backyard. This cabin in the country's west is one of the well-positioned exceptions. Though not geographically a part of Scandinavia, homes like this one prove how the Icelanders have mastered the art of Scandinavian design.
The cabin has a basic kitchenette, queen bedroom, and comfortable living area with a pull-out bed. The village of Borgarnes is 15 minutes away and has all the hallmarks of civilization (i.e., grocery stores and restaurants).
Students of the sagas will want to take the trip to the nearby village of Reykholt. Long the home of Snorri Sturluson, author of the priceless 13th-century Prose Edda, the humble town is host to a cultural center dedicated to its most famous son. Múlakot is also well-located for visitors keen to explore the stunning Snaefellsnes Peninsula to the west.
Dreaming of Borgarbyggð – your dream vacation awaits you
Top guest reviews
This was a great cabin to stay in, very spacious and cosy. It's a bit out of the way with a long gravel road but that's what makes it so peaceful. You can see forever from the front porch. The hosts were very good about responding to questions quickly.
Perfect spot for one night stopover on our road trip through Iceland. Cozy and clean, in a stunningly beautiful landscape. Bathroom is no frills but did the job.
Nice quite cottage with great views. Nice stopover for the last leg of our ring road trip. Had the basics that we needed. Host was very quick to answer any questions. Would recommend.
We enjoyed our stay in this lovely little cabin. It was very warm and clean and had everything we needed for our time in Iceland. The location was great and the view from the front deck was beautiful. The owners were very easy to work with and provided fantastic directions and information about the area which made planning our trip much easier. The cabin is not far from the nice little town of Borgarnes. We had dinner out one night and were easily able to get any groceries we needed. We also used the community center in Borgarnes, which has a great outdoor warm pool with hot tubs and a sauna. Overall a great cabin and a fantastic location.
The cabin was spotlessly clean and the bed so very comfortable. The location is great for exploring the Snæfellsnes peninsula-a must do!It's a little bit of a bumpy drive off the ring road, but worth it for the privacy and views. I highly recommend this rental.
Read Less ∧
Read More ∨
Where better to see the northern lights than the north coast of Iceland? This 19th-century structure in the village of Husavik boasts a recently upgraded kitchen, five bedrooms, and the ambiance of a warm family home.
Geosea, a world-famous natural spa on the coast, is just 10 minutes away on foot. Husavik is a bonafide Icelandic village, deemed the whaling capital (it does a roaring trade amongst watchers as well as hunters). For those keen on the northern lights and wilder sights, the trip to Asbyrgi Canyon cannot be missed. Though less than an hour away, visitors will presume they have been transported to another planet. Along with its astounding beauty, the area's isolation makes it a great spot for aurora seekers.
Dreaming of Húsavík – your dream vacation awaits you
Constructed in 2019, this cottage offers guests the comforts of modern life while they seek out the area's natural wonders and wait for the northern lights to inspire. An otherworldly wood and glass box, the home is like a fallen spacecraft in a stark yet beautiful wasteland. It has high-end leather furnishings and a full kitchen. The property has two queen bedrooms and sits in a small cluster of similar cottages.
The home is very near the 200-foot drop that is the Seljalandfoss Waterfall. Follow the river down, join the sea, and float on to Heimaey Island, dubbed the Pompeii of the North after a devastating eruption in 1973.
Dreaming of Hvolsvöllur – your dream vacation awaits you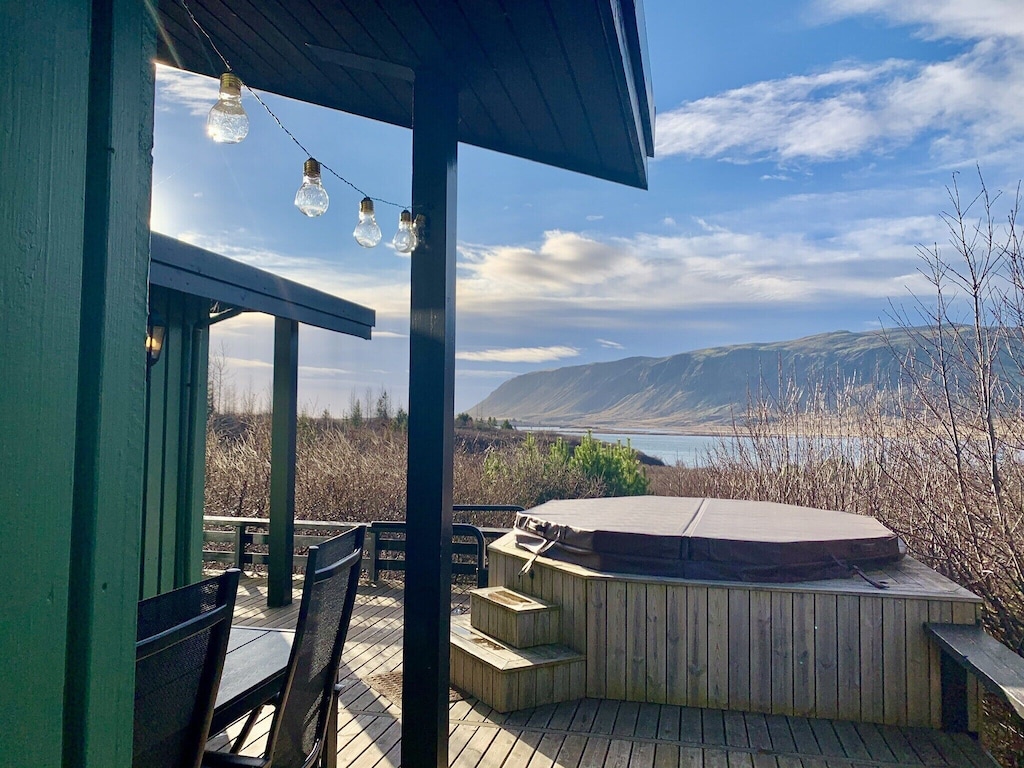 Another great base from which to explore the many wonders of the country's south, this house on Swan Lake is also a great place to see the northern lights. The house sits a short walk from the lake and has great views of Ingolfsjall, a mountain named after the discoverer of Iceland. It offers easy access to the Golden Circle and other attractions including equestrian trails and some of the country's only golf courses.
The home has a lake and mountain-facing hot tub and cozy indoor spaces. The dining room features a rustic wooden table and a full kitchen. The master bedroom has a king and sleeping spaces for a child and two babies, then there is a room with a double and a third with two twins and a bunk bed. The property is great for families but a couple will enjoy some private time to themselves all the same.
Dreaming of grimsnes – your dream vacation awaits you
Top guest reviews
Great property in a superb location. Ideal for trips in the southern region.Spacious property, well equiped.
This is one of the best properties we have stayed in. The view is breath taking. The teenagers loved the hot pool. Such a georgeous home.
What an amazing stay. Very clean. Very relaxing. Had everything we needed. Thank you so much!!
The house was so perfect, with an absolutely beautiful view. We loved our stay and relaxing in the evenings after our adventures during the day. We loved soaking in the hot tub at night. We only wished we had planned to stay longer! We would love to come back!!
Hostess did an excellent job with communication. The check-in process went smoothly. Written directions were provided from the airport (we, however, were coming from Reykjavik; our flight landed early morning and check-in wasn't until late afternoon, but were able to navigate there based on the directions; a set of directions from Reykjavik also may prove useful).The view from the house is absolutely stunning. The house itself is clean and well-maintained with a well-stocked kitchen. The coffee station was a great bonus. The plentiful bathrobes are also a nice addition. The house is located with an easy 15-20 minute-drive to Selfoss where you'll find a couple grocery stores, banks, and some restaurants. Golden circle attractions are also easy to navigate to from the house. The view and location again can't be beat.Do be aware, however, that the third bedroom isn't really a bedroom (no surprise to us, but I did want to point out). It's a wide hall between the master and the main living area. There's a door that shuts between the master and this area; however, there is no door to close between this area and the main living quarters, only a dark curtain. Therefore, any middle of the night trips to the main area from the master entail possibly disturbing those sleeping in the "hall" bedroom. Conversely, any tossing or just rolling over by the occupants of the set of bunk beds in the "hall" area (my 5'3″; 100 lbs. daughter slept in the bottom bunk) result in some pretty loud squeaking noises audible to the occupants of the master bedroom even with the door shut–just to point out if you're a light sleeper and plan to occupy either area. Also be aware that if you are occupying the master room or the "hall" area, you may be living out of your suitcase as there is no room for a dresser in the "hall" area and the armoire in the master is used as storage for extra linens. We weren't using the extra bed in the master or the top bunk in the "hall" area, so used those spaces as our dresser.Lastly, if you aren't aware, Icelandic weather is fickle, so if you're caught in a rainstorm or choose to brave the weather and come back to the house soaking wet, you will need to get creative as to how to dry any clothing you may need to wear the next day as there is no clothes dryer and laundry mats are not common- place in the country. A couple hours with the hair dryer and draping items over the radiators solved that issue for us.
Read Less ∧
Read More ∨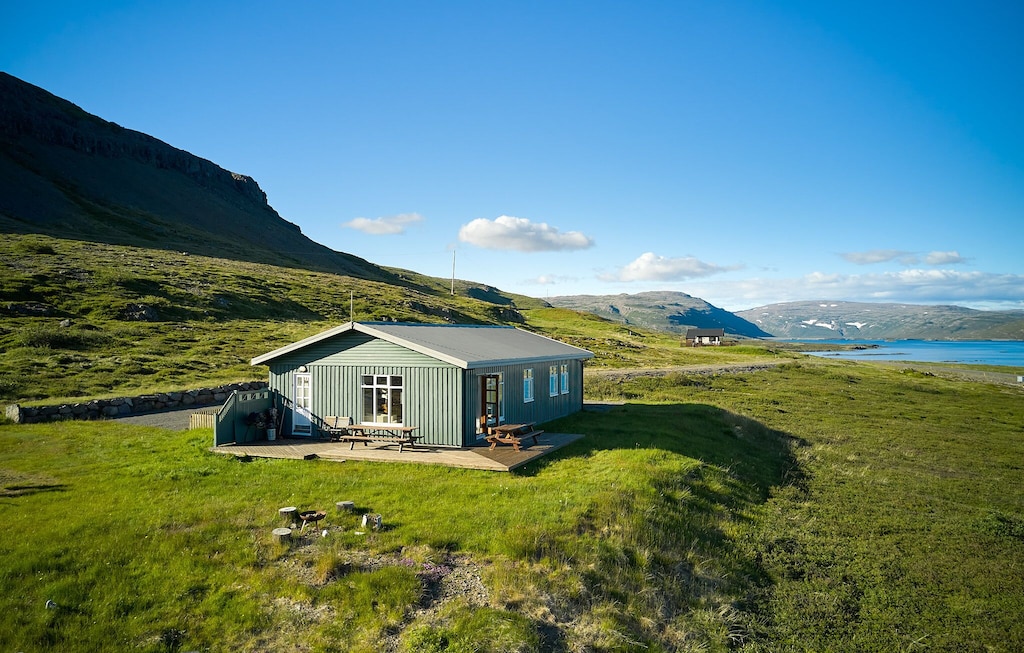 The northwest corner of Iceland, known as the Westfjords, is an isolated land of fjords, fishermen, and unforgettable sights. By virtue of its northerly latitude and longer nights, it is another great place to see the northern lights (and many other colorful sights to take your breath away). The cottage of Tvera is an excellent property from which to explore this wild and wonderful land.
A spacious building in an open landscape, it can accommodate a whole party of beauty seekers. Modestly decorated with new furniture, it does not attempt to overshadow the fjords and mountains seen from its windows. The 25-minute drive to Dynjandi, the area's astounding 300-foot waterfall, is just as scenic as the falls themselves.
Dreaming of Patreksfjordur – your dream vacation awaits you
Top guest reviews
We stayed at the house for nearly two weeks and it was wonderful. It is spacious inside and the views from every window are spectacular. We walked in the mountains or down by the sea every day and picked wild berries and chanterelles and it was magical. The nearest grocery is about thirty minutes away and it had everything we needed. The house was well set up for cooking and the hotel restautant five minutes away was great. No problems, no complaints: perfect
Our family really enjoyed our ferry ride over to the Westfjords and the shortest ride up the road to our house! The location was great for visiting all the main attractions in the area. One day we just tried out all the hot springs! The house has everything you'll need, and comfort throughout.
Jon & Auja made our experience unforgettable! The property was in pristine condition. The location and views were stunning! Visiting the Westfjords in the middle of Winter can present some challenges. But, it's not impossible. In fact, we enjoyed being isolated away from people for a while. Jon is very kind and quick to respond to anything you need during your stay. We truly had a great time and cannot wait to check out their other properties across Iceland! We thank you again Jon & Auja!! :)Kyle & Nabe
This house was the perfect home base for our family. We were looking forward to a remote, wintry, Westfjords experience and we were not disappointed. Mountain behind, ocean in front. Could not have asked for better.Jon, our host, was amazing: warm, responsive, and helpful, he embodied a hospitality that helped make our trip both memorable and enjoyable.
Westfjords are incredibly beautiful and there really are no other places on earth (in our personal opinion ) as magnificent as the beauty of fjords! We feel so blessed that we got the chance to experience that part of Iceland and all from Jon & Auja's lovely home! Kind and easy to speak to host, and their home had everything we needed to make our family feel nice and cozy and just be able to sit in awe of the beauty surrounding us! Beautiful hiking right by the home and we picked as many blueberries as we could eat from the mountains surrounding us. We loved watching our kids have so much fun picking them as well and running around. The location is very convenient to the Hellulaug ( hot pool) and not far from Krosslaug either. We also got a chance to go visit several places there like Dynjandi , Isafjordur , Patreksfjordur and some other beautiful areas as well. Being back home now we already miss Iceland and their wonderful people so much!
Read Less ∧
Read More ∨
To discover more places to view the northern lights, check out: