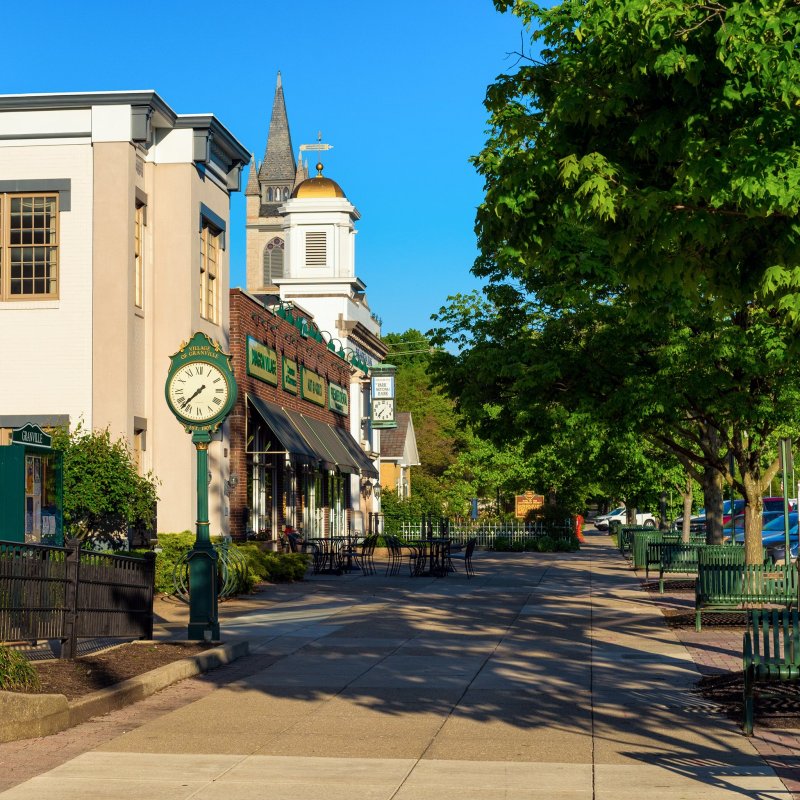 In 1805, New England settlers established Granville, Ohio, a quaint town that looks like a town you might find in Massachusetts or Connecticut. Located along the Appalachian plateau's western boundary about 35 miles from Columbus, the New England-style town is as pretty as a postcard.
Settlers carefully planned Granville, Ohio, even before they arrived from Granville, Massachusetts. Two wide thoroughfares converged at the town square with a church on each of its four corners. Buildings popped up in the standard grid pattern typical of New England villages. Many of Granville's original buildings still stand today, for example, The Alexandrian Bank, which is now the Granville Historical Society, the Buxton Inn, St. Luke's Church, and many private homes.
Outdoor enthusiasts will love hiking and biking, while history buffs will enjoy exploring the local historic inns and museums. Those interested in art and architecture will find remarkable examples, with over 100 Granville buildings on the National Register of Historic Places. Here are nine experiences you won't want to miss.
Disclaimer: My visit to Granville was hosted by Licking County, Ohio. The opinions are mine based on my experience.
1. Shop The Eclectic Boutiques
Granville has kept its small-town charm with locally owned shops and tree-lined boulevards. Residents have preserved the town's heritage by establishing a historic area, which includes the downtown business district. You'll find one-of-a-kind treasures while browsing the many shops. Cedar and Thread is a combination of home decor and clothing boutique. If you need a gift for those you left at home, there's everything from peach habanero jam and stemless wine glasses to pet beds.
Green Velvet of Granville also offers a wide range of gifts and fun things for your own home. There's everything from graphic Ts to candles and ingredients to make a special dish to remind you of your vacation when you return home. If art's your passion, support a local artist through Kussmaul Gallery. The gallery is a well-known shop for hand-crafted jewelry, hand-blown glass, and home decor.
2. Take A Cooking Class
With more people cooking at home, many of us are reaching to expand our culinary prowess, so a demonstration-style cooking class at the Cherry Valley Hotel is a must-do experience. As with most cooking classes, you not only get to have a delicious meal, but you take home all the skills to recreate that meal at home.
While the dishes vary by class, Chef Estrada's tips will be helpful no matter what plate you're cooking at home. We learned to create two types of flavored oils that you can use across a variety of dishes. To give you an idea, our Valentine's Day-themed meal included sherry wine-infused shrimp bisque and a Caprese salad with balsamic reduction to start. The entree was a beef filet wrapped in applewood-smoked bacon over a red wine demi-glaze topped with a pair of bronze shrimps and served with garlic Parmesan Duchess potatoes. The accompaniment was baked asparagus, prosciutto, and Gruyere cheese in a pastry pocket. The grand finale to this elegant meal was a simple yet delicious dessert of white chocolate-covered strawberries decorated in red, pink, and white for Valentine's Day.
3. Check Out Alligator Mound
Alligator Mound, listed on the National Register of Historic Places, is one of two animal effigy mounds built by Ohio's prehistoric people. This giant earthen feature has four feet and a tail. While they call it the Alligator Mound, archaeologists believe it was intended to represent a panther or an opossum rather than an alligator. The earthwork is about 76 feet wide, 250 feet long, and four feet tall. Alligator Mound is not a burial mound. This earthwork is about three miles west of the Newark Earthworks, and although they don't know who built Alligator Mound, like the Newark Earthworks, it may be the work of the Hopewell people.
4. Enjoy A Meal At The Pub On Broadway
The Pub on Broadway offers pub-style portions, which are a bit larger because they want their guests to take a little bit of the pub home with them. The five cheese Mac and Cheese morphed into an appetizer menu special that our server referred to as Mac and Cheese Bites. If the special isn't on the menu the day you go, you'll still be able to order their mac and cheese, which is exceptional in itself. It starts with a blend of five kinds of cheese, including mozzarella, provolone, cheddar jack, asiago, and parmesan made into a creamy sauce and paired with cavatappi pasta. Our other recommendations are the wild-caught grilled salmon and the house-made meatloaf topped with fried onion straws accompanied by mashed potatoes and a bourbon sauce. In addition to the food, the server's food knowledge was noticeably strong, so we were confident in what we ordered.
5. Cruise Along TJ Evans Bike Trail
The TJ Evans Bike Trail is one of several recreational trails in central Ohio. The TJ Evans Trail starts on Newark's west side and heads northwest through Granville and Alexandria, and ends in Johnstown, Ohio. The trail runs 14.2 miles long and offers two connecting spokes, one 2.2 miles that goes to Goosepond Road via Ohio State University and another 3.5 miles that goes to the YMCA. A tree-covered canopy offers shade on hot summer days as you ride through woodlands, pastures, and farmland while seeing an occasional view of the creek.
Pro Tip: If you're visiting for more than a day and have biking on your itinerary, staying at the Cherry Valley Hotel makes excellent sense. They have areas to store your bike while you're staying at the hotel, so it won't occupy space in your hotel room. They'll willingly keep them even if you have a group of bikes.
6. Play A Round Of Golf
In 1924, Donald Ross, a world-renowned Scottish golf course architect, designed Granville's Denison Golf Club. He used the area's natural rolling hills and wooded terrain to develop a picturesque setting at every hole. The 18-hole, par 71 course features elevated greens and 63 sand bunkers. With four tee positions, golfers of any skill level will appreciate a round.
7. Explore The Granville Inn
History buffs must schedule a visit to the Granville Inn, which oozes old-world charm coupled with modern conveniences. In 1924, John Sutphin Jones, a local coal and transport baron, built the Granville Inn on the Granville Female College grounds. The Granville Inn features 34 guest rooms and three suites. The walnut-covered lobby walls and carved trim contribute to the ambiance of luxury. You can experience the inn's rich history even if you aren't overnighting by dining in their restaurant. Start with a chef-selected cheese board that highlights local artisan cheese. Then continue with one of their elegant offerings like sushi, bourbon maple chicken, or grilled pork scallopini.
8. Discover The Museums
Granville offers three museums that will interest art lovers and history buffs. Built in 1842, The Robbins Hunter Museum and Avery-Downer House is a historic house museum with 18th- and 19th-century furnishings acquired by the original owners. Granville History Museum exhibits artifacts from Granville's two-century history. They offer tours of the museum and guided walking tours of the village with experts on local history. Located on Denison University's 930-acre campus, The Denison Museum offers exhibits on art and cultural heritage as well as history and science.
9. Uncover The Craft Brew Scene
Three Tigers Brewing Company, the only craft brewery and taproom in Granville's historic district, features 12 taps of their in-house beers and offers an additional selection of regional craft beer. The Sargent Orange's Milkshake Band was a standout here. This session milkshake IPA has a creamy mouthfeel like a milkshake with citrus undertones of candied orange. The coconut cream comes from generous amounts of Styrian and Sabro hops.
Besides live music and craft cocktails, their food menu is unlike other breweries. Three Tigers Brewing Company offers Viet-inspired street food, so you won't find the typical burgers and onion rings, but rather banh mi sandwiches, pho, spring rolls, and dumplings. If you prefer takeout, their adjoining restaurant offers a to-go menu.
Pro Tips
During all this activity, you're going to want a snack. Visiting on a warm summer day, Whit's Frozen Custard is the perfect counterpoint to that sweet craving. While you'll find Whit's throughout the region, the Granville location is the original. It's fun to see where Whit's started To discover more things to do in Ohio check out Weekend Getaway in Cincinnati: The Best Things To See And Do, Weekend Getaway in Cleveland: The Best Things To See And Do, and 5 Excellent Weekend Getaways In Ohio.