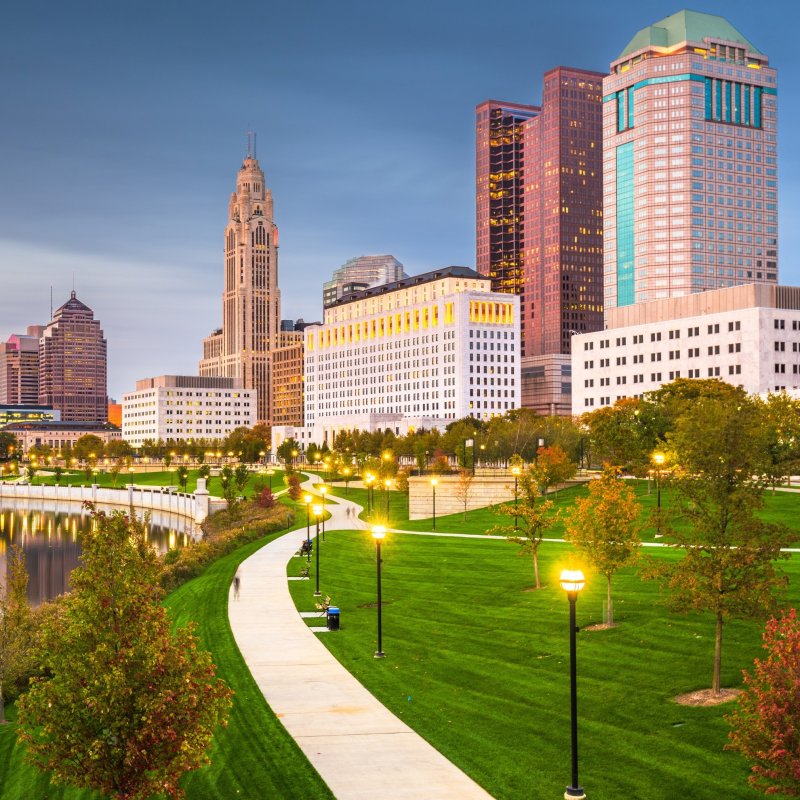 You might not guess that Ohio is in the top 10 in the United States in terms of population. But with major metropolitan areas such as Cincinnati and Cleveland and a total footprint of more than 40,000 square miles, Ohio is the seventh-largest state by population in the U.S. It touches the Great Lakes in the north and the Appalachian Mountains in the south.
Ohio is generally considered the eastern edge of the Midwest. So while the majority of the state has a Midwestern feel, there are some towns that have more of an East Coast vibe. Of the three major cities, Cleveland feels like an East Coast city, Columbus feels like the Midwest, and Cincinnati, on the Kentucky border, feels like the South.
There's so much to experience in this surprisingly large and diverse state. Here are five places that would be perfect for an Ohio weekend getaway.
1. Cincinnati
Cincinnati is 2 hours from everywhere. It's 2 hours from Indianapolis, Indiana; 2 hours from Louisville, Kentucky; 2 hours from Columbus; and 2 hours from Huntington, West Virginia. Okay, it may not be 2 hours from everywhere, but for those in the Midwest, Cincinnati is going to be a fairly short drive away.
The best place to stay is near downtown. Cincinnati is fairly compact, and many of its attractions (and hotels and restaurants) are located near the Ohio River. A stay downtown will give you access to almost everything, including the riverfront, which is home to the stadiums of the Cincinnati Reds and the Cincinnati Bengals. If you time your vacation right, you could take in a game.
What are the best spots to visit while you're in town? A visit to Eden Park provides several options, including the Krohn Conservatory, an indoor botanical garden with frequent butterfly shows; the Cincinnati Art Museum; and the Vietnam War Memorial.
There's also the Over-The-Rhine Historic District. At the center is the lively Findlay Market, a public market that's been in operation since 1852. You could spend all day in this area exploring all of the restaurants and shops.
And if you're going to visit Cincinnati for a weekend, you'll have to try some of the city's famous chili. Skip the fast-food places and go to one of the originals like Camp Washington Chili. The best way to try it? Five-way chili, or chili with spaghetti, beans, onions, and cheese. It might sound strange, but it's a Cincinnati staple, and it's definitely the way to go.
2. Put-In-Bay
An island? In Ohio? Yes, there's an island getaway in Ohio. Located in Lake Erie not too far off the lake edge from Sandusky, Ohio, Put-in-Bay (that's Put-in-Bay, not Putin Bay) is a very popular summer getaway in the state.
It's a short ferry ride from Sandusky to Put-in-Bay, and once you're on the island, you can rent a golf cart and explore. Almost every vehicle on the island is a golf cart, and they book up fast, so your first step to a Put-in-Bay getaway should be to book your golf cart in advance. Reservations can be made on the Put-in-Bay Golf Carts website.
A popular place to stay in Put-in-Bay is the Put-in-Bay Resort, but there are also many homes available for rent, as well as luxury villas at Put-in-Bay Villas. If you're planning to visit in the summer — particularly in July or August — try to book well in advance. Accommodations book quickly for this time.
There are many things to do on the island. You can sample wines from across the region at the Put-in Bay Winery; after viewing the winemaking exhibit, sit on the patio overlooking the bay and enjoy your glass of wine. If you're on the island on a Saturday afternoon, you can enjoy the classic car parade and then go to the Antique Car Museum to see all of the classic cars up close. There's also a history museum, a carousel, a butterfly house, and a chocolate museum — it's difficult to see everything in just one visit to Put-in-Bay.
Summer is obviously the best time to visit, but don't rule out the fall. Most of the main attractions (the Antique Car Museum and the butterfly house, for instance) are still open on fall weekends. And you could visit South Bass Island State Park to see the gorgeous fall colors.
3. Dayton
When most people think of Dayton, they think of aviation. While Wilbur and Orville Wright may have completed their first flight at Kitty Hawk, North Carolina, the brothers lived in Dayton and developed their airplanes in Dayton. As a result, much of Dayton's industry is aviation-related. The massive Wright-Patterson Air Force Base is located in Dayton, and aerospace companies have flocked to the city over the years.
Any weekend getaway to Dayton should begin with a visit to the National Museum of the United States Air Force, the world's largest aviation museum. Honestly, you could spend an entire day here, walking through renovated hangar after renovated hangar. There are more than 360 airplanes and missiles on display. There are galleries explaining how the Wright brothers developed their first airplanes, galleries on the evolution of the airplane, and galleries on space exploration.
But Dayton isn't just about aviation. It's Ohio's sixth-largest city with a population of 140,000, so there are many things to see and do. Take in a summer concert at the Fraze Pavilion, one of Ohio's largest outdoor concert venues, or visit the Dayton Art Institute. If you're a beer lover, grab your passport book for the Dayton Ale Trail, a 21-stop visit to all the local breweries. Don't worry — you don't have to stop at all 21 in one day!
There are lots of great dining and shopping opportunities in Dayton as well. Make your way to Fifth Street just east of downtown, where many of Dayton's best restaurants and shops are located. A good starting point is the intersection of Fifth Street and Jackson Street. Walk in either direction from there along the cobblestone streets for great shopping and dining.
4. Columbus
Located right in the center of the state — and home to Ohio State University — Columbus is at the heart of it all. And it's a surprisingly large city, with a population currently approaching 900,000. In terms of population within the city limits (not metropolitan area population), that makes Columbus the 14th-largest city in the United States. I doubt many realize that the city of Columbus is home to more people than the cities of San Francisco, Denver, Seattle, and Boston.
As a result, Columbus has more to offer for a weekend getaway than you would think. There are many sides to the city, with the Ohio State University area making Columbus feel like a college town and the downtown area making it feel like a major metropolitan city.
Here are some great spots to visit on your weekend getaway.
First off, if you love touring college campuses, a visit to Ohio State University should be in the cards. You can walk the campus if you'd like, or you could just visit the shopping areas surrounding the campus, such as High Street. Start at the intersection of High Street and Woodruff Avenue and go in either direction from there.
If you love zoos, you should know that Columbus has one of the best zoos in the world. It's the "home zoo" of world-renowned zookeeper Jack Hanna. He was the zookeeper for 15 years and helped turn the Columbus Zoo and Aquarium into one of the top institutions of its kind in the world. Also, one of the top science centers in the nation is located in Columbus. COSI (the Center of Science and Industry) is known for its dinosaur exhibits, but there's much more than that.
For shopping and dining, don't miss the Short North Arts District. From your hotel, take an Uber to the intersection of High Street and First Avenue. In either direction, you'll find shops, restaurants, and art galleries unique to Columbus. This is also a great spot to grab brunch. The most popular spot (be sure to call ahead or make reservations online) is probably The Guild House. A late-Sunday-morning brunch at The Guild House is a great way to end your weekend in Columbus.
5. Athens
Ohio State University is a massive campus in a massive city. If it's a small-college-town experience you're looking for on your weekend getaway, perhaps Athens, Ohio, home of Ohio University, is more your style.
I'm a sucker for college towns, and this is a great one. In fact, USA Today named Athens the number-one small college town in the United States in 2016. With its quaint campus and great shopping district, Athens provides the perfect college-town experience. There's nothing like an autumn visit a college town on a Saturday, especially if there's a football game in town. You don't even have to attend the game — the atmosphere alone is amazing.
But Athens is more than just a college town. It's located in the Hocking Hills region of Ohio, an area that looks more like West Virginia than Ohio. In fact, a visit to the nearby Hocking Hills State Park is something you'll want to add to your weekend itinerary. Waterfalls, cliffs, gorges — you're definitely not in the flat plains of western Ohio.
For shopping and dining in Athens, you'll want to visit Uptown Athens. This area is adjacent to the Ohio University campus and contains all of the shops, restaurants, and bars you'd typically find in a college town. It's hard to find parking in this area (it's a college town, so parking is going to be difficult to find everywhere), so hailing an Uber or Lyft and having them take you to Uptown Athens (the intersection of Court Street and Washington Street is the center of the area) is the best way to go. If you need to walk off dinner, the campus is right there.