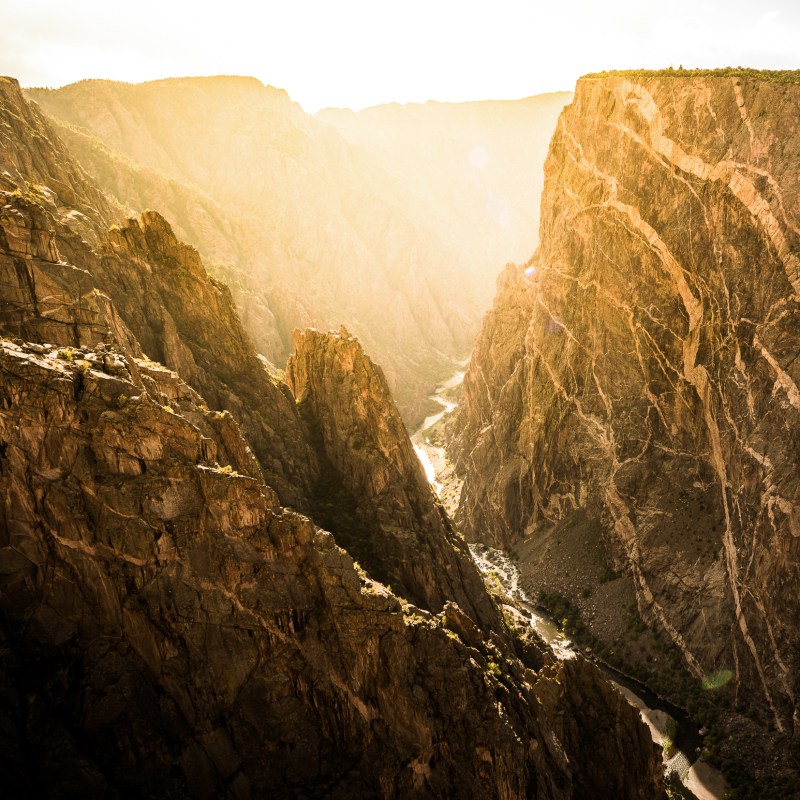 The U.S. National Park System is a crowning achievement in conservation and a physical and visual statement that helps define what this country stands for. All Americans should be proud of these parks that represent what America symbolizes "above the fruited plain." The problem with having so many amazing parks is getting a chance to visit them all. Frankly, some parks just get the people and the attention, and some don't.
Black Canyon Of The Gunnison National Park
Known as the Grand Canyon of Colorado, it became a national park in 1999 and is located in western Colorado near the three Old West towns of Montrose, Crawford, and Gunnison. Here the canyon has been cut and carved for millions of years by the Gunnison River. The name The Black Canyon comes from the often shadowed walls towering over the river. They appear black at most times of the day.
According to the National Park Service, in 2019, the park averaged about 432,000 annual visitors, making it the least attended park in the state.
The Black Canyon is rugged, can be quite treacherous, and is where you'll find some of the steepest cliffs in North America. These cliffs provide incredible views from the many access points along its hiking trails. If you just want to soak in the glory of the canyon from the car, you are welcome to. Many visitors choose the scenic drive through the park, where you'll find access points to peer down 2,000 feet as the windy and sometimes guardrail-free roads wind you through the canyon.
The park is a haven for rock climbers, hikers, and fishing enthusiasts. This park has plenty of facilities, scenic overlooks, and campsites. There are three campground opportunities, with most concentrated near the South Rim. Here you'll find the best views of the 2,250-foot Painted Wall, which happens to be the state's highest cliff. Camping along the North Rim will provide great glimpses of the canyon as well as views of the Curecanti National Recreation Area.
The Cedar Point Nature Trail is less than a full mile round-trip but has some of the best views in the park. The Warner Point Trail is a 1.5-mile hike between the South Rim visitor center and the High Point Overlook. This tree-shaded trail is an informational hike, with plenty of chances to learn about the area.
Along the North Rim, you'll find two trails. The North Vista Trail is a 3-mile, moderate level hiking loop to Exclamation Point. Keep an eye out for the turn-off to Green Mountain. This will turn your journey into a 7-mile trip. Exclamation Point offers incredible canyon views.
The park also has one horseback trail, ironically named Deadhorse Trail. It's a 5-mile ride with some of the best views in the park at Deadhorse Gulch and East Portal. You can arrange horseback rides at the Ranger Station.
The visitor center at the South Rim is open year-round. It is recommended that you check for weather updates as Colorado weather can shift quickly. Want more on Black Canyon of the Gunnison and getting outdoors in Colorado? Consider: