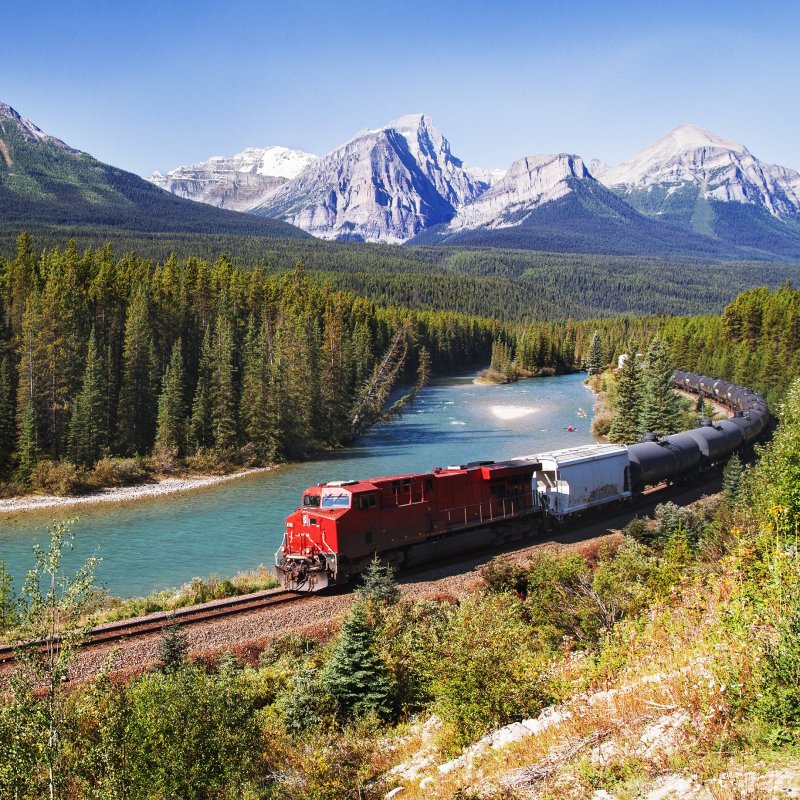 My trip through western Canada from Calgary to Vancouver and back remains one of the best vacations I have ever taken, not only because Canada is beautiful, but also because the trip was just as much about the journey as it was about the destination. In truth, it was all about the journey. While visiting the towns and cities along the way was fun, it was the bits of traveling in between the stops that made this part-train, part-car adventure truly superb.
Let me explain: Not many years back, my husband and I embarked on a crossing-the-Rockies adventure, flying into Calgary, renting a car, and traveling by road with several overnight stops including Banff, Jasper, Kamloops, and Whistler to Vancouver. After several days of exploring Vancouver and Vancouver Island, we dropped off the rental car. We then treated ourselves to the Gold Leaf return journey on the Rocky Mountaineer with one overnight stop. (Please note that this trip now stops in Banff rather than going all the way through to Calgary.)
Both journeys could not have been any more different. Personally, I preferred the road trip, while many others I spoke to preferred taking the train.
Hopefully, this compilation of the main differences between train or car travel will help you decide which way you would prefer to travel.
1. Ease And Safety Of Travel
To my eternal gratitude, my husband decided shortly into our journey that he would do all the driving because I was constantly on the lookout for bears and beautiful sights and apparently could not be trusted to pay even the slightest attention to the road. Thus, I was free to scan the trees for bears, shout, and point out anything worth stopping for while he dealt with the traffic and my constant distractions.
If you are the designated driver, you might miss out on a few sights because you must concentrate on driving. With that being said, if you see other cars stopped by the side of the road, you should pull over as well, as there will be something worth seeing.
However, on the train, you can simply sit back, relax, and take in the ever-changing views from a panoramic window, viewing car, or the little terrace outside. The only problem is who gets the window seat.
Winner: Train
2. Smelling The Roses Along The Way
This stretch of Canada is undoubtedly one of the most stunning landscapes and natural wonders found anywhere in the world. The mountains, the rivers, the valleys, the lakes, the meadows, and the animals all demand your attention because they are what you have come to see. Yes, you can plan your trip to the greatest detail, but you are also likely to stop every few miles for an animal or waterfall. It is those unplanned sights that are often the best.
On the train, people shouted out "Bear in tree!" or "Eagle on the left-hand side!" but often, by the time you had figured out what they were pointing at, the train had passed by, and you had missed it. There were particularly beautiful stretches where the train slowed down to allow you to view the landscape and take photos, but those sudden, unplanned sightings were gone in a flash, often unseen.
Winner: Car
3. Side Trips And Flexibility
While the train obviously follows a set route, as trains tend to do, and follows a strict schedule, you can plan for side trips when you are driving. And there are so many worthwhile places along this route that deserve your attention. Be it towns such as Banff, Jasper, or Whistler; natural wonders such as Lake Louise or the many waterfalls; activities such as rafting, hikes, or helicopter trips; you can plan them all in when you are self-driving, and you set your own schedule.
Even when you have a strict timeline and a tight, fully packed itinerary on your road trip, there is always the option to allow for some spur-of-the-moment additions or swaps. If you see a sign for a riverside boat trip — one not on the itinerary — you can decide to have a quick look. You can change things as you go and be spontaneous. Flexibility is the spice of any road trip. On the train? Not so much.
Winner: Car
4. Accommodation Options
Even with the Gold Leaf option on the train, we had no choice about where we spent the night, and with all the lovely hotels we knew along the route, this was a real shame. Yes, it was just one night, but it took something away from the overall experience. On some other routes, you choose where to stay at the beginning or end of your journey, but on my route and the overnight stay in Kamloops, we did not.
When traveling alone and planning your own road trip, you can pick where to stay overnight and for how long, which caters to your preferences, the occasion, and your budget.
Winner: Car
5. Interaction With Fellow Travelers
As I mentioned, when driving, you find yourself stopping off regularly by the roadside, simply because other cars have already pulled over. You get to chat with people about what they have spotted, what animals they have seen before, and exchange tips and tricks about what to see and do nearby. It is a lovely experience that came utterly unexpected to me, but turned into one of the highlights, with everybody on the road for the same reasons, bar some locals who had seen it all before and could not understand our fascination with real-life bears.
The same is very much true on the train. Everybody peers out of the windows, pointing out every eagle along the way — and there were a lot. You form a kind of camaraderie and short-lived but enjoyable friendship with your fellow passengers, bonding over the beauty of Canada.
Winner: Draw
6. Cost
The train journey is not cheap, especially if you are opting for the Gold Leaf Service. But you do not have any side expenses either. You get fed very well indeed, you have your hotel stay included, and you do not stop at any tempting shops or have any extra excursions. So, your budget aboard a train is fixed.
On a road trip, yes, you will most likely be on the road for longer, but you can choose cheaper accommodation, make your own sandwiches and a thermos of coffee for the day, and save a lot of money that way. That said, you also get drawn into that quick bear-sighting boat trip on the lake, or buy that fluffy goat toy for a friend, or simply cannot resist staying in one of those amazing hotels that look like castles, which are just too tempting.
Winner: Draw, depending on your willpower
7. Time Spent Traveling
If you do not have much time to spend, you can do the 680-odd-miles between Calgary and Vancouver in a day. That is if you have two drivers taking turns driving. With one overnight stop, you can comfortably do it in two days, just as fast as the Rocky Mountaineer. But it would be a shame to rush the drive. Did I mention the many stunning distractions along the way?
So, if you happen to find yourself in Calgary or Vancouver and just want to cross the Rockies quickly, in comfort, and with views along the way, then take the train.
Winner: Train
Pro Tip: If you have any chance to enjoy both travel methods, I suggest that you take the train first and drive back. It will give you an overview, a taster, and ideas of where to stop off and what to see in more depth on your road trip. And take your time driving. The train is fun, comfortable, and you see some great sights along the way, but the road trip is the chance to look more closely at them all.
Related articles: