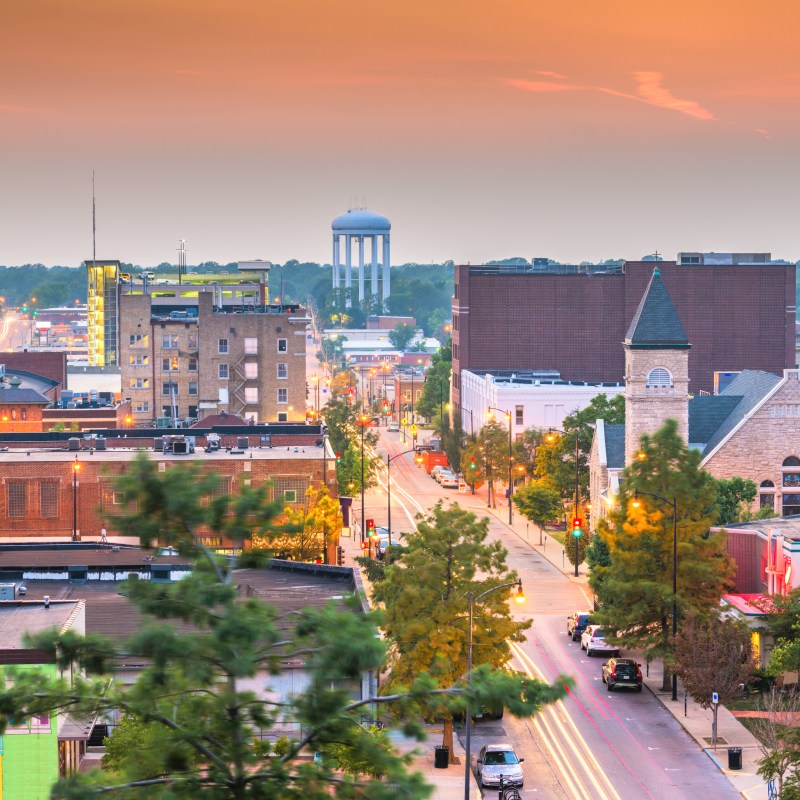 Located right in the middle of Missouri, nearly equidistant between St. Louis and Kansas City, the city of Columbia — or CoMo, as the locals lovingly refer to it — is a place worth a visit all of its own. Home to the state's flagship university and loaded with charm, there's something for everyone to enjoy here.
Things To Do In Columbia
From its downtown district, packed with restaurants, shops, and coffee houses, to the iconic University of Missouri campus, Columbia has a cosmopolitan but laid-back vibe. Add some terrific outdoor destinations and a dash of history for good measure, and you've got a winning destination!
1. Stroll Campus
The University of Missouri — or Mizzou, as students, faculty, alums, and staff call it — was founded in 1839 as the first public university west of the Mississippi River. Since then, the campus has grown exponentially, with nearly 31,000 students from around the world currently studying there. Mizzou is also home to the world's first — and one of its best — journalism schools.
The University of Missouri is a delight to stroll. Start with Red Campus, closest to downtown. Here, you'll find red-bricked halls (many of them included on the National Register of Historic Places) lining the Francis Quadrangle, and the university's administrative building, Jesse Hall. The six Ionic-style columns in the quad in front of Jesse are all that is left of the original Academic Hall, which was destroyed by fire in 1892. The columns are a symbol of Mizzou and provide a great backdrop for photos. Also on Red Campus: the Missouri School of Journalism and its famous Chinese lions. Rub their noses for good luck!
White Campus, including the school's Memorial Union, Ellis Library, and other academic halls constructed in neo-Gothic style, is to the east of Red Campus. While these buildings were constructed a bit later, they are also gorgeous, constructed of white brick or limestone.
Take the time to explore the campus. It's truly the heart of Columbia, and once you see it for yourself, you'll understand why.
2. Explore 9th Street
South 9th Street is the main north-south artery that links Mizzou to downtown Columbia. On it, and radiating off it, are a vast array of boutiques, cafes, galleries, and shops, many housed in historic buildings. This vibrant district has a funky college vibe but is welcoming to all — student or not. 9th Street is the perfect place to sip, shop, grab a bite, and spend the afternoon after exploring campus. Our top picks on 9th Street include Lakota Coffee Company for a latte and snack, Bluestem Missouri Crafts for its locally-made home goods, jewelry, apparel, and art, and for the true Mizzou fans, Tiger Spirit is a one-stop-shop for gear to show off your school pride.
3. Visit The Shelter Gardens
West of the downtown area is a hidden gem where locals go to rest, recharge, and admire a gorgeous greenspace in the most unlikely of spots. At the headquarters of Shelter Insurance is Shelter Gardens, five acres of beautifully curated and maintained gardens contain thousands of annuals and perennials, plus hundreds of species of trees and shrubs. The garden is free and open to the public, and also features a waterfall, gazebo and rock garden. When you're ready to take a breather from the hustle and bustle of campus, head here!
4. Take A Hike!
If you're ready to take to the trails for a quick hike, Columbia's also got you covered. Rock Bridge Memorial State Park, about five miles south of town, is one of the state's most scenic. As its name infers, the park's hiking trails take you past geologic formations, including a large cave system, with a rock bridge and many sinkholes. You can even go underground to explore Devil's Icebox or Connor's Cave — make your tour reservations in advance.
For a different view, check out the MKT Nature and Fitness Trail. This flat-as-a-pancake crushed limestone path begins downtown and, nine miles later, ends up at the Katy Trail State Park near the village of McBaine. The MKT is a favorite for walkers, joggers, and bikers.
5. Enjoy A Live Event
As you might expect — after all, Columbia is a college town — there are plenty of places to take in a live performance or event during your visit. Downtown venues, including The Blue Note and the Missouri Theatre, offer a wide array of concerts and other events. Columbia's Stephens College — known for its strong, robust theater department — presents stage performances from musicals to modern drama September through May on its campus, near downtown.
While there's plenty of arts and culture to be had, if sports are more your scene, schedule your trip on a football weekend at Mizzou. The game-day experience at Faurot Field rooting on the Mizzou Tigers is pretty special in its own way. Just be sure to snag tickets in advance.
6. Get To Know Blind Boone
To get a quick, interesting shot of both music and history, make sure to include a visit to the Blind Boone Home downtown on 4th Street. Born at the end of the Civil War, John William "Blind" Boone was a ragtime performer and composer who taught himself to play music despite the fact he was blinded by a childhood illness. He began to tour the country in the late 1880s, shot to fame, and continued to perform for audiences until the 1920s, but Boone always returned to his Victorian-era home in Columbia. The Blind Boone Home, which was painstakingly preserved after being used as a funeral parlor for years, is listed on the National Register of Historic Places. The home contains memorabilia and artifacts from his life, including two period pianos, one of which Boone practiced on. It also hosts community events, symposiums, and performances.
7. Explore Missouri's Roots
Another terrific downtown destination to explore is the Missouri Historical Society's Center for Missouri Studies. This sleek and stunning architectural gem, which opened in 2019, houses a first-floor gallery showcasing one of a kind works from preeminent Missouri artists. 
With prior approval, visitors are also allowed access to the center's collections for genealogy and other research. Private tours are available, and there's also an on-site gift shop featuring Missouri-made items.
Best Restaurants In Columbia
From college pubs to places that will delight even the most particular foodie, Columbia's got you covered! Here are a few favorite spots to grab a bite.
8. Shakespeare's Pizza
Hands down, Shakespeare's Pizza — or Shake's, as perhaps it's better known — is the most beloved place to grab a slice in Columbia. Established back in 1975, this pizza joint has served generations of students, and it's the place they keep coming back to. It's got a laid-back vibe you'd expect in this quintessentially college town. While there are three locations, we're partial to the one downtown, close to campus.
9. Booches
Sometimes you just need a burger and fries. If that's your situation, head straight to Booches. Founded in 1884 and in its current location since 1928, this bar and billiards hall on 9th Street serves its iconic burgers in wax paper, and they've been declared some of the best in the nation.
10. The Heidelberg
Rounding out the trifecta of must-stop pub-type dining options is The Heidelberg. Located right across the street from the Missouri School of Journalism and just steps from the iconic quad, The Berg is a great place to grab a beer and traditional appetizers.
11. Goldie's
For a carby, delicious breakfast, Goldie's has you covered. Located downtown, right on 9th Street, the homemade bagels here are made with a lot of love and make a terrific grab-and-go option for a picnic breakfast on campus. Upgrade to include lox, cucumbers, capers, and all the traditional fixings — you won't regret it!
12. Murry's
For a finer dining experience with a decidedly jazzy twist, head to Murry's south of campus. Everything from their starters (we love the blue chips cheese bread!) right down to dessert is simply delish. An extra bonus: Most nights you can take in a live music set as you dine!
13. Glenn's Cafe
Glenn's Café, a long-time Columbia favorite, has been serving up comfort food since 1939. It first opened as a diner on what was then Highway 40, and moved downtown in 1988. Its newest location is inside Columbia's famous Tiger Hotel, where you can order up delicious dishes with definite New Orleans influence. The shrimp and grits, served with andouille sausage, is a customer favorite.
Best Hotels In Columbia
14. The Tiger Hotel
Columbia is a college town, after all, and there are plenty of hotel options to accommodate the crowds that flock here for football games, graduations, and other special events. If you want to be super close to the action, with a historic but luxe feel, consider checking into The Tiger Hotel. Located downtown, it is close to campus and offers guests a wide range of amenities. Built in 1928, it's been recently and wonderfully renovated, so it still retains its former charm but gleams with modern, thoughtful finishes. In addition to the afore-mentioned Glenn's Cafe, there's also an on-site coffee shop, and even a speakeasy serving cool-crafted cocktails.
15. The Broadway
The Broadway, also downtown, is a much more modern build. A LEED-certified DoubleTree by Hilton, The Broadway has comfortable rooms and a terrific rooftop bar.
Pro Tip
If crowds aren't your thing, be sure to check the university's calendar before planning and booking your visit. Many of Columbia's best-loved experiences are on campus or downtown, and both can get quite congested with college students, plus their parents and extended families, during special events.
While you're in the Show-Me State: