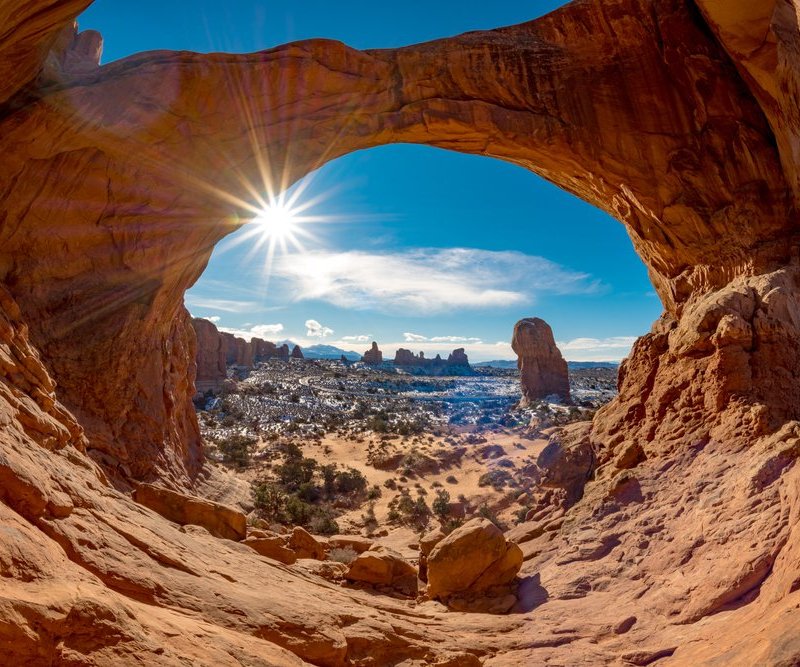 With the official formation of Yellowstone in March of 1872, the National Park System as we know it today was born. Today, the federal department manages over 550 parks, monuments, battlefields, and other areas that will conserve the nation's natural and cultural heritage for years to come. With social distancing the norm for much of 2020, some National Parks saw record attendance this year, and our readers couldn't get enough of the following articles about our National Parks.
7 Interesting Things To Know About Devils Tower
The first ever National Monument, Devils Tower impressively juts out of the Wyoming ground and draws the gaze of anyone nearby. The imposing structure was made famous by the 70's film Close Encounters of the Third Kind but it has been around for thousands of years and has gone by many names. Read more to learn 7 interesting things you might not have known about Devils Tower.
The Top Five National Parks You Must Visit, According To RVers
RV goers were out in force this year, exploring the country's more remote areas from the safety of their own mobile hotels. Our friends at RVshare provided us with data that definitively states the five National Parks that RVers visited the most in 2020. Did your favorite make the list? Check and see!
The 6 Most Incredible Beaches In National Parks
Yes, you read that correctly: While beaches may not be what you immediately think of when you hear National Parks, the park system offers up many noteworthy waterfronts and beaches that you won't want to miss. Here are our team's choices for the most remarkable beaches throughout the National Park system.
7 National Parks And Monuments You Might Not Know About, But Should
Let's shift from the most popular parks of the year to some of the lesser-known. These parks and monuments may be a little off the beaten path, making them harder to access than the more frequented natural areas. Read more to learn the 7 National Parks and Monuments you will want to add to your travel plans once you learn about all that they have to offer.
6 Best Hikes In Joshua Tree National Park
Joshua Tree National Park offers an abundance of wide-open trails to explore on foot, allowing you to enjoy not only the titular trees that give the park its name, but also impressive rock formations, ancient petroglyphs, and acres upon acres of natural beauty. Check out our picks for the 6 best hikes in Joshua Tree National Park.
12 Things To Know Before Hiking Angels Landing
Zion is a must-visit park to add to your list, and Angels Landing provides enough reason to visit all on its own. This 3- to 5-hour hike can provide quite the challenge for the unacclimated, and yet the stunning views that you are rewarded with make it worth every difficult step. Before you set out, make sure to read these 12 things to know before hiking Angels Landing.
11 Best Things To See And Do In Yellowstone National Park
Yellowstone is likely one of the most well-known of the U.S. National Parks, which is unsurprising as it was the nation's first. The 2.2 million-acre park spans three states and is home to herds of animals, untapped natural beauty, and unique geothermal activity spawning geysers and hot springs that will provide days of amazement. Read more for our picks for the 11 best things to see and do in Yellowstone on your next visit.
Yosemite National Park: Best Places To Stay
With its proximity to San Francisco, Sacramento, and Lake Tahoe, it is no surprise that this California park can become quite crowded at times. But don't let this deter you from making time in your travel schedule for a visit in the near future. The park has so much to offer that you will certainly want to stick around for a few days. Here are our picks for the best places to stay in Yosemite National Park.
Most Scenic Hikes In The Delaware Water Gap
The land between the Kittatinny Ridge of New Jersey and the Blue Mountains of Pennsylvania was formed by the Delaware River, leaving behind acres of breathtaking hikeable terrain for you to enjoy for days to come. Our writer Sue Davies frequents the area and has shared her favorite scenic hikes throughout the Delaware Water Gap.
East Glacier Vs. West Glacier: 6 Key Things To Know
Glacier National Park is unique in that it is actually TWO parks in one. The Montana park straddles the continental divide running through the Rocky Mountains, with the Rockies effectively forming a barrier between the two. Both East and West Glacier are unique, and a visit to one is not complete without also making time for the other. Mike Owens — a Glacier red bus driver and expert contributor for TravelAwaits — shares his perspective on the 6 key things to know about the differences between East and West Glacier.
How To Plan A Trip To Utah's National Parks
The Mighty Five National Parks that make up a large portion of southern Utah hold some truly remarkable and photo-worthy sites. From the titular arches and canyons of Arches and Canyonlands National Parks to the hoodoos of Bryce Canyon and Capitol Reef to the majestic mountain passes of Zion, each park has something unique to offer. Read our tips on how to plan a trip to all five of Utah's national parks.
I hope these articles have given you an abundance of inspiration for your next journey. If your favorite park or monument didn't make the list, you can find even more great content on all of our national parks here. Enjoy the great outdoors and take in the natural beauty set aside to be enjoyed for generations to come.