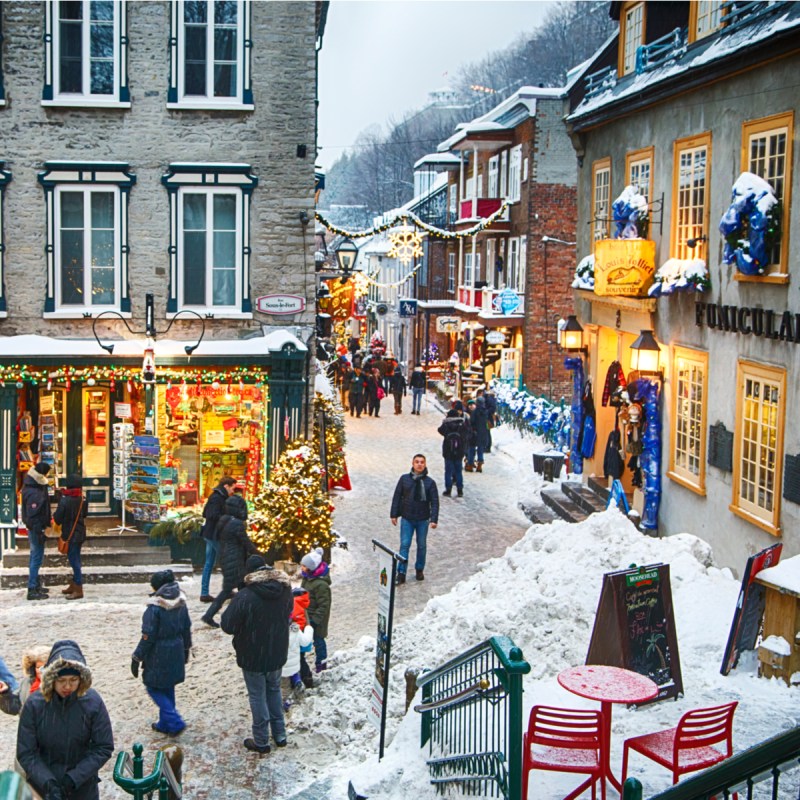 With a nickname like La Belle Province — The Beautiful Province — Quebec has a lot to live up to. Thankfully, Canada's largest province does so with ease. Home to vibrant cities and delightful small towns, Quebec isn't just beautiful. It's practically picture-perfect. Movie pictures, that is!
If you love the twinkling lights, adorable shops, and charming landscapes of a Hallmark made-for-television holiday movie, you'll love visiting Quebec's small towns. It's not hard to imagine these locations as the ideal backdrop for a great love story, be it fictional or, just maybe, your very own. Whether you're searching for love or just celebrating it, these are six destinations that every romantic soul should have on their travel bucket list.
1. Tadoussac
This tiny northern Quebec town with less than 1,000 people oozes seaside appeal. Visitors love Tadoussac for its colorful houses, outstanding whale watching, and unspoiled natural beauty. Fans of the area describe it as one of the best destinations in Quebec for spotting beluga whales, kayaking, and hiking. The fact that local cafes serve up fresh, buttery lobster doesn't exactly hurt the region's reputation as a cozy getaway either.
Just how cozy is Tadoussac? Frequent visitor and communication consultant Paula Schuck describes it by saying, "Whale watching in Tadoussac is magical. A tour could be a wonderful opportunity for a romantic adventure. Also, B and B's are charming and often family-run, so perfect for the plot of a romance movie. Sailing through the colorful fjords with all the seals sunning themselves out along the rocks could almost make you forget how cold it is most of the year! Or just maybe it makes you snuggle in a little closer to your partner on deck."
For the most part, Tadoussac's main attractions and services operate seasonally, and most restaurants, inns, and attractions maintain a full schedule between late spring and early autumn. However, if you don't mind a bit of cold weather, winter in Tadoussac is breathtaking. If Hallmark ever wanted to film a Christmas story about a world-weary fisherman falling in love with a new-in-town baker, this would be the place.
2. Magdalen Islands
If you like your romantic destinations to be especially wind-swept, you need to visit the Magdalen Islands. Going for a long walk on the beach may be a cliche in the rest of the world, but here, it's a way of life. An archipelago of eight tiny islands off the coast of Quebec, the Magdalens offer world-class kayaking, canoeing, and stand-up paddleboarding, plus birdwatching, hiking, and fishing. And, if you fancy a little romance with your adventure, there's always kiting.
The Magdalen Islands are one of the world's top destinations for kite fanatics. Shops offer kite demonstrations and build-your-own workshops. No word is available on whether or not the staff are single but, you have to admit, a kite shop would be a pretty fantastic filming location. Plus, there's well-established precedence for romance, imagination, and kites mixing together. Mega-fans of the television show Friends may remember Phoebe's fictional boyfriend Vikram as a kite designer. Could a Hallmark plot be far behind?
3. Metis-Sur-Mer
Whoever coined the phrase "La Belle Province" must have spent some time in the Gaspe Peninsula. The entire region is so pretty that you can't go wrong no matter which destination you choose. However, if you must narrow down the list, Metis-Sur-Mer should sit near the very top.
In the 19th century, English aristocrats adopted Metis-Sur-Mer as their seaside playground, building fanciful Victorian-esque summer homes, chapels, and even a lighthouse. A touch of garland is all it would take to turn them into the perfect backdrop for a Christmas movie shoot. The community is well known for its lovely gardens, pebble beaches, and little art galleries. It's even home to a covered bridge! All the town needs is an uptight business executive and a devil-may-care confectioner and it has all the makings of a holiday movie classic.
4. Montebello
Life in Montebello is dominated by its namesake hotel, Fairmont Le Château Montebello. This isn't just your average resort hotel. With claims of being the largest wooden structure in the world, this luxury hotel was designed to resemble an opulent log cabin. It has everything you need for a romantic escape, including a massive fireplace, swanky cocktails, a good restaurant, an on-site spa, and a swimming pool you need to see to believe.
$650/nightly avg
Rent Now
Dreaming of North Plantagenet – your dream vacation awaits you
Top guest reviews
I took my two teenage boys and we had a awesome time. The fishing off the dock was great, and I got some much needed relaxation. If we needed anything the owner was right on top of things. I highly recommend staying here.
My husband and I thoroughly enjoyed our stay at this cosy private cottage. Description of cottage is as described in ad. We spent a lot of time out on the water in our boat we sat on the swings in the afternoon and watched the boats go by. I'm hoping to return next year for a full week.
a nice cottage, nice ambience, comfortable and attractive indoor furniture. Good wifi. Good communication with host. Cottage is having some small renos done, but does not suffer for that! pretty sunsets, nice river view.
Read Less ∧
Read More ∨
Rebecca Stanisic, a writer and Hallmark movie fan who lives nearby, said, "We love visiting Fairmont Montebello in the summer and winter months. In the summer, it feels like we are thrown back to the times of Dirty Dancing (without the scandals!) when lounging by the pool after a tennis match is all the effort you want to put into the day. In the winter, when surrounded by Christmas decorations and the jazz music is playing in the lobby, I feel like my cares are pushed aside, and I relish in the quiet while I sip a Negroni, lost in a romance novel."
Set on an extensive piece of property, Le Château Montebello is on one of the last surviving land grants issued by the French monarchy to early settlers of "New France." If that fact alone doesn't bring Hallmark into town to shoot a film about how a long lost prince falls head over heels in love with a hotel housekeeper, nothing will.
Life outside Le Château is decidedly more low-key but just as lovely. The small community of Montebello itself is home to tiny cafes, cheese shops, and chocolatiers.
5. Ormstown
If there's something about Ormstown that looks familiar, you're not imagining things. This sweet little town, home to just a few thousand people, served as the fictional "Briar Falls" in Hallmark's A Majestic Christmas. Yes, Quebec is so Hallmark-worthy that filming really does take place here!
It's not hard to see why visitors (like architect "Nell" and businessman "Connor") fall in love with the community. The cozy streets feature Victorian architecture, red brick houses, and little shops specializing in local food and crafts. Every year, regional food and agriculture are showcased at the annual Expo Orsmtown, one of the oldest traditional fairs in the province. Guests can enjoy livestock shows, equestrian activities, handicrafts, musical performances, tractor pulling, kids' programming, and more.
Alas, there is no movie theater in Ormstown, which no doubt was a little inconvenient to the Hallmark crew, as the plot to A Majestic Christmas centers around the fate of the imaginary Majestic Theater. The team got creative and used the outside of a restaurant to represent the building in question.
6. Wakefield
If it's pretty and romantic you crave, you have to make a stop in Wakefield. This small community, just a short drive away from the province of Ontario and city of Ottawa, is home to a covered bridge (swoon!), a film festival (February's Wakefield Doc Fest), superb live music venues, and even some daredevil fun. Wakefield's Great Canadian Bungee is home to the country's highest bungee jump, at 200 feet – if you ask me, a budding romance between a daredevil bungee employee and a staid but sweet marketing exec would be the perfect Hallmark plot! The gorgeous nearby Wakefield Mill Hotel and Spa is the ideal place for a little post-adventure relaxation and romantic scheming.
7. Quebec City
It feels a bit cheeky to slip Quebec City into this list. After all, it's the capital city of Quebec, not a small town! But it's hard to ignore, especially considering that it holds one of the coveted spots on Conde Nast Traveler's 50 Most Beautiful Cities list. Buildings in Quebec City's old town date back several hundred years, though they're sometimes overshadowed by the formidable Fairmont Le Château Frontenac, whose castle-like turrets help make it the most photographed hotel in the world. Add in the cobblestone streets, the spectacular view over the Saint Lawrence River, and the fact that this is the only place north of Mexico surrounded by fortified walls, and you've got the formula for one magical, movie-worthy destination.
For that full holiday magic, visit Quebec City in February. Yes, it's going to be cold. REALLY cold. It will also be drop-dead gorgeous and tons of fun, as February means it's time for the city's annual festival, Carnaval de Quebec, one of the largest winter festivals in the world.
It's no surprise that many movies have been shot here. Catch Me If You Can used Quebec City's narrow lanes as a substitute for small-town France. Parts of the South Korean-produced series Goblin are shot here, earning Quebec City mega fans around the world. And back in 1953, the entirety of Hitchcock's I Confess was shot here. Could a Hallmark film be next?
Bonus! Three Pines
The tiny community of Three Pines, just a short drive from Montreal and the American border, is rather famous for never appearing on a map. That's exactly how the residents like it. They're happy to keep the sweet little bookstore (which carries internationally-renowned titles from a local poet) and inn-slash-restaurant-slash-antique store (where cops adore the fresh chocolate croissants and steaming bowls of cafe au lait) entirely to themselves.
If you love art, festivals, woodworking, and horseback riding, you can find it all here. In fact, the only thing that makes it the less-than-perfect destination are all the murders. And there's a lot of them. Three Pines is the fictional setting for mystery author Louise Penny's tales of intrigue and deception. Unfortunate deaths aside, it's a reminder of just how inspiring and evocative Quebec's small towns can be. They inspire everyone! If you're not put off, you can catch a glimpse of Three Pines for yourself on the CBC made-for-television movie based on Penny's first novel, Still Life.
Related Reading: