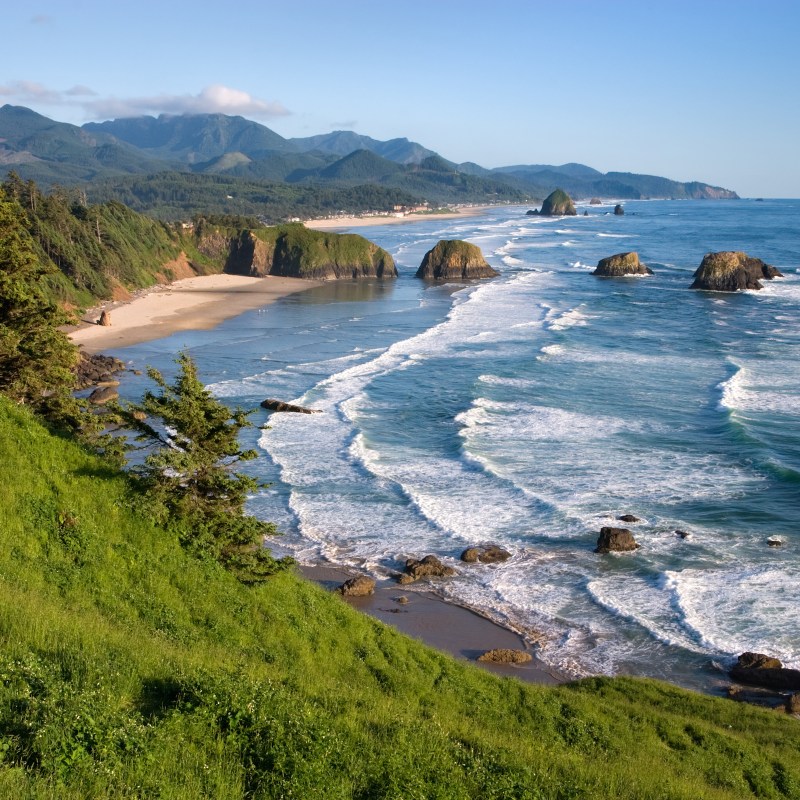 Sometimes being surrounded by rugged, natural beauty makes for the perfect weekend recharge, and there's no better place to get that sort of fix than Cannon Beach, Oregon. This charming coastal enclave in northwest Oregon has it all: incredible hiking trails, varied wildlife, an incredible arts scene, and one of the most dramatic beaches we've ever seen, anywhere in the world!
Here are a few of our favorite ways to spend a perfect weekend in this magical spot.
Things To Do In Cannon Beach
There's no escaping that fact that the outdoor recreation at Cannon Beach is what draws most visitors to the town. While there are seemingly endless ways to enjoy Mother Nature here, Cannon Beach also has loads of history and culture. Here are some terrific things to do during your visit.
Hike Through Ecola State Park
Just 3 miles north of town is the incredible, unforgettable Ecola State Park. The seaside sanctuary is situated on 9 miles of rugged Pacific coastline, and its leafy spruce rainforests peek through at quiet coves and dramatic shorelines. There are many miles of great hiking trails here (paved with moderate grades, and in a variety of lengths) in one of the prettiest natural settings we've been fortunate enough to visit. From Ecola Point looking south, you'll get a bird's-eye view of Cannon Beach's famous landmark, Haystack Rock, rising up from the ocean. Consider packing a picnic lunch and dining on Indian Beach, a secluded sandy spot popular with surfers. And of course, have your phone at the ready to snap the perfect selfie! You could easily spend an entire day here and never cease to marvel at the beauty of the park.
Wander The Beach
Cannon Beach's namesake should also be near the top of your list of places to visit — preferably more than once! The previously mentioned Haystack Rock, rising more than 200 feet out of the ocean, is the star of the shore. At low tide, you can walk right up to the dramatic lava formation. There's something mysterious and mesmerizing about it, and you might just have to sit on the sand for a while to take it all in.
Fun fact: The scene featuring a truck race on the sand in the 1985 cult classic The Goonies was filmed on Cannon Beach.
Word to the wise: Enjoy this beach responsibly. Watch your step, only walk on sand or bare rock to help preserve the area, and leave no trace of your visit.
Keep An Eye Out For Wildlife
While you're out and about exploring Cannon Beach, be sure to keep an eye out for the area's magnificent wildlife. In Ecola's forests, visitors are often treated to Roosevelt elk sightings, and bald eagles are routinely seen flying overhead. Bring binoculars to get up close and personal with the puffins that nest on Haystack Rock. Very often, seals make their way to the beach, and gray whales can be seen off the coast on their migration routes. Don't ignore the tide pools, which teem with tiny creatures including sea stars, anemones, and crabs.
You'll see animals — great and small — all around you during your visit to Cannon Beach. It's part of what makes this area so very special. Just remember to look and marvel, but keep a safe distance from any creatures you might encounter.
Learn About The Area's History
We really enjoy learning about our destination's history when we travel. It gives us a better feel and appreciation for the spots we are fortunate enough to visit. The Cannon Beach History Center and Museum contains a treasure trove of items that bring the town's history to life. Here, you'll learn about the Tillamook people, who first inhabited this beautiful land; the homesteaders who tried to tame it; and its eventual transformation into a resort town. You'll also get to see Cannon Beach's namesake, a cannon from the USS Shark, professionally preserved and now in a climate-controlled permanent display.
Follow In Lewis And Clark's Footsteps
Back in 1806, the Lewis-and-Clark-led Corps of Discovery arrived in the Cannon Beach area after two years of surveying the newly acquired Louisiana Purchase. They had heard that a whale was beached on the shore and hurried to the area to trade for blubber and whale oil with the Native Americans who had discovered the corpse and cleaned it.
There are still places in and around Cannon Beach where you can retrace and remember the explorers' steps. In Ecola State Park, scale the Clatsop Loop Trail to Tillamook Head. It's the path the Corps of Discovery took when they arrived in Cannon Beach, where Clark described the vista as "the grandest and most pleasing prospects which my eyes ever surveyed." We wholeheartedly agree!
A half-hour's drive north of Cannon Beach is Fort Clatsop, part of the Lewis and Clark National Historical Park system. The group set up camp here in December of 1805 once their mission was complete. Today, you can visit a replica of the fort, enjoy tours led by costumed rangers, and imagine what life must have been like for the explorers as they prepared to head back home after their long journey.
Go Gallery-Hopping
In addition to its stunning natural scenery, Cannon Beach is also well known for its thriving arts scene and numerous galleries. Handcrafted masterpieces inspired by the ocean and nature in every medium imaginable are offered for sale, and they would make terrific souvenirs of your weekend here. The town has put together a comprehensive online walking tour that includes all of the not-to-be-missed stops.
Best Restaurants In Cannon Beach
You're not going to find chain restaurants in Cannon Beach. The dining options here are locally owned, which helps the town maintain its coastal charm. Of course, you should expect to find plenty of fresh seafood on the menu no matter where you grab a bite, along with locally grown produce.
To fuel up for a long day of hiking, head to The Lazy Susan Cafe, where loaded waffles and omelets take center stage in the morning; stop for lunch for salads and mains featuring local catches. If you're craving a surf-and-turf meal, Driftwood Restaurant and Lounge is a good choice, with entrees including clams, prawns, oysters, and fresh catches. For a special occasion, Newmans at 988 features French- and Italian-inspired cuisine in an elegant setting, with a chef's choice prix fixe and extensive wine menu. And to sample some suds, Pelican Brewing Company has you covered. With a long tap list and yummy bites, it's a must-stop for beer aficionados and a great place for a post-hike break.
Best Places To Shop In Cannon Beach
Cannon Beach's downtown features a variety of specialty shops in addition to the art galleries mentioned earlier. You'll want to take a couple of hours just to window shop and explore.
Sesame and Lilies blends antiques, natural artifacts, and curated modern furniture pieces for an interior design experience that's sure to leave you inspired. Josephine's is a chic boutique featuring gifts and gorgeous, delicate jewelry. And bibliophiles will love Jupiter's Rare and Used Books, with its wide selection of one-of-a-kind tomes and treasures!
Best Hotels In Cannon Beach
It should come as no surprise that Cannon Beach has a variety of accommodation options, from seaside resorts and quaint bed and breakfasts to homes and cottages for rent.
The family-friendly Surfsand Resort, with its enviable views of Haystack Rock, features a wide variety of room styles and views. Beach cruiser bicycles are also available if you'd like to take a ride up the coast.
The historic Cannon Beach Hotel, built in 1914, is a charming inn with modern, elegant accommodations. It's just a block from the beach, and guests enjoy a full breakfast that's included in their rates.
And for an unforgettable beachside splurge, book a stay at the Stephanie Inn. The inn sits on a quiet stretch of beach, and many rooms have incredible Pacific Ocean views. On-site dining, spa services, and amenities including complimentary wine tastings and nightcaps make this special place a luxe option for your Cannon Beach getaway.
Best Places To Camp In Cannon Beach
While camping directly on Cannon Beach or in Ecola State Park is prohibited, there are other spots in the area where you can rough it on your weekend. For a gorgeous green setting just a walk away from the water, consider Wright's for Camping. The family-owned grounds don't have RV hookups and thus cater mostly to tent campers. There are also showers, restrooms, and laundry facilities on-site.
What To Know Before You Go
The most important tip we can give you for Cannon Beach is to prepare for Mother Nature, no matter when you visit. Bring a waterproof outer layer, since you never know when the skies might open up. Strong, sturdy boots will support your feet while you're hiking and exploring the trails and beach.
Also, be mindful of the tides. Keep track of the time and when the waters rise to ensure you stay safe while enjoying the incredible scenery.