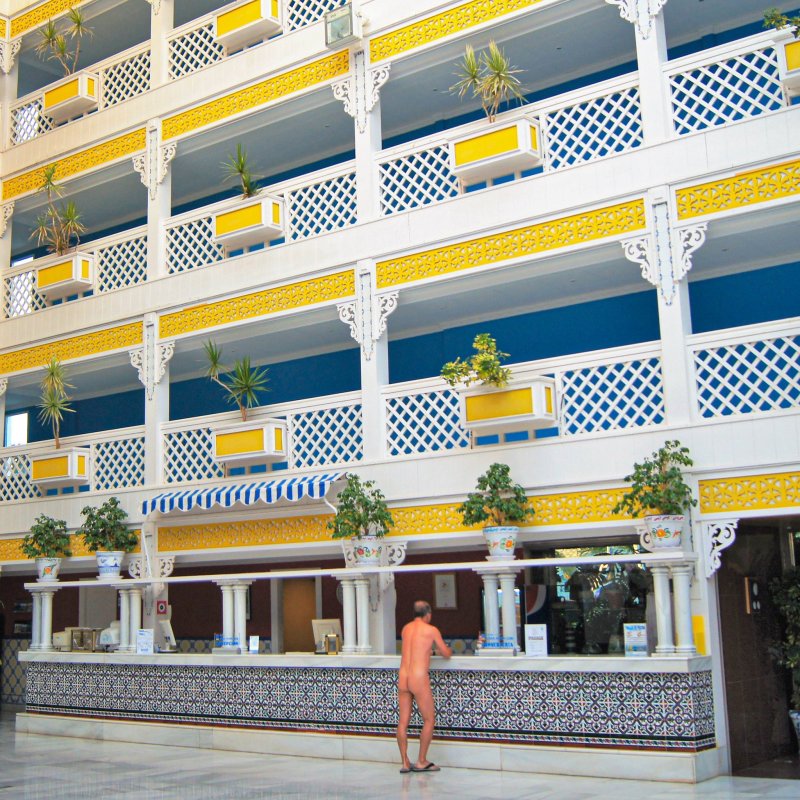 We climbed slowly up the hill. The sun was just lifting itself up above the horizon — a fiery orange ball that portended another scorching day. Gently, we stepped into the spring careful not to disturb the lady, straight back and eyes closed, meditating. A rustle in the nearby bushes broke the silence as a doe with her young broke cover. To our right, a man sat with his first coffee of the day watching the awakening dawn. Strangers all, we didn't speak — we didn't need to. We were warm and relaxed, and we were all naked.
What's A Nakation?
My wife and I were on nakation — a cute name for a nude vacation first coined way back in 2008 by the American Association for Nude Recreation (AANR). On nakation, we enjoy the majority of our time nude. As naturists (or nudists — the words are totally interchangeable) we enjoy living life with like-minded people in the raw when it is comfortable and appropriate to do so. Staying at a clothing-optional resort or enjoying a nude cruise, you can be naked pretty much all the time. Elsewhere, good judgment and a lot of common sense need to be used before stripping off. And in every case, the climate has to be conducive to being sans clothes. Naturists may be many things, but lovers of the cold is not one of them.
Nude Vacations Are On The Rise
More and more people are discovering the joy of life in the buff, and the nakation is one of the fastest-growing sectors of the travel industry. According to AANR, global nude travel was a $300 million industry in 2001, and less than two decades later, it is conservatively estimated to rake in over $530 million annually. In 2016, Florida's tourist department reported nude recreation had generated $7.4 billion of economic benefit in the Sunshine State. Now that's serious money.
Nakations on the water started in 1991 when the first nude cruise set sail with 36 intrepid naturists. They discovered something special; today there are over 30,000 nude sailors regularly crisscrossing the oceans on chartered nude cruises.
And in the UK, Brits are finding the COVID-19 stay-at-home lockdown is the perfect opportunity for not bothering to get dressed and that life in the nude is actually fun. British Naturism, the UK's naturist organization, reports that their membership has increased a staggering 100 percent during the lockdown.
Why Nakations Are Growing In Popularity
1. The Perfect De-Stresser
Vacations are times to de-stress, leave our daily worries behind, and have fun. Ask people to describe what this would look like for them, and many would say lying on a palm-fringed, white beach with warm turquoise waves lapping at the shore, lost in the latest best-seller and sipping a colorful drink with an umbrella in it. Sounds perfect. But is it? You've purchased the latest swimwear but you're wondering if it's revealing too much cleavage and the bottoms annoyingly keep riding up. After a cooling dip in the water, your bathing suit is clinging to you and sand is irritating you in the most inconvenient places. Before heading back to that gorgeous villa, it's time to perform the ritual beach dance — change out of your swimsuit whilst holding a towel to cover bits of you that everyone on this earth has, too. The first thing you do when arriving back at your villa? You likely jump out of your clothes! On a nakation, there are no wet, clingy swimsuits, no performing St.Vitus's dance every time you leave the beach, and smooth, not sand irritated, thighs. And you don't have to stress over what to wear or if it matches. Leave your clothes and stresses behind.
2. The Ultimate Leveler
Naked, you have nothing to hide, you have no pretenses or pandering to others' expectations — you are free to be yourself. Naturists wax lyrical about experiencing a tremendously liberating feeling, and it's as much to do with freeing your mind as well as your body. In the company of other like-minded naturists, you find your prejudices discarded along with your clothes. Subconscious judgments regarding wealth, status, body shape, color, and race are stripped away — you see and get to know people for who they really are, where everyone is different and unique and yet we're all the same. Naturism really is the ultimate leveler.
3. Nakations Are Good For You
Delve deeper, and you realize spending time in the buff offers psychological as well as physical benefits. Studies by psychologists have shown "that participation in actual naturist activities led to an increase in life satisfaction, an effect that was also mediated by improvements in body image and self-esteem." So there you have it — living life nude and taking nakations is good for you.
Wearing fashionably tight-fitting clothes can pinch nerves and possibly restrict blood circulation — neither of which are particularly good for you. Wriggle out of those tight-fitting jeans and let your skin breathe — it may even improve your complexion. And guys, studies have found that men who wore boxer shorts rather than tight-fitting underpants during the day and slept naked had significantly lower levels of damaged DNA in their sperm. Perhaps it's time to go commando after all.
The benefits of vitamin D in your body are well documented. The Mayo Clinic notes that vitamin D can improve bone health and may help prevent certain cancers and the onset of osteoporosis. Recent studies of adults age 60 years and older being treated for dementia also suggested that taking vitamin D supplements helped improve cognitive function. And what better way to get your vitamin D than to let the sun reach you all over — even those parts usually fastidiously kept under wraps?
Finally, we know getting the right amount of sleep is key to feeling good. The National Sleep Foundation tells us a drop in temperature in the evening can promote better sleep quality, so sleep naked, too!
4. Nakations Are Available For All Wallet Sizes
Whether it's a weekend getaway camping at a naturist club or a two-week nude cruise in the Caribbean, nakations can be as affordable as you want to make them. There are naturist clubs all around the world that welcome visitors on daily, weekend, or longer bases who wish to pitch their tent or park their RV at very reasonable rates. A number of clubs and resorts offer accommodation at varying levels of luxury. From a single 200-square-foot room to a fully equipped two-bedroom condo (for example Cypress Cove in Kissimmee, Florida; Mira Vista in Tucson, Arizona; or La Jenny in France), the choice is yours. For the nakation of a lifetime, how about a two-week nude cruise in Bali where you can be nude on board at all times when out of port?
5. Pack Light
Skip the luggage check-in desk and annoying baggage fees. On nakation, where you don't wear clothes for a couple of weeks, what is there to pack? A number of years ago, my wife and I went on a two-week nakation in France with our two young sons. One suitcase with four towels and lots of sunscreen. That was it. Whilst it's always good to take some clothes to keep your options open, carry-on luggage is as much as you will need.
6. It Feels So Good
In the end, taking off your clothes, allowing warm air to caress the whole of your body, unencumbered by clingy clothing just feels so good. Isn't that why we strip down to bikini and shorts on the beach in the first place? Losing those last vestiges of clothing is just the natural progression, and aagghhhh, it just feels so liberating, so free, and oh so comfortable. And why restrict this feeling only to the beach? Why put up with having to constantly adjust your clothing — recovering a fallen bra strap or a skirt that has ridden up and is exposing too much leg — especially when it's warm and sticky? Going without clothes, in the right climate and situation, just feels darn good. Period.
As countries slowly emerge from the COVID-19 pandemic and there is more focus on what divides rather than unites people, now is the best time to try a nakation. Lose your inhibitions and prejudices, jettison life's stresses, and experience an overwhelming sense of freedom, relaxation, and well-being. Once you've tried it, you'll understand why nakations are on the increase and wonder why you didn't nakation before.
Still not convinced? Read up on everything you wanted to know about being a naturist but were afraid to ask.