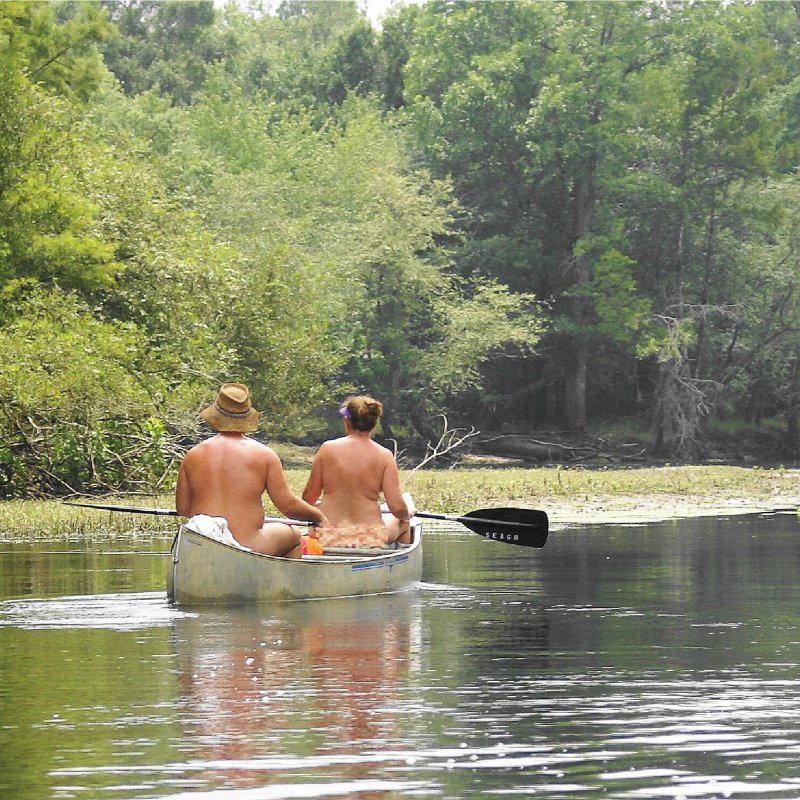 The early morning sun was already streaming through the window when I woke to the chirping of birdsong. Not much else stirred around me as I slipped out of bed, washed the sleep from my eyes, and quickly smoothed my hair. My family members were all still fast asleep as I opened the door, stepped out onto the wooden verandah, inhaled the sweet smell of the pine forest, and stretched. It was warm and I was naked. The quiet was broken momentarily by a cheery Bonjour from my equally unclothed neighbor, who was setting her table for breakfast. I waved. I slipped on my flip flops, grabbed a towel, and closed the door behind me. I placed my folded towel on the saddle of my bike and pedaled sedately down sandy paths through pine trees to the bakery for just-out-of-the-oven croissants. It was the start of another hot day and a ritual I would repeat every morning for the next two weeks. I was warm, free, relaxed, and didn't have a care in the world. I was on vacation and I was naked.
Naturism, often called nudism in North America, has had a litany of definitions over the decades but is most simply defined as "enjoying life without clothes in a socially acceptable manner whenever it makes sense to do so." My wife and I discovered the pleasures of naturism over three decades ago, and our nude vacations have been the most liberating, relaxing, rewarding, and rejuvenating experiences imaginable. It's a cliche, but when you are naked, you feel the ultimate sense of freedom; your stress and worries drop to the floor with your clothes. Vacations are a time to relax, unwind, and de-stress. Some seek solitude in out-of-the-way places to get back to nature and leave the crowds behind. Others just want to chill out on a beach with the latest best sellers. For the more active, messing around in boats or chasing a ball around a golf course all are great escapes. And the thing is, you can still enjoy all these things with a heightened sense of freedom by doing them in the nude.
Clothing-Optional Vacations: It's A Growing Industry
So why are clothes-free vacations and the pleasures of living life sans clothes on the rise? Well, according to a 2019 report, travel industry experts suggest that nude recreation is fast becoming a billion-dollar-a-year industry with a $7.4 billion economic impact in Florida in 2018 alone. Quite simply, more and more people are realizing it just feels so darn good. There is not a word yet that fully describes that first feeling of peeling off your hot, clingy clothes and having a warm gentle breeze waft over your naked body, but it could be a combination of aaagghhhhh, mmmmm, and freeeeeee. Let's be clear, naturists are not foolish — if it's cold, we wear clothes. But generally, we like to hang out in warmer climates where to be naked makes sense. No more wading out of the sea in a wet, clingy swimsuit only to lie down and have sand get into the most irritating and uncomfortable places. No more impossible contortions on the beach trying to change out of said damp clothing whilst holding a towel trying not to expose too much flesh. Why do people skinny dip? Perhaps because it's just easier than messing around with swimsuits, but maybe it's also because it just feels so good having water sensuously caressing the whole of your body. Once experienced, you will be reluctant to revert to swimming clothed (we haven't owned swimsuits since the 1980s). Years ago, we took our two young sons to France for a couple of weeks of lying on the beach, playing in the sea, and exploring the woods. We took one suitcase that contained four towels and sunscreen. That was it.
Another significant benefit of naturism that you won't find described in holiday brochures is the sense of mental and emotional wellbeing that it brings. Stripping away your clothes not only strips away your inhibitions but also your prejudices — baggage perhaps we don't recognize but certainly carry around. Naturism is the most natural leveler. Meeting a naked stranger, you have no idea if they are an international company CEO, the local vicar, an airline steward, or a farmer. They have nothing that allows you to instantly peg them in a certain box. And here's the thing, who cares … really? Naturists wax lyrical about the experience being liberating — liberating the body for sure, but equally important, the mind, too.
Where To Start
This all sounds well and good, but we're not in Europe where ladies go topless, many beaches are nude, and there is an abundance of naturist resorts and options to go naked. So how do you dip your toe into the proverbial naked pool? The obvious step is right at home if you have a secluded garden or can somehow screen off a section in which to enjoy a spot of naked sunbathing. There are not many official nude beaches in North America, but Haulover Beach near Miami, Florida; Gunnison Beach, New Jersey; Blacks Beach near San Diego; and Vancouver's Wreck Beach are all well recognized as nude friendly. There are many deserted beaches where you can, with common sense, strip off. Naturism is not for everybody, so be respectful and cover up if someone approaches — it's never okay to shock or embarrass anyone.
There are also many nudist resorts/clubs that welcome visitors — either for a day visit or longer. A good resource to locate a club is the American Association of Nude Recreation website. The range of facilities varies enormously — from high-end luxury condos including Mira Vista in Tucson or Cypress Cove in Kissimmee, Florida, and all-inclusive resorts including Hidden Beach Resort, Mexico, (which is south of Cancun and Playa del Carmen) to rustic locations where tent or RV camping is the norm. Our personal North American favorites in this category include Bare Oaks Family Naturist Park, Ontario, which has a great family atmosphere; Whitetail Resort, Virginia, which has wonderful indoor and outdoor swimming pools; and Glen Eden Sun Club, California, a great place for nude hiking.
For a more low key introduction to naturism, seek out a clothing-optional bed and breakfast. Nuance Bed and Breakfast in Michigan is a great place to try naturism for the first time. With beautiful surroundings and no more than eight to 10 likely trying naturism for the first time too, this is a no-pressure opportunity to find out what so many have already discovered. Valley View Hot Springs in Colorado is a unique clothing-optional hot springs (and so much more) location that offers naturism in a very natural and wonderfully relaxing environment. What could be better than lazing languidly in a natural hot spring gazing at the stars on a clear night and sharing stories with fellow nudists?
Experiences You May Wish To Avoid
Although bona fide naturist clubs and resorts are first-class places to enjoy the naked lifestyle, some "adult lifestyle" clubs do exist, and it's important to differentiate between the two. To be sure, check with AANR to see if the club/resort you want to visit is an accredited member.
Follow The Naturist Etiquette
As a first-time visitor, someone from the club will typically escort you and show you around the facilities. Believe it or not, this can be the most awkward part as you will be clothed and everyone else (except your host) naked. You will feel like the odd one out and certainly over-dressed. It's only natural that first-time nudists feel a sense of apprehension as they undress. Suggestion: Wear loose-fitting, easy-to-get-out-of clothing. That said, after a few minutes lying on a sun lounger, floating in the pool, or strolling around the grounds, you will forget you are even naked. Really — it's true. Being without clothes in such an environment feels so comfortable and, yes, normal.
There are, as in life, some basic dos and don'ts when in a naturist surrounding. First, always sit on a towel. If there are two things every nudist must have they are 1) a towel and 2) sunscreen. Whilst most clubs will be able to provide you with a towel, it's best to come prepared. Second, do not stare — it's just plain rude anyway. Third, don't behave in an overtly sexual manner — you will quickly be ejected from the club. Sadly, the general public often equates nudity with sex and, therefore, naturism with sexual orgies. This is absolutely not the case, and there is no tolerance for those who behave inappropriately. Finally, taking unsolicited photographs of other naturists is an absolute no-no in most clubs and any photography must be approved by management.
Things You Wanted To Know About Naturism But Were Afraid To Ask
Every newbie to naturism (often playfully called a whitetail) has the same two or three questions or reservations about taking the plunge, so we might as well get them out of the way here.
First: "I don't have the right figure to go nude." Who says? Over the years, we have spent time with nudists from a few days old to folks in their 90s, women with mastectomies, people with missing limbs, folks who were 60 pounds to over 400 pounds, and women sporting newly implanted breasts. And I cannot remember the names of any of them!
Secondly, men are concerned they may get aroused. You won't — there's nothing sexual about a lot of naked bodies unless your mind makes it so. If you do find yourself becoming aroused, take a dip in the water or lie on your front until it subsides. Women often ask if they can keep their bikini bottoms on during that time of the month. Absolutely!
Finally: "I could never do this in case I meet someone I know." Guess what? They are there for the same reason as you. This did happen to me many years ago when I met my secretary at the local naturist club. I have a wonderful picture of the two of us standing together naked. What started as a friendly acquaintance encounter has turned into an enduring friendship. Naturism will do that for you.
Whatever You Enjoy Doing, Doing It Nude Makes It So Much Better
However you like to relax on vacation, doing it in the nude will heighten the experience. Enjoy sailing? Book a nude cruise during which you can be nude on board and visit remote nude beaches. Enjoy running? Sign up for a nude 5k run. Yes, we wear running shoes (and sports bras if necessary). Golf? That's better naked, too. Try it at La Jenny in France's Bordeaux region. And, if you want to live naked for a while, venture over to Vera Playa in Spain or Cap d'Agde or Euronat in France, where you can shop, get your hair cut, and even go to the bank all without clothes. But, be warned, it just makes getting dressed at the end of the vacation so much more difficult.
There is a myriad of options out there for you to try. One thing is for sure: You will abandon your swimsuit for good and wish you had taken the plunge sooner! That, I guarantee.