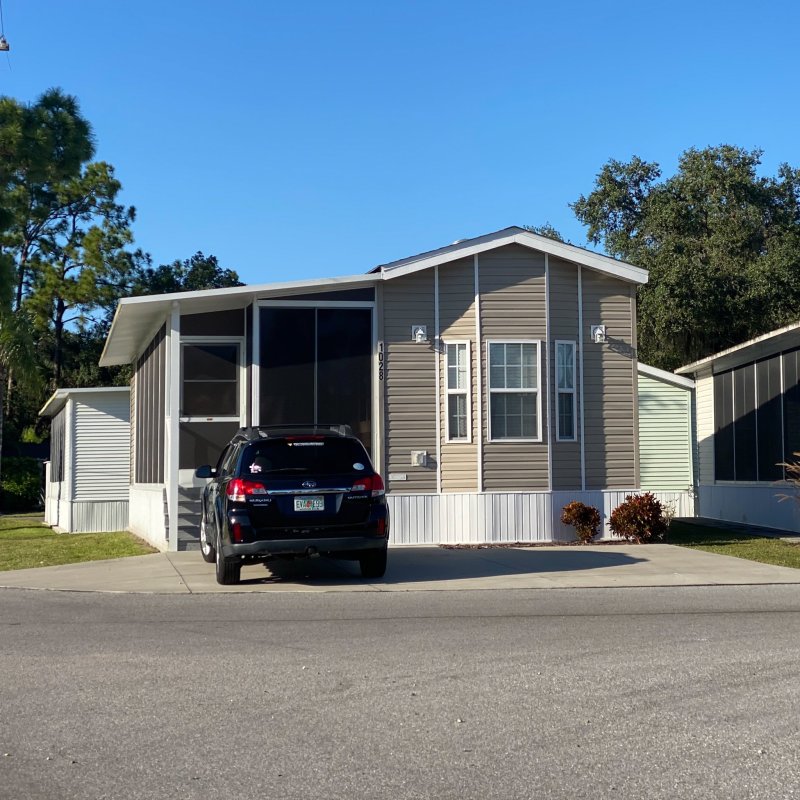 Believe it or not, you don't always have to drive an RV to experience the thrill of staying in one. A concept I've recently learned about is the park model option, and it may appeal to many of you.
I came to know park model RVs after a road trip across Florida to Sarasota and Hudson, staying in two different RV campgrounds on my travels. Let me tell you what a park model RV is and nine things to know before staying in one.
What Is A Park Model RV?
Park model RVs, sometimes known as cottages, are stationary structures laid out in the same manner as an RV. You can rent them at an RV campground and enjoy the same amenities as those who drove theirs in. Park models are built on an RV chassis and towed to the campground, their final destination. They can sleep one to six and have all the comforts of home, just on a smaller scale.
Fun fact: There is a limit to a park model RV's size, with 400 square feet being the max. As a bonus, many of the park models include either a front porch, screened porch, or a loft.
1. They're A Good Way To Test The Waters
Traditional RVs are all the rage right now, and reasonably so. They are considered safer than the exposure of frequenting hotels, Airbnbs, and bed and breakfasts, are inexpensive with gas prices being so low, and are mobile. You can travel as much or as little as you like, all while having the comforts of home on a smaller scale. But whether you'll enjoy the smaller living quarters is another question.
One of the best ways to try out an RV lifestyle is to rent a park model RV, which allows you to test the waters without making a significant investment and maybe living to regret it.
For example, my husband and I did a traditional RV trip, driving across Florida for four days. We stayed two nights in a small campground with about 45 campsites, half permanent residents and half seasonal. The next two nights were at a posh (and huge) RV resort offering many amenities and activities.
It rained cats and dogs — all four long days. Our Minnie Winnie RV was equipped with what I call necessary features like cable and internet. I had no problem finding things to keep me busy, but my husband was more like a trapped cat. I literally had to call Uber to take him to an indoor shopping center for something to do. So we concluded that while I loved RVing, and have been on several since with girlfriends, my husband is not a good fit for staying in an RV, whether park model or traditional.
2. All RV Resorts Are Not Created Equal
You may have to try a few RV resorts before you find the kind you like. There are many different feels, just as with hotels. You may enjoy two or three things, but there may be one deal-breaker that doesn't work for you. Don't let that sway your decision on RVing; try another park model RV in a different campground.
I had an RV trip through New England postponed due to COVID this year. Just looking at the campgrounds I was going to stay at was like flipping through different music genres on Sirius XM. One was quaint and charming with a laid-back vibe, while another had hundreds of things to do, all very high-end, and oodles of park guests. Shop around for what fits you and your lifestyle.
If you are ready to plan your RV trip, GO RVing has sample itineraries and terrific information on campgrounds.
3. Bring As Much Or As Little As You Want
Park model RVs are almost 100 percent turnkey. At the two I recently visited — Sun n Fun RV Park, a part of Sun RV Resorts in Sarasota, and Barrington Hills, a part of Encore RV Resort in Hudson — the only things I needed to bring from home were beach towels and food.
Park model RV kitchens are fully furnished, most with dishwashers, microwaves, and space to prepare a gourmet meal with ease. They also include kitchen utensils, cookware, bakeware, a toaster, a microwave, and a coffee maker. I was surprised to see a tea kettle and crockpot in my units — definitely bonus features.
My unit at both parks had two bedrooms, 1.5 baths, a kitchen/dining room combo, and a living room. A washer and dryer were in a closeted area off the kitchen. An enormous screened-in porch also had a locked storage room with a broom, trash can, and plenty of storage space for coolers, fishing gear, bicycles, and other large travel items.
The bedroom and bathrooms were also stocked with clothes hangers, a laundry basket, hairdryer, extra blanket, iron, and a small ironing board.
4. You Choose Your Entertainment
Make sure you choose a campground that has things to do. You are in charge of deciding how much (or how little) you want to do. At Barrington Hills, the heated swimming pool, fitness center, pickleball, billiards, darts, and shuffleboard looked enticing. Many activities had not yet started for the season due to COVID but will be back soon, including bingo, poker night, and potluck meals.
5. Cooking In Saves Money
Cooking in your park model RV, which is probably smaller than your kitchen at home but every bit as state-of-the-art, is a breeze. It also saves you money by avoiding pricey restaurant meals and the added expense of tips. Plus, you can stay extra safe during COVID by not having to go out. Though I didn't cook on this trip, I have enjoyed cooking in the RVs I've used in the past.
Most campgrounds have grills you can use, or you may bring your own. There should be plenty of space to use it at your campsite. You can eat your meals on the enticing screened-in porches for a change of scenery. And if you are like me, leftovers — heck, who am I kidding — half my meal goes to my dog, who is always at my heels begging. Many campgrounds allow you to travel with your four-legged best friend(s). Both Barrington Hills and Sun n Fun RV Park were pet-friendly, and many of the campers were traveling with pets.
6. Price Comes Down To Location And Timing
Renting a park model RV will depend on the season and the location you are staying at in the campground. Of course, speaking about Florida, rates will be higher from November through March, when our peak season rolls around. Just as the birds do, many northerners migrate south to escape the bitter cold and enjoy a favorable outdoor climate year round.
If you are looking to visit during a major holiday, expect to possibly pay more, just as you would a hotel.
7. You Choose The Temperature
All park-model RV units have heating and AC, which add to the allure for shoulder season use. Many even have electric or gas fireplaces. How cool is that? No pun intended. For writing and review purposes, I cranked the heat and AC on in both units, and they were powerful and heated or cooled the unit in minutes.
8. You Can Own A Park Model RV
Park model RVs can be owned by the campground or the person who uses it as a seasonal vacation home. In essence, you can buy your park model unit and use as much or as little as you like, or even consider renting it out while you are not there — a great way to make a little money. Of course, you would need to check with the campground to make sure this is allowed in the bylaws.
9. What To Bring: The Extras
Here are some things I think you might benefit from bringing to your park model RV stay:
Games/cards
Flashlight
Water bottle
First-aid supplies
Camera
Binoculars
Toiletries
Bug spray
Sunscreen
Beach towels
Plastic wrap
Paper towels
Garbage bags
Lighter/matches for grill
Folding chairs
Picnic blanket
Staying in a park model RV is a really fun way to explore an area and have the comforts and amenities of home. Enjoy this new type of accommodation, and stay safe.