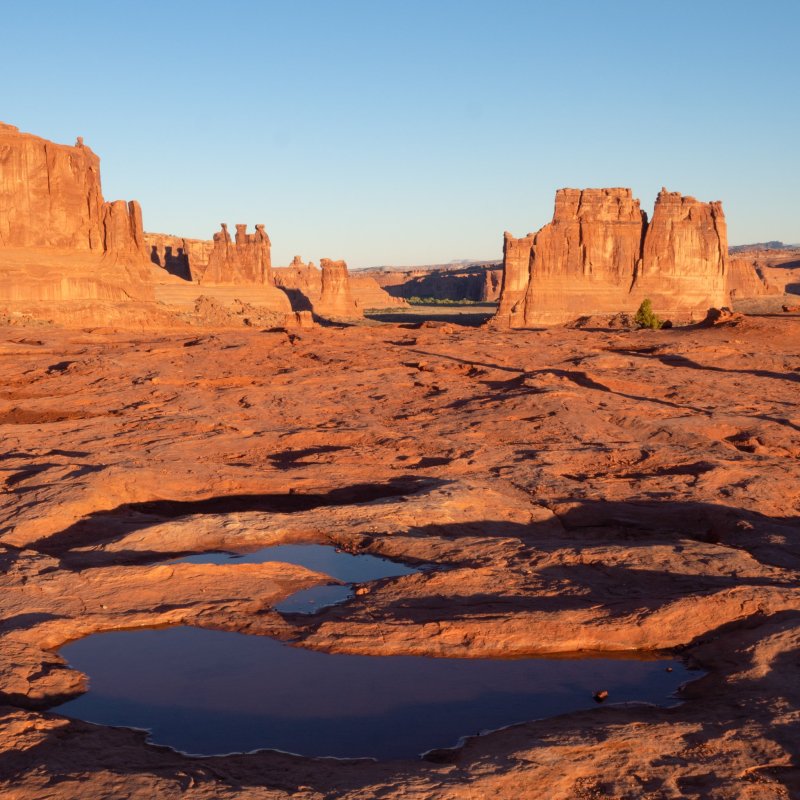 Located in eastern Utah, Moab is surrounded by natural beauty, rugged landscapes, and national and state parks that are ideal for photographers and outdoor enthusiasts.
The terrain is a product of erosion, with softer rock yielding to water and wind, leaving behind arches, striated canyon walls, hoodoos, and towering monuments.
Moab is centrally located and offers visitors a wide range of recreational opportunities, restaurants, and accommodations to suit any taste and budget.
Things To Do In Moab
It won't be possible to see everything in a long weekend, but three days would provide a great introduction to all that Moab has to offer. If your passion is photography, you can visit the nearby national and state parks at dawn and dusk for photoshoots and enjoy midday recreation.
Here are just a few of the many things you can do on a visit to Moab.
Visit Arches National Park
Just a few miles from Moab, Arches National Park has more natural sandstone arches than any place in the world. You'll find plenty to photograph within the park at both dawn and dusk. Delicate Arch is the most photographed arch in the world and is visible from several trails, ranging from an easy and accessible half-mile trail to a strenuous 3-mile hike.
Landscape Arch is another highly photographed arch. It's the longest arch in the world, beating out Zion National Park's Kolob Arch by just 3 feet. The arch tapers at one end and has shed some car-sized chunks of sandstone, leading park rangers to wonder if the arch will eventually collapse or if it has balanced itself and will continue its 306-foot span. The easy, paved Devils Garden Trail ends at Landscape Arch. A primitive trail continues from there, passing several other photogenic arches.
Unlike Delicate and Landscape Arches, Double Arch is massive, dwarfing anyone who climbs the short trail to stand beneath the expanse.
The beauty of Arches National Park is not limited to its arches. The park is filled with red rock formations, spires, and hoodoos. The Three Gossips, a mountain with three hoodoos, and the gravity-defying Balanced Rock are two other popular formations in the park.
Many of the park's arches and rock formations can be seen from your car or accessible viewpoints. Here is a list of accessible trails.
Pro Tip: For the best photographs, split your visit to Arches National Park into sunrise and sunset tours. The Three Gossips, Landscape Arch, and Double Arch are best photographed at dawn. Delicate Arch and Balanced Rock are best photographed at dusk.
Visit Canyonlands National Park
While Canyonlands National Park may be best known for its panoramic views of the Colorado River, it also has arches. Located 30 miles from Moab within the Island in the Sky section of Canyonlands, Mesa Arch is probably the most photographed, since it frames the La Sal Mountains. An easy half-mile loop trail leads to the arch.
The enormity of Canyonlands National Park is best appreciated from scenic overlooks in the Island in the Sky section of the park. The Colorado River has carved its way through sandstone, leaving colorful canyons along its serpentine route. The Green River and Grand View Point Overlooks are must-sees along the 34-mile round-trip scenic drive. The Grand View Point Overlook is just as advertised, with views of the distant Needles and Maze sections of the park that require a bigger time commitment to visit.
Here is a map of the Island in the Sky section and a link to the accessible trails and overlooks in the park.
Pro Tip: Mesa Arch is best photographed in the morning and continues to glow red even as the sun rises. The Green River Overlook is the most colorful from the late afternoon to sunset.
Enjoy The View At Dead Horse Point State Park
On the way to Canyonlands National Park, Dead Horse Point State Park is worth a stop. From the overlook, you'll be able to photograph a panorama that includes the La Sal Mountains and steep canyons rising above a sharp bend in the Colorado River. The point is named for the area where cowboys of the early 1800s used to corral and sort wild mustangs, leaving the unhealthy ones behind to succumb to dehydration within view of the Colorado River but thousands of feet above it.
Visit Monument Valley
Monument Valley, located within the Navajo Nation in Arizona, is 150 miles south of Moab but well worth the drive. Sweeping valleys punctuated with mountains rising thousands of feet above provide a dramatic scene for photographers. Monument Valley will likely look familiar to you, since more than a dozen movies have been filmed there.
Travel within Monument Valley is restricted to a 15-mile dirt road that meanders through the park. Near the entrance, a scenic overlook allows you to photograph the most iconic mountains. For a more in-depth view of Monument Valley, you'll need a local guide. Dineh Bekeyah Tours offers 4-hour photography tours at sunrise or 3-hour starlight or full moon tours.
Go Off-Roading
Get off the main roads and into the backcountry to see canyons, petroglyphs, and unspoiled scenery on the Hell's Revenge Trail. The Moab Tour Company allows you to drive your own 4-seater ATV following a guide. The tour lasts 2.5 hours. If you prefer to have someone else do the driving and are interested in tackling obstacles that you wouldn't attempt on your own, Xtreme 4×4 Tours offers 2-, 3-, and 5-hour tours.
Hit The Water
The Colorado and Green Rivers provide many opportunities for recreation. Stand-up paddleboarding, kayaking, whitewater rafting, and blasting down the river on a jet boat all make great midday outings. Paddle Moab offers beginner-friendly half-day tours with a low guide-to-participant ratio. Adrift Adventures offers half-day kayaking and whitewater rafting tours on the Colorado River. Typically, a guide leads four guests in one- and two-man kayaks, while rafts hold eight guests plus a guide. For a New Zealand-style jet boat experience on the Colorado River, Moab Jett offers both adventure and scenic tours. On a hot summer day, you can expect to get wet on the adventure tour.
Pro Tip: Adrift Adventures can accommodate wheelchair-bound guests provided they have enough upper body strength to paddle. Moab Jett can also accommodate wheelchair-bound guests on the scenic tour and on privately chartered adventure tours.
Go Stargazing
Arches, Canyonlands, and Dead Horse Point are all designated International Dark Sky Parks. If your visit coincides with a new moon, the skies will be especially dark. Summer brings ranger-led stargazing tours at various locations in the parks.
Best Restaurants In Moab
98 Center Moab
98 Center Moab owners Frankie Winfrey and Alex Borichevsky source locally grown organic food and Utah-brewed beer for their local fusion menu. You can't go wrong with an artisan salad.
Desert Bistro
Desert Bistro is a must for fine dining, even though the atmosphere is casual. Their Southwestern cuisine ranges from bison empanadas to Colorado lamb chops. The menu includes vegan dishes, too. Outdoor dining is an option.
Sunset Grill
For the best sunset and city views, plan to have dinner at the Sunset Grill. It's perched on a hillside in the former home of Charlie Steen, a geologist who discovered uranium in the area. They have an extensive menu and provide a shuttle service from local hotels.
Best Camping In Moab
Sand Flats Recreation Area
About 3 miles west of Moab, the Sand Flats Recreation Area has nine campgrounds with 120 campsites and vault toilets. There are no RV hookups. Thirty campsites accommodate RVs up to 40 feet in length. Campers can enjoy spectacular views of the La Sal Mountains, canyons, and domes. The area is home to the Hell's Revenge and Fins and Things Trails plus bicycle trails for experienced cyclists.
Big Bend Campground
This campground, nestled between the red rock formations and the Colorado River, is 6 miles northeast of Moab by way of the scenic State Highway 128. It is suitable for tents, campers, and small RVs. It's ideal if you want to unplug, since there's no cell phone service. The Bureau of Land Management's website highlights additional area campgrounds and their amenities.
Canyonlands RV Resort & Campground
You'll pay more to stay in this RV park with full hookups, a pool, and plenty of shade because of its central location. It is within walking distance of the downtown restaurants and shops. The resort also includes rental cabins, some of which are ADA compliant.
Best Hotels In Moab
Sunflower Hill
Mature trees and lovely gardens surround this charming bed and breakfast. Each room is unique, and you'll be treated to a homemade breakfast.
Gonzo Inn
The Gonzo Inn has spacious rooms and suites. All have private patios with views of Moab's red rocks. The hotel is pet-friendly and has ADA-compliant rooms.
Comfort Suites
This hotel has clean, comfortable rooms at an affordable price on the north end of Moab's main street, just 5 miles from the Arches National Park entrance. Accessible rooms are available.
What To Know Before You Go
The milder temperatures in the spring and fall make these seasons ideal for visits.
Wear sturdy walking shoes, and bring water. I carry a lightweight, collapsible, refillable bottle. If you're a photographer, bring a wide-angle lens for your camera to capture the panoramic views. Also bring a red light flashlight or cover a white light flashlight with red cellophane. Red light doesn't interfere with night vision.