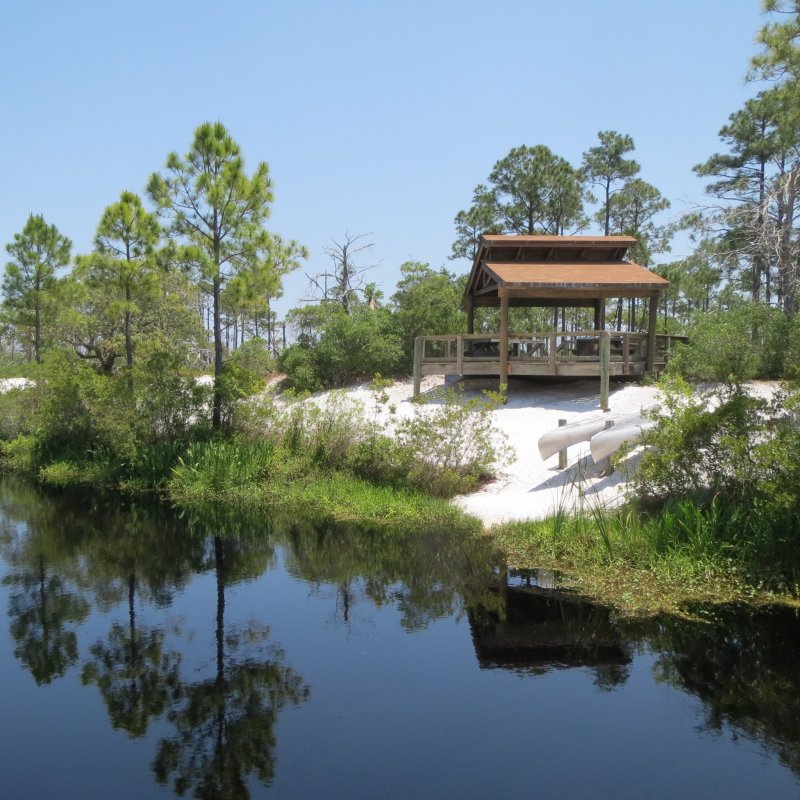 The U.S. Gulf Coast isn't the first place most people think of when it comes to hiking. With its flat, sandy terrain, hikes here are relatively short and not difficult at all. But what it lacks in difficulty is more than made up for in the beautiful landscapes and scenery that unfolds around every bend.
There are many great places to hike along the central Gulf Coast from Pensacola to New Orleans, but in all my travels to the state parks, preserves, and refuges of the region, these nine hikes really stand out and shouldn't be missed when you're visiting the coast.
Before heading out to any of these parks, please visit the website included in the description for the latest hours of operation and restrictions; 2020 has been a rough year along this section of the Gulf Coast with a record-breaking number of hurricanes battering Louisiana, Mississippi, Alabama, and Florida. It may take a while for the parks to fully reopen.
1. Big Lagoon State Park
Pensacola, FL
Only 15 miles southwest of downtown Pensacola, nestled between the beautiful, mirrored waters of Big Lagoon and the Gulf of Mexico, is the picturesque Big Lagoon State Park.
The park has over 5 miles of trail that form a sweeping, moderately difficult loop hike around the park's namesake lagoon and Long Pond where blue heron wait patiently, eyeing the fishermen and crabbers who wet their lines in these waters in hopes of picking up an easy meal. As you walk around Long Pond, you will learn about the coastal environment and wildlife through interpretive signage.
The gnarled trunks of sand live oaks, sand pine, and needlerush line the path as it makes its way to the Gulf where you will visit the park's amphitheater where regular nature presentations are given and also visit a highlight of the hike — a three-story-tall observation tower in the center of a half-mile long boardwalk where you will have breathtaking views of the Gulf and lagoon. If you would like to take a swim, at the north end of this boardwalk there is access to a Gulf beach along with restrooms and a shower to wash off the saltwater.
Please visit Big Lagoon's website for hours and the latest day use fee schedule. The park has plenty of improved (water and electricity) tent campsites, full-hookup RV sites, and cabins so you can spend a peaceful night along the shoreline. Visit their lodging website for the latest prices and to make reservations.
2. Fort Pickens
Gulf Islands National Seashore, Pensacola, FL
Historic Fort Pickens is located on the extreme western tip of Gulf Islands National Seashore in Pensacola. The drive to the fort along the narrow barrier island is an amazing sight in itself with the glistening white beaches and turquoise waters of the Gulf of Mexico to the south and Pensacola Bay to the north.
You can drive directly to the almost 200-year-old fort, but why do that when there is a beautiful 2.2-mile out-and-back hike to it along a portion of the famous Florida Trail?
This is an easy hike along a sandy footpath that takes you across a scenic bayou with waving seagrasses and wildflowers in season and a short side trail that takes you to an expansive view of Pensacola Bay.
The fort has a rich and storied history that dates back to its construction in 1829 when it was commissioned to protect Pensacola and the nearby Navy Yard. The fort saw what was described as the heaviest artillery barrage in the world during the Civil War and the Battle of Santa Rosa Island.
Begin this hike at the Battery Worth parking lot and pick up the orange-blazed Florida Trail to the west. After visiting the fort, simply turn around and head back the way you came.
The fort is part of the Gulf Islands National Seashore and is maintained and managed by the National Park Service. It is open from 5 a.m. to 9 p.m. March to October and 5 a.m. to 6 p.m. November to February. National Park passes are accepted here, otherwise, there is a $25 per vehicle (with fewer than 15 people) day-use fee. Camping is also available. Keep in mind that there isn't a nearby restaurant or convenience store, so pack along a lunch, snacks, and drinks, and please practice Leave No Trace.
3. Pine Beach Trail
Bon Secour NWR, Gulf Shores, AL
The Pine Beach Trail at the Bon Secour National Wildlife Refuge in Gulf Shores is a phenomenal walk any time of the year. The 4-mile out-and-back hike is an easy walk that takes you through a transitional coastal environment beginning with a beautiful maritime wetland lined with Spanish moss-draped oak trees and deep rows of saw palmetto and wild rosemary, past the shimmering saltwater Little Lagoon and freshwater Gator Lake, eventually arriving at one of the most secluded beaches on the Alabama Gulf Coast, a prime nesting area for loggerhead sea turtles.
The hike is highlighted with many species of animals who call the refuge home (after all, Bon Secour is French for safe harbor). Along the way, you may see American alligators, bald eagles, osprey, and the Alabama beach mouse. Pack along a lunch and spend some time viewing the wildlife from atop the two-story observation building.
The refuge is open from sunrise to sunset. Admission is free. Dogs are not permitted in the refuge. Swimming is allowed on the beach but remember, there are no lifeguards here. Swim at your own risk.
4. Jeff Friend/Centennial Trail
Bon Secour NWR, Gulf Shores, AL
Another amazing hike at the Bon Secour National Wildlife Refuge combines two of the facility's trails — the Jeff Friend and Centennial Trails — for a beautiful 5-mile lollipop loop that takes you through an incredible wetland that is lined with wildflowers and blooming water lilies in season and the tranquil waters of Little Lagoon.
For those of you with very young children or with special needs, the 1-mile-long Jeff Friend Trail loop by itself is a wonderful trip where they can experience the wonders of nature on boardwalks along the banks of Little Lagoon.
The longer 5-mile trip includes the Centennial Trail (a 4-mile out-and-back) that gives you a chance to visit those beautiful wetlands. It also connects to the Pine Beach Trail mentioned earlier for an even longer trek if you're up to it.
Admission is free. The parking area for this hike is gated and is open from sunrise to sunset. Dogs are not permitted in the refuge.
5. Perdido River Trail
Robertsdale, AL
The Alabama Gulf Coast's only backpacking trail, the Perdido River Trail, parallels its namesake river that forms the border of Alabama and Florida. The trail is 20 miles long, leading you through cedar bogs and some great swimming along the many sandbars that dot the black water river (the river is actually tea color, colored by the tannin from the trees that line the banks).
You don't have to hike the entire 20 miles. Most people prefer to hike a section of the trail, the most popular being a 2.8-mile out-and-back that begins at the trail's southern trailhead. The path meanders along a sand and dirt footpath, through an Atlantic white cedar bog, and ends at a great — and big — sandbar for swimming. If you want to backpack the entire trail, trail shelters are available on the path on a first-come, first-served basis.
This trail is in a state wildlife management area, and hunting is allowed in the fall and winter. Check hunting season dates and times before heading out. And when hiking in the summer, put on the insect repellent. And keep an eye on the river stage. Anything over 13 feet means the trail is underwater and impassable.
6. Escatawpa Trail
Moss Point, MS
Picture this: You're traveling down I-10 westbound from Alabama to Mississippi. It's been a long drive and you're tired and need to stretch your legs. You pull into the Mississippi Welcome Center just past the Alabama state line, and instead of walking to the vending machine or restroom, you take a hike — a nice little easy walking 1.4-mile loop located right at the welcome center.
It's called the Escatawpa Trail, part of the Grand Bay National Wildlife Refuge, and is a surprising little hike with an abundance of beautiful wildflowers in season and two panoramic views of the Escatawpa River from viewing platforms high above the river on a bluff.
The gate is open from sunrise to sunset. Be sure to put on insect repellent in warmer weather.
7. Fontainebleau Trail
Mandeville, LA
Fontainebleau State Park in Mandeville, Louisiana, is like a picture postcard, the quintessential image of what you would expect in the Southern outdoors. The park's two main trails — the Bayou Cane Hiking Trail and Sugar Mill Nature Trail — are combined for a fantastic 4.6-mile easy walking double loop hike that leads you to dark green bayous, expansive salt marshes, flowing Spanish moss-draped oak trees, the remains of an old sugar mill, and lots of hospitality. At one time there used to be a third trail, the Alligator Marsh Trail, that would take you far out into a marsh where you would be walking among the gators, but it was destroyed by hurricanes. Hopefully by the time you read this, it will be reconstructed.
The trails are six to ten feet wide grass and gravel paths that are lined with French mulberry, wild grape, and yaupon. A choir of cicadas will serenade you as you walk, and don't be surprised if white-tailed deer dart out in front of you. Along the route, a few short side trails lead you to the edges of the marsh where tall live oaks draped in Spanish moss invite you to sit down at the picnic tables, eat lunch, and reflect.
Visit the park's website for current hours of operation and to find out about camping options.
8. Fiddlers Loop
Grand Isle, LA
The drive from New Orleans to Grand Isle is a long, beautiful trip through quaint little towns with tall shrimp boats lining every bayou and expansive views of Louisiana's intricate marshlands and rivers before heading far out into the Gulf of Mexico and Grand Isle State Park, where you will find this 2.1-mile loop hike — Fiddler's Loop.
This hike begins at the six-story tall observation tower that you can climb for expansive views of the gulf. There is a visitor center here with restrooms and some nice exhibits showing how humans and the elements have shaped this bustling beach community.
The trail is made up of sand and dirt footpaths and some long boardwalks over an inlet to a lagoon where the deep blue Southern skies are mirrored on its surface and you will have some amazing views. From spring through late summer, wildflowers brighten the hike especially on the north side of the hike.
Tides can be an issue on this hike. During high tide, the trail could be underwater. The drive down Louisiana 1A to the park has a $5 toll. Visit the park's website for current hours of operation.
By the way, for you fishermen out there, Grand Isle is recognized as one of the top 10 fishing spots in the world. Each July, the world-famous Tarpon Rodeo is held here.
9. Barataria
Marrero, LA
The absolute best place to experience the swamps and bayous of Louisiana is at Barataria Preserve, part of the Jean Lafitte National Historic Park and Preserve.
Operated by the National Park Service, the preserve encompasses 23,000 acres of marshes, bayous, swamps, and hardwood forests, and you can explore this beauty on one of the preserve's trails. There is the Marsh Overlook Trail, a long series of boardwalks over dark green waters with cypress knees jutting out. The Bayou Coquille Trail that is brimming with informative signs describing the marsh eco-system. The Palmetto Trail where you will be walking through tunnels of palmetto fans. And the Marsh Overlook Trail which leads you to an expansive, breathtaking view of one of the state's famed marshes.
Keep your eyes peeled as you walk the trails. You may spot bobcats, nine-ringed armadillo, marsh rabbits, or minx. And of course, there are alligators here, too.
Be sure to begin your hike at the visitor center, where there are nice, clean restrooms, filtered water fountains where you can fill up your tallest bottle, and exhibits. Talk to one of the rangers and sign up for one of their free guided tours.
Please visit the park's website for the latest hours of operation. Admission is free. Dogs are not permitted on the trails.
Pro Tips
Remember, you will find alligators just about everywhere you hike along the Gulf Coast. If you encounter one, keep your distance and keep children and dogs close at hand and back away until they move on. If they don't, turn around and head back. Gators look like they're slow, but they can have a surprisingly fast burst of speed for a short burst. And do not feed them!
The Southern sun can be dangerous, and most of the trails you will find here have little to no shade. Be prepared by wearing a hat, putting on sunscreen, and bringing along (and drinking) plenty of water. And don't forget the insect repellent in the summer months. For more hiking inspiration, consider