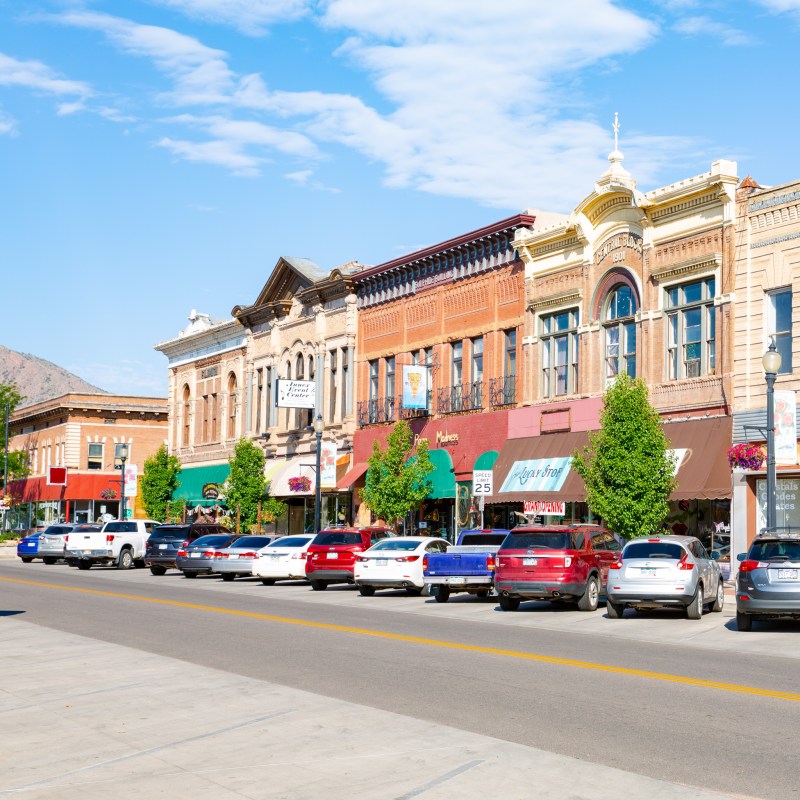 While the Pike's Peak Gold Rush brought the first settlers to Cañon City, the city has grown since its Wild West origins and is now known for its abundance of wild, natural beauty.
This beauty is celebrated with breathtaking views at Royal Gorge, along the Royal Gorge Route Railroad, on scenic drives, and in public parks. The history of the area is still recognized, and as such, the Cañon City Downtown Historic District was listed on the National Register of Historic Places in 1983. A visit to the area combines the old with the new and immerses visitors in this adorable city's history and beauty.
Things To Do In Cañon City
I was invited to Cañon City to view the beauty up close with a stay in a charming cabin, a ride on the Royal Gorge Route Railroad, and plenty of stunning — yet hair-raising — adventures at the Royal Gorge Bridge and Park. Here's what I found.
1. Royal Gorge Bridge
There are several adventures at the Royal Gorge Bridge and Park, both natural wonders and those created for the thrill-seeker. At over 956 feet above the Arkansas River, the bridge is one of the world's highest suspension bridges. Walk or drive across the slatted bridge to discover fun activities on both sides of the gorge.
2. Royal Gorge Bridge And Park
In addition to the stunning views overlooking the canyon, there are several adventures waiting for those who aren't faint of heart. I'm not a thrill-seeker, but my companion reveled in riding the gondola across the canyon and zip-lining on the Cloudscraper Zip Line. Neither of us dared try the Skycoaster with its 50-miles-per-hour free fall, but it is a great opportunity for those the adrenaline junkies in your group.
For kids, there's the Tommy Knocker Playland.
3. Via Ferrata
For those who want to try climbing, there's a mountaineering experience on the gorge walls called Via Ferrata. You can hike and climb the granite rock walls on a guided climbing tour, with different challenge levels from easy to difficult.
4. Royal Gorge Route Railroad
The Royal Gorge Route Railroad is a 2-hour scenic ride that travels 24 miles from Cañon City to the Royal Gorge Bridge and back. Enjoy fine dining in one of the dining cars, and then step outside onto one of the open-air cars and see the scenery as you are mere inches from the rock walls. Learn more about the railroad in this article I wrote about Colorado train rides.
It's a tough decision whether the food or the scenery is more spectacular, but luckily you can enjoy them both. Choose from the dome car on the second level of the train or one of the dining cars for breakfast, lunch, and dinner train rides.
5. Tunnel Drive Trail
There's a 4-mile round-trip Tunnel Drive Trail that follows an old irrigation canal not far from town. This hike provides excellent views of the Arkansas River and the Royal Gorge Route Railroad.
6. Echo Canyon River Expeditions
The rafting season ended just a week before our arrival, but years ago, on a family trip, we rafted Echo Canyon with Echo Canyon River Expeditions. Since the tour company offers calm day trips or extreme whitewater experiences as well as camping and rafting adventures, there's something for every skill level.
After a day on the water, 8 Mile Bar and Grill is known for its burgers and fish tacos, but a local told me that the ahi tuna salad is one of the best she's ever tasted. There's a 16-tap bar with local and classic brews on tap, making it a favorite hangout for the after-rafting crowd.
7. Garden Park Fossil Area
Enjoy an abundance of public parks and paleontological sites such as the Garden Park Fossil Area, where dinosaur fossils have been discovered.
8. Red Canyon Park
One park you won't want to miss is Red Canyon Park, with its beautiful red rock formations that have become canyons and monoliths over time. Explore the 640-acre park on or off the designated trails.
9. Skyline Drive
Drive Skyline Drive, a 2.6-mile route that is breathtaking as well as challenging with a steep incline, at times narrow passages, and a rising and falling route. Luckily there are frequent pullouts so you can pull over and take in the view without driving.
10. Museum of Colorado Prisons
We passed the Colorado Territorial Correctional Facility, in continuous operation since 1871, several times and wondered about it. It turns out there's a museum located in a former women's prison that sits adjacent to the correctional facility. The Museum of Colorado Prisons gives you a glimpse into the Colorado prison system's history and operations with exhibits that tell the story of its past set in an actual prison. View preserved inmate cells, along with artifacts related to infamous Colorado criminals.
11. Royal Gorge Dinosaur Experience
Every day, as we would drive from one activity to another, we saw dinosaur statues. My companion commented that the Cañon City area is big on dinosaurs. If you're interested as well, one place to get your fill and experience dinosaur history up close is at the Royal Gorge Dinosaur Experience. It's a fun and educational way to learn about Colorado's paleontological history with interactive exhibits, full-scale fossil casts, actual dinosaur fossils, guided tours, and even an outdoor multistory ropes course.
Best Restaurants In Cañon City
Colorado cuisine is a melting pot of cultures and flavors, and Cañon City is no exception. I mentioned some restaurants that are located on-site at attractions, but you'll also want to head into town and sample some of these local favorites.
Owl Cigar Store
The historic Owl Cigar Store is a Cañon City institution. And rather than a cigar store as the name implies (it was a cigar store until the mid-90s), you'll find an American diner and pool hall known for its burgers and shakes.
Pizza Madness
A local hangout, Pizza Madness serves award-winning pies in a fun atmosphere. The pizza options are unique: Choose from white, wheat, or gluten-free crust; marinara, pesto, Alfredo, barbecue, or garlic and olive oil sauces; and a variety of vegetable, meat, and cheese toppings. Go with the local taste and order the Colorado with chicken, green chilis, black olives, and bacon.
Le Petite Chablis
Taste authentic French cuisine served in a romantic setting at Le Petite Chablis. Start with either the French Onion Soup or Escargots de Bourgogne with a half dozen snails served on a shell with garlic parsley butter. For the main course, try the Canard a l'Orange, a half duck that is roasted, boneless, and served with an orange Au Marnier sauce, or one of the fresh seafood options such as the Truite Rouge Amandine — fresh red trout sauteed with lemon butter and almonds.
Nirvana Culinary Paradise
We stumbled upon Nirvana Culinary Paradise as we arrived in Cañon City hungry after a hike and a drive that morning. The authentic North Indian food hit the spot. We started with the Momo, dumplings filled with chicken, and then ordered the Chicken Tikka Masala and Shrimp Tandoori for our main dishes. We both ordered the spice level three (with a choice of one through five), and the heat was pretty intense — but extremely tasty. The dishes came with basmati rice, and we ordered buttered naan to enjoy with the meal. Both of us got to-go boxes and took the leftovers to the cabin with us to enjoy as a snack later.
Royal Gorge Mansion
Step back in time and enjoy high tea inside a historic Colorado mansion built in 1882. Afternoon tea includes classic teas, bubbly, and wine, plus sweet and savory goodies such as gourmet finger sandwiches, homemade scones, and petite fours for an authentic experience.
Best Sips In Cañon City
Sangre Distilleries
If locally distilled spirits and wine are of interest, stop by Sangre Distilleries to sample their Wet Mountain artisan hand-crafted spirits. Though an hour from Cañon City, the drinks are worth a stop.
The Winery At Holy Cross Abbey
Or visit The Winery at Holy Cross Abbey located at the historic Holy Cross Abbey. Sample their award-winning wines with a free tasting in the tasting room, or you'll also find bottles for sale in many local businesses. We purchased a bottle to enjoy with the sunset view at our cabin.
Best Places To Stay In Cañon City
Royal Gorge Cabins
We spent two nights at the Royal Gorge Cabins. Our luxury two-story cabin with two bedrooms included a full kitchen, indoor/outdoor fireplace, and a living room with two sets of sliding doors that led to the patio. We spent most of our time on the patio watching hummingbirds flit on the plants, several birds in the tree next to the cabin, and the gorgeous mountain range that delivered a spectacular sunset. There was a dining table by the outdoor fireplace along with a hammock and two chairs to sit and watch the sunset.
Pro Tip: For those who prefer glamping, there are also glamping tents for a more rustic experience. While the location feels remote, it's a short and scenic 10 minutes into the city.
Creekside Log Cabin
This VRBO cabin with a mountain view is situated on a family farm just a couple miles from Cañon City. The 800-square-foot cabin has one bedroom but will sleep four with a pull-out couch in the living room. The cabin and decor are cozy and comfortable and the rental is dog- and family-friendly.
Pro Tip: The steps leading up to the bedroom are extremely steep, so this would not be an ideal choice for anyone with hip or knee problems.