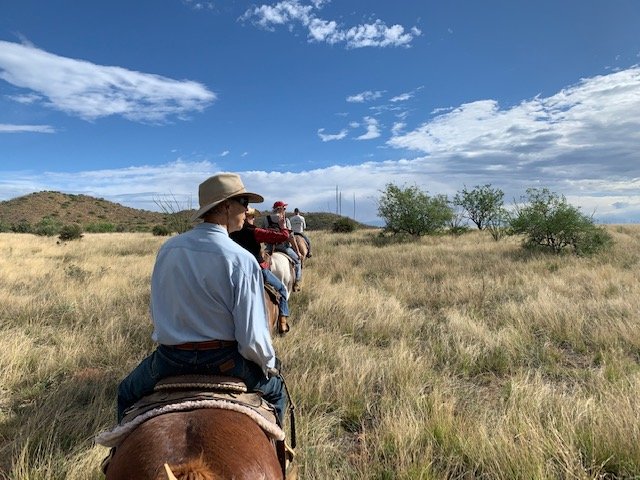 Just saying it, dude ranch, sounds cool. Although I didn't discover dude ranching until I was an adult and could really feel the sore muscles after a day of riding, I never regret the decision to become a cowgirl (or boy) for a week — or longer. Aching body, sunburn, and the challenges of the day are easily forgotten when chatting around the honor bar, whiskey in hand.
There used to be dozens of dude ranches in Arizona, especially snuggled around Tucson in the rolling hills and desert full of the historic saguaro cacti. Thankfully, these landmarks are totally protected in the state of Arizona, assuring the multi-armed majestic cacti can not become victims of development. The growth of Arizona and Tucson, in particular, has meant that homes, shops, and resorts have taken the place of ranches, yet a few die-hard cowboys are committed to saving as many dude ranches as possible.
At a dude ranch, expect to relax. They are all-inclusive so you only worry about getting to a meal on time and choosing the best activities for the day. Yes, there are horses to ride and terrain to explore, but put on your boots and hat, and everything is taken care of for you. Hearty ranch breakfasts, gourmet lunches, coursed dinners, and entertainment are included in the price of a day at the ranch. You will only be out of pocket for anything at the honor bar — but just knowing there is an honor bar makes dude ranching that much more special. Other activities typically available at the dude ranches I am suggesting are electric bike riding, spa treatments, hiking, rock climbing, tennis, swimming, crafting, and other things to do, both physically active and less so. Entertainment can range from rope shows to cowboy poetry to art lessons and game nights.
Dude ranches are perfect for families, especially multi-generational groups in which there may be different levels of participation. They are also fantastic for couples, groups of friends, or multiple families vacationing together.
1. White Stallion Ranch
Tucson, Arizona
About 65 miles from the Tucson Airport, the True family has owned and operated White Stallion Ranch and has no plans of doing anything else — except maybe adding more dude ranches to the family. Russell True grew up here and continues his family's tradition of ranch hospitality.
True's parents bought the ranch in 1965, and ranching has always been a family affair. Today, find Russell at the ranch from morning to night with his sons, their wives, and a new two-year-old daughter whose stroller is part of the landscape.
This family knows hard work, and they know how to take care of guests and the land. True explains, "First of all, I think dude ranches are inherently great protectors of the environment. They depend on open, undisturbed land for the experiences they offer their guests. They protect and defend the land they own and the land around them that is some sort of government-owned land."
He went on to say, "All four of the True family ranches follow standard hospitality environmentally conscious procedures — with laundry, efficient air-conditioning systems, recycling, and, at White Stallion Ranch, a 117-kilowatt solar power system."
A dude ranch is the perfect outdoor experience, and social distancing goes with the territory. Also, extra sanitation goes without saying as it's important to keep a healthy ranch.
2. Rancho De La Osa
Sasabe, Arizona
I have been to many guest ranches and plan to visit many more, but Rancho de la Osa has a special place in my heart. The history of Hollywood glamour runs through her walls, her sprawling desert landscape, and even the Hacienda, the oldest continually used Arizona adobe structure, now an honor bar and cowboy poetry stage. Wrangler Russ Knox has won many a poetry competition, and he tells a story in the chanting, melodic way you would expect a cowboy to tell it.
Rancho de la Osa is smaller than White Stallion, and I would say it embodies early ranch elegance. This was where Hollywood came to escape and ride horses, and guest rooms named John Wayne, Franklin Roosevelt, Theodore Roosevelt, and Joan Crawford hearken back to a simpler time when privacy was obtainable here.
Close to the Mexican border in a town called Sasabe (which has one store and a bar that opens only on weekends), Rancho de la Osa feels remote and peaceful. The horses are perfect for every level of rider. Go slow and easy or gallop, try your hand at roping or cow steering, and enjoy the famous food of this charming and historic ranch. Hopefully, you'll catch a wrangler breakfast during which your horse takes you to a chuckwagon far out on the ranch for some true frontier cooking. Check out the cowboy coffee: Grounds and boiling water are filtered with eggshells. Yes, it's the kind of coffee that could put hair on your chest!
And riding up to the famous wall between the U.S. and Mexico is not to be missed.
3. Tombstone Monument Ranch
Tombstone, Arizona
Tombstone Monument Ranch is another ranch that Russell True acquired so that it would remain a ranch even though its previous owners could no longer manage it. As with the family's other properties, the staff and horses are impeccable, and there are plenty of activities for adults and children alike. I would characterize Tombstone as a ranch for families where the housing has been made to resemble a town in the Old West. My room was the post office.
The historic town of Tombstone, with its notoriety portrayed on film and daily in reenactments of the famed OK Corral shoot-out, is a great place to shop or grab a meal outside of the ranch. There are saloons aplenty and Western boutiques as well as a number of excellent restaurants. I especially love thrifting (or antiquing) here and found plenty of things to stretch my Western wardrobe.
4. C Lazy U
Granby, Colorado
With its classic dude ranch name, the C Lazy U Ranch is not only a stellar ranch in summer and spring but comes alive under the cover of snow. Sleigh rides, downhill and cross-country skiing, and tubing are typical winter ranch activities. Trapshooting, archery, and indoor games allow visitors to test their skills, and there are plenty of open fires for s'mores and stories by the fire.
What a holiday getaway the C Lazy U could be, decorated to the nines and with outstanding cuisine, and opportunities to stay active or just relax and enjoy the calm. It's also the perfect place for a photo safari.
5. Kay El Bar Ranch
Wickenburg, Arizona
The Trues acquired another ranch recently. It is closer to Phoenix in Wickenburg, Arizona, and is the perfect two- to three-day retreat. Kay El Bar Ranch, like Tombstone, is located in a historic Western town, so it has a tourism angle as well as the top-notch riding and food we'd expect from a True Family Ranch. Constructed from traditional adobe brick made by the Maricopa Indians on the nearby reservation, the ranch is on the U.S. and Arizona historic registers but has been modernized for guests.
Pro Tip: Also in Wickenburg, Rancho de los Caballeros boasts a full spa and golf course as well as plenty of riding for a more elegant ranch experience.
6. Tanque Verde Ranch
Tucson, Arizona
Although I have not been there yet, another historic ranch that has catered to the hoi-polloi for decades is Tanque Verde Ranch in Tucson, Arizona. Truly diverse activities center around horses and rodeos, but mountain biking, hiking, yoga, spa treatments, and other sports abound.
7. Alisal Guest Ranch
Solvang, California
Alisal Guest Ranch in Solvang about two hours north of Los Angeles is another ranch that attracts stars and the wealthy and delivers in luxurious accommodation and heightened dining as well as golf, tennis, and spa treatments if you need a break from your horse for a day. Fifty miles of trails, a 100-acre spring-fed lake, two championship golf courses, and tennis courts as well as Western-themed accommodations are surrounded by dozens of vineyards so guests are never at a lack for something to do.
Experiencing Winter Ranches And Horseback Riding Through The Snow And All (Plus Other Ranches To Consider)
For a true escape from the snow, none of the Arizona ranches will disappoint, and a week at one or a combination of dude ranches will truly reset your spirit clock and prepare you to shake 2020 right off. A horse can do that. And so can a convivial ambiance of people enjoying nature, activity, rest, relaxation, and fantastic food.
Although snow and cold may not seem a fit with galloping through the American West, for some, the winter season is the best at a dude ranch. As the Executive Director of the Dude Ranchers' Association, Bryce Albright told us, "Dude Ranches are the perfect winter getaway. If you are looking for a warm and sunny holiday, you can head to a Southwest dude ranch where the way of life is authentic and adventures are abundant."
"If you are more interested in a snow-themed vacation, head to the Rocky Mountains. Cross country skiing, winter horseback riding, sleigh rides, and sledding make for a full day of fun," he said. "At a dude ranch, there will always be warm hospitality, great food, and cozy accommodation."
Several other ranches, including Bar W in my favorite town, Whitefish, Montana, open as a lodging facility with world-class skiing nearby. The town of Whitefish does up the holiday season with Western charm and plenty of lights through the quaint downtown. In Sandpoint, Idaho, the Western Pleasure Guest Ranch offers plenty of indoor activities like spa treatments, but since it's close to Schweitzer Mountain, downhill skiing is an easy hop. What I look forward to is the snowmobile adventure through the fresh-fallen snow. Looks like I may have found a winter dude ranch to check out this season.