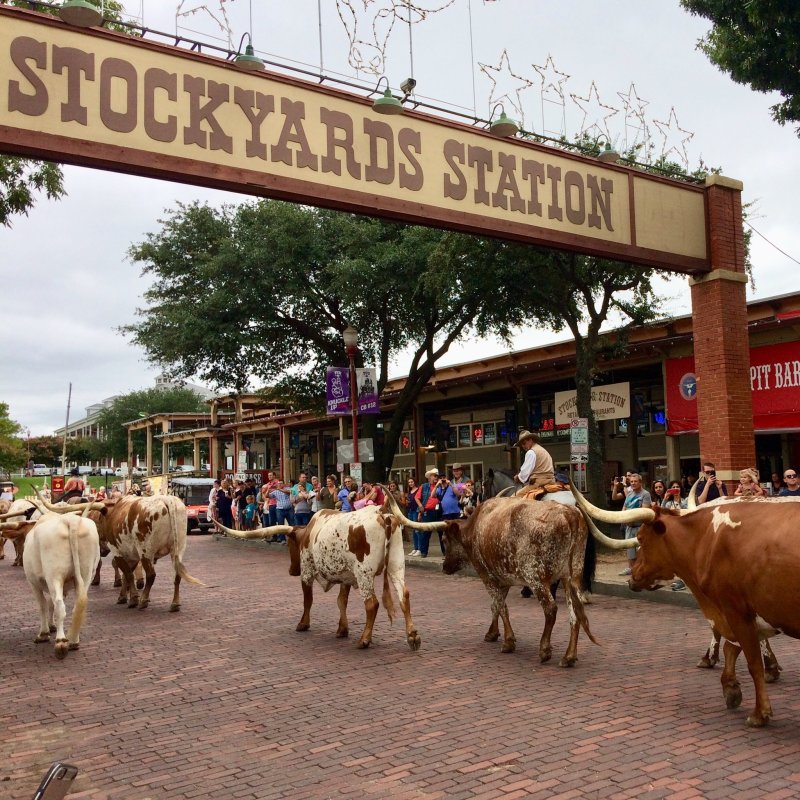 The Fort Worth Stockyards National Historic District is known for its Western heritage and rich history. Where else can you see a herd of Texas longhorns and real cowboys strolling down the brick walkways like they did in the Old West? Nowhere but Fort Worth. It's no surprise that this city is known as Cowtown, Texas.
Whenever someone I know is visiting the Fort Worth area for the first time and wants to know what to do with their time, I send them to the Fort Worth Stockyards. It's the perfect place to discover what Fort Worth is all about. Whether you're looking for Western shops, restaurants, rodeos, cattle drives, saloons, or historical landmarks, you'll find them at the Stockyards — there's no need to go elsewhere.
Most of the action happens on East Exchange Avenue, but don't overlook West Exchange Avenue. The Stockyards District is a magical place to go that never gets old. Below, I've listed some of my favorite things to do while visiting the Fort Worth Stockyards — and this is coming from a Fort Worth native.
1. Shop Till You Drop
The Stockyards District is your one-stop shop for all things Western. Tourists and locals alike love to shop from one end of East Exchange Avenue to the other. You'll find things only a tourist could love, but also plenty of quality, handcrafted goods. The one shop I always recommend to visitors is The General Store on the corner of West Exchange Avenue and Main Street; it's one of the best places to pick up Fort Worth souvenirs and memorabilia.
All up and down East Exchange Avenue and across Main Street on West Exchange Avenue are shops offering authentic Western wear, Western art, vintage records, jewelry, antiques, souvenirs, and much more. You'll find a little bit of Fort Worth charm at every shop. But don't stop shopping until you've browsed all the unique shops at the Stockyards Station located at the end of East Exchange Avenue. And don't skip Mule Alley — it's the latest addition to the Stockyards and offers shopping, eating, and staying.
There's no need to leave the Stockyards to find that perfect pair of cowboy boots, hat, belt, or anything else that's on your Western wish list. Each store has something unique to offer, and you might even hear a tall tale or two.
The best way to shop here is to start at one point and work your way back around to where you started. That way, you won't miss a thing.
2. Try The Steak
When it comes to the cuisine scene at the Stockyards, it's hard to know where to start. Since you're in Texas — and in Cowtown, Texas, at that — trying the steak is a must. One of the most popular places to eat for locals as well as for tourists is Cattlemen's Steak House. It's known for its big, juicy steaks and quaint Western atmosphere. H3 Ranch is another famous steakhouse that serves up lunch and dinner.
If steak isn't what you're looking for, there are places on East Exchange Avenue offering everything from authentic Texas barbecue to Southern cuisine to spicy Mexican food.
Pro Tip: You've got to try The Biscuit Bar — it's one of the newest places to eat in the Stockyards and is in Mule Alley. Whether you're there for breakfast or lunch, everything is served on big, flaky, buttery biscuits. They're to die for!
3. Witness The Famous Cattle Drive
This is a must! Every day on East Exchange Avenue at 11:30 a.m. and again at 4 p.m., traffic comes to a halt and passersby come to a standstill to watch the herd come through. Every person, young and old, enjoys watching as the Old West comes to life and real cowboys drive cattle through the Stockyards. Find yourself a spot on the sidewalk if you're walking, or if you're driving, pull over to watch as this authentic piece of Fort Worth brings out the smiles. It still amazes locals!
Pro Tip: The cattle drives do begin promptly, so don't wait to find your spot on the sidewalk or book your tour in advance!
4. Enjoy The Nightlife
Nightlife in Cowtown is a big deal, especially to locals, and the Stockyards area has plenty of it. There are so many bars and saloons to visit that you could literally spend the night going from one to the next.
The White Elephant Saloon is one of the oldest saloons in the Stockyards and is probably the one establishment that draws people just because it's so well known. But the strangely named Booger Red's is also worth a visit!
Most of the bars and saloons are on East Exchange Avenue, and all are within walking distance of each other. So, whether you want to pretend you're a cowboy, look for a cowboy (or cowgirl), or just kick up your heels and relax, the nightlife at the Stockyards will not disappoint.
Pro Tip: Note that the Stockyards can become quite rowdy at night, so if the nightlife isn't your thing, you might want to consider booking accommodations off the main drag.
5. Go Two-Stepping At Billy Bob's Texas
Billy Bob's Texas is a legendary country-music establishment and the world's largest honky-tonk. You're going to want to take some time to visit, because it's a big place with lots to do inside. Grab lunch or dinner or a beer or two, go bar-hopping, ride the mechanical bull, hang out near the indoor rodeo arena, shop for souvenirs, and stay for a little two-stepping and a country-western concert. For many years, the iconic Billy Bob's has been an enormous success and the largest attraction in the Stockyards. Don't forget to wear your boots!
Pro Tip: Kids are allowed inside, but only if they're accompanied by an adult.
6. Catch A Championship Rodeo
After you've gone shopping, bought your Western wear, and are feeling like a real cowboy or cowgirl, you'll need a real cowboy experience! Grab your boots and hat and head to the historic Cowtown Coliseum to catch an action-packed championship rodeo. Every Friday and Saturday starting at 8 p.m., some of the best rodeo athletes from all over Texas, Oklahoma, Colorado, New Mexico, Wyoming, and beyond come out to compete for championship titles and prize money in bareback riding, steer wrestling, team roping, and many other daredevil events. It's lots of fun for the whole family to watch!
Pro Tip: You really don't need to dress like a cowboy to have fun here. Come as you are, but do kick up your heels — tennis shoes will work!
7. Visit The Cowtown Winery
Open every day of the week, the Cowtown Winery in Mule Alley offers wine by the glass, wine tastings, wine to go, and bottles of wine. Happy hour is from 5 p.m. to 8 p.m. — all glasses of wine cost $6. There's live music on the weekends.
On Friday and Saturday nights, the winery offers a 90-minute walking ghost tour through the Stockyards. You'll hear stories about haunted places (including the winery), and learn about the history of the Fort Worth Stockyards. A few stops on the tour include the Cadillac Hotel, Miss Molly's Hotel, the Stockyards Hotel, and many more. A glass of wine is included!
8. Hang Your Hat At A Western-Themed Hotel
If you want to stay right in the middle of it all, you can hang your hat at the Stockyards Hotel, which has welcomed guests with Texas-style hospitality and Western-themed rooms for more than 100 years. It's located right on East Exchange Avenue, and you can walk right out of the hotel and turn in either direction to begin your day or evening.
There are also hotel chains within walking distance of the Stockyards. If you're looking to stay in a brand-new hotel with outdoor walking paths and firepits, the Hotel Drover, located in Mule Alley, will open its doors in early 2021.
Or if a cozy bed and breakfast is more your style, check out Miss Molly's Hotel on West Exchange Avenue, offering antiques in every room, a fresh breakfast each morning, and maybe even a ghostly experience or two! (This is one of the hotels featured on the Cowtown Winery's ghost tour.)